iCrowdNewswire - Mar 22, 2016
Wrexham. Honouring our Veterans.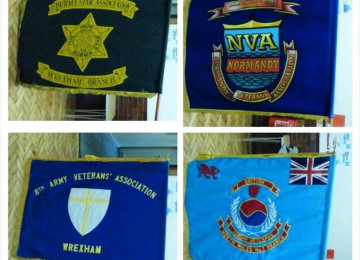 About
Members of local veterans' associations representing Navy, Army and Air Force personnel who fought in Burma, Normandy, and Korea, and those who belonged to the Eighth Army, want to ensure that their cherished ceremonial flags continue to be shared with the people of Wrexham, long after they have passed away. They wish to preserve the flags, known as standards, and entrust them to Wrexham Museum.
Because it is not practical for the museum to host the standards permanently, it is our vision to display them in the Council Chamber at the Guildhall. The Council Chamber is open to the public, (albeit by appointment on occasion), to view the standards, to learn about what they represent, and to remember those who fought for the freedoms we enjoy today.
What we'll do:
Assure Armed Forces Personnel past & present of our respect & gratitude
Bring the civilian and military communities in Wrexham closer
Safeguard artefacts that are integral to Wrexham's heritage & history
Why it's a great idea:
Our veterans wish to give us their cherished standards, to safeguard, learn from, and appreciate. We're indebted to our veterans for the freedoms we enjoy today, and we're hopeful that the people of the garrison town of Wrexham will welcome this opportunity to show their respect and gratitude for Armed Forces Personnel past and present by making a donation.
How we'll get it done:
Enlist specialists to preserve and frame the standards
Securely transport the standards to and from the conservator
Hang the standards in the Council Chamber at the Guildhall
Procure and hang a plaque acknowledging financial donors
Invite local people to view, learn from and appreciate the standards
Local people, amongst them Armed Services personnel past and present, have taken time to explain, on film, why they feel this cause is worthy of your support. Veterans have shared their military memories too, and we're sure you'll find them insightful. We've filmed 29 clips, and we'll share one a day on social media, throughout the month of February 2016. Please join our audience by following us on Twitter @wxmarmedforces, and liking us on Facebook tinyurl.com/npb55h3
Mae ffilm ein ymgyrch ar gael yma gyda is deitlau Cymraeg https://youtu.be/nsHBOpL9Aeo