iCrowdNewswire - Mar 21, 2016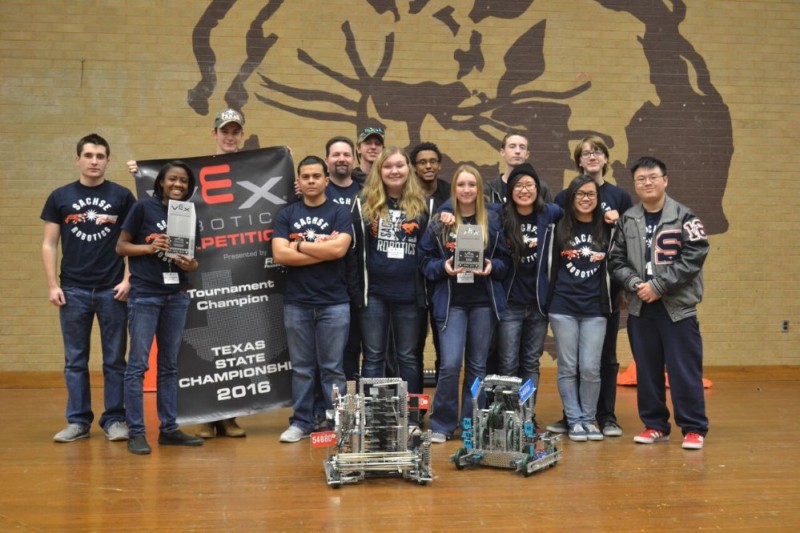 Thank you for visiting our page to learn more about how YOU can make a difference in the lives of our future leaders and engineers!
WHY DO WE NEED YOUR HELP?
Sachse H.S. has 5 competition robotic teams in which two have qualified and one was invited by special invitation for the 2016 VEX World Championshipbeing held April 20 – 23, 2016 in Louisville, KY.  There will be over 800 middle school, high school and college teams in attendance from over 30 countries.  Over half of these teams will be competing in the high school division.  Competition will be tough!
The Sachse High School Robotics Parent Booster Club (SHSRPBC), a 501(c)3 organization, was formed to raise additional funds to supplement the robotics competition program and support STEM education.  All donations are tax deductible and go directly to support the program!
WHICH SACHSE TEAMS ARE HEADED FOR VEX WORLDS 2016 ?
Team 5408A – Sachse Texas Torque:  Team 5408A Texas Torque were Tournament Finalist's numerous times throughout this year's season and was awarded the distinguished Judges Award twice. They ranked 4th overall at the Texas State Championship advancing as a Semi-Finalist which qualified them for the 2016 Vex World Championshi p.  They will be making their 2nd trip to VEX Worlds in April.  Congratulations to Kristen, Christen, & Kaci.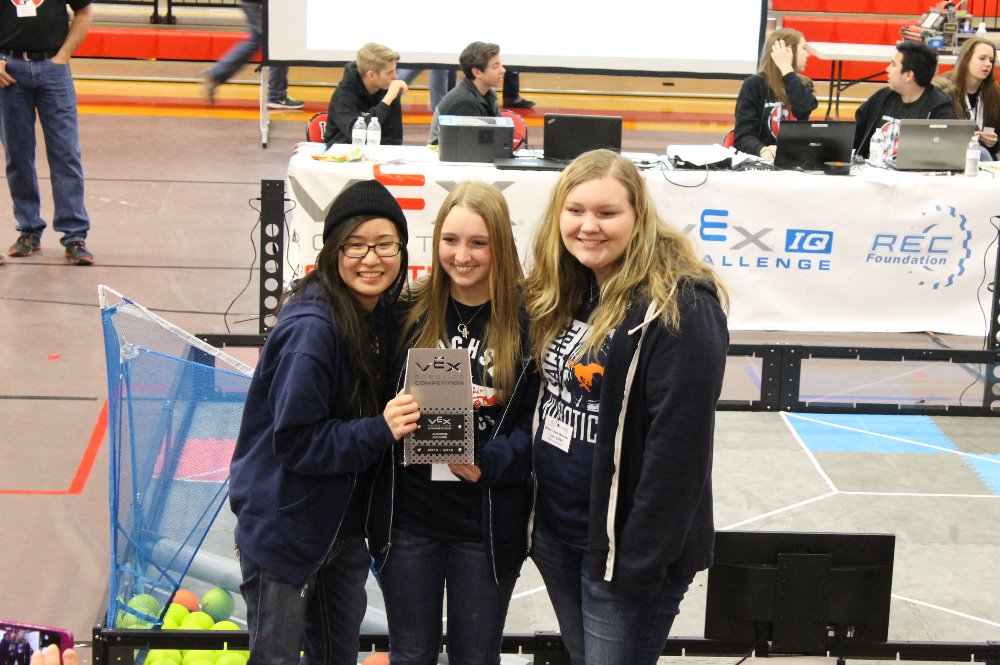 Team 5408D – Sachse Colossus:  Meet Team 5408D –  recently named Tournament Champions at the VEX North Texas State Championship.  This 1st place win guaranteed them a spot at the 2016 Vex World Championship and was the second 1st place win of the season.  The team includes 4 juniors, one with prior "Worlds" experience, and two first-year competition members.     Congratulations to Ryan, Parker, Caleb & Alexis.  A special shout out to Mr. Roha who leads the program at Sachse.

Team 5408X – Sachse Hax: This team was one of the first teams to become Tournament Champions early in the regular season, which qualified them to compete at the state level. They went on to win 2nd place for programming skills in a local tournament. While competing at the Regional State Competition they ranked 2nd in programming skills and 5th in the entire state with a score of 263. Congrats to Zachariah Smith, Ian Pearce, Jacinta Tran, and Trace Black.
HOW WILL YOUR TAX DEDUCTIBLE DONATION SUPPORT THESE TEAMS?
Your tax deductible donation will directly support the Sachse H.S. robotics program and assist with expenses such as robot parts, tools, shipping, registration fees, miscellaneous travel expenses and/or tournament activities.  The cost of this single tournament will greatly exceed our goal, therefore any amount you can provide is greatly appreciated.
Your donations provided through the SHS Robotics Parent Booster Club will assist in supplementing costs not covered by the Garland ISD. 
SHS WORLD SPONSORSHIP OPPORTUNITIES
(All benefits are accumulative based upon your donation amount.)
Donation levels listed are ONLY suggestions.  Any amount that you decide you can give to this cause will be graciously accepted.
$2500 – Name on Sachse H.S. Banner displayed at ALL 2016-2017 competitions (approx. 6 – 8 competitions in the North Texas area)
$1000 – Name on Sachse H.S. Banner displayed at the 2016 VEX World Championship
$500 – VEX World Championship t-shirt or VEX Worlds Sports Pack bag (at discretion of SHSRPBC and while supplies last)
$250 – Link to your company on the Sachse Robotics Parent Booster Club Facebook Page
$100 – Listed as a sponsor on the Sachse Robotics Parent Booster Club Facebook page along with your picture (as provided to and approved by SHSRPBC)
$50 – Listed as a sponsor on the Robotics Parent Booster Club Facebook Page
We only have 3 weeks to make our students' dreams come true so don't delay and make your tax deductible donation today! 
Important Note: Any funds raised in excess of our goal and/or the actual expenses required for Worlds will go to support all SHS robotic students as they start building new robots in preparation for the 2016-2017 competition season starting in May.
If you have any questions or would like to discuss additional sponsorship or mentoring opportunities for the 2016-2017 season, please contact us by email through the link on this page or via our Facebook page . 
WANT TO LEARN MOREA ABOUT THE "NOTHING BUT NET" COMPETITION?

The Sachse High School Robotics Parent Booster Club (SHSRPBC) is a 501(c)3 organization Tax ID 46-5591336.