iCrowdNewswire - Mar 16, 2016
Since 1949, Oratamin Swim & Tennis Club has been the summer home away from home for countless Rockland families. Please help us keep this legacy alive by donating to assist us in completing necessary capital improvements and keep Oratamin thriving.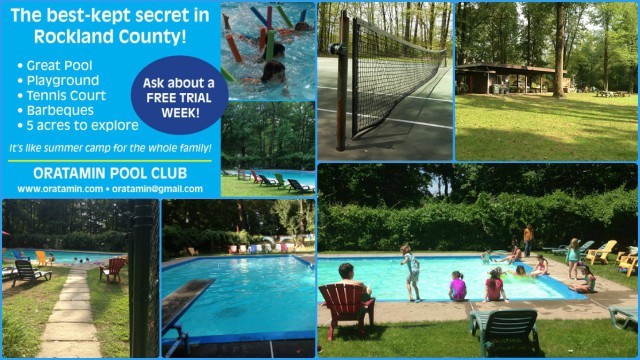 Please help the Oratamin Swim & Tennis Club community continue the tradition of providing a summer escape for families of Rockland and Bergen Counties by assisting in funding necessary capital improvements.
At this time, we are in need of a new main water line from the street to the pavilion. This repair is estimated around $15,000. We also are in need of pool repairs that include fixing a few leaks and updating from a traditional chlorine pool to the safer, more environmentally friendly saline system, all of which is estimated between $3000 – $5000. These critical repairs need to be funded and completed BEFORE we can open for the 2016 Season. There are also other non-critical improvements on our master list to help keep the pool and grounds looking and performing it's best for the membership.
We hope to make our 67th season one of positive change leading to a spectacular 70th-anniversary celebration in 2019. Unfortunately, we can not achieve any of this without humbly asking for your financial support. Many of you seeing this fundraiser are either current members, family of a current member, or a former member. Please know your help is vital to keeping Oratamin growing and thriving.
If you have any questions or would like to know more about membership, please feel free to contact Barbara Valente, current president of the Oratamin Board of Directors at oratamin@gmail.com or via our web form at www.oratamin.org.
Also, please follow us on Facebook for frequent updates on our 2016 summer schedule and membership promotions.
~*~*~*~*~*~
A little about Oratamin Swim & Tennis Club:
"Established in 1949, the Oratamin Swim & Tennis Club has always taken pride in being a small, family-oriented, cooperative club. Though located in Blauvelt, the club serves all of the Rockland County/North New Jersey communities. The modest pool with diving board is set in natural surroundings with a playing field, tennis court, pavilion, barbecues, picnic tables and men's and women's changing/shower facilities as well as a 1/3 of a mile walking path through the sounding woods. This season, the Club plans to have formal swim lessons and working on offering a summer day camp on site.
Oratamin is a true cooperative. Members are required to attend a spring opening event, fall clean up event, and one social event. Working together, maintaining and improving the club, families gain a sense of responsibility and ownership for the facility and grounds. Social and work events provide a time for members to have fun and get to know one another. We offer single, couple and family memberships; however, the Club has a maximum of fifty-five families. At Oratamin, you'll make life long friends but rarely encounter a crowd."