iCrowdNewswire - Mar 15, 2016
YouVeeShield – UV Protection for Gel Manicures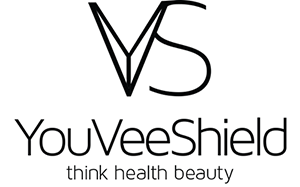 YouVeeShield's mission is to provide generations of women skin protection during the gel manicures and pedicures they love, allowing them to maintain their beauty routines safely and confidently.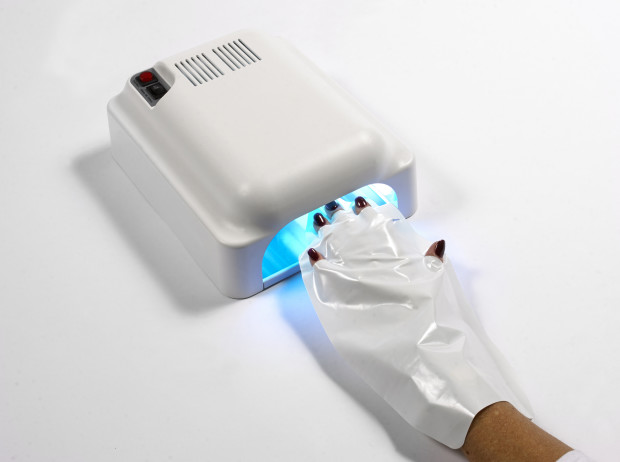 YouVeeShield creates disposable skin protectors for hands and feet that block 99.9% of dangerous UV light from nail lamps, protecting hands from premature aging, wrinkles and sunspots during gel-polish nail services. The .003 inch shield is made from a thermoplastic elastomer that contains titanium dioxide, an inert and safe FDA-approved additive, giving the shield it's white color and UV blocking capabilities. YouVeeShield is the only product proven to block 99.9% of the UV light. The company was founded in 2014 by Renee Albera and is located in Menlo Park, CA. Made in the USA, the Shields are distributed exclusively by YouVeeShie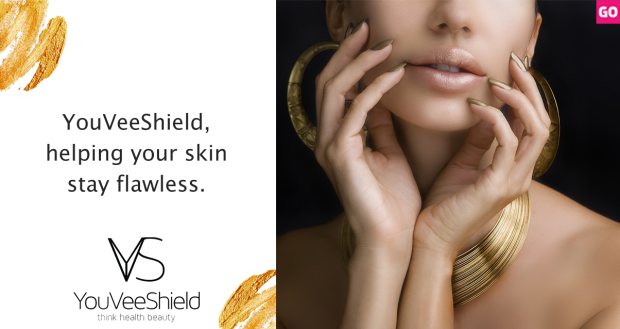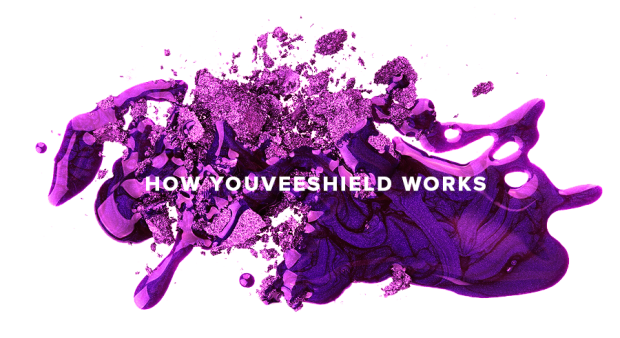 YouVeeShield is the only product proven to block 99% of UV light, according to the Solar Light Company who has issued an UPF 50+ certificate which can be found on our website.
Simply slip your hand into the YouVeeShield glove before placing hands into the UV nail lamp.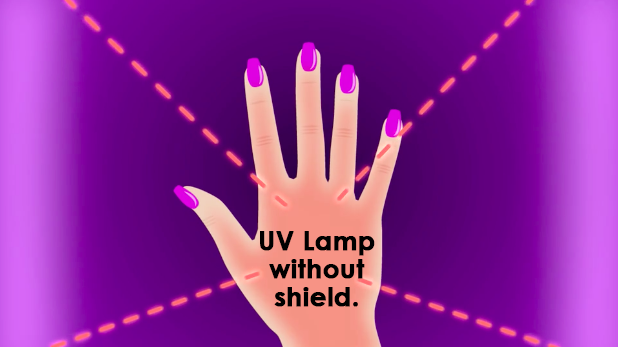 The .003 inch shield is made of FDA- approved materials including titanium dioxide, giving the shield it's white color and UV-blocking capabilities.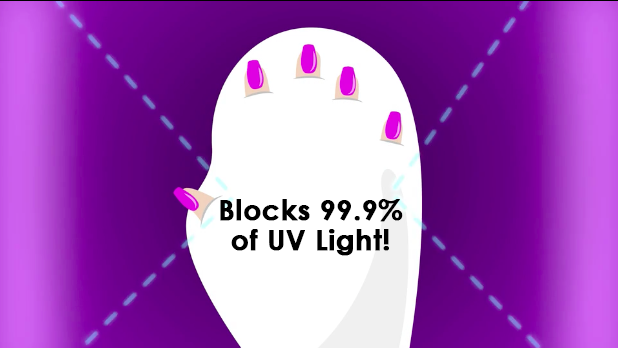 Light Measurement SpecialistGeorge Richardson at G&R Labs has confirmed that YouVeeShield blocks 99.96% of UV Light emitted from the UV/LEDLamps examined. The reflections from the glove at 365nm (UVA) are negligible for both the LED and UV Lamp sources. Read: the light is not "bouncing" out of the lamp because of the Shield.

The Solar Light Company certified YouVeeShield for a UPF rating of 50+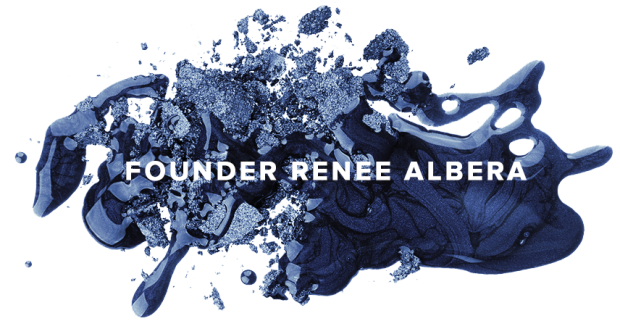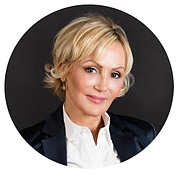 Renee Albera got her first gel manicure in 2010, and loved it. It was long lasting (up to three weeks) and dried instantly – perfect for a busy woman on the go. However, one day she noticed sunspots all over her hands. Soon after, she learned that the lamps used to cure the gel, emit UV radiation and each gel manicure was equivalent to being in the sun for 21 to 40 minutes.
This was disheartening, since she knew she wanted to continue her beauty regime. She tried to think of ways to protect her skin and despite looking for available solutions to the UV exposure (sunscreen, fingerless gloves), nothing adequate currently existed in the marketplace that provided the necessary protection.
Determined to make gel manicures safer, she started her research, hired an engineer to create a shield that covered the skin on the top of the hand, as well as a portion of the wrist. In 2014, YouVeeShield was born.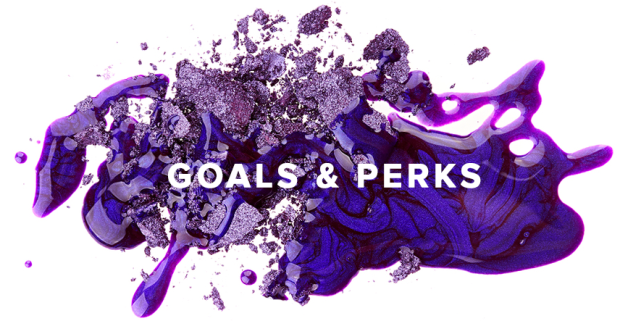 We want to bring YouVeeShield to individuals and salons across the globe to protect patrons from the damaging effects of UV rays, but we can't do it without your help! In exchange for backing the campaign we are offering YouVeeShield at a special price. You can be the first to reap the benefits of YouVeeShield in your beauty routine!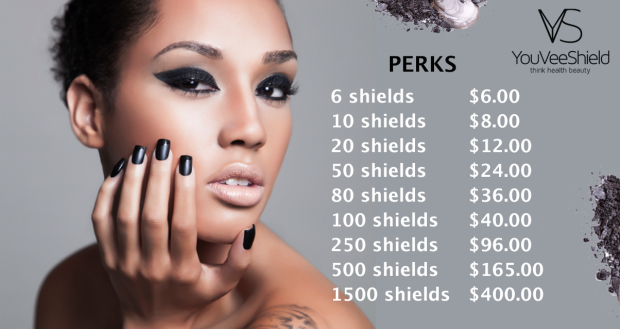 YouVeeShield is a wonderful solution for who people don't want to compromise their gel manicure/pedicure beauty routine due to the potential health hazards. They will also be shielded from premature aging, wrinkles and sunspots during gel-polish nail services. This makes going to the nail salon an enjoyable and safe process!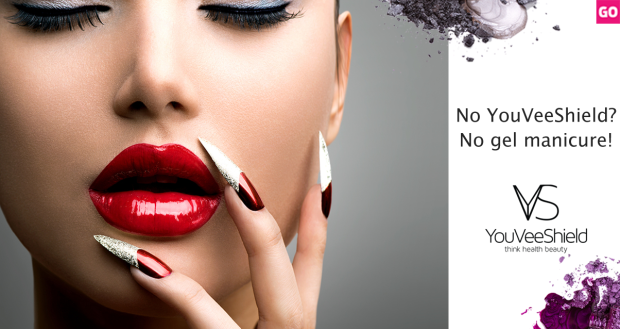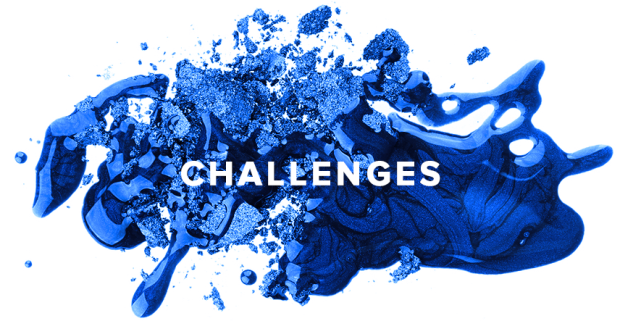 UV/LED lamps used to cure the gel emit UV radiation, and this can cause damage to our skin.

UV and LED lamps are classified as moderate risk, which is not as safe as you might think.

UV and Led nail lamps have been classified as moderate risk, according to industry titans, Dr. Sayre & Dr. Dowdy.  

This sounds benign; however, moderate risk or "risk two" lamps are the highest risk group of lighting systems allowed to be used by the general public in unsupervised conditions. So it's actually quite high. See the "Photobiological Safety Evaluation of UV Nail Lamps study" 

These "safe exposure" limits also do not take into account anyone with a photosensitivity, such as blond hair, blue eyes, certain make-up and perfumes or even handling of a citrus fruit. All of these things can make people sensitive to light without their knowledge – and any exposure to UV during this time can now "turbo charge" any damage that is occurring.

Nail Salons are not educating their customers on the danger or properly training their nail professionals

Nail Salons nationwide are not properly training their nail professionals to use these lamps according to the manufacturer's conditions

The Nail Salons are not providing any adequate protection from the UV radiation.

Nail professionals are routinely not following the manufacturer's instructions for the proper curing times of each coat of gel polish.  They are "guessing" to cure longer than what has been determined as "safe" (if you happen to be light sensitive, this does not even include you) often curing 3 times the required amount.

Many nail professionals do not use the nail lamp manufactured by the same gel polish company. This can cause severe chemical burns.