iCrowdNewswire - Mar 14, 2016
Levitate Above Fatigue & Stress On The Wristocat.
World's Most Ergonomic Wrist Support.

Wristocat was a guest on the Pittsburgh TechVibe Radio broadcast.  The program is available online for on demand access here.
LEVITATE ABOVE FATIGUE AND STRESS, WHILE MOVING NATURALLY. 
This breakthrough reinvention of wrist support is called Wristocat.  It resembles a cat and it might just add nine lives to your wrists should you spend any time working on a computer. 
Wristocat is the first and only wrist support that suspends the hand and wrist with magnetic levitation, forming a therapeutic, magnetic barrier that absorbs repetitive stress and eliminates friction.
THERE IS FINALLY A CAT TO CHASE THE COMPUTER MOUSE.  
Wristocat is compatible with the mouse, keyboard, touchpad or trackball you already use, making each one ergonomic.   Just put Wristocat behind your favorite input device, rest your palm on the ultra plush support cradle and you are literally "good to go".
Enjoy fluid, cat-like movement, across your entire desktop with your wrist straight and resting comfortably in a specially designed support cradle, that continually flexes, adapts and conforms to gently support your every movement.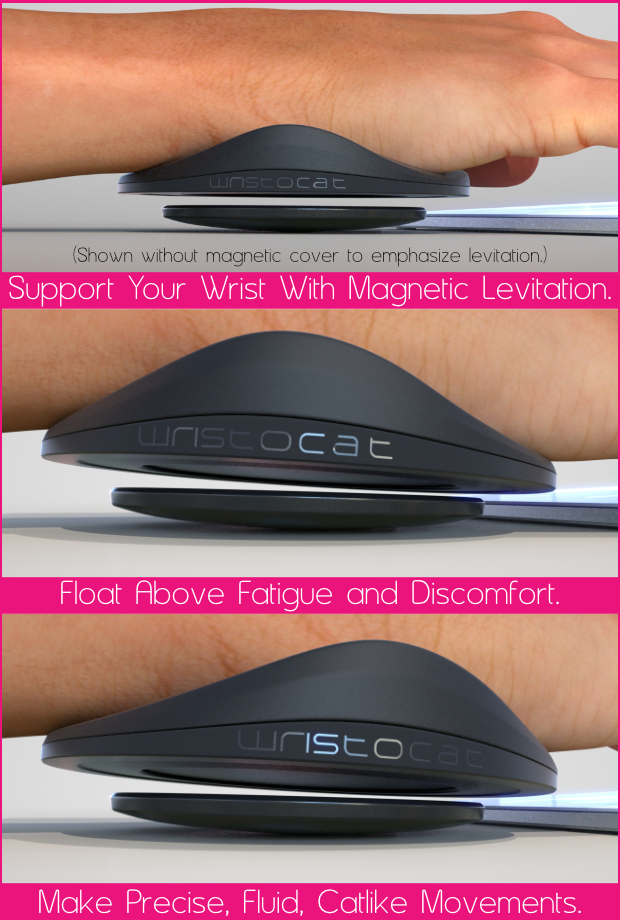 IT'S THE ULTIMATE WRIST SUPPORT FOR ALL COMPUTER USERS.
After two years, and more than one hundred prototypes, we've developed the ultimate wrist support for all computer users, especially coders, gamers, designers and office staff who spend all day with their hand attached to a mouse, touchpad or keyboard. 
Wristocat supports your every movement and gesture, making your time on the computer more productive, ergonomic, comfortable and enjoyable. Whether you click a mouse, tap a keyboard, gesture on a touchpad, or spend time gaming, Wristocat was created to be your hand's best friend!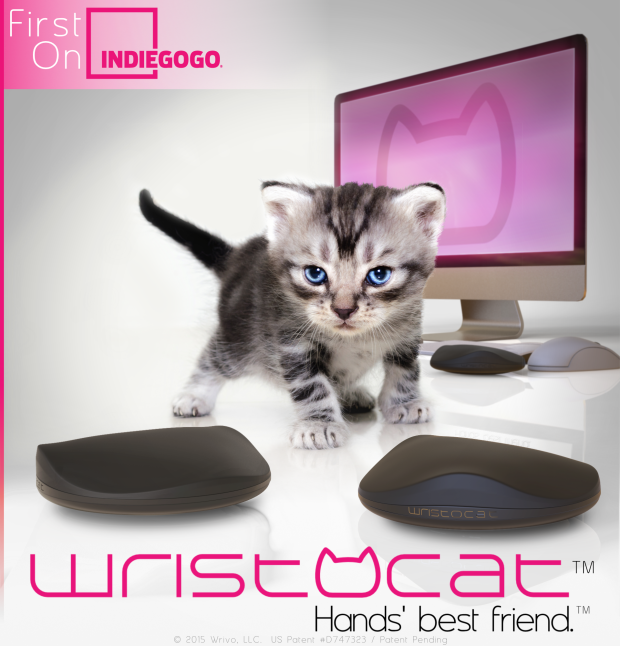 WE SPEND MORE TIME ON OUR HANDS THAN OUR FEET
You don't need a problem to benefit from using Wristocat.  In fact, Wristocat is designed to be preventative, much like wearing your favorite sneaker.  
We spend more time on our hands than we do on our feet.  Shouldn't there be a wrist support that provides the same level of support, mobility, comfort and style as the shoes we wear?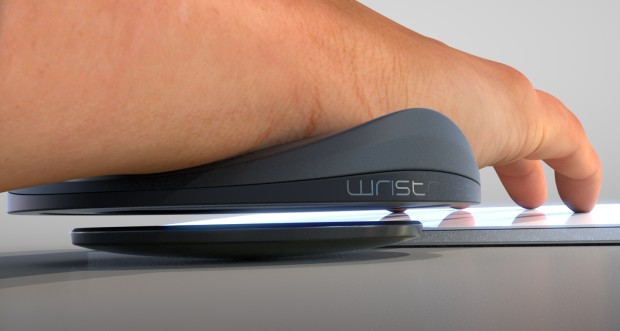 OUR HANDS NEED SUPPORT AND FREEDOM TO MOVE
Our hands move, which is why static, stationary wrist support just gets in the way, causing more problems than it solves. We need a cat to chase the mouse, keyboard, and touchpad…. A wrist support so evolved, that it moves just like we do, freeing us to make all those clicks, keystrokes, gestures and motions, while providing the comfort and support we need to protect our wrists.  This is exactly what we've done with the Wristocat.
Developed under the guidance and direction of occupational therapists and hand surgeons, Wristocat is designed to support your wrist perfectly, as it follows your every movement, large or small, without interference or impact to your existing work habits.  
With Wristocat on your desk, you will enjoy unparalleled precision, comfort, ergonomics, and style with no restrictions.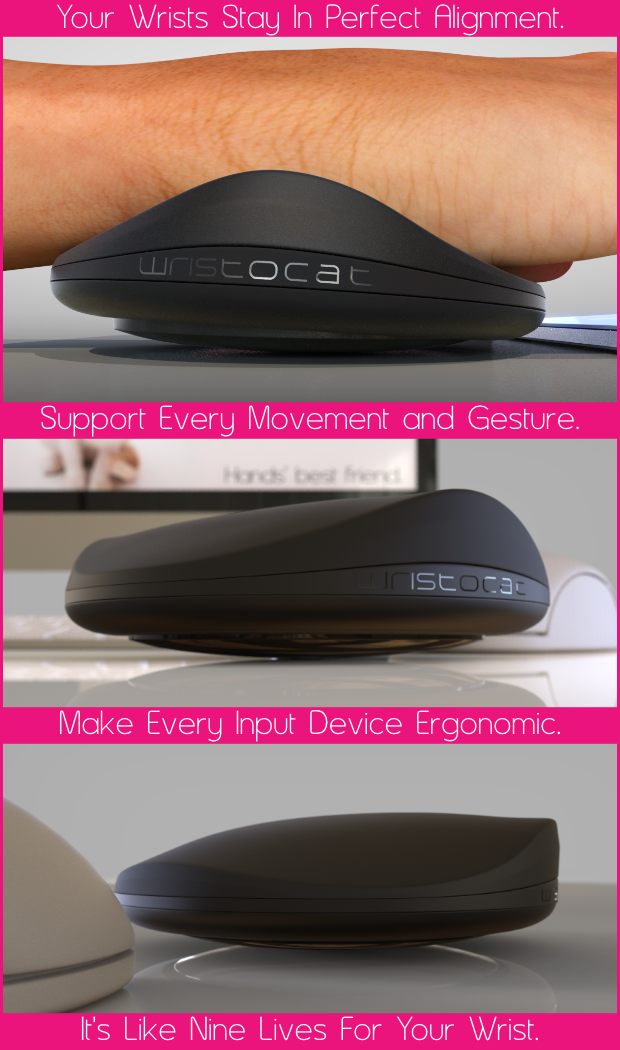 CAT INSPIRED.  Wristocat gets its unique name for its unmistakable cat-like appearance and its propensity to chase behind your favorite mouse, keyboard or touchpad. It is intended for all computer users, keeping your wrist perfectly aligned and your hand resting comfortably in a specially designed cradle that flexes with your every move and adapts to both your body and your work style.
"Wristocat is definitely sexy.  I like the sleekness of the product – it reminds me of an Apple Product" –Donna Michele Baxter, CEO / founder of Soul Pitt Media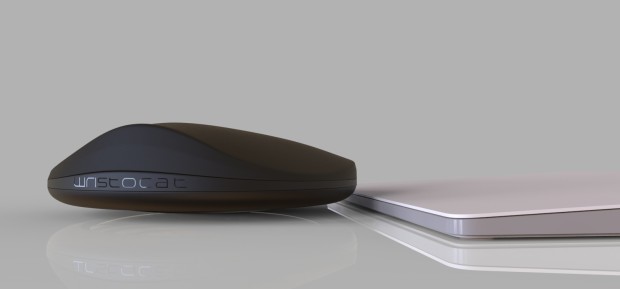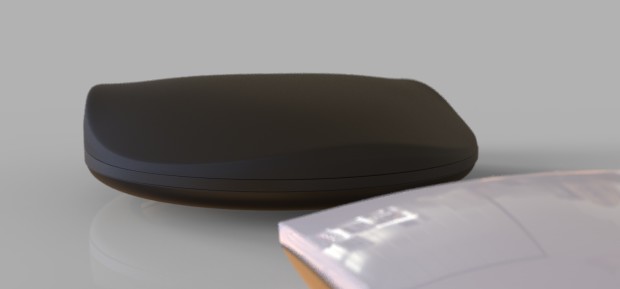 SEE HOW WRISTOCAT LOOKS ON YOUR DESK WITH OUR AR MOBILE APP!
Test drive Wristocat with our Augmented Reality (AR) mobile app for Android and IOS.  With the app running, view the AR marker with the device camera to put a Wristocat on your desk.  Get the IOS or Android app (search wristocat) and download the marker from wristocat.com. 


SILVER LININGS IN EVERY CLOUD
Wristocat is the silver lining in a painful, repetitive stress injury (RSI), suffered first hand by designer and founder, Dave Luciew.  Out of his experience, and after being dissatisfied with the pads and pillows that dominate the market, Dave was determined to reinvent wrist support with a preventative solution able to address the multidimensional needs of the human hand.  After two years of design, development and testing, the result is Wristocat.   
WORKING TOWARD A COMPLETE SOLUTION.  Wristocat was conceived, crafted and designed in the tech-savvy Pittsburgh region over two years of research and development.  After undergoing wrist surgery in 2013, company founder, David Luciew and his team have been working toward a solution that would eliminate the repetitive stress that can harm your wrists, seeking a way to support every movement while keeping the hand perfectly supported.
It was no easy task, requiring more than 100 prototypes to design and perfect the breakthrough that would become the Wristocat.  "I would not settle for anything less than a total solution every bit as thoughtful, elegant, functional, and innovative as the other, well designed products we all have on our desks." –Dave Luciew, Founder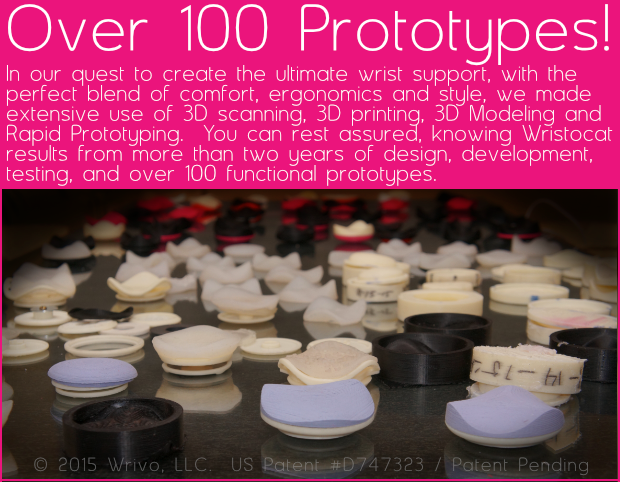 RAMPING UP TO MASS PRODUCTION.  Now, this cat-inspired, beautifully sculpted magnetic levitation device is poised to be manufactured in the U.S.A., bringing all-day wrist comfort and precision to everyone from PC gamers, computer coders and web designers to office professionals. All that stands in its way is a demonstrated market interest and start-up capital necessary to get Wristocat's American production lines rolling.
WRISTOCAT IS READY.   Wristocat is ready to make the leap from perfected prototype to your desktop. With Wristocat's destiny in the hands of the crowd-funding community, and with your support, we will reach our goal.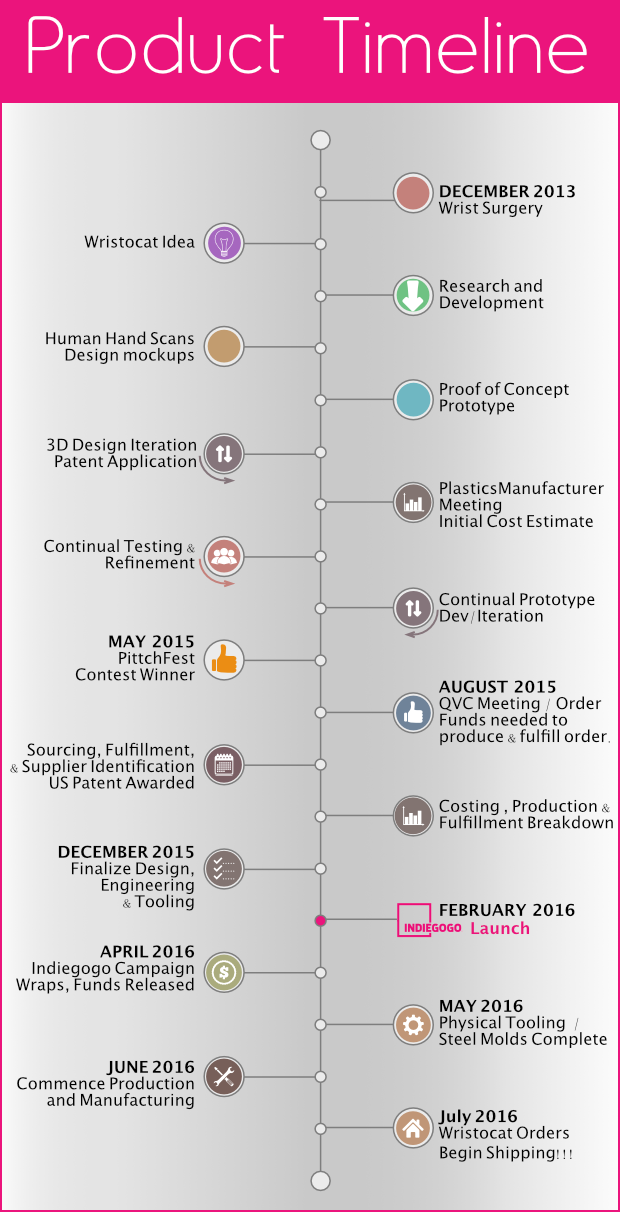 CAMPAIGN GOAL.  Hitting our base goal will allow Wristocat to make the leap from perfected prototype to your desktop.  Confident that Wristocat can claw out a much-needed market among the many computer-users with overworked wrists, we are turing to the crowd-funding community to help us make Wristocat a reality.
YOUR SUPPORT IS THE KEY.  Crowd funding is a way for us to gather valuable feedback from the community that will shape Wristocat going forward.  Your support and backing is a major key to making Wristocat a reality and ensure that the vision we have for Wristocat is fully realized.  
1500 EARLY ADOPTERS NEEDED.  At $25.00, Wristocat is priced affordably.  According to the metrics gains from other campaigns, 150K viewers will need to visit this page for us to hit our base goal and reach critical mass.  Please spread the word on social media!  
FIXED FUNDING.  Fixed funding means we only receive funds when our goal is reached.  This protects everyone and reduces risk on all sides.  45K is the absolute minumum amount we need to manufacture the product and fulfill all perks in a timely fashion.  
STRETCH GOALS.  We are just beginning to scratch the surface when it comes to reinventing wrist support. We will add more detail on our planned perks as the campaign unfolds.  Our stretch goals will add additional value to all perks.  
100K unlocks multiple color options
150K unlocks advanced finish and materials
250K unlocks 3D printing personalization
500k unlocks the thermal support option
HOW YOU CAN HELP:  
1 – Back our campaign and put a Wristocat on your desk.  Select from the perks for the right option. 
2 – Spread the word on social media.  We need everyone interested in Wristocat to share our campaign with as many contacts as possible.  Sharing our campaign is easy – just select from the share buttons above or embed our video and campaign link into as many blogs, news feeds and web pages as possible.  THANKS!!!
3 – We also have corporate options setup.  Please ask your organization to consider placing an order.
4 – Check your inbox for email updates as the campaign progresses.
5 – Give us your feedback!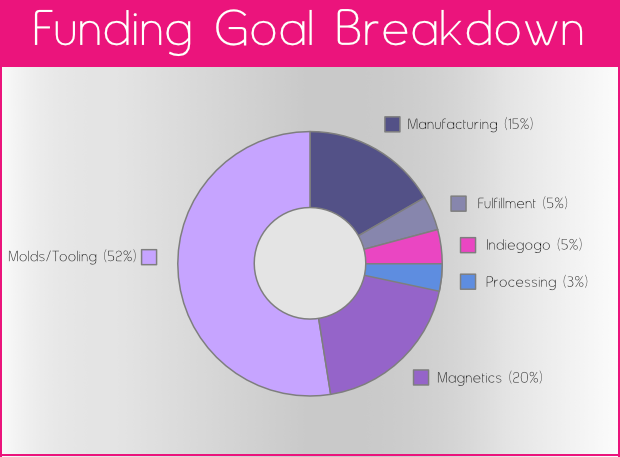 WRISTOCAT TEAM
Michele Luciew, Founding Owner
Michele came up with the initial idea for Wristocat during Dave's recovery from hand surgery. Her idea came out of their son's lunch box in the form of a baseball shaped ice pack and developed from there.   Michele works in a professional office setting, where she has used a wide variety of wrist support products.
Dave Luciew, Designer
Design professional and entrepreneur with an intimate, "first hand" knowledge of RSI, in a unique position to solve this problem.  
Patrick Keenan, Engineer and Manufacturing
Experienced plastics and manufacturing engineer with broad experience in high volume, high quality manufacturing from development to production.
Bob Piro, VP Sales
Independent sales professional in charge of strategic business development, sales and growth into US retail accounts.
MILESTONES
Wristocat wins PittchFest 2015, as best overall 
Wristocat won a "Shark Tank" contest against a roster of 29 competitors.  The judges and live audience said that Wristocat "looked and functioned like an Apple product"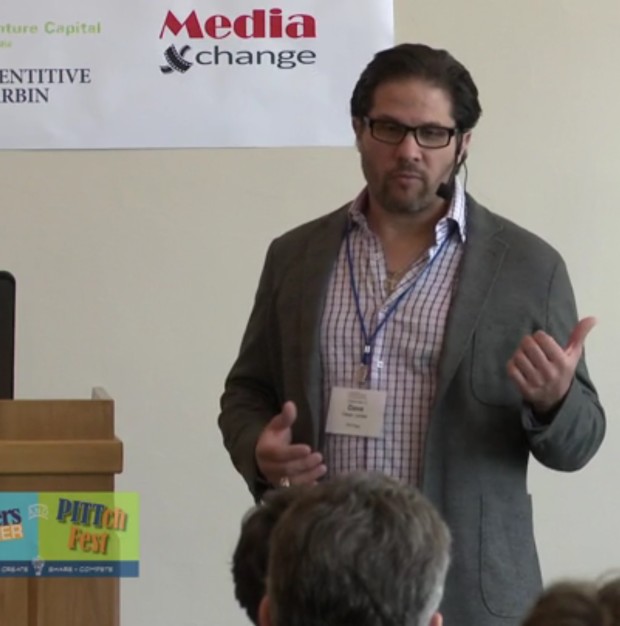 Dave Presenting at Pittchfest 2015 – Wristocat takes the top prize.
PittchFest Article Links:
http://upj.pitt.edu/en/about-us/Pitt-Johnstown-…
http://thesoulpitt.com/main/soul-pitt-ceo-part-…
Wristocat team meets with QVC Buyers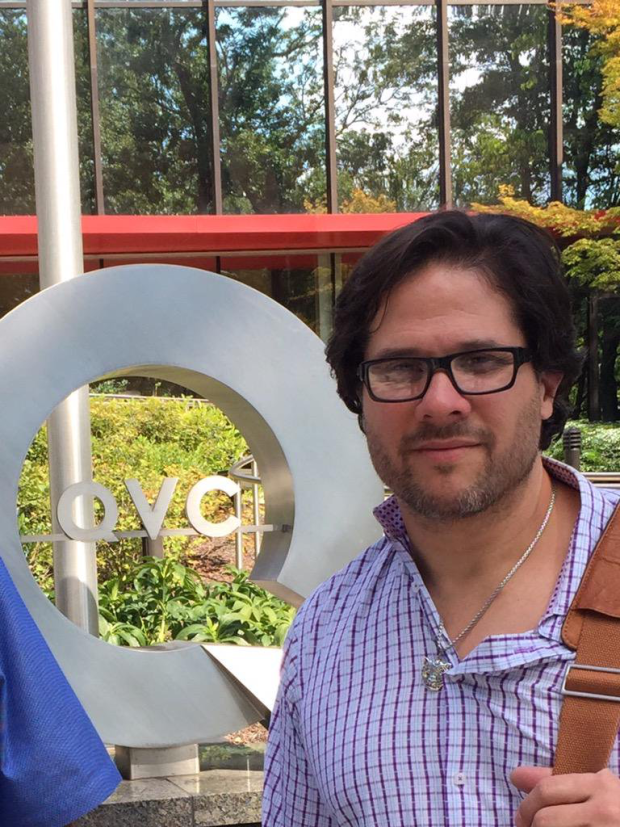 Dave Luciew, Outside QVC headquarters in August 2015.
We met with one of QVC's top buyers in August 2015 to demo our functional prototype.  Even with Wristocat still in the pre-production phase, we were offered holiday air time in which to introduce Wristocat in the month of December.  The buyer connected with our product and story, noting Wristocat's size, design, unique features, branding, and price point as elements that appeal to their audience.  
QVC is on hold until we are able to raise enough capital to manufacture the product. 
Wristocat was featured in the Sunday Tribune Democrat Business section.
http://www.tribdem.com/news/business/a-differen…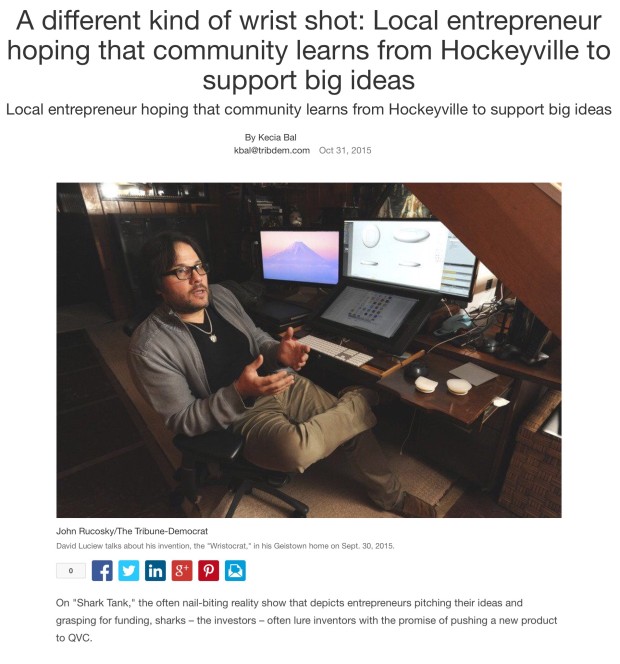 SUPPORT WRISTOCAT SO WRISTOCAT CAN SUPPORT YOU.
If you are among those bold, design-oriented individuals who crave the most innovative ergonomic products available, you owe it to yourself to check out Wristocat.
After working on this project for two years, the team is eager to see Wristocat at work, helping all those people longing for a breakthrough in wrist support. The time is now to support Wristocat so Wristocat can support you. This cat won't let you down. That we promise you.
PLEASE NOTE: We are running a "fixed goal" campaign, which means we need to reach our goal before funds are released. Our funding goal represents the absolute minimum amount we need to manufacture wristocat and deliver on our perks. Unfortunately, with this option, credit card transactions are not permitted, and we are only able to accept paypal.  We apologize for any inconvenience this may cause. Thank you for your kind support and backing.
Find This Campaign On