iCrowdNewswire - Mar 9, 2016
WaterO – The only 'SMART' reverse osmosis purifier
Enjoy the purity of WaterO's countertop reverse osmosis system without the hassle of installation.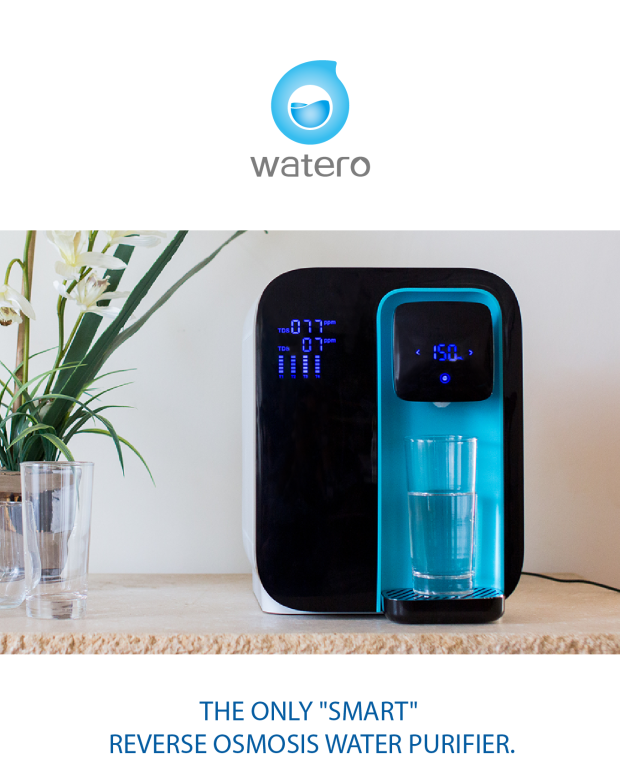 The world's first smartphone connected countertop purification system that displays purification levels & reminds you to stay hydrated.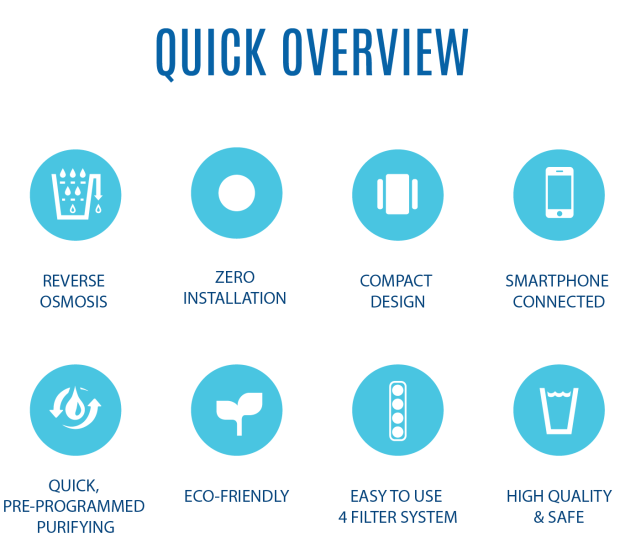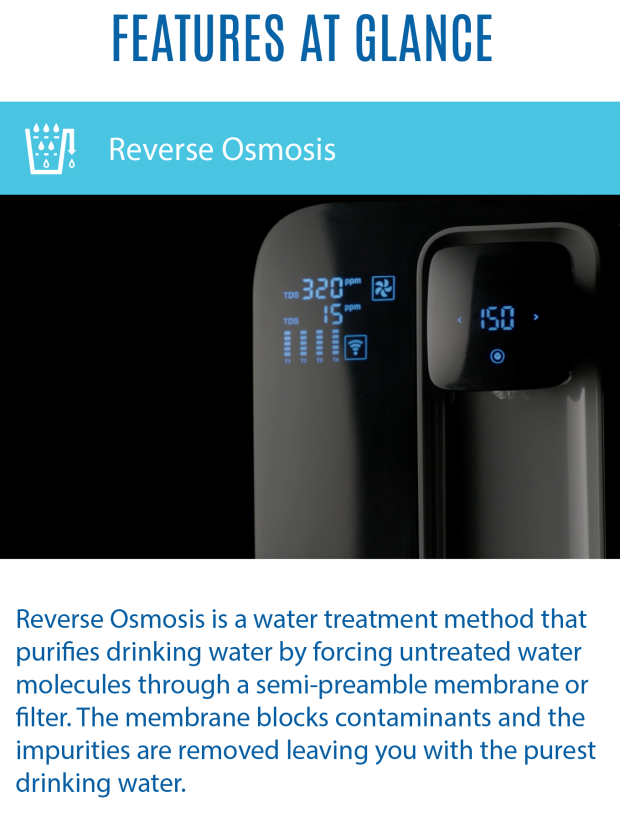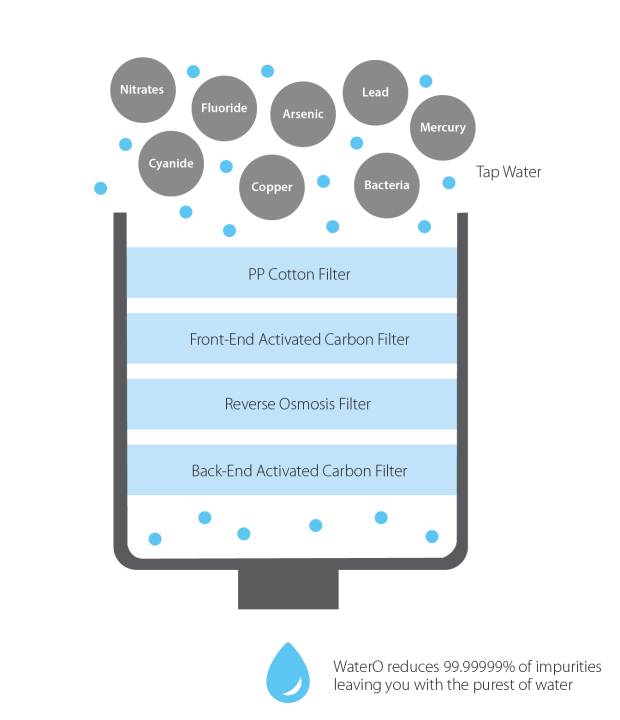 Total dissolved solids (TDS) is the sum total of all the minerals in water. While minerals are desirable there is a range of suitability. High levels of TDS will affect the taste of water and may also affect toxicity. 
A higher TDS can taste 'metallic', however water with a very low TDS, say 30 or less, will have a sharp, crisp taste, perhaps considered 'clean' by some H20 enthusiasts.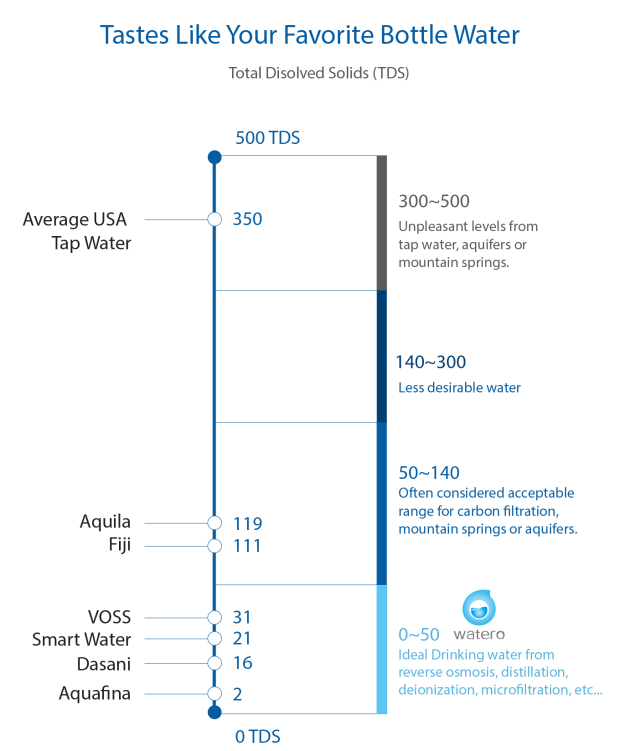 Improve the taste of your coffee, tea and any other beverage made with H20 with WaterO.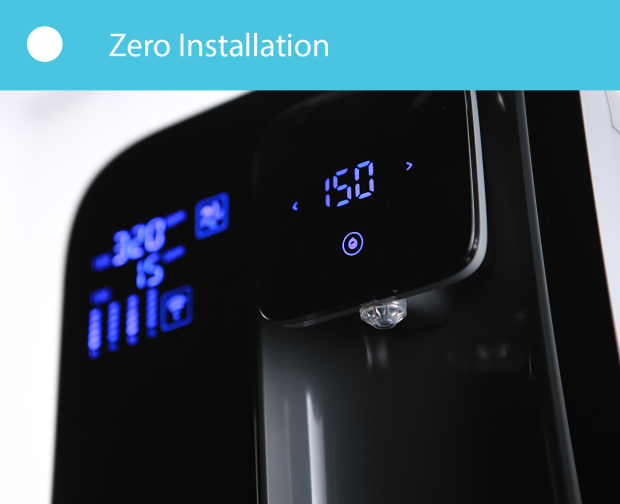 There is no need to connect to your plumbing water line – WaterO is a zero installation water purifying device. This means you can place WaterO anywhere in your home. Enjoy reverse osmosis water on your back patio or in your home entertainment room because with WaterO, you're no longer tied down to in-kitchen use.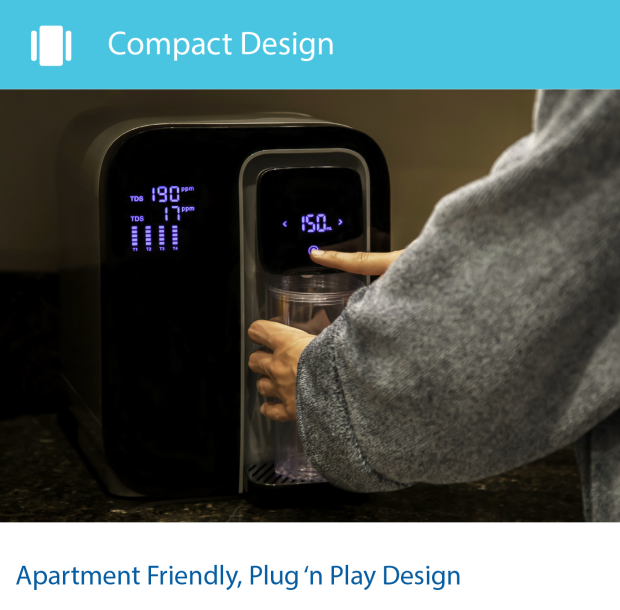 WaterO is designed to be portable and requires no installation with plumbing, faucets, or electrical systems. There's no need for a trained professional.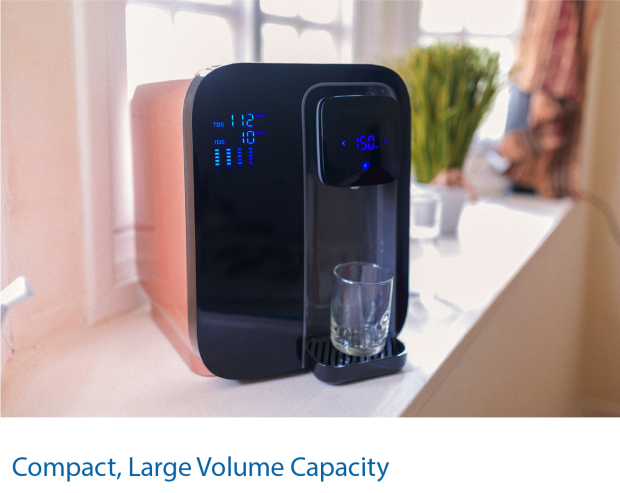 You can simply place WaterO on your counter and start reaping the benefits. WaterO fits perfectly on your kitchen countertop and when you move to your next (bigger and better) apartment, WaterO can come along! WaterO can easily be transported from one kitchen to the next. 
WaterO is small enough for your kitchen countertop (13.4 x 10.6 x 13.9 inches) yet holds a large volume of water at 3.17 quarts. Small, yet powerful, WaterO reduces 99.99999% of impurities  leaving you with the purest of water.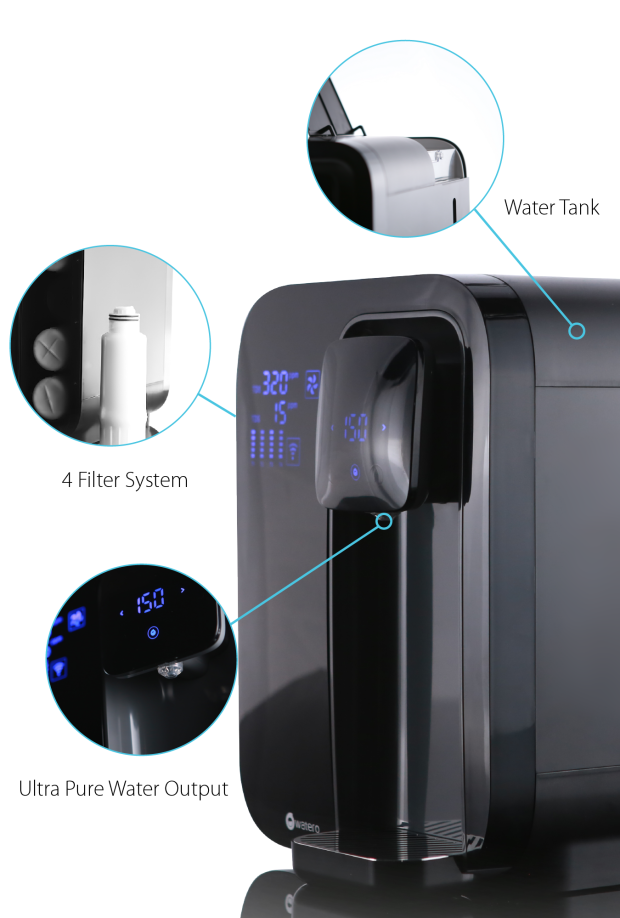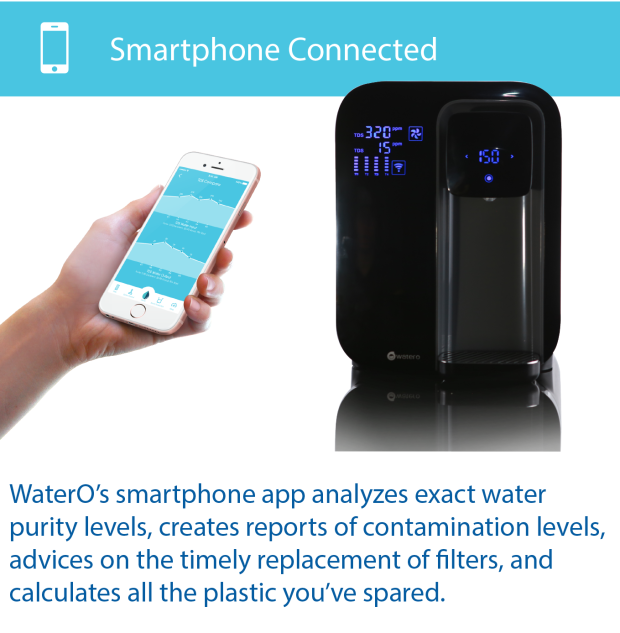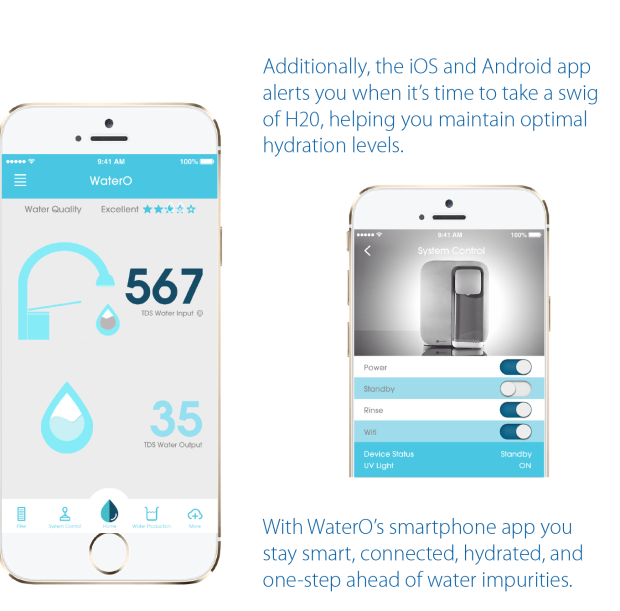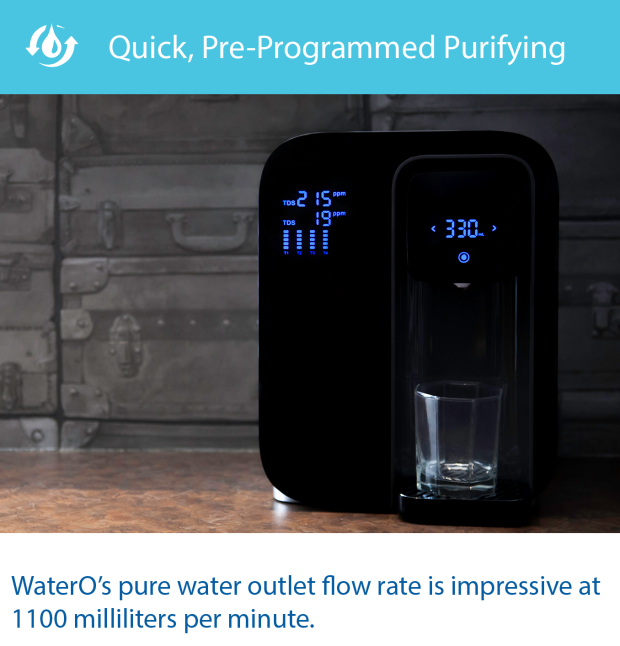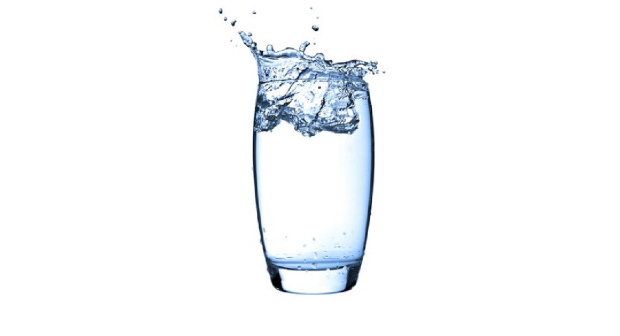 If you place a glass under the water outlet and press a button, you'll have a glass of purest drinking in water in a mere 60 seconds.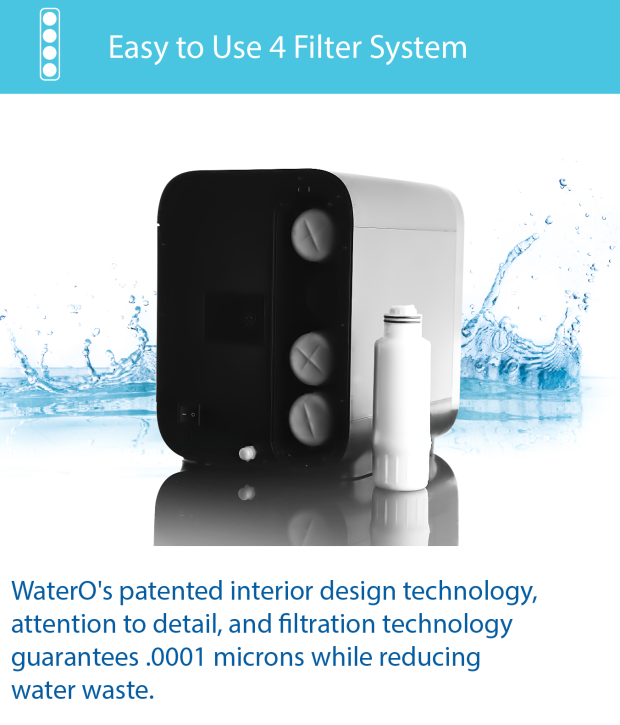 Unlike other, less efficient RO purifiers, WaterO produces two parts pure water for every three parts poured into the system. This means only one part of non-pure water is wasted.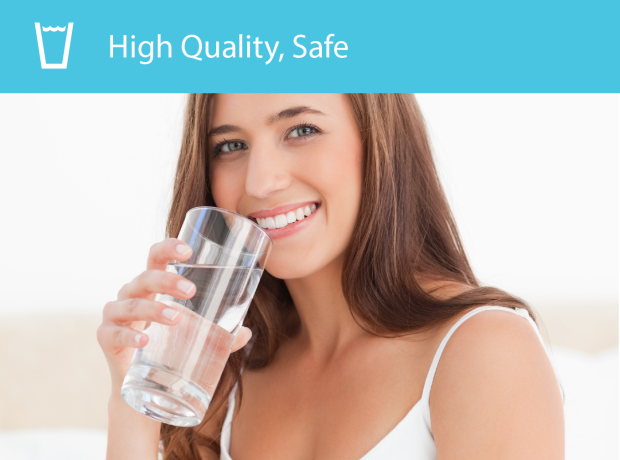 WaterO is constructed with a combination of General Electric RO filter and food grade PP Plastic. With such high quality materials by our side, we ensure safety and high purification ratios.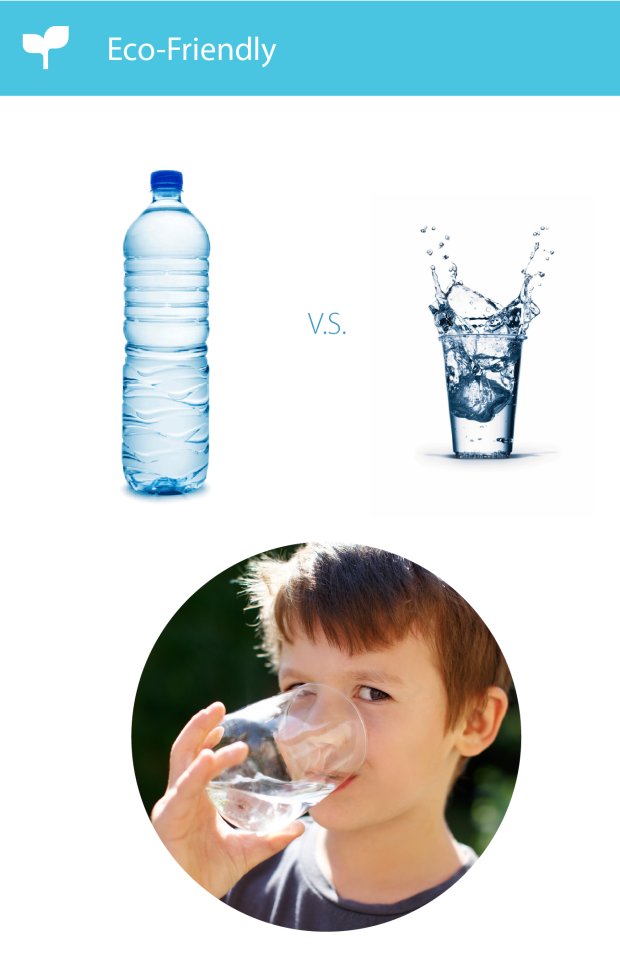 WaterO's unique recycling water system is designed to filter and re-filter each drop of water you pour into your machine. WaterO produces almost triple (267%) the ratio of other reverse osmosis systems, maximizing output while lowering your water bill.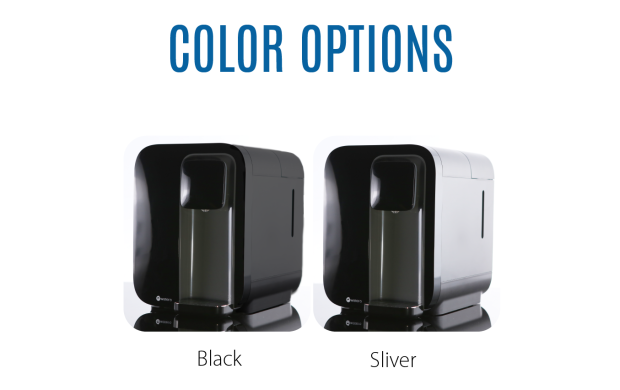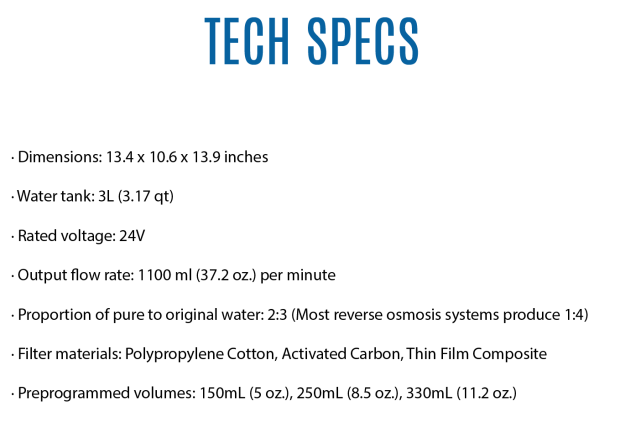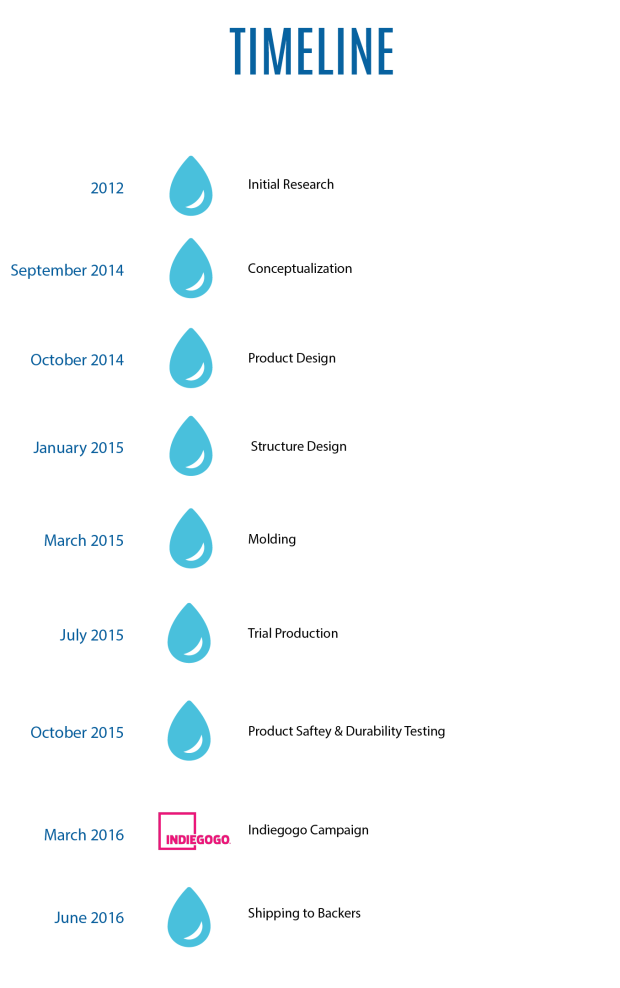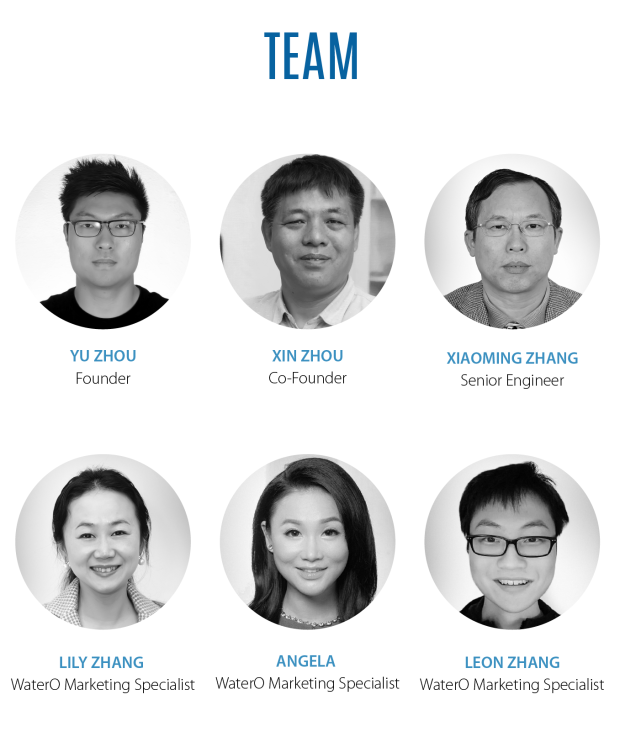 How much water does each tank hold?
The unfiltered water tank holds 3 liters. 
What percentage of purified water will be produced?
At least 70% and approximately 75% – 80% in actual use. The industry current average is between 25% – 30%. We have not found any similar product in the market that exceeds 50% purified water production rate in regards to household reverse osmosis systems. 
Will WaterO change the taste of my water?
Yes. It will improve the taste of your water. The WaterO purification system is more advanced than a bottled water purification system. 
How would I know whether the purified water is compliant with drinking water standards?
There is a TDS (total dissolved solid) sensor installed in both the pure water tank and the master water tank for monitoring water quality. The difference before and after purification can be compared easily. The sensor also acts like an extra security for the system in case of filter failure.
Can I put ice in my WaterO?
Currently, there isn't a heating or cooling system in place. However, you may add ice cubes into the water tank. It will not affect the purification system.


What colors does the WaterO come in?
The WaterO comes in 2 colors, Black and Silver. However, we plan to offered different colored WaterOs soon. 
Does WaterO have an external battery?
WaterO doesn't come with a built-in-battery. However, you can use a 12-volt external power supply if needed. 
Is WaterO certified?
We are currently in the process of getting WQACertification.
What does WaterO filter?
Any particles with the diameter 5000 times smaller than average bacteria. That is basically everything besides pure , clean water. 
How many filters does WaterO have? What do they do?
The WaterO has four filters (Filter #1 – PP Cotton Filter, Filter #2 – Front-End Activated Carbon Filter, Filter #3 – Reverse Osmosis Filter, Filter #4 – Back End Activated Carbon Filter). Each filter produces the following water output amounts. Filter #1: 600L, Filter #2: 750L, Filter #3: 2000L, Filter #4: 1400L. A one year supply of WaterO filters includes (3) Filter #1s, (2) Filter #2s, (1) Filter #3, and (1) Filter #4. 
When should I replace my filters?
Each filter has a different service life. However, a
 one year supply of WaterO filters includes (3) Filter #1s, (2) Filter #2s, (1) Filter #3, and (1) Filter #4. 
How do I replace the filters?
WaterO comes with a small tool for easy replacement. It takes about 10 seconds to change a filter. 
How fast is purification process?
The theoretical rate is 1100 ml/min. However, since there is a built-in water tank for purified water, you do not need to wait for the purification process. 
How much will it cost to replace all four filters?
A one year supply of WaterO filters (average drinking amount for 2 people) costs $60 and includes (3) Filter #1s, (2) Filter #2s, (1) Filter #3, and (1) Filter #4. 
Will water-born microbes grow inside the filters?
Each filter cartridge in WaterO has a service life. As long as they are replaced when recommended, microbial growth will not be a problem. 
Does WaterO use a HEPA filter system?
The HEPA filter is used in the air purification system, not in the water filtration system. 

How will I know how much purified water is in my WaterO?
The water level can be found on the side of the water tank through a semi- transparent wall. When the tank is running out of water, the system will remind you by flashing the indicator light. 
Can I add lemon or any other fruits to my WaterO?
Yes, but it isn't recommended. WaterO's reverse osmosis filtration system will filter it out.
What platforms is the app compatible with?
The app is available on both iOS and Android devices. 
What are the app's features?
The app notifies you when your filter needs to be replaced based on use and reports the quality of water and information on energy saving. 
When will I receive my WaterO?
We anticipate to ship in June 2016.
How much is shipping and handling?
Shipping and handling is free in the United States. International shipping and handling will costs $35 per unit.
What is the warranty?
We will provide a 2 year limited warranty. 
Find This Campaign On