iCrowdNewswire - Mar 8, 2016
NEEURO Ultimate Brain Training Wearable with Games
Train your brain for a healthier mind, to achieve better memory, focus, spatial skills and much more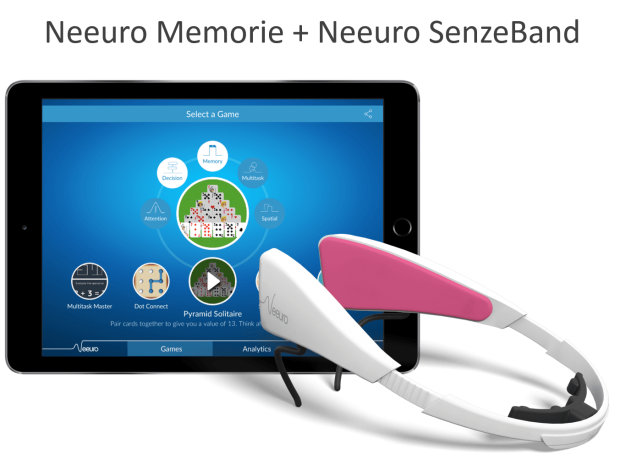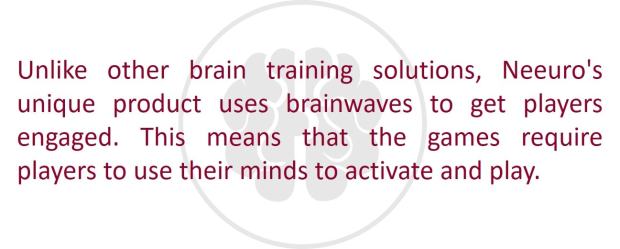 We exercise to keep ourselves physically fit and healthy, to reduce the risk of diseases like heart attacks and strokes. We are able to do the same for our brains. 
Neeuro's solution is a combination of a mobile application containing games and a headband that monitors brainwaves. These games, designed by neuroscientists, game developers and data scientists, are played to stimulate and strengthen the mind.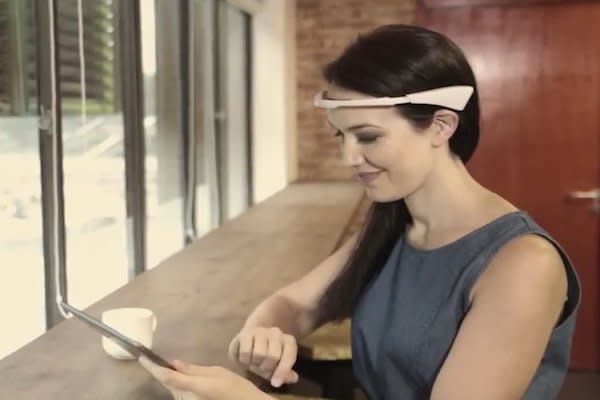 The mobile application, Neeuro Memorie paired with the headband Neeuro SenzeBand, creates a unique combination that effectively measures brain activities for mind stimulation. This combination helps in the following cognitive functions: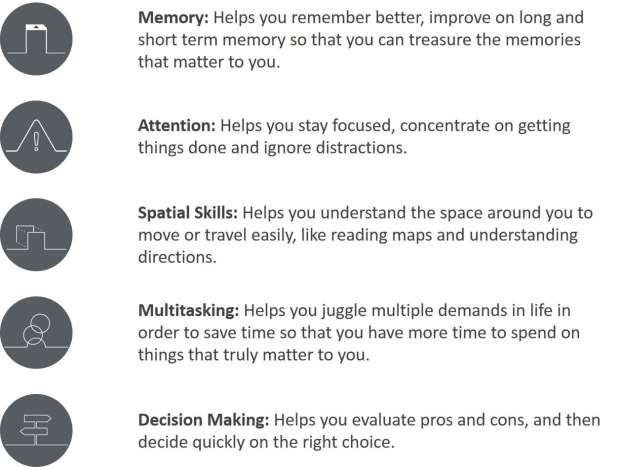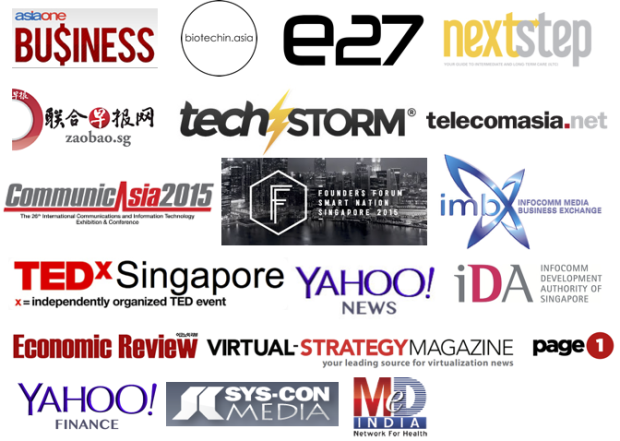 "The good people at Neeuro have come up with both a device and a game of sorts to help keep that brain of yours healthy." – Tech Storm
"Step aside, Jean Grey and Professor X. Neeuro's Brainwave Headgear can also read minds, but to check on your mental health." –
e27
"This invention could potentially pave the way for scientist to gain more insights about our brain while at the same time, helps us keep a healthy mind.  There isn't an invention quite like this…" –
Tech Storm
"Neeuro's brain training technology literally turned heads as a steady stream of visitors gave their brains a workout…. " –
IDA – Tech Scene & News

Neeuro Memorie uses games to stimulate the brain's cognitive function in the areas of attention, decision making, memory, multitasking and spatial skills. These games are designed based on neuroscience to ensure focus on the specific cognitive skills.
By playing fun games, the EEG-based Neeuro SenzeBand reads your brain waves and tracks your progress, gives feedback for improvement. With the Neeuro SenzeBand, too, you can control the games with your thoughts, giving it a mind-controlling feature not present with other headbands and training game apps.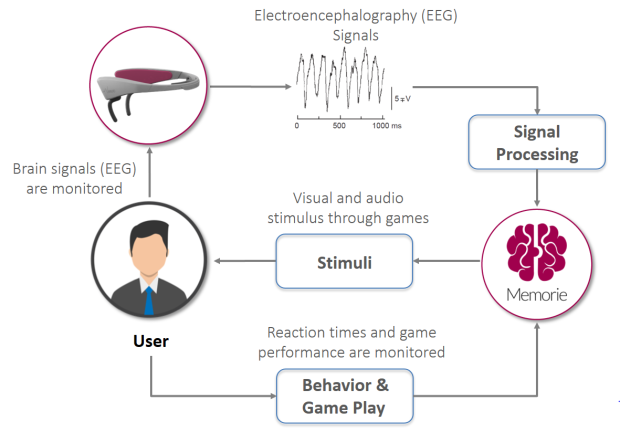 Neeuro helps you get back to the basics of mind wellness, and giving you the ultimate brain training experience.
Unlike most brain training applications, Neeuro Memorie uses an EEG headband, called Neeuro SenzeBand, to monitor brain activities during game play. The Neeuro SenzeBand measures brain activities for proper brain stimulation.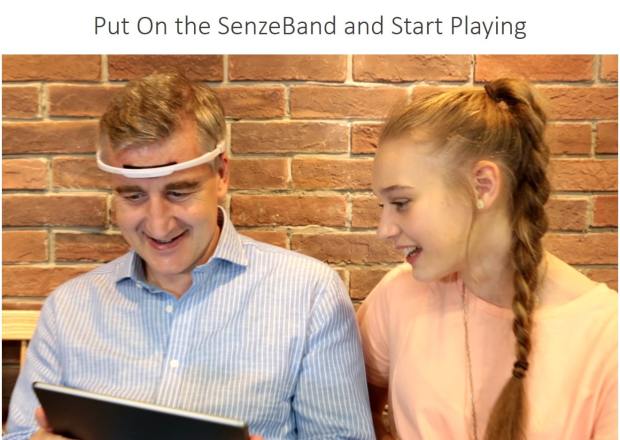 Simply put on Neeuro SenzeBand, pair it up with Memorie and start playing the games. Play it with your children, parents, grandparents and all your loved ones; enjoy it as a family.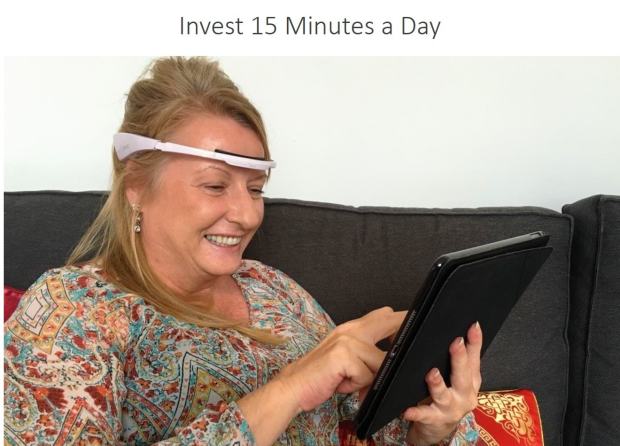 For an effective brain training, spend a minimum of 15 minutes a day playing the games. Over time you will see an improvement in your cognitive performance.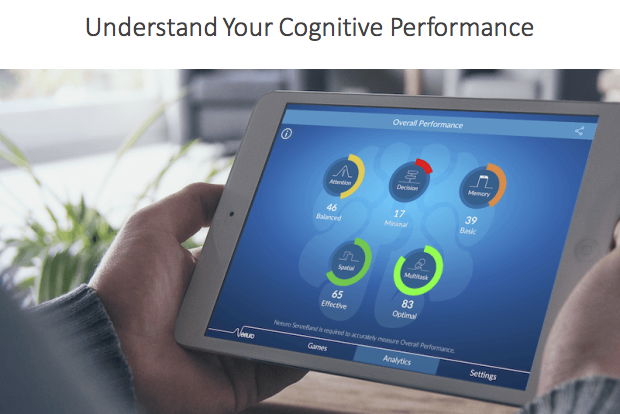 Track your performance in the games and understand your overall cognition in the areas of Memory, Attention, Spatial Skills, Multitasking and Decision Making.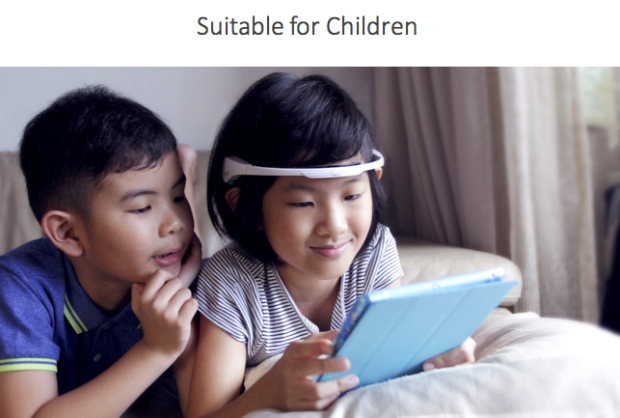 Children too, can play the cognitive games that are designed to be fun and entertaining.  They will be stimulating their minds and giving themselves all the opportunities to enhance their cognitive abilities.

Neeuro Memorie will have 15 games when released. This video highlights 5 games:
On top of that, there will also be games that require you to use your attention in order to control the games!
The
MindCopter game
trains you in attention and focus.  You have to concentrate and pay attention to enable the helicopter to fly.
The
Psychic Cyclist game
makes you practice to stay focused, so you can control the bicycle moving forward.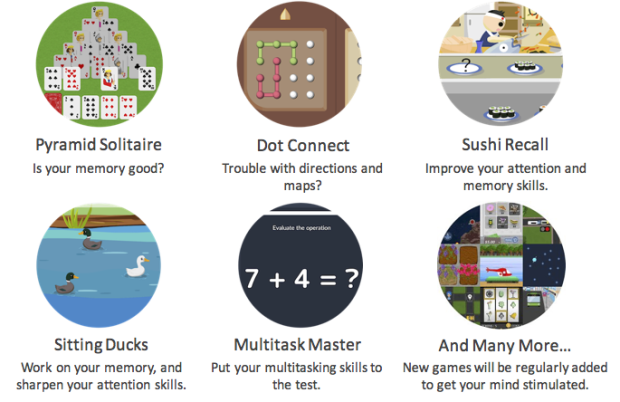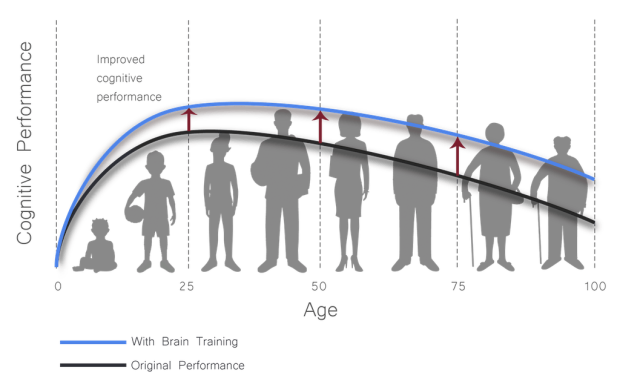 Studies have shown that our brain's performance peaks in the early 20s and the decline begins towards the late 20s. This decline is linear as we advance in age beyond our twenties. With proper brain training, this decline can be delayed, thereby improving cognitive performance.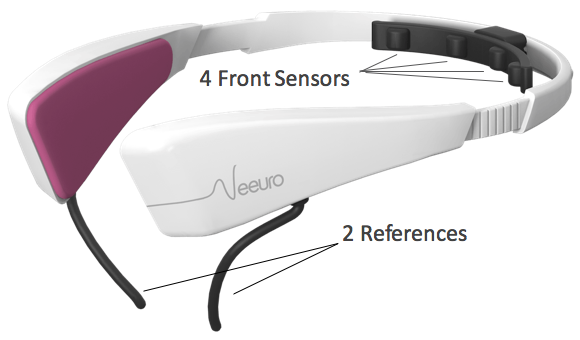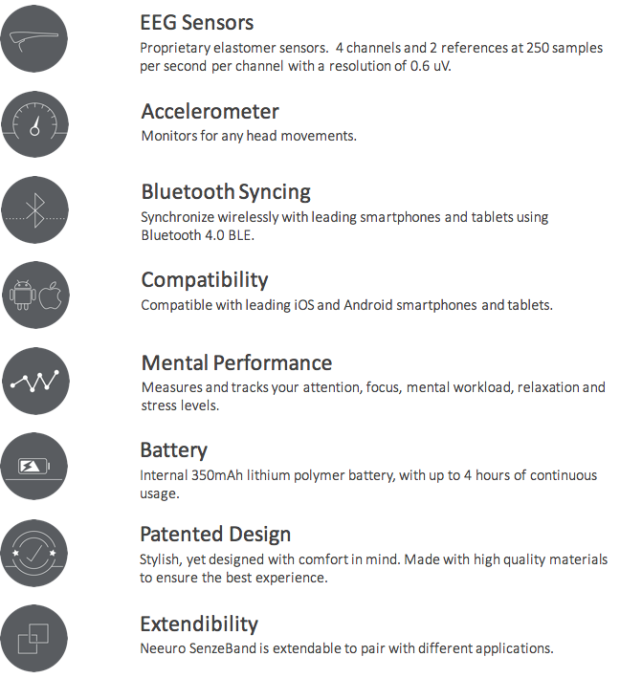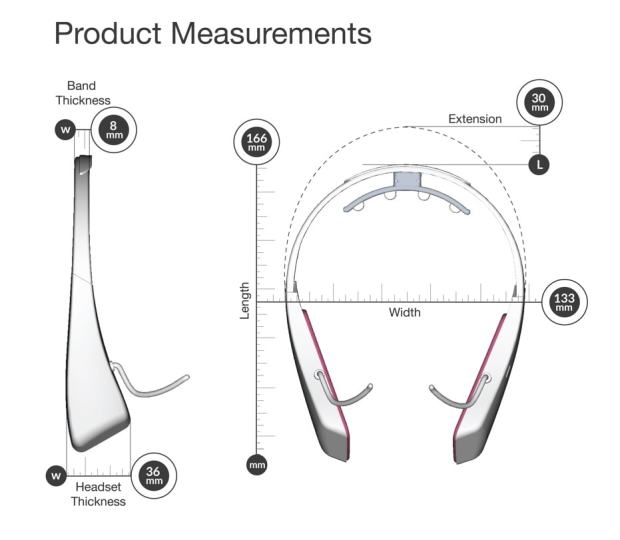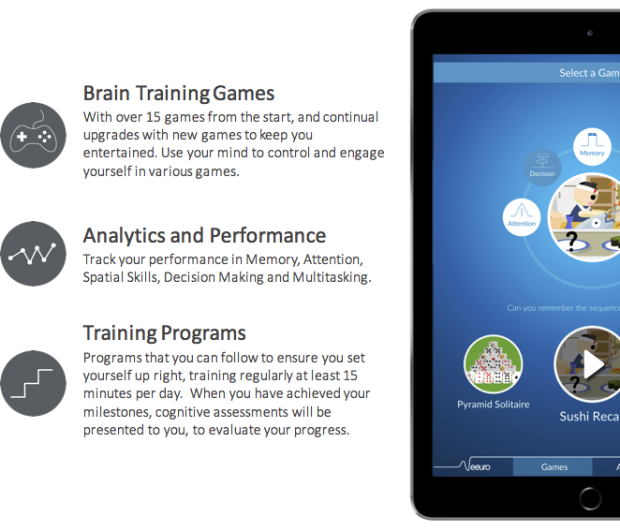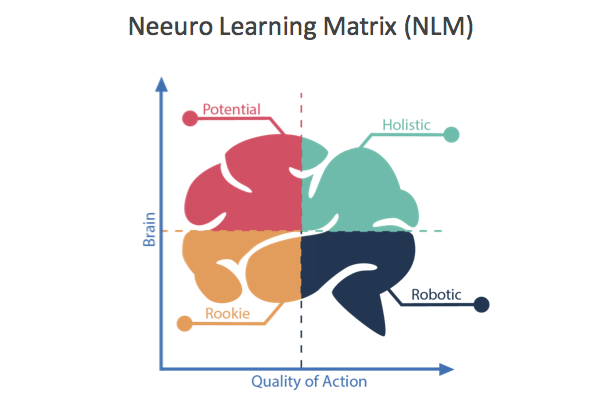 During game play, Neeuro Memorie continuously measures and evaluates your performance through the Neeuro Learning Matrix (NLM). This is a key differentiation of Neeuro's Memorie.
The patent pending system and method, NLM, provides a concise analysis for behavioural and mental stages while training your brain with the Neeuro Memorie games.
Find out more information about the NLM here.

We set out to change the way people perceive using wearable technology that incorporates measuring brainwaves. We wanted a brain training solution that is easy, accessible and affordable for everyone. The following table shows comparisons with other brain training alternatives: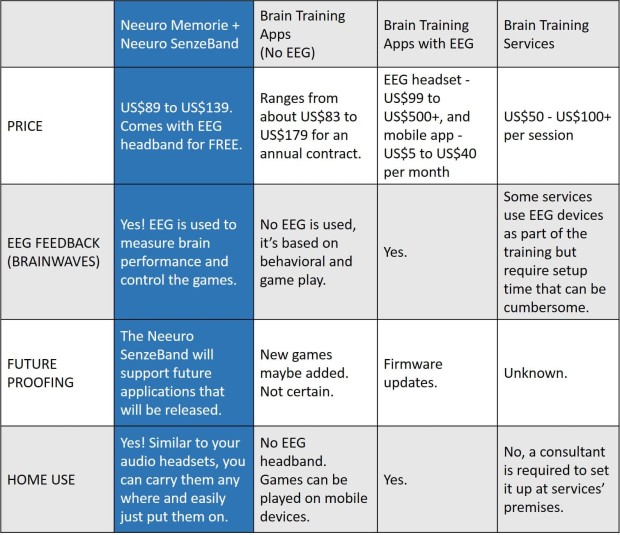 Our world's population is ageing fast. According to the United Nations, global population aged 60 and above is growing at a faster rate than the total population. With an ageing population it will come with mental challenges like dementia. In fact, it is estimated that 46.8 million people worldwide currently have dementia and is set to double every 20 years, reaching 74.7 million by 2030. The estimated cost of dementia is US$818 billion in 2015.
Neeuro strongly believes that early diagnosis and early intervention are key mechanisms that can close this treatment gap. It's always better to seek preventive methods rather than to find a cure. 
At Neeuro, we want to be part of this solution towards addressing this challenge, as with many nations addressing an ageing population under Smart Nation and Smart City initiatives. At the same time, we want to reach out and provide our solution to as many people as possible.
Neeuro is a social enterprise and a member of Singapore Centre for Social Enterprise "raiSE". Neeuro's mind stimulation solution has a social mission as the company resolves to aid seniors, care centers, communities and health service providers with brain training.

Neeuro has done all its research and have spent over 2 years creating this mind stimulation solution. We would like to reach out to users to help make it even better. With more users, we will be able to do much more, push its accuracy even further and discover even more with what we can do with our minds. 
The Neeuro SenzeBand and Neeuro Memorie will retail for US$299 and US$149 respectively. For this campaign, we want you to be part of what we do and support our cause. In doing so, especially for this period, we will give the Neeuro SenzeBand for FREE, with perks starting from just US$89.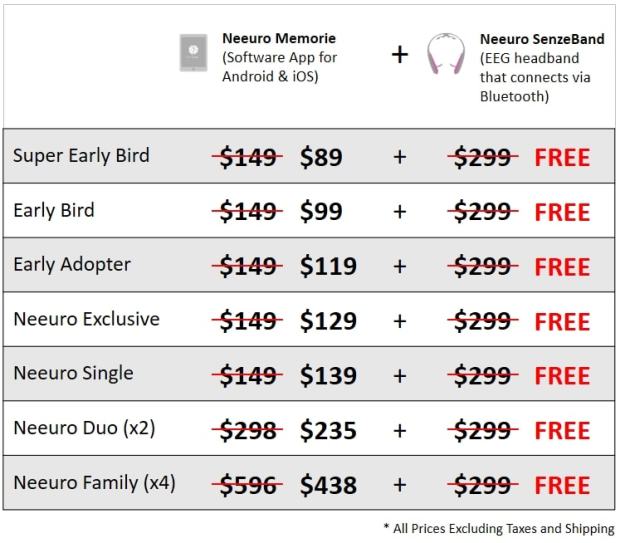 We have assembled an incredible team of people, consisting of designers, engineers, neuroscientists, industry experts, marketeers and PR practitioners that all have a common vision to create the best product for mind stimulation.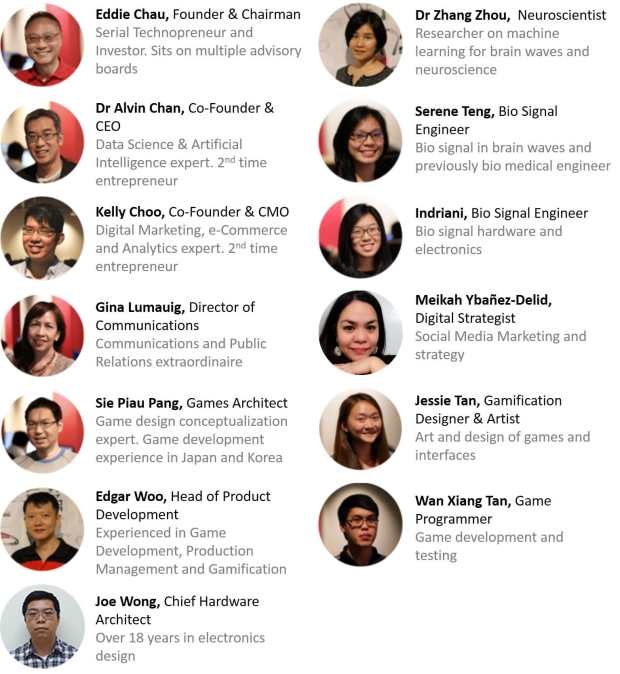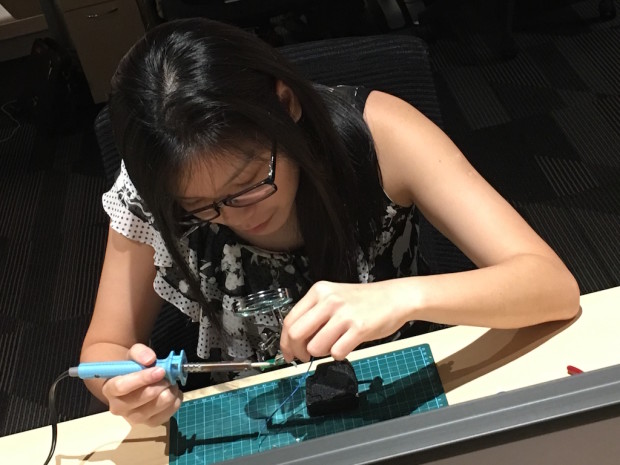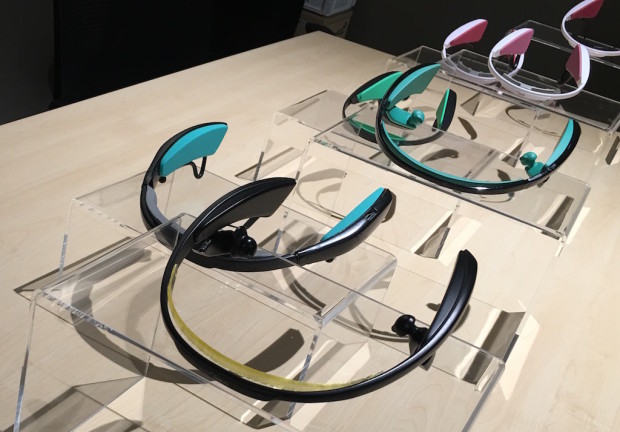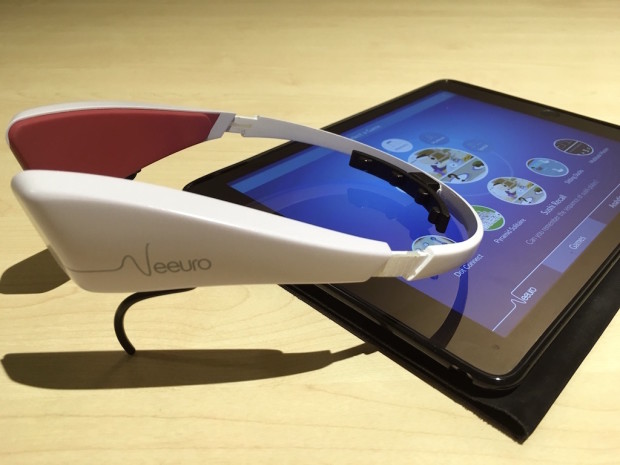 We have been working on Neeuro products for the past two years, we have done various prototypes and tests. Now, we have finalised our working prototypes and we currently are in the final stages of:
Finalising the detailed engineering schematics for the final product.
Iterating on the user experience of the mobile application.
Developing and iterating more games so that users will have continual upgrades to new games.
We will begin the process of:
Designing the packaging.
Preparing to get product certifications.
Planning out the supply chain process to ensure the materials are ready for production.
Tooling. 
Procuring materials.
Production.

We've come a long way since we had a vision for Neeuro when it was founded in 2013.  It had been a journey of discovery, fact finding, facing different challenges and iterating our designs and methodologies until we got them right. But now we need your help. Your support will allow us to go to the next phase of our project that will help kick start the manufacturing process.  
We want to make Neeuro Memorie and Neeuro SenzeBand available to you and everyone who wants to start having healthier minds through brain training. Allowing you and your loved ones to keep their minds active, understand their cognitive performance and head towards a healthier mind. Let's make this project a success so that we can give back to communities, helping us, as a social enterprise  support those that need help with their mental well being. Let's do this together! 
Why support us?
Be the first to get it!
You've always wanted to help yourself or your loved ones improve their cognitive functions.
You always wanted a product that can measure your brainwaves and use them in a meaningful manner to enhance your cognition.
Help us to give back to communities that need help on mental well being.

1. PRODUCT (What it is, what is it made out of)
2. SCIENCE (What is the science, how long to play, who is it for)
3. PURCHASE & SETUP (Quantity, options, set up, etc)
4. BUYING & SHIPPING (Languages, timeline)
5. TECHNICAL (Minimum requirements, can I use it for this)
6. PRIVACY & SECURITY (Secured data, secured brainwave data)
7. OTHER QUESTIONS
1. PRODUCT
1a: How will the Neeuro SenzeBand and Neeuro Memorie App help me?
It is a brain training solution that works together; regular use of which will enhance your attention, decision making, memory, multitasking and spatial skills.
1b. How does the Neeuro SenzeBand work? Is it safe?
With its four front EEG sensors and two reference sensor electrodes, the headband accurately reads the brain's cognitive signals. The sensors use highly conductive elastomers, which capture very low frequency signals. When the headband is placed around your forehead, it records your brain's activity and senses its overall health. It is non-intrusive and safe to use, with no current or electromagnetic waves that will be sent into your brain. The Neeuro Senzeband has been internationally certified with FCC, IC and CE.
1c. What is EEG and how does it work?
Electroencephalogram, or EEG, records the brain's electrical activity, through electrodes attached outside of the head, which then transforms the electrical activity into patterns, called brain waves. Read more here.
1d. Is there scientific basis for EEG (electroencephalogram)?
Yes. An EEG test is done to check brain activity and diagnose problems in the brain or in the nervous system. Read more on Wikipedia.
1e. What is the Neeuro Memorie App?
It is a game app best used with the Neeuro SenzeBand. It contains 15 games plus regular new games to be introduced, which are designed to train different aspects of the brain's cognitive functions – attention, memory, multitasking, spatial and decision-making skills. Memorie evaluates your performance, and guides you through the lively games to achieve the desired results. Read more here.
1f. Why is the Neeuro Memorie App not free like in most wearable devices?
This is the paid version of the app that comes along with the Neeuro SenzeBand. It will contain 15 games as a start and more games will be released regularly. You will be enjoying continual upgrades and frequent new games with this package.
2. SCIENCE
2a. What is the science behind this? How do I know if this works?
Research in this field is on-going and there have been positive results based on certain conditions. We are in the midst of doing our own studies and have compiled a science whitepaper and an animated science explainer video for easy understanding. View them here.
Training for a few hours across a wide variety of brain functions like in some studies, would most likely not gain any real-world benefits in the same way as going to the gym a couple of times per month and doing undirected exercises. It has to be targeted and consistently done.
2b. How often do I need to play the games to see an improvement?
Based on existing research such as the Nature publication [PDF] in 2013, we recommend play to be at least 15-20 minutes per day.
2c: Who is this suitable for?
We want a solution that is suitable for as wide an audience as possible starting from 6 years onwards. If someone already has cognitive decline or a brain condition, we recommend that you consult your doctor first. Just like exercising in a gym will not guarantee that you will not get a heart attack, we cannot claim that using our solution will guarantee that you will not experience cognitive decline or brain diseases.
3. PURCHASE & SETUP
3a: Do I need one headband for each person in my family? Or is this sharable?
The Neeuro SenzeBand is sharable, but there will be no individual scores for you to track and thus the analytics for that account will not be useful. This is not ideal if you want to have own tracking of performance. We recommend that you consider backing the Neeuro Duo or Neeuro Family perks if you want to have more than one person use it.
3b: What colors does this come in?
We currently only have a white version. However, we would love to hear your feedback on other colors you would prefer, so email us at support@neeuro.com to let us know! 
3c: How easily can I set this up?
You need to download and install Neeuro Memorie when it's released. Then go to the settings option in the app and click "Device". Make sure Bluetooth is enabled on your device. Pair the app with the Neeuro SenzeBand by clicking the "Add Device" button. Once it's connected, you're ready to go play the games!
3d: What if I have any troubles with my product or software?
If you face any issues with the product or software, please reach out to us at: support@neeuro.com
3e: How do I know if the Neeuro SenzeBand can fit on my head comfortably?
The headband can be extended to different sizes. You can adjust it by pulling out the band that goes over your forehead until the reference hook fits comfortably at the back of your ears. Make sure the electrodes are placed at the centre of your forehead. It will fit head sizes with a circumference between 20 to 24 inches (51 to 61 cm).
4. BUYING & SHIPPING
4a: What other languages is this available in?
Neeuro Memorie is currently only in English. We plan to include other languages as we upgrade including the following languages:Chinese (Simplified), Chinese (Traditional), Korean and Japanese.
4b: When will this be delivered by?
We estimate to be able to manufacture and deliver this to you by June 2016.
5. TECHNICAL
5a: How will the Neeuro SenzeBand communicate with the Neeuro Memorie app?
The Neeuro SenzeBand and Neeuro Memorie app communicate via Bluetooth.
5b: What is the minimum mobile device requirement for this to work?
It can be used by most Apple iOS and Android devices that support BLE (Bluetooth Low Energy).
Mobile phone models such as:
Apple: iPhone 4s and Higher, iOS 8 and above
Samsung S4 and Note II and Higher, running Android OS Lollipop 5.0 and above
XiaoMi Mi 2 and above,  running Android OS Lollipop 5.0 and above
Tablet models such as:
iPad 3rd Gen, 4th Gen, iPad Mini, Mini 2, Mini 3, Air, Air 2 and higher,  iOS 8 and Higher
Samsung Galaxy Tab 4 and Note 10.1 and higher,  running Android OS Lollipop 5.0 and above
XiaoMi Mi Pad and above,  running Android OS Lollipop 5.0 and above
5c: Can I use the Neeuro SenzeBand to fly a drone or move something with my mind?
Technically this is possible as we have done so in our internal testing to control robots. However, we want to first release a simple, affordable and fun product to help in brain training for a healthier mind. We are open to hear from you if you have any ideas or uses that you would like to see being supported by our platform. Please tell us about it by sending an email to support@neeuro.com.
5d: Is there a SDK or API for this?
Currently no. We plan to release a SDK in the future and would love to hear from you if you're interested. Please drop us a message at support@neeuro.com to let us know.
6. PRIVACY & SECURITY
6a: Is my personal data secured?
Yes. Neeuro takes the privacy of users' data very seriously. Our Privacy Policy can be found at http://www.neeuro.com/privacy/
7. OTHER QUESTIONS
7a: What are the challenges?
We are creating something that uses sophisticated parts and materials, combined with designing games based on neuroscience so that as many people as possible will be able to enjoy and benefit from this.
There may be development and manufacturing delays outside of our control, but we promise you timely and transparent communications throughout the process. We have done as much as possible to reduce these risks so that we will be able to deliver this to you as soon as we can.
Find This Campaign On