iCrowdNewswire - Mar 5, 2016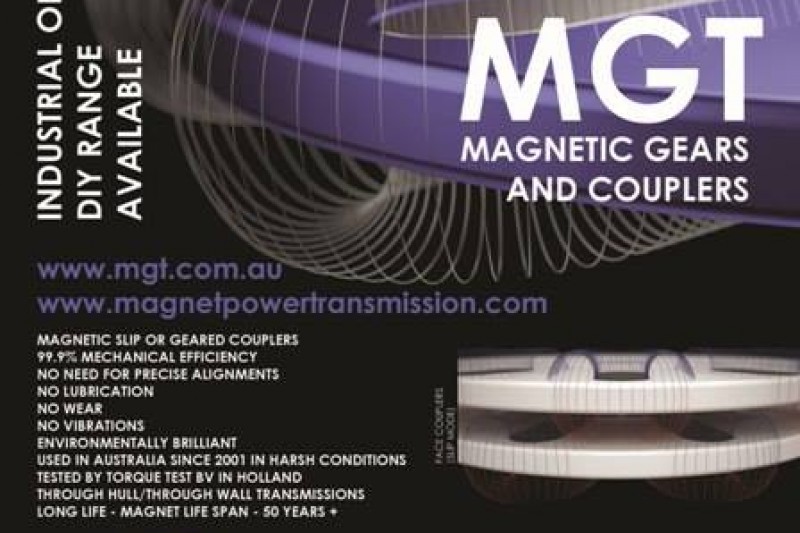 My name is Andrew French, l am an Australian farmer and inventor. I invented the MGT Magnetic Gears and Couplings as seen in the picture and you can follow the websites below. This technology is outstanding in many ways. It is a revolution in mechanics and machines. For those people who dont undertand mechanic and machines, you may know what a fan belt is. This invention means that machines dont need these belts anymore. There is no belt in cars or any other machine to break. The drive is done with magents and the magnets last many hundreds of years. This technology can be used in all types of machines and it will even mean that we can stop space junk because the belts in satellites wont be there to break. The technology also protects life and limbs by having slip points that can be determined at design to only carry the load needed and slip if overloaded.
Our technology was stolen by an individual and some companies in the US and Europe. We have commenced legal proceedings here in Australia against the individual that took our technology to these companies. He has advoided the court for over a year now and has only appeared through his legal team representing him and finding every reason under the sun to delay the matter. He lives in the UK and he is trying to send us broke before the case is run, which is expected to be around April/May. As his lawyers delay it more and more it is costing us all our money. We have just lost our farm over this delay strategy and we are worried that we will not be able to fund it to the end, as he is very rich and has lots of money to spend on this known tactic.
Any money received from this crowd funding or any other large investor will be put towards the legal costs in saving this great invention. We need to pay the solicitors, barristers, forensic accountants and expert witnesses and make sure we have enough funds in their trust accounts to keep them all going. We need to raise half the funds by mid January 2016 and the rest by the end of Febuary 2016. Any further funds received from any source would be put towards the development of the technology and re-establishment of the technology. Our technology and copyright rights have been breached and it is David taking on Goliath to defend and keep them. 
This not only means a lot to me and my family, it means a lot to the world. This technology will save emmissions and reduce global warming by reducing fuel comsumption. MGT Technology reduces fuel consumption by reducing friction within the systems of any machinery.
www.mgt.com.au
www.magnetpowertransmission.com


This technology is something that we all should stand up and support. This is a call to all – Australian's and anyone else in the world who cares about justice and the environment and wants to make a difference.
The big powers to be are trying to stop this technology and that is why we are in court, once we are successful MGT will rollout worldwide saving everyone money & time. It will have a real impact on emmissions by reducing waste through friction. This technology is the key to the space age, friction is part of the industrial age. Friction is waste and if we reduce waste – we save.
We would be so grateful to see the strength of people power help us round up these unscrupulous multinational businessmen and make sure that justice is done. If we personally run out of funds the case will finish, they will get away and the technology will never come into mainstream use.
The planet will be thankful for you contribution, my family will be and so will everyone at MGT Australia.
Thank you
Andrew French
Please read and share this everywhere you can. Nothing ventured nothing gained – spread the word.
Thank you so much to everyone who shared this and donated to help me with the court costs. The billionaires and big corporations are doing everything they can to break me. As this travels around the world being shared it has spread the word about the MGT Technology which is a good thing. People have contacted me asking about MGT and have gone to the websites. Some very powerful people have also seen this and l hope more do. We have just lost a farm here in Australia as these other people & companies run around the world using and selling what was my invention and their legal teams use delaying tactics to try to send us broke. We are now selling everything on the farm to put into this case and it is very hard to do, but in all the despair in our families lives right now it is so warming and supporting to log on here and see people donating and also sending me messages of support. It is a solid beacon of strength right now to know that some people out there care about what is right and what is wrong and they want to see justice done for the small guy. Some of these people l don't even know, l once again thank you all for your support.
please keep sharing this…