iCrowdNewswire - Mar 3, 2016
Aero Digital Earphone, complete HiFi system at 30g
It is a complete HiFi system in your ears, DAC+Amplifier+Drivers, your music will never be the same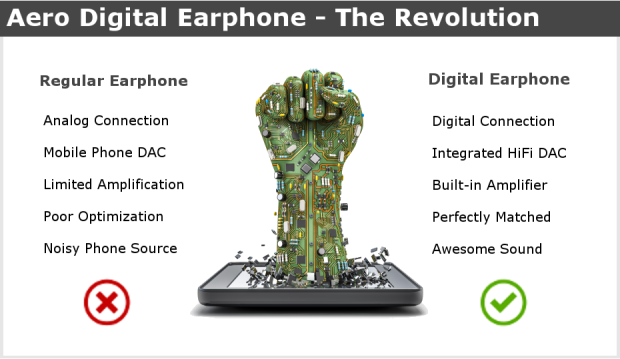 You don't feel happy with the music from your mobile phone, do you? Bought a more expensive earphone but just got marginal improvement. The reason is due to the poor audio system inside your PC/mobile. Digital earphone bypass the PC/mobile audio system and recreate HiFi music directly. Your music will never be the same.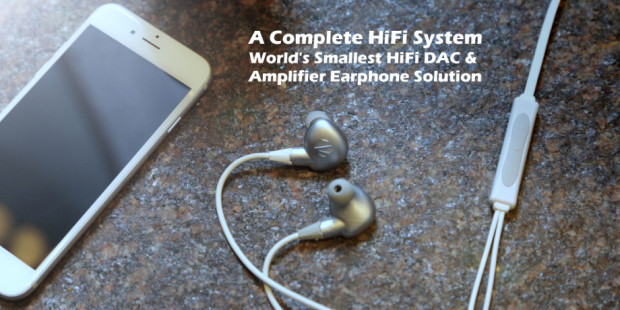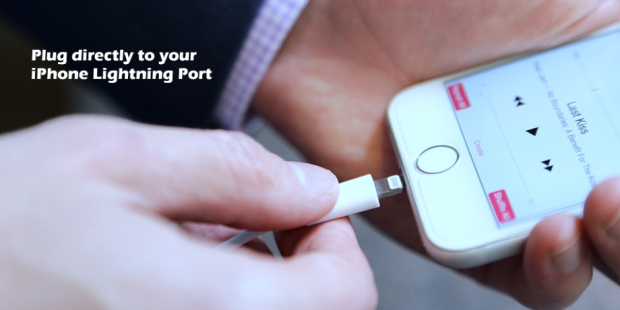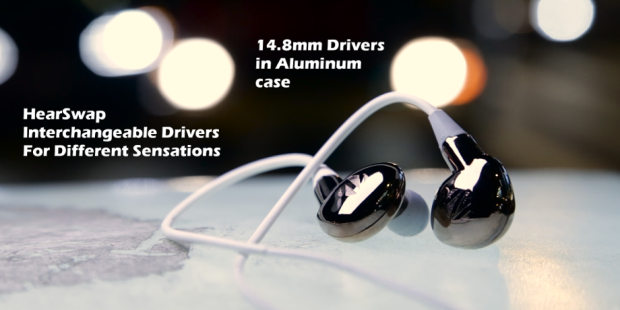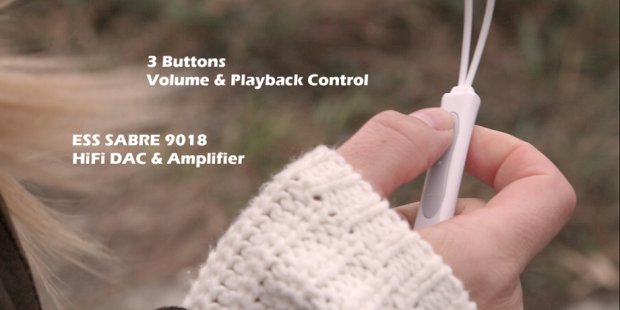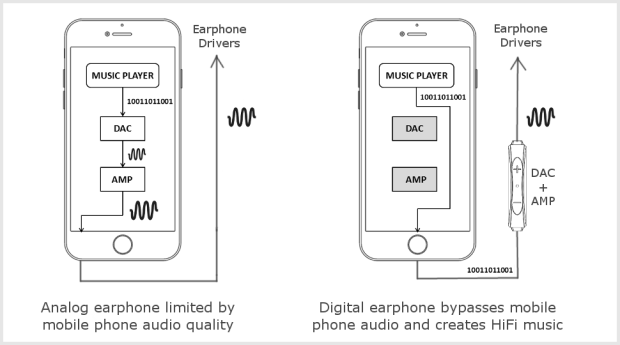 We are tired of the limitation at the current earphone architecture, let's join the revolution and free your music. Aero eliminates the bottleneck and faithfully reproduce music inside the earphone. With its built-in DAC and amplifier, it is no more an earphone but a complete HiFi system!

We, Andy Ho and J.W. Cha, founded Zorloo at Nov-2014. We both worked in the consumer electronics industry and decided to work on something new and more exciting. We love music and believe it would be great if we can create something affordable to improve the mobile audio experience.
We picked USB-Audio technology to bypass the PC/mobile internal audio circuitry which is the bottleneck. Mobility, performance and usability are our priorities. Aero is something we have been targeting from day one. Our goal is to make Aero experience transparent to users, small size, no battery but amazing sound!
During this journey, we have launched 2 successful crowdfunding campaigns, 'Z:ero – World's First Digital Earphone' and 'ZuperDAC – The Portable HiFi Music USB-DAC', in 2015. These 2 products are already in production, delivered to our backers and available at our online store and different marketplaces (see Z:ero and ZuperDAC reviews here). However, we are not stopping at this but striking further for perfection.
Aero is our ultimate goal to deliver a fully tuned earphone with unmatched price performance. We have been pouring all our resource and investment into Aero. Now, we are almost there and need your support to make this happen.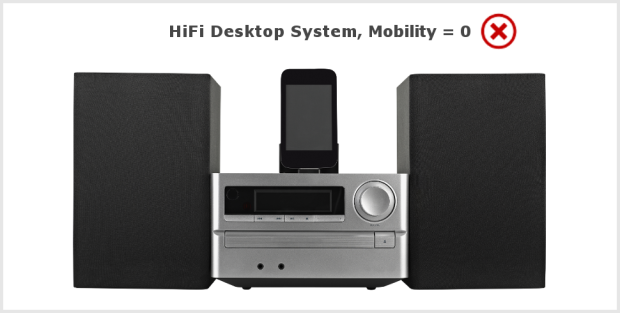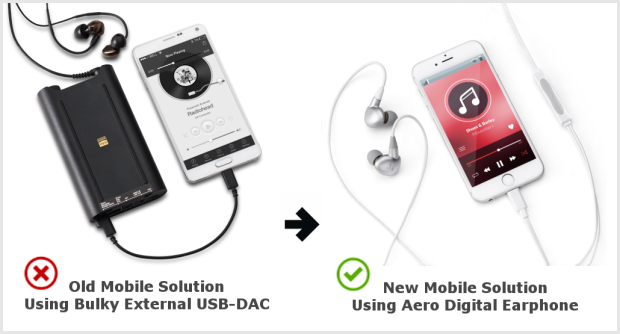 Unlike traditional earphone getting analog signal from the 3.5mm audio jack, Aero receives digital audio data from Lightning or USB port. It is equipped with the best-of-the-class ESS SABRE 9018Q2C audio DAC with integrated headphone amplifier. You can now carry a complete HiFi audio system in your palm!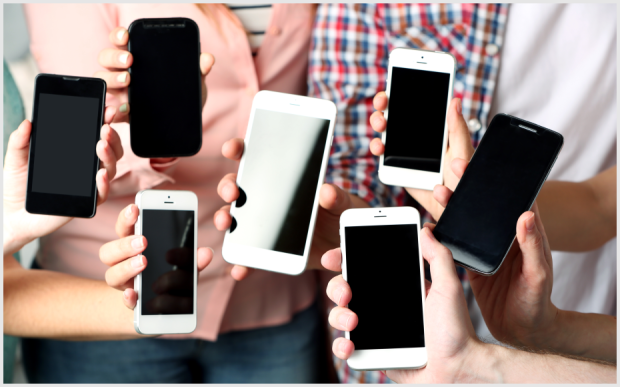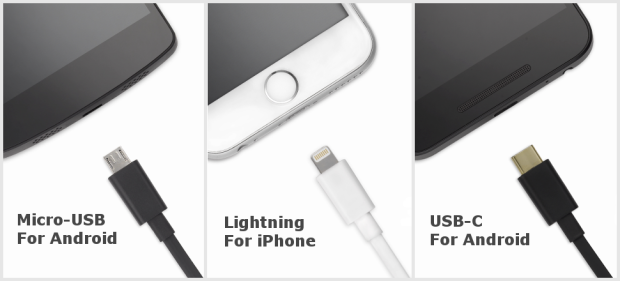 Aero support 3 different interface standards. We have versions for:
Lightning connector for Apple iPhone/iPad, 
Micro-USB connector for Android Phone/Tablet, Windows PC/Tablet. 
USB-C connector for Android Phone/Tablet, Windows PC/Tablet, Win-10 Mobile Phone and Apple Macbook 12″.
* See FAQ for phones we tested for compatibility.

Every musician tries to share their inspiration to you and we make sure every detail is retained and faithfully reproduced. There is no guess work needed, it is just crystal clear and touching. Aero digital earphone enable new ways for you to discover music.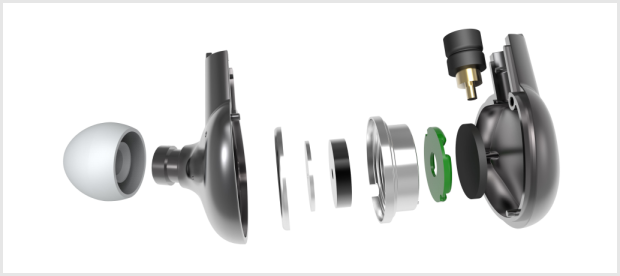 There is no need for mix and match. We work with our earphone manufacturer to develop a custom driver module to deliver the best matched performance with our DAC and amplifier. The driver module is housed in high quality aluminum chassis. We used a 14.8mm driver to deliver full range response to make sure not a tiny detail is missed. The dynamic coil design is controlled by tailored Neodymium magnetic material to ensure quick and fast response.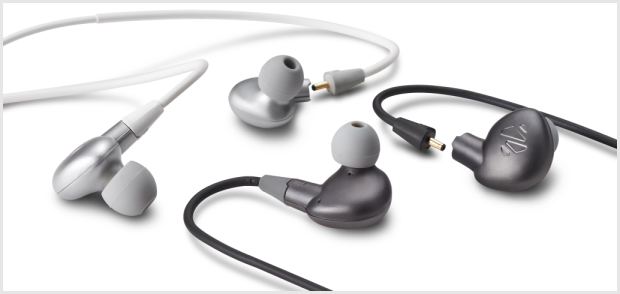 Aero is based on a modular design concept with HearSwap detachable driver modules. That means you can interchange the driver modules to enjoy different listening experiences. At our initial launch, we have created 3 types of favor: Acoustic, Euphoric and Nostalgic.
Acoustic driver module (Matte Silver/Gun-Metal color) is optimized to deliver a linear response. It comes standard with the Aero earphone. 
Euphoric driver module (Glossy Gold color) adds more emphasis on bass and dynamics. It is an option sold separately.
Nostalgic driver module (Matte Copper color) has a warm sound signature. It is an option sold separately.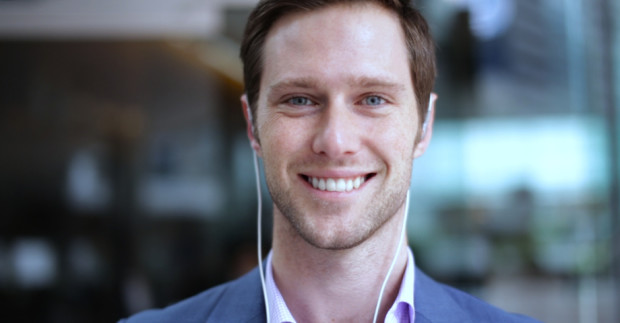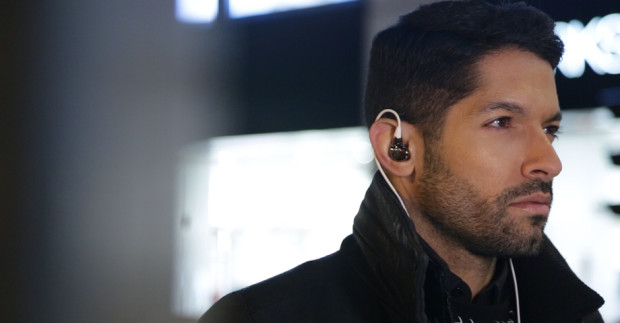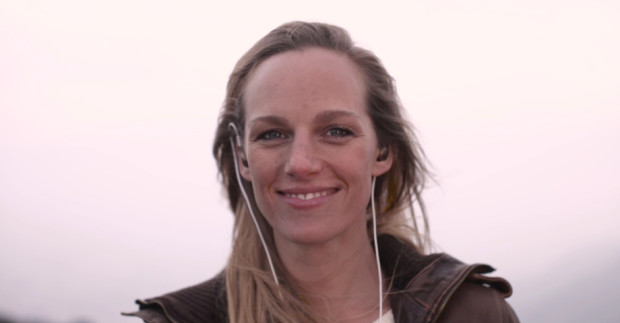 Aero is battery free and light weight to carry around. We use a contour design tangle-free wiring to let it stay comfortably and securely on your ears. There is nothing new to learn, the same play back and volume control buttons at the control box. It is simply plug and play with awesome sound!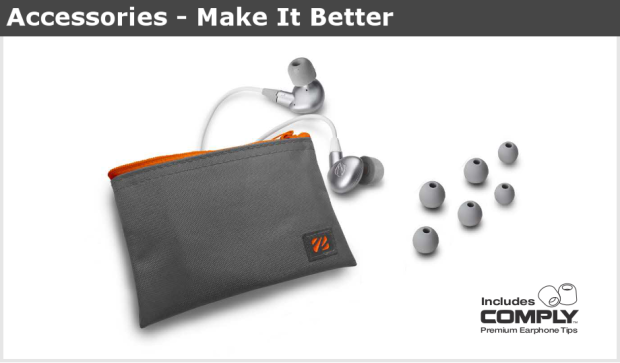 We know you will love to carry Aero with you. With every Aero earphone, we include a convenient carrying pouch. It is just the right size to store Aero and easy to carry around. Aero is pre-configured with a pair of ComplyFoam T500 isolation premium eartips to add extra comfort and isolation to your private enjoyment. Beside this, there are 3 additional pairs of silicon gel eartips included for your selection.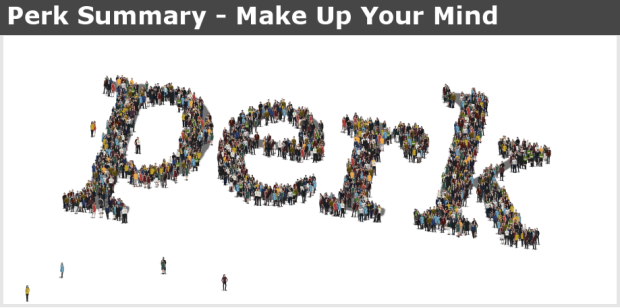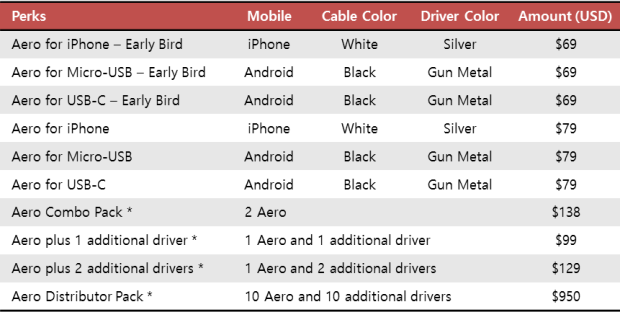 * We will contact you for the selection details when the campaign ends.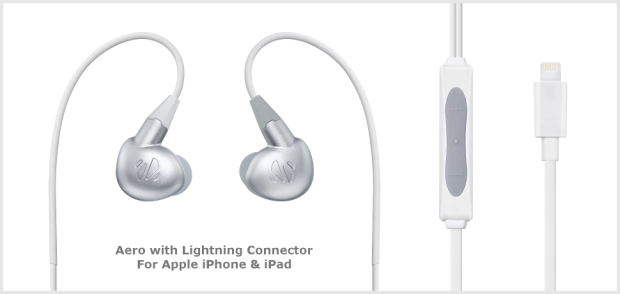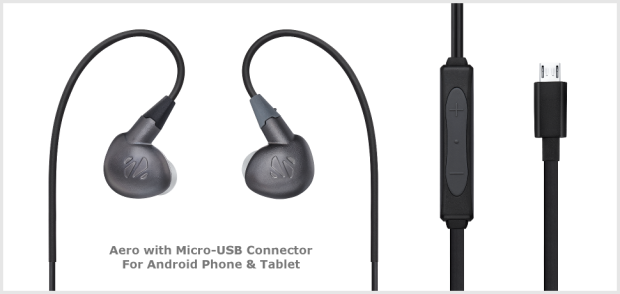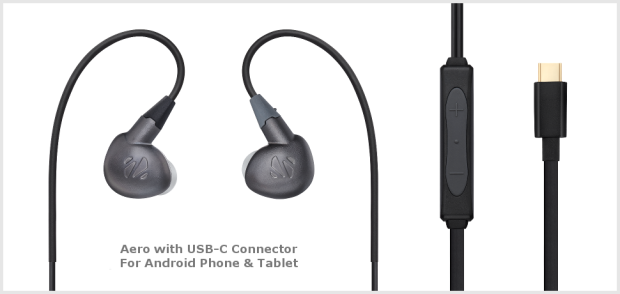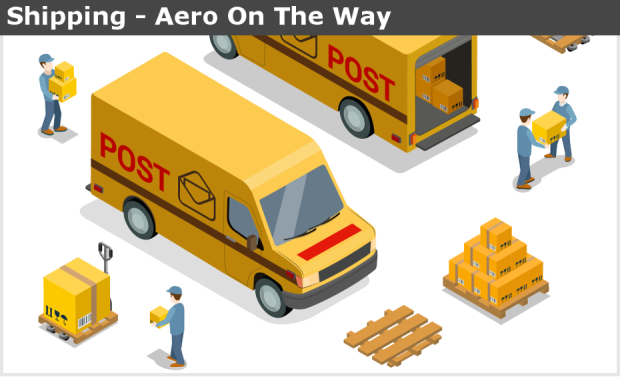 Shipping fee will be added when you select your country at the perk contribution. We will ship Aero using postal service. Tax and duties are not included. We will email you a shipment notification with tracking number when we start the delivery. We strongly suggest you to add [email protected] to your contact list (especially for gmail) so that this notification email won't be mistakenly pushed into your SPAM inbox.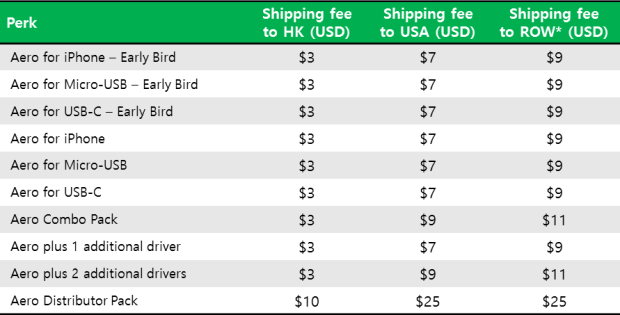 * ROW means Rest of the World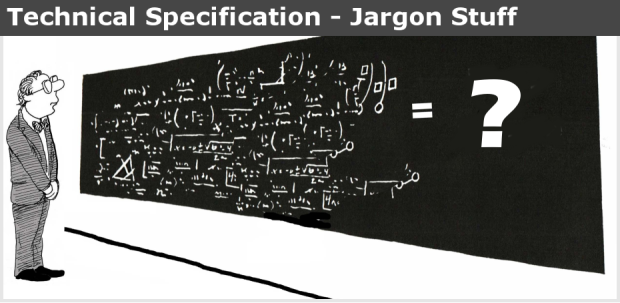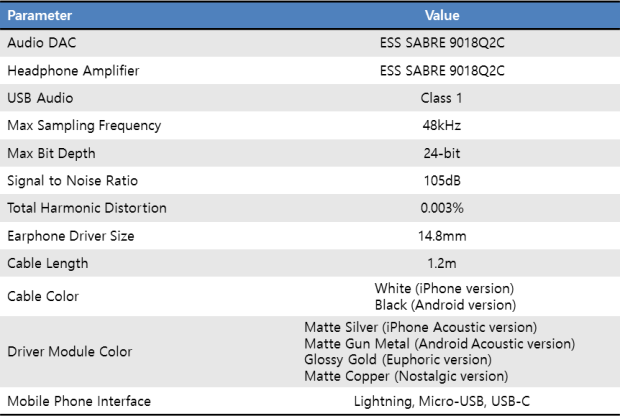 Numbers don't tell the whole story, get an Aero digital earphone and try out yourself to feel the difference!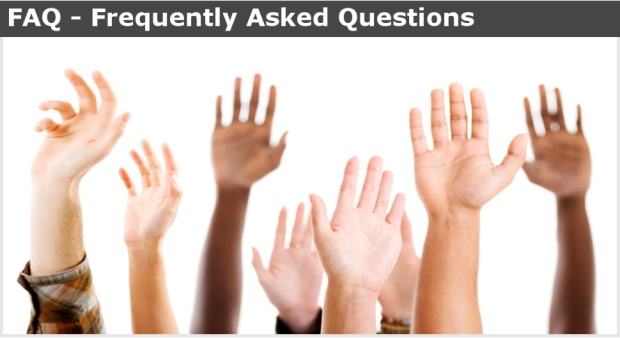 1. Is Aero for Lightning version certified by Apple?
Aero is undergoing MFi certification at Apple right now. Our manufacturing factory is MFi certified so we will start the production once the certification is completed.
2. Does Aero for Micro-USB version work with all Android phones?
Due to fragmentation of Android, we are not able to guarantee the compatibility for all Android phones. We have tested with the following phones and they all work without any problem:
Asus Zenfone 2; Google Nexus 5; HTC Droid DNA; HTC One M7, M8; LG G2 Pro, G3, G4; Motorola Droid Turbo, Moto X; Oneplus One; Samsung Galaxy S3, S4, S5, S6, S6 Edge; Samsung Note 2, 3, 4, Edge; Sony Xperia M Dual, Sony Xperia Z1, Z2, Z3, Z5; Xiaomi Mi 3, 4, Note.
3. Does Aero for USB-C version work with all Android phones?
Mobile phone with USB-C is quite new and we are not able to test all available phones in the market. We have tested Aero with Nexus 5X, 6P; OnePlus 2; Xiaomi Mi 4c; Le 1s.  
4. Does Aero for USB-C version work with Apple Macbook 12″?
Yes, it is plug and play compatible.
5. Does Aero work with Windows Mobile Phone?
Windows 10 mobile starts to support USB Audio and should work (but not for the older versions).
6. Can I use Aero with my PC/Mac and any driver required?
Aero Micro-USB and USB-C versions can both be used with PC/Mac if they have the corresponding ports. You may need a USB adapter for conversion if you only have the USB type-A port (the big one). Windows and OSX both have native USB Audio Class 1 support and there is no need for driver installation.
7. Does Aero support microphone function?
No, Aero is designed to optimize on the music listening experience and we don't want any additional microphone circuitry to interfere.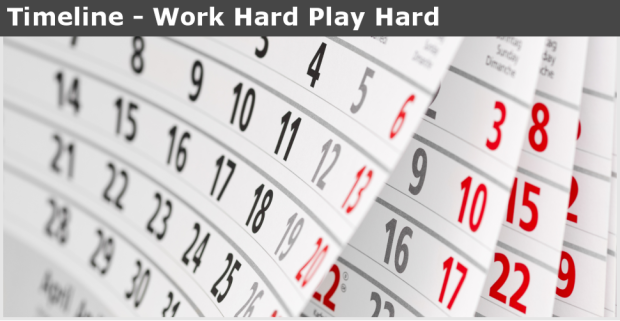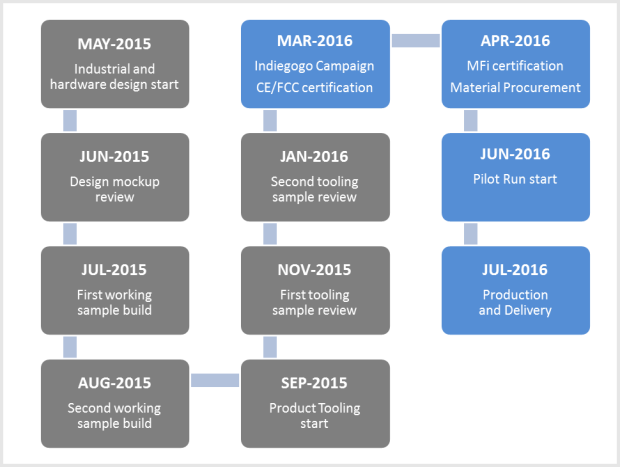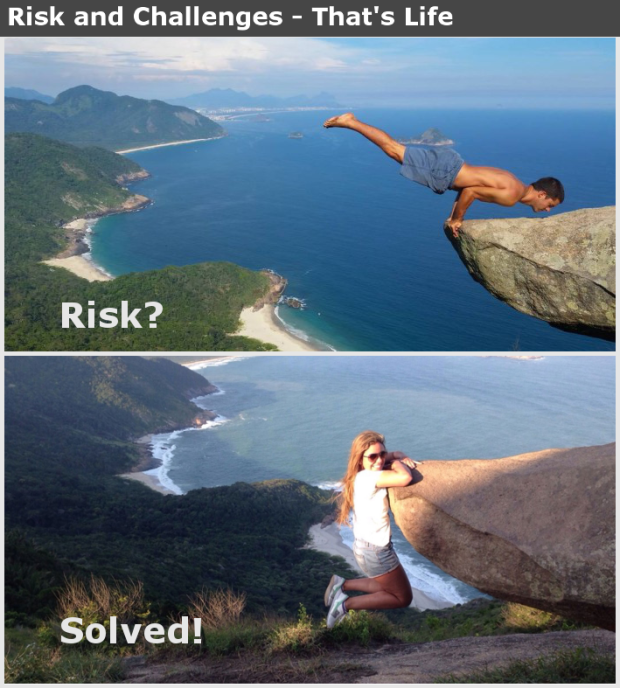 We have completed the Aero design and have fully working samples for all 3 versions. For the past 10 months, we have been working with our PCB and earphone factories to develop and verify our PCBA and earphone drivers. Our Aero iPhone version is undergoing Apple MFi certification right now. We already have all tooling done and will prepare materials for the production soon. 
Getting into smooth production is always a challenge but it is also a fun exercise to learn new tricks. We have already manufactured 2 products (Z:ero and ZuperDAC) and are confident to produce Aero and deliver to you.
Find This Campaign On