iCrowdNewswire - Mar 2, 2016
DACportable – Listen to Music Everywhere!
HiFi goes portable: Get awesome sound from phones, tablets or laptops with your favorite headphones!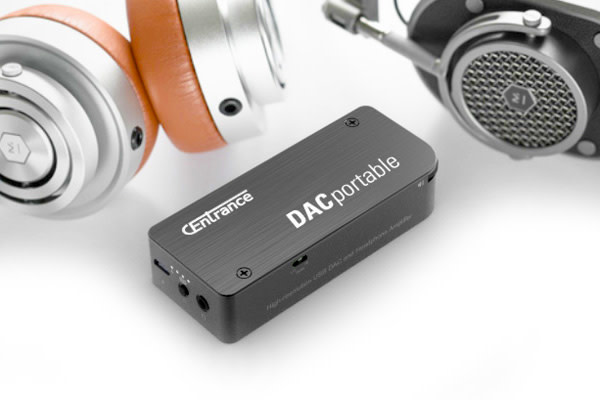 DACportable builds upon the legacy of our award-winning DACport Classic and adds the most requested features: Rechargeable Battery and Sonic Shaping filters. It comes from our team's years of experience in Audio Research and Development. 
This is our most advanced Personal D/A Converter and Amplifier, period. It will make your phones, tablets and computers sound their best without draining their battery!
What's wrong with my phone's headphone jack?
You like going places and listening to music. You pack lightly when you travel, because it's all about the experience and ease. You don't want to carry a separate music player for two reasons—first, they are expensive, and second, you already have your phone! So, you load your music onto your phone, pack your favorite headphones and go!
But, when you plug your awesome headphones into your phone, something's not right. Something's missing from your music. It sounds caged-in. It lacks impact, clarity, and emotion. Your music just isn't ALIVE.
The truth is that phones, laptops and tablets aren't designed by musicians and your phone is not an audiophile device! It was designed with the average consumer in mind, so it includes mid-grade parts to save costs.What a bummer! You hear the sound quality difference, and this gets very frustrating! 
Fortunately, there is an answer.
It's called DACportable and it comes from CEntrance, a leader in personal audio. For the last 15 years we've built equipment for recording studios, performance stages and broadcast facilities worldwide. We've designed mixing consoles, recording equipment, and home stereo systems for music professionals – the most demanding ears out there.
DACportable is the answer to bad portable sound. We packaged an awesome audio system inside a small but durable anodized aluminum case! Now you can listen to music in a whole new way using your phone, tablet, laptop or desktop. DACportable will breathe new LIFE into your music.

We make it easy to listen to music in high definition. Rediscover your own music collection, or enjoy streaming from Tidal, Spotify, Slacker, Pandora, and many others. Now you can access amazing audio quality at a truly affordable price!
A Bit of History
In 2009 CEntrance was the trailblazer. We made audio history with the release of a revolutionary product called DACport. It defined the cutting edge in portable Hi-Fi and single-handedly created a new product category. DACport, a cigar-shaped D/A converter and headphone amplifier, delivered audiophile sound to any high-end headphones and gave thousands of people access to high-quality music.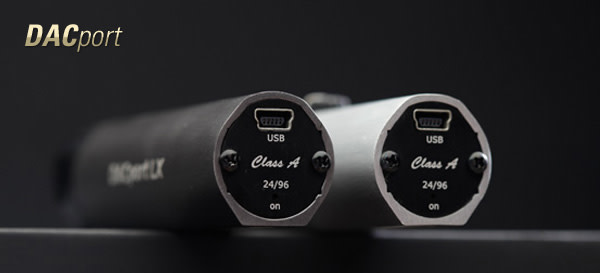 DACport's amazing sound earned it a place on Stereophile magazine's highly coveted "Recommended Components List" for 6+ years. It was featured on the cover and received numerous industry awards. This is unmatched by any other brand! Here is what Stereophile's John Atkinson had to say about DACport:
A Classic, Remixed
Later, an updated version called DACport HD added High-Resolution audio and became smaller, lighter, and more ergonomic. DACport HD was crowdfunded right here on Indiegogo and sold thousands of units within months of introduction.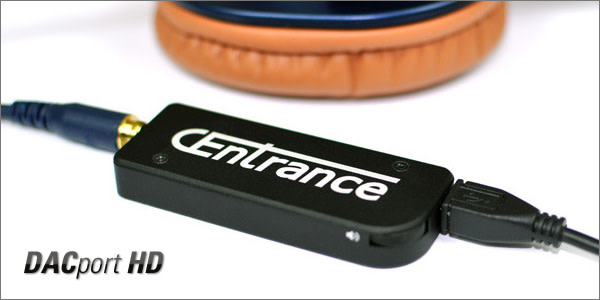 Here is what our customers said about DACport HD:
The quality of my listening experience from Spotify with the M&D headphone paired with DACport HD is truly awe-inspiring. I cannot emphasize enough how amazing and how truly impressed and blown-away I am with the sound from DACport HD!
Dominique James
CEntrance released many exciting recording and playback products. Products such as MicPort Pro and AxePort Pro, endorsed by the Hollywood elite. Products such asDACmini and HiFi-M8, named "Best DAC ever tested" by CNET: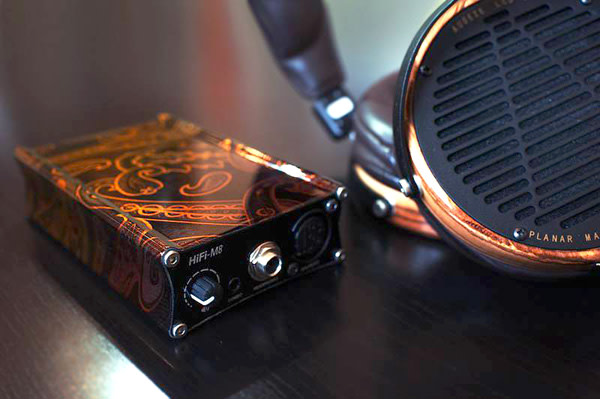 Introducing DACportable
Today we are excited to introduce our
most advanced portable DAC/Amp.
The battery-powered
DACportable
. This is what our customers have been waiting for. 
People with phones and tablets love to listen to music. But no one wants to carry around additional equipment, such as amps and battery packs. Our quality-minded customers demanded a self-powered DAC/Amp. Today, we are proud to deliver.
Gone are external batteries. Gone are amplifier stacks. DACportable simplifies everything! Small and lightweight, jam-packed with Sonic Goodness, DACportable does it all. And yet, it's extremely travel-friendly. As frequent travelers ourselves, we designed it to pack well. Most importantly, this amp is really loud! Your headphones will be happy, and so will you!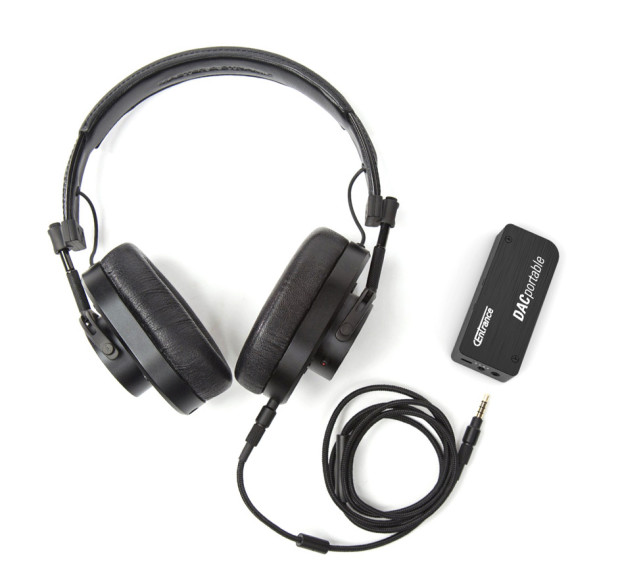 DACportable is a lot like HiFi-M8, but much smaller and with full Hi-Rez support!
The CEntrance design team is known for its work with semiconductor leaders such as Texas Instruments, XMOS and AKM. We are listed on their websites as an official 3-rd party design firm. We have helped over 100 consulting clients such as Benchmark, Lavry, McIntosh, and Korg deliver great audio products to market.
When developing DACportable, CEntrance has taken advantage of our special relationships and utilized modern approaches to portable power and audiophile sound quality. Major advances in technology allowed us to achieve further miniaturization and sonic improvements. We put Hi-Fi in the palm of your hand.
What Does it Work With?
DACportable is designed to support a wide variety of digital sources, from laptops to desktops, to tablets, to phones. The unit is plug-and-play on Mac OS. As a famous driver developer firm, we have drivers for Windows XP through 10. Linux and newer Android devices are supported out of the box. iOS is supported as well!** You really cannot go wrong with DACportable. It will bring sweet music to your ears, no matter what you use for playback at work, at home, or in between.
Features at a Glance
Borrowing from our flagship products DACmini and HiFi-M8, we used expensive, audiophile-grade components such as resistors, amplifiers and power supplies to dramatically raise the bar on sound quality. DACportable makes it possible to truly enjoy hi-res files on your phone. Here are the main features: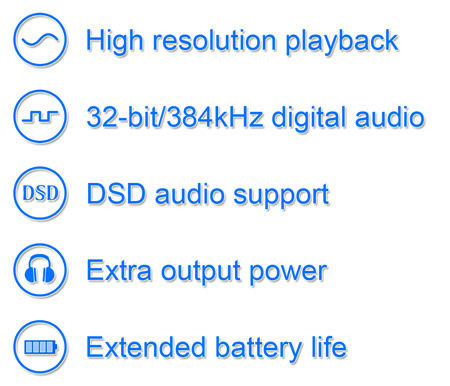 Performance Parts
Most Awesome Headphone Amp. Clean, quiet and powerful Amp Extreme™, "The best amp ever", according to CNET.
Legendary HiFi-M8™ Analog EQ. Highlight the Bass and treble! Back by popular demand is our silky-smooth top extender and punchy bass kicker. 
Amazingly Musical DAC. Our premium, Velvet Sound DAC from AKM is used in the world's most expensive recording and playback gear.
Rotary Volume Control with 256 precision steps. Volume control with digital tracking keeps channels in perfect balance, always.
Technical Innovations
A Li-Po rechargeable battery delivers 8 hours* of sweet music to your ears.
Seven regulated internal power supplies provide full isolation from digital.
Two USB inputs: Charge the internal battery fast, while still playing music!
Two Picosecond clocks with JitterGuard™, our jitter removal technology.
Two output level settings – LOW for Line output and HIGH for Headphones.
The unit will auto shut-off when inactive. It's OK if you forgot to turn it off.
EQ side controls 
Let's take a look at the user controls. On one side, you can access our legendaryHiFi-M8 EQ. Users of our flagship HiFi-M8 DAC report that these controls are the "hidden gem" of that product. We also feature them in DACportable. The Bass Kicker switch offers a slight, precisely dialed amount of added bass impact. The Top Extender is designed to add a silky-smooth, musical extension at the very top of the audio range. Both controls operate in a subtle way to gently enhance the listening experience and provide better matching to your headphones. In the OFF position, the EQ is bypassed, so your music remains completely unchanged.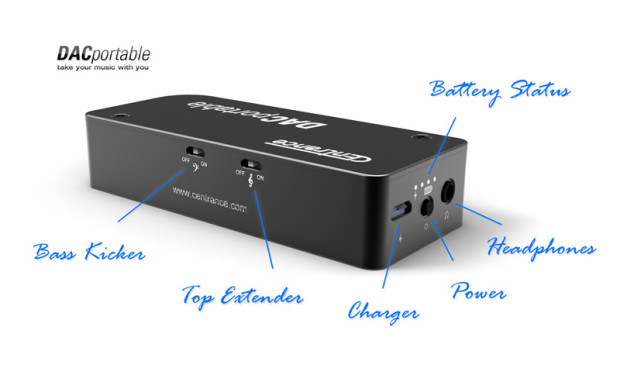 Moving over to the power side, we see the Charger input on a standard USB Micro A jack, the Power button and the gold-plated 3.5mm Headphone jack. Above the power button, the four LEDs indicate battery status. When charging DACportable's internal battery, the Charger input should be connected to a 5V / 2.1 A wall power supply (such as the one that comes with iPad). This input works only for charging.
Volume Side Controls
On the opposite side, we see the analog Gain Switch that features 20 dB of gain adjustment, allowing you to use the output for headphones or for line output, and a Volume Knob featuring digital tracking, for perfect channel balance. The volume control is designed with ergonomics in mind and positioned to facilitate easy, one-handed adjustment, while on the move.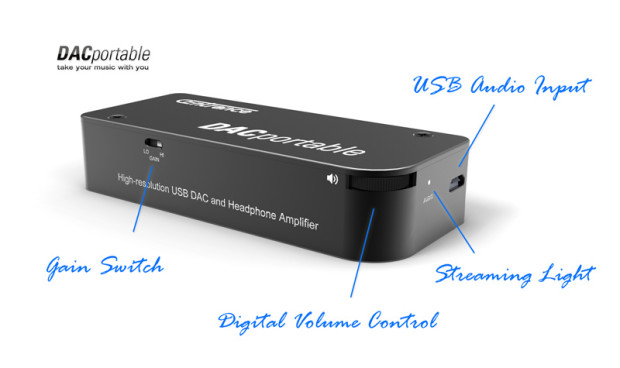 On the remaining side we see the second USB Micro A jack for connection to audio sources and a Streaming Light that comes on when audio is playing. Note that DACportable doesn't take any power FROM the connected source device, such as phone or tablet, nor does it provide power TO the connected device. DACportable is power-neutral. It uses its own rechargeable battery and doesn't "steal" any power from the phone, allowing you to enjoy hours of uninterrupted music playback.
Under the Hood
You are probably wondering what's under the hood. No problem! We don't mind sharing. 
Upgraded Power
DACportable takes 5V from a USB charger and filters the living daylights out of it before it gets to the audio circuitry, to make sure all noise is kept out of your music. Internally, DACportable has seven power supplies and multiple filter stages, creating different voltages to power its high-end digital and analog circuitry.
Upgraded Amp
During the very successful HiFi-Skyn design effort, we developed Amp Extreme, a headphone amplifier circuit that delivers high power and ultra low distortion, making headphones sing loud and clear. DACportable has Amp Extreme built in! 
Upgraded DAC
DACportable also shares the DAC chip with HiFi-Skyn. We use the brand new AK4490 from AKM. CEntrance is an official 3-rd party developer for AKM, so not only do we have access to best parts, but we also know how to use them.  Analog circuitry is known as "black art", but we've perfected it over the last 15 years.
Upgraded USB
The asynchronous USB interface is handled by the brand new XMOS U8 chip. CEntrance is also a 3-rd party development house for XMOS. We help them build their parts into other companies' products and this gives us unprecedented level of support straight from the chip developers. Naturally, you can depend on our tech.
Designed For Any Headphones
Some headphone models remain customer favorites due to their special sonic signature. Yet, these headphones are not efficient enough to be driven directly from the cell phone. A powerful amplifier is needed. And the amp needs a power supply. This is why die-hard audiophiles carry stacks of gear—batteries, DACs, and amps:

DACportable changes all that. Our past products were powered from USB. But the amount of USB power is limited, making it hard to achieve really loud output. In such products we always had to make compromises on output power. Now that we have an internal battery, we can really amp it up for most demanding headphones. DACportable pumps out enough power to drive almost anything!
Which Headphones should I use?
We get that question a lot. You are in luck. You can use pretty much any high-end headphones. Because DACportable has a powerful headphone amp, it will match up not just with the ultra-sensitive IEMs, but also with the high-end models from AKG, Audeze, Beyerdynamic, Fostex, HiFi-Man, Master and Dynamic, Mr. Speakers, Sennheiser, and many others. Very few DAC/Amps can boast this kind of performance, but DACportable can! 
We engineered DACportable to take the digital signal out of your phone, tablet of computer, process it and convert it to analog using the same technology found in our award-winning audiophile products, and amplify it to a powerful, crystal-clear signal that will drive any headphones, with pristine highs and powerful bass.
The CEntrance DACportable is an awesome sound card inside a small lightweight case. It delivers your music in unmatched audio fidelity and on top of that, packs a long-lasting battery! DACportable is perfect for those extended shifts at work, while working out, on long flights, or at home, when you need some quality tunes but the phone's own buzzy sound just wouldn't cut it.
Your iPhone is no Match for Your Cool Cans
The smartphone is a great digital music player, but its headphone jack sucks! You may have awesome headphones, but your iPhone won't get the best out of them—the sound will be muddy, lack clarity and punch, to say nothing about feeble bass.
If you are into audio quality, these headphones are the real deal. But your iPhone doesn't support these headphones. That's the problem we solve with DACportable.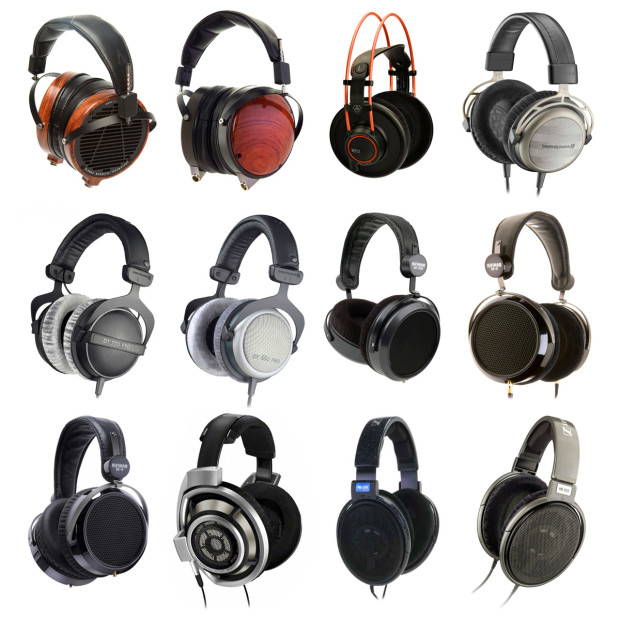 Who We Are 
CEntrance owes its reputation to thousands of happy customers, all around the world. Starting out as designers behind today's famous audio brands, CEntrance now has many products on the market. Our products are endorsed by Hollywood's famous producers, mastering engineers and musicians: people who demand quality— just like you do!—and whose livelihoods depend upon our quality.
Our list of endorsers includes Harry Shearer from This is Spinal Tap and The Simpsons, John Kapelos from Law and Order, David Bryson from Counting Crows, Richard Fortus, who plays with Guns and Roses, Rihanna, and Britney Spears; David Hampton, recording engineer for Herbie Hancock, Prince and many others!
CEntrance recording products are used by the these famous broadcasters: 
With CEntrance, you can rely on audio quality, build quality and value.
CEntrance in the Media
We've been profiled in numerous media publications. Here is a small sampling.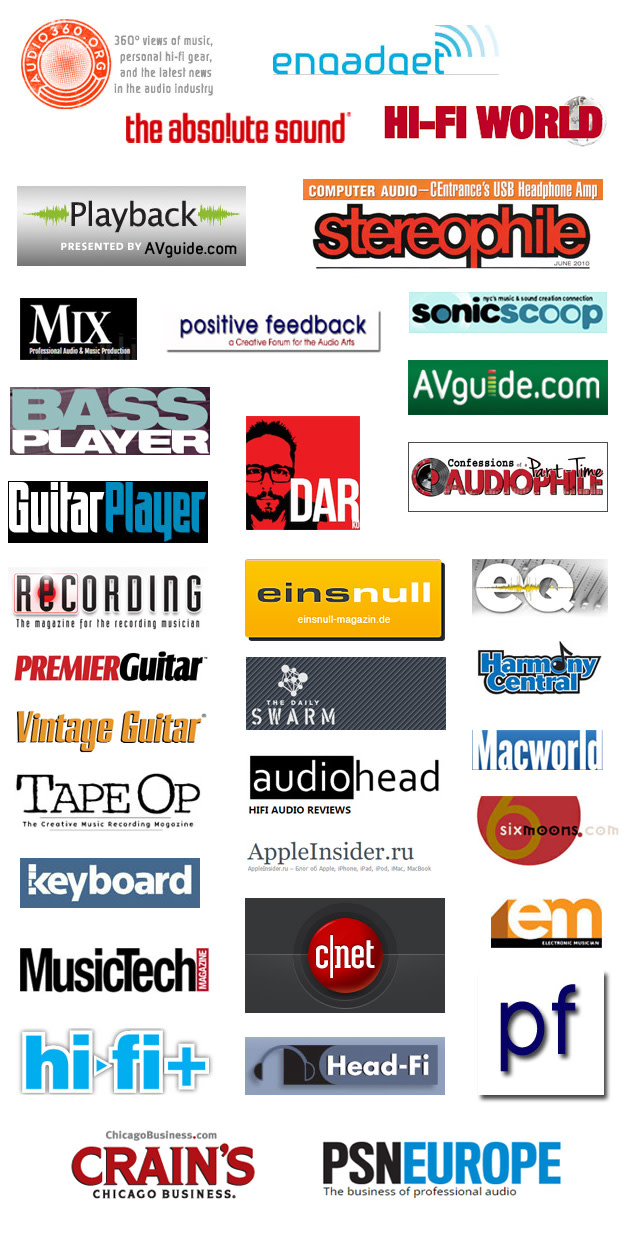 Our Industry Awards
The Absolute Sound Magazine has given our HiFi-M8 the coveted editor's choice award for 2015! DACportable is largely based on the HiFi-M8 design, which means that you will not be disappointed in sound quality and portability. We are making our flagship product easier to use and more affordable.
CNET called our HiFi-M8 "The best-sounding headphone amp ever tested." 
Our DACmini was featured on the cover of Stereophile magazine!
CEntrance is a world leader in digital audio. You've seen our professional products in recording and broadcast studios all over the world. Our personal audio products are killer, too. Just look at industry awards given to CEntrance:
Given our background, you wouldn't expect us to settle for mediocre sound quality—and we didn't! We used our expertise with audiophile products to transform the audio system for your phone and dramatically increase you music enjoyment.
Our motto is "Making Audio Personal™" and we believe that you don't need to pay thousands of dollars for a great sounding system.  Over the years we have perfected portable audio technology and learned how to shrink an audiophile system down in size. 
Specifications
Digital Specs
Sampling rates: 32, 44.1, 48, 88.2, 96, 176,4, 192, 352.8, 384kHz
DSD Support: DSD64 and DSD128 
Audio Resolution: 32-bit (also supports 24-bit and 16-bit) 
Clocking: Two custom, mil-spec clocks, 1 ppm precision, 1 ps jitter
Sreaming LED: Lights up when digital audio is streaming 
Compatibility: Mac, Windows, Linux, Android and iOS*.
USB Audio: Asynchronous
Analog specs
Frequency response: 20Hz…40kHz, +0.0/-0.2dB 
Signal to Noise Ratio: 110 dB
Harmonic distortion (THD+N): 0.002%
Output power into a 32Ω load: 775mW (total)
Output impedance: 1 Ohm
Supported Headphones: 16…600 Ohm
Max Output Level (1kHz): 4.1 V rms / +14.5 dBu 
General Specs:
Audio output: Gold-plated, 3.5mm headphone jack 
Headphone amp: Class-A with super-clean, bipolar power supply 
Analog supplies: Battery-isolated, triple-filtered ±9V power supply rails.
Battery: Rechargeable Li-Polymer, 8 hours play time *
Charging: +5V (2.1A) from external adapter, such as iPad charger
Dimensions: 98 mm (L) x 41 mm (W) x 21 mm (H)
Case material: Scratch-resistant, lightweight, anodized aluminum 
Cables: Same cable can be used for Audio or Charging 
What Will I Get?
DACportable MSRP will be $399. But Indiegogo contributors such as yourself will get a great deal! We are giving you access to a limited number of attractive perks. These deals won't last, so act now to take advantage of exceptional savings! 
But it gets even better—you can make money by simply sharing this campaign with your friends across all of your social media channels (facebook, twitter, instagram, reddit, head-fi, etc.)!
Let's Work Together!
By pledging your support, you can help us increase the amount of product we can order from the factory, as well as accelerate the speed, with which we can get it into your hands. This in turn lowers production costs and helps us make the product more affordable. Your support will be a vital spark in growing a company obsessed with creating the best sounding, most liberating audio devices in the world.
Please support this project today and help us fight bad sound on this planet!
Risks and Challenges
We are proud to say that this is our fourth Indiegogo campaign. Every time it's a learning experience and we are getting better and better with each one. The benefit to you, the customer, is that you are dealing with a company that has gone through this process more than once and has hundreds of satisfied customers from our previous campaigns. We know how to deliver. We are "driven to ship".  Let us briefly share what we've learned, so you could see how we improved over time.
The key to campaign success is simplicity  and predictability.
Our latest campaign for DACport HD only took 3 months from start to finish. This is unheard of in the industry, but we did many things right. The product was based on existing technology, prototyping had been complete before campaign start, and no third parties were involved. The result — swift project execution and many satisfied customers. That's how we prefer to move forward.
Prior to that we ran the HiFi-Skyn campaign. That one took a little longer because we had to obtain permissions from Apple, Inc. Today, that's all behind us. We have delivered the bulk of the units to customers and are finishing up. Users are very happy and report that the wait was worth it. Lesson learned? Don't rely on 3-rd party approval. Find a way to ship without it. In this new campaign we will do just that — we won't be waiting for third parties.
Our very first campaign was called MixerFace and that's where we had to do the most learning. The product was too complex, the design wasn't done when we started, customers kept requesting additional features. All of that has snowballed, creating unfortunate delays. Lesson learned? Don't bite off more than you can chew. Go simple, go fast. In this campaign, we are using existing technology, proven in previous products, so challenges are minimized.
We have a goal of shipping units in July 2016. Your support will help us speed up mass-production, acquire parts, and hire additional manpower to get units shipping asap.  If we don't meet the funding goal, we will still continue with the project and will bring this revolutionary product to market. We believe in this product concept and will make it happen. We've done this on our own with DACport, DACmini, HiFi-M8, and other products, but here we are looking to speed things up via crowd-funding. So speed is the main risk, which you can help mitigate by contributing today and sharing. Help us deliver the product as fast as possible!
Share And Get Free Gear!
"Get a Free DACportable for referring 10 contributors!"
Please spread the word about this product across all of your social media channels and don't forget to use the Indiegogo share tools! 
If you send your campaign link to your friends and ten of them contribute, we will give you a free DACportable! You don't need to contribute yourself.
Important: Use the sharing tool at the top of the campaign. Your sharing link is unique — that's the link you need to send to all friends. That's how we will know how many contributors you have referred. Your link will look something like this:
Note: 111111 is an example number, your own number will be different.
Share your link and let people know about it on facebook, twitter, instagram, reddit, head-fi and other sites! Make some noise!
This way you can win free products from CEntrance just for sharing. That's our way of saying thanks.
---
* Final battery capacity is still being confirmed at the time of this writing.
** Native iOS compatibility pending Apple approval.
CEntrance™, HiFi-Skyn™, HiFi-M8™, DACport™, DACportable™, DACmini™, JitterGuard™, and others are trademarks or registered trademarks of CEntrance Inc. in the U.S. and/or other countries. Apple, iPhone, iPad, iPod, iOS and others are trademarks of Apple. Other trademarks are property of their respective owners.
Find This Campaign On