iCrowdNewswire - Feb 23, 2016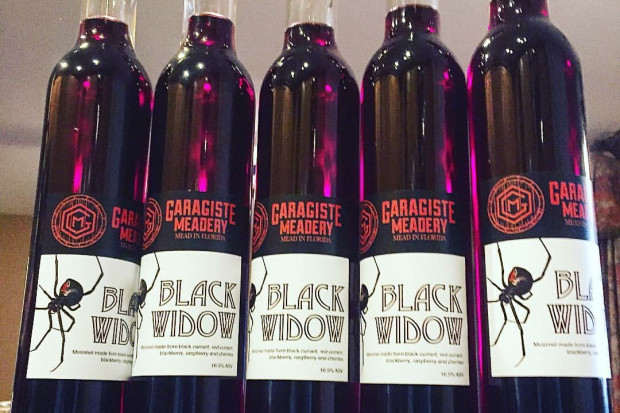 My name is Chad Wiltz and I'm the owner and mazer at Garagiste Meadery.  Along with my wife Sarah and our two children we live in Apollo Beach, Florida.  
You may be asking…. What's mead?  Mead is an ancient style of wine made from honey as opposed to traditional wine grapes.  Often mead is made with fruits, herbs, spices and other additives.  Whats most amazing about mead is the sheer enormity of flavors you can create.  We've made Key Lime Pie, Peanut Butter & Jelly, Strawberry Rhubarb Pie, Chocolate Coconut, Mixed Berry, Fruit Punch and this list goes on and on.  With mead you are truly limited only by your own imagination.  What's also remarkable is that mead is often organic and gluten free making it a product with universal appeal.  
I fell in love with mead in 2014 after trying some amazing mead made by a master meadmaker in Ferndale, Michigan.  It was a life altering experience for me and after my first sip I knew I had to have more.  So I set off to do just that, at which point I ran into a small problem.  There simply are not many meads available commercially and the amazing Ferndale meads were not available outside of Michigan.  At which point I had to make a decision, go without this amazing beverage or learn to make my own.  
It was this decision to make my own which spawned Garagiste Meadery.  As mead makers we've made every effort to keep our product local by sourcing our honey from local beekeepers and to the extent possible our fruits from local farmers.  In this we've tried to bring the farm to table experience into a single bottle.  Since we began meadmaking we've made hundreds of gallons and shared it with hundreds of people.  We've attended mead events and festivals and the response is overwhelmingly positive.  Independent raters from across the globe on services like Untappd rate our meads among the best available.
Our goal is to create a commercial Meadery focused on small batch artisanal meads and honey wines.  We want to make explosive and inspired meads and share them with you and indeed the world.  We are reaching out to you to help us make our dream come true.
What We Need & What You Get
The process of building a winery or meadery requires numerous permits and these applications often take months to complete.  The money raised during this campaign will be used to secure a modest sized industrial space for our Meadery/Tasting Room and the equipment necessary to produce the quality of mead that we wish to offer.   Any additional monies generated will be used for necessary renovations and to keep our leases paid during this interim period where we wont be able to produce mead or generate revenue.  It's a long road but we are committed to seeing it through!
So what do you get?  We've set up a number of options to choose from to suit any taste or budget.
Our lowest cost options include some pretty awesome swag made by some pretty awesome people.  A simple set of stickers for you to display for $5.  Our Garagiste shirt is a premium tee with durable screen printing inks.  The Garagiste glassware is a superb drinking vessel that's equally well suited to be used with a mead or a fine whiskey.  The Garagiste "YOpener" bottle opener is a fantastic tool made by a father/son team in Tulsa, Oklahoma.  
The premium perk is our Garagiste Owners Group.  This perk entitles you to a selection of premium limited release meads once we get up and running.  In addition, we'll inscribe your name/city on the walls of our tasting room.  Plus you'll also get a 10% discount on all purchases, a Garagiste Owners Group t-shirt and an invite to an Owners Group Only blowout!
The Impact
To make Garagiste Meadery a reality we will need help.  We want to build a Meadery that our community and you as a contributor can be proud of.  We want to be the peoples Meadery and in this regard we think of ourselves as publicly owned.  This is why we chose the name "Garagiste Owners Group".  This Meadery is going to be built by you and for you!
Your generosity as a contributor cannot be thanked enough.  Simply put, without you none of this will be possible.
Risks & Challenges
As I mentioned previously, this process will take a while.  I fully recognize that it may be 2017 before our meads are available commercially.  Permits, licenses, bonds, attorneys, architects, insurance, taxes, distribution contracts, supply chain contracts, etc all must be taken care of before a single ounce of honey becomes an amazing mead.
I do have the good fortune of having an Master of Business Administration behind me and a track record of success; but, I will admit that the list is daunting.  With this in mind I've partnered with some industry insiders who have opened meaderies and wineries and they've been generous enough to offer their assistance.  The mead community is a small one but the people are great!
Other Ways You Can Help
We fully recognize that some people cannot contribute, but that doesn't mean that you can't help:
Help us get the word out and make some noise about our campaign.
Use the Indiegogo share tools!
Garagiste Meadery has both a Facebook and Instagram account, post a link and get the word out.