iCrowdNewswire - Feb 11, 2016
Sensor-1: The Tiny Powerful Security System
Place Sensor-1 on items you want to protect, and if they move—you'll know.
Meet Sensor-1
The portable security system that fits in the palm of your hand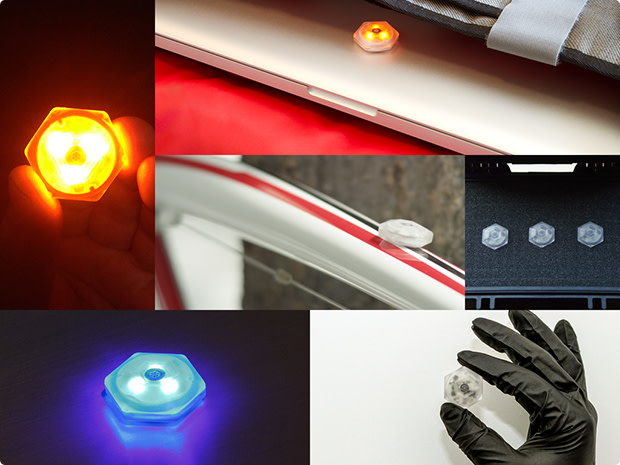 More than a keyfinder . . .
Sensor-1 detects real-time changes in motion and alerts you when your important items move
Click the link to read the full article
Receive a notification when something important moves
Finally, have peace of mind while you're away
1″ wide, waterproof, and easily portable
Perk Comparison
Referral Program
Help us get the word out and receive a FREE Sensor-1
Use the social media links at the top left of this page to share the link to this campaign (while logged into your Indiegogo account). When five of your friends click the link you shared and purchase the Sensor-1 SOLO perk (or a perk of greater value), we will send you a free Sensor-1 SOLO perk.
Aletha Mobile App
Arm and use Sensor-1 in five seconds
Sensor-1 in action
Check out the gallery tab at the top of this page for more
Sensor-1 API
Use the real-time data from Sensor-1 in your own apps
Third-Party Integrations
Develop your own apps that harness the power of Sensor-1
Aletha Web Platform
Visualize and understand the data from your Sensor-1
Delivery Timeline
What to expect after the campaign ends
Our Team
Meet the friendly folks behind the curtain
Our Story
Six years to one sensor
Sensor-1 is the result of a project that started in 2009 when my family's home was invaded and they were burglarized while I was in the process of building a security system to keep them safe. Six months later, a colleague had their laptop stolen while we were working to improve the U.S. education system at the Carnegie Foundation. Both of these events deeply affected me, and fundamentally altered my life's path. I decided at that point to dedicate myself to developing systems to keep these types of events from happening to others. Six years later, I am honored to have the opportunity to offer Sensor-1 and the Aletha Platform to you. We have developed and tested eight generations of prototypes, filed multiple patents, raised venture capital, created a kickass team, and are now ready to bring these revolutionary capabilities to you.
FAQs
Find This Campaign On