iCrowdNewswire - Feb 10, 2016
James Condon has spent most of his career in the Media & Entertainment industry.
Growing up in an Irish Heritage environment we consistently participated in large gatherings centered around good food. I started cooking at an early age acting as sous chef for my father on Sunday afternoon making veal parmigiana and the like. Then learning how to cook BBQ for the masses with my Uncle Bill. Both men were task masters with completely different styles of cooking. My dad a perfectionist and by every definition a master chef, Uncle Bill equally talented with more of the wild west approach. This is where I learned the basics of good food.
I also had the opportunity to live in Texas for six years where I met my wife Madeline. She actually bought me my first Weber. We planted a tomato garden of several varietals which grew three times faster than what I was used to in the Northwest. It yielded a full grocery bag of fresh tomatoes every day! We also planted many varieties of herbs too. This is where my palate expanded with the full appreciation of fresh ingredients and herbs.
During my career, I traveled extensively around the country and abroad working with Fortune 500 companies. Hard work during the day then mostly entertaining clients in the evening. So I had the opportunity to eat at some of the best eateries in the country both large and small. My strategy was to befriend the owner and kitchen staff to get great service and access to the good stuff.
This culinary experience expanded my appreciation of good food. I befriended many a chef learned about their cooking technics and recipes. While back home I would try and test these out. My memorable experiences include the grilled New York Steak with Mole sauce at Javier's, the fresh Oysters and Boiled Shrimp at Aw Shucks, both in Dallas, TX Sunday Sauce at Cesca in New York City, mushroom birds nest at Crofton on Wells in Chicago, IL Franklin's BBQ in Austin, TX the most amazing Asparagus w/prosciutto Red Hollandaise sauce in Berlin, DE white sausage on Sunday morning in Munich, DE stuffed roasted red pepper with black squid on a beach in Biarritz, FR and Tapas in San Sebastien, ES and scores of others.
So for the last sixteen years, we raised three boys in our house on Mercer Island. During this time, I was generally cooking for the boys and their friends of 10 – 20 people every night. Also testing and perfecting our cooked meat recipes along with building awesome sauces to accommodate. Our sons have grown up since have graduated from college and or are in process. On numerous occasions, people have told me I had a god given talent and should pursue my passion which is cooking good food for people to enjoy.
So here I am, I have the capacity to create good food for the masses and I need your help to take the next steps.
Our goal is to launch GATHERINGS in February in the local year-round farmers markets. Your help is much appreciated.
What?
We are launching GATHERINGS a food service and catering company focused on cooked meats with the accompanying home-made sauces and comfort food sides.
We are dedicated to sourcing the highest quality local ingredients in Washington State. In the near term, we will have a menu wrapped around BBQ and MEATBALLS with emphasis on the complimentary sauces and stick to your rib sides.
We will expand the menu with rotating daily specials to keep things fresh and seasonal specialties as the year unfolds. All of our BBQ cooked meat is wood-fired on an offset Texas smoker.  All of our MEATBALLS are homemade with local ingredients including our SAUCES.
Our quality is embedded in the process we have exercised in developing our recipes through trial and error sourcing the finest local ingredients and testing them on a willing and able crowd.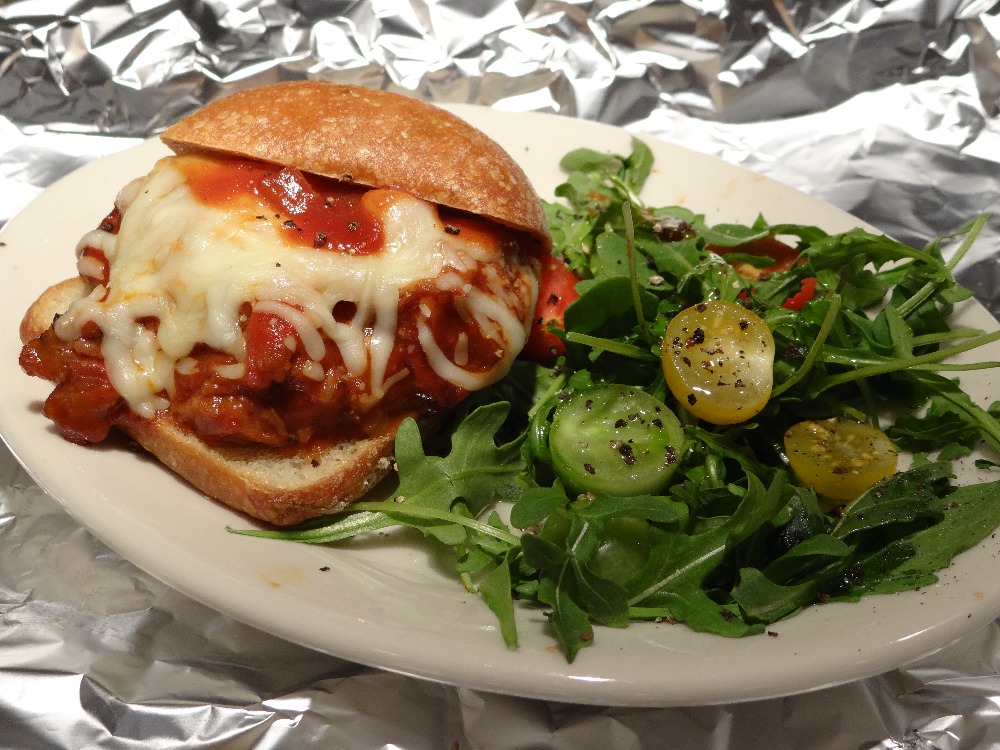 Sample menu: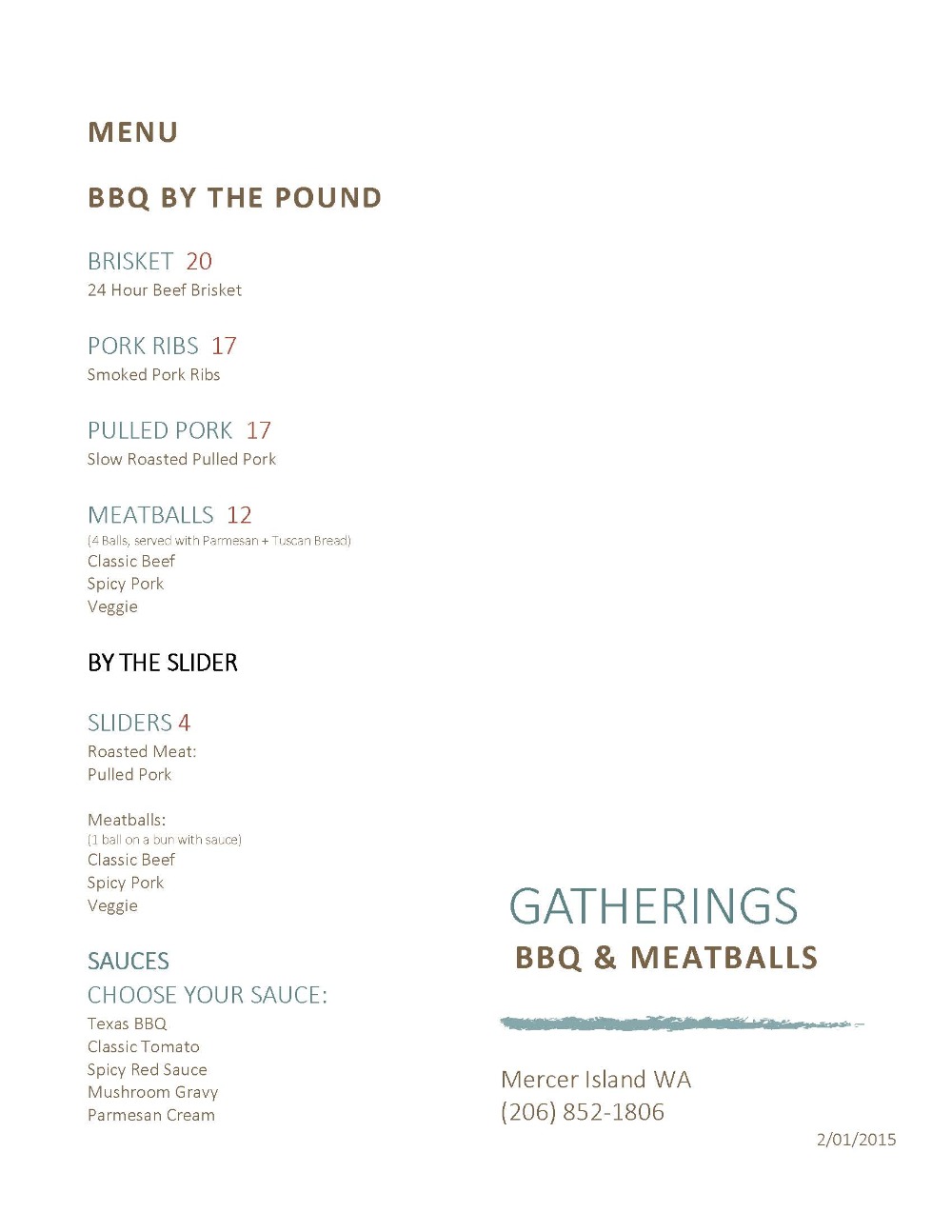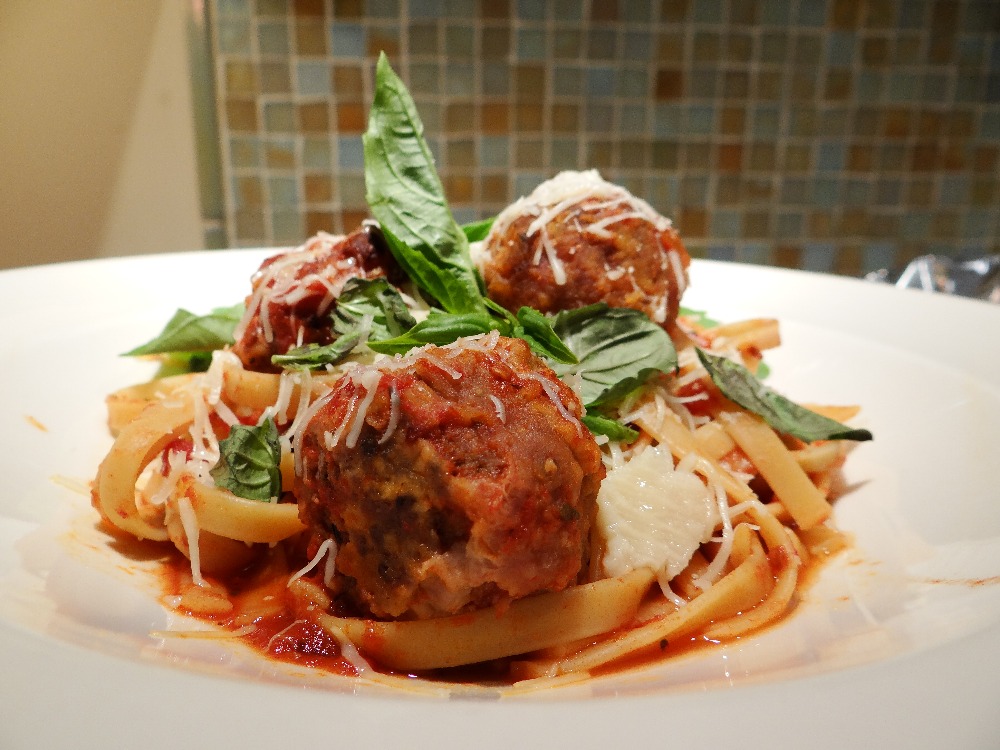 Where?
Firstly, we will distribute our food through mobile food stands within our local Farmers Market community including Mercer Island and the Greater Seattle area, serving fresh meals accompanied by our renown sauces and stick to your ribs sides. Three products types will be presented fresh, frozen and packaged goods for taking home.
Secondly, we will expand our offering through local delivery and pick-up. Currently, we deliver on Mercer Island and will expand this to the Greater Seattle area. During this phase, we will also build out mobile trailers to establish permanence on corporate campuses and city access points.
WHY?
The timing is right we feel like it is the next step for our family.  
Our goal is to launch GATHERINGS this February to the local year round Farmers Markets.
We worked hard and have sourced local quality fresh ingredients. We have a solid engine room and BBQ pit for producing quality cooked meats and sauces. With the support of our family and friends we are confident that we will bring a concept and service to our community, that does not currently exist here.
We are already hard at work and excited to roll up our sleeves and dive in! See the reward levels below the photo of the slow roasted pork.
We appreciate your support and look forward to hearing from you!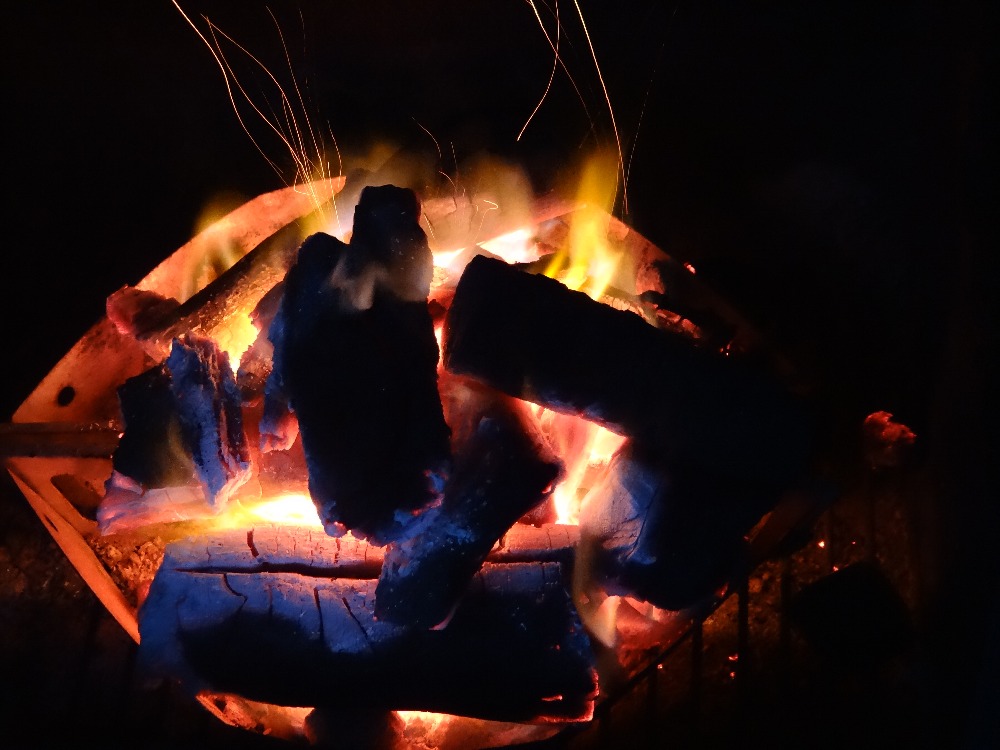 FLOCK
$150
Lunch for you and two friends packaged goodness (3 entrees, 3 sides, 3 soda)
33 of 40 left
HORDE
$200
Please enjoy our BBQ Sauce Trio Pak; Texas Style, Espresso, and Ancho BBQ sauce. 1 bottle of each. 12 oz bottles.
30 of 30 left
HERD
$300
Time for grazing, please enjoy two passes to our private menu sample tasting, held quarterly seating limited, hosted in GATHERINGS Master Kitchen engine room.
24 of 25 left
<div "="">
GET-TOGETHER
$500
Please enjoy two passes to our private menu sample tasting, quarterly seating limited, hosted in GATHERINGS Master Kitchen, also receive 2 embroidered aprons.
20 of 20 left
SOCIAL-FUNCTION
$1,000
Get the same package as Get-Together including Custom Lunch/Dinner for you and nine friends (Entrees, Sides, Treat) for 10 people.
15 of 15 left