iCrowdNewswire - Feb 5, 2016
Propella Electric Bike
Lightweight, Reliable, and Elegant eBikes
It's Finally Here!
An ordinary bike transformed by an extraordinary boost!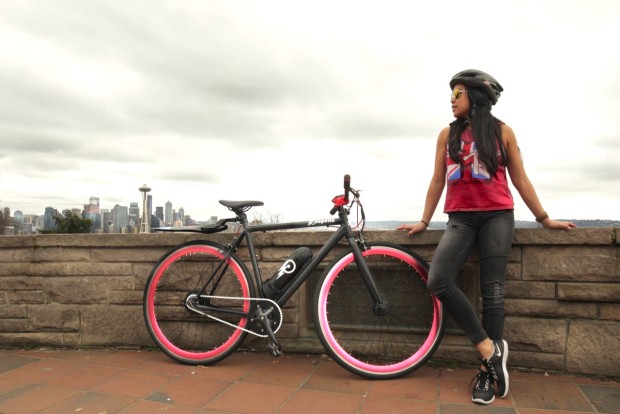 UPDATES: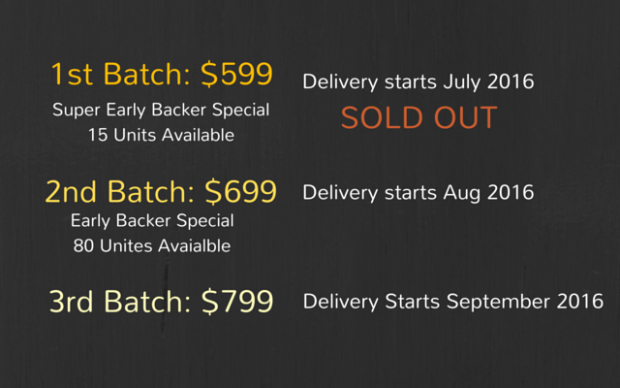 Elegant . Electric . Efficient .
Philosophy
Propella's mission is to bridge the gap between regular bikes and electric bikes (eBikes). We strive for simplicity, and our minimalist design allows us to achieve our goal by eliminating unnecessary features and focusing on essential elements.
Adding enormous battery capacity and power to an eBike can discourage riders from pedaling, reduce safety, and add excessive weight and cost. The right amount of power, however, can transform a bicycle into a lightweight, safe, and reliable electric vehicle.
Design Features
Motor
Single-Speed freewheel attached to hub motor
(6-Speed Gear option available)
Battery
SAMSUNG Li-Ion Cells

Removable

Anti-theft Lock

Waterproof

36 Volt 6.6 Ah

2.5 Hour Charge Time

USB Output Plug
Samsung 18650 Lithium Ion Cells (Used in Tesla Model S)
The battery pack is equipped with electronics that automatically prevent the cells from getting overcharged or over-discharged.
Standard USB output plug for charging cellphones or other USB-enabled devices
Brakes
All-weather heavy-duty Brake Pads
…………………………………………………………………………………………………………………………..
How it works
A boost of power whenever you need it!
You can pedal this eBike just like a normal bicycle and use the electric assist (if desired)  in two simple ways:
1) Throttle: The motor will push you forward at anytime by pressing down on the throttle. The more you push down on the throttle the more help you get from the motor. Throttle option is usually most helpful for getting back in motion after a complete stop at a red light or stop-sign. It is also useful for a quick boost of power on short but steep hills.
2) Pedal-Assist (PASS): This function only works when you are pedaling. 5 levels of assist are available that can be selected from the LCD Display. As you start pedaling the motor will kick in, and when you stop pedaling the motor turns off.
Levels 1-2 are typically used for long but relatively flat commutes. Levels 3-5 are ideal for  steep and long hills. On a flat road, level 5 assist will move you at about 20 mph with almost no effort from the rider. At assist level 0, the eBike behaves like a normal "non-electric" bicycle. This is useful for maximum exercise and calorie burn.
…………………………………………………………………………………………………………………………..
Customization
We will contact you to confirm your choice of frame size and rim color. 
(You can also email us or place a comment at check-out).
Frame Size
Choose the right size according to your height.
Rim Color
Single-Speed  vs.  Multi-Speed
The original design of this eBike is based on a single-speed (fixie-style) bicycle.
6-Speed Multi-Speed gear option is available at extra $50.
(You must additionaly purchase the perk "Multi-Speed Option" in order to upgrade)
Based on our feedback and surveys, about majority of riders are comfortable with "single-speed " electric bikes for the most part of their daily commutes.  If you weigh more than 160 lbs and live in a city with steep hills, such as San Francisco, you may consider adding the multi-speed gear option.
…………………………………………………………………………………………………………………………..
Full Specs
………………………………………………………………………………………………………………………….
Production Runs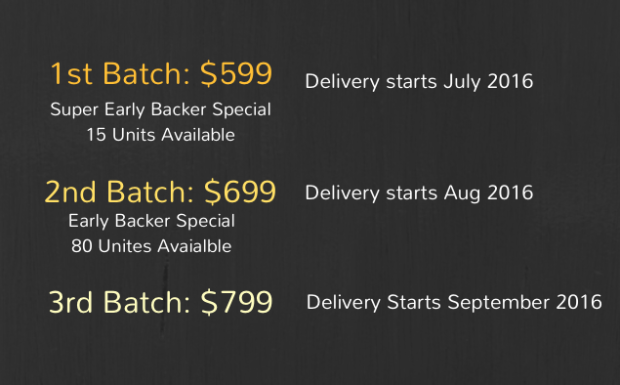 ……………………………………………………………………………………………………………………………
Extras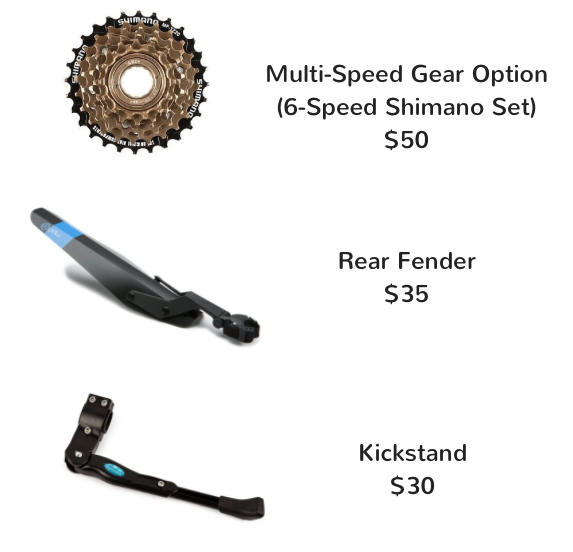 Note: To add these extras to your order, you must re-purchase them after you place your order for the eBike.
……………………………………………………………………………………………………………………………
The Impact of your contribution
So far we've been able to bring our vision to a successful working prototype. We need your help to enter the next big step!
In order to offer these eBikes at an affordable price, our production run and supplier infrastructure requires  minimum quantities. With your contribution we are able to reach our goal and bring our visions to the market.
Other Ways You Can Help
You can help us reach our goal by spreading the word. Please share this campaign link.
Stop by if you can…
We are excited to unveil our working prototype at the Seattle Bike Show!
Check out our Social Media pages  
     www.twitter.com/propellabikes
For questions contact us here on Indiegogo, or send us an email at info@propellabikes.com.
More Images
Frequently Asked Questions (FAQ)
-Where can I learn more about Propella?
Visit our website www.propellabikes.com for more information, or contact us at info@propellabikes.com
– Can the Propella eBike be used as a normal "non-electric" bicycle?
Yes. You have three options:
1) Turning off and/or removing the battery pack. 
2) Turning off the LCD Display. Neither throttle or Pedal-Assit (PASS) option work when LCD is off.
3) Setting your Pedal-Assit (PASS) level to zero 0. (The throttle is still functional)
-Do you ship internationally?
Unfortunately at this point we offer USA shipping only. Upon succefful completion of this campaign we look forward to offer international shipping in the near future. If you are interested in international shipping please get in touch with us and we will inform you as soon as possible.
-Do you offer Warranty?
Yes. We provide 2-Year warranty on the frame, and 1-Year warranty on the battery and all other parts.
– Is there a rider weight limit?
We recommend a maximum rider weight of 185 lbs for this eBike.
-Can I purchase an extra battery?
Not at this point. Once we reach our campaign goal, we can certainly offer extra batteries at an affordable price. We will notify you once we add this option.
Upon successful completion of this project, we will parts an accessories on our website.
– How is the battery range calculated?
Our estimate in battery range is based on an average rider who weight 160 lbs and uses the throttle feature of the eBike for about 50% of the commute time. Some of the factors contributing to range are: Rider weight, number and degree of hills, head wind,frequency of electric assist used, etc.
For questions contact us here on Indiegogo, or send us an email at info@propellabikes.com.
Find This Campaign On