iCrowdNewswire - Feb 4, 2016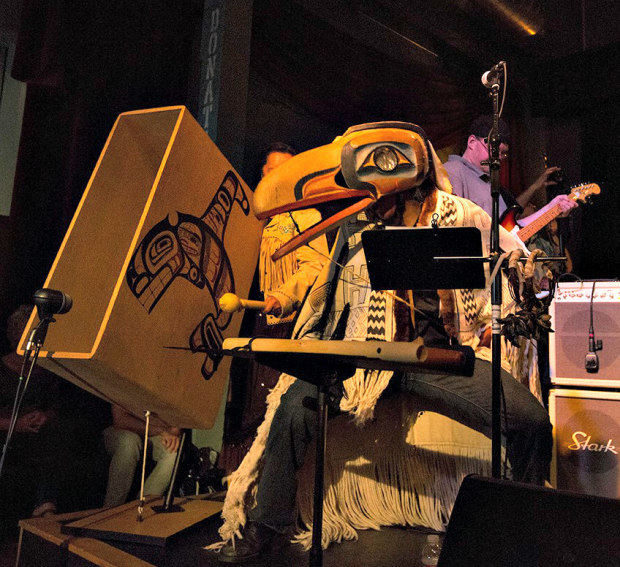 Khu.éex'
Tlingit tribal member Preston Singletary, an internationally known glass sculptor, honed this sonic vision of collaboration with other major musicians including the legendary Bernie Worrell, Skerik, Stanton Moore, Captain Raab, and tribal members, Clarissa Rizal, Gene Tagaban and Nahaan.
Khu.éex' (prounced koo-eex) translates to "Potlatch" in the Tlingit language, a Native tribal group from Southeast Alaska. Singletary thought of the name Khu.éex' because of the notion of sharing culture, stories, and music. This is the intent of the project, to present a contemporary interpretation of our culture and release our unique project, "The Wilderness Within",  on double vinyl.
Khu.éex' features spoken word, Native storytelling, and singing, performed with an experimental approach with rock/funk aspects. Our band also performs in traditional regalia and NW coast masks. 
Be part of this collaborative project by helping us release our debut album on double vinyl! Every gift matters, in any amount, to help us towards our goal. Select your Perk at the right of this page.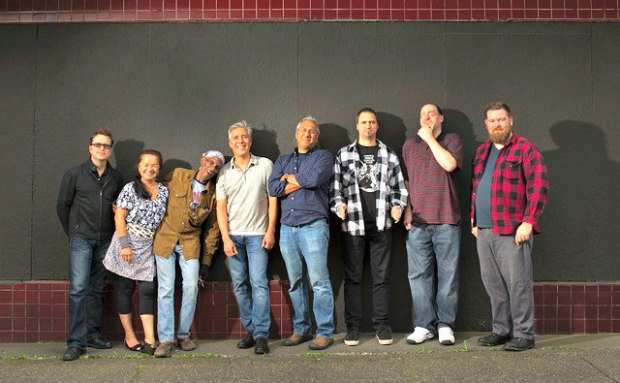 Band Members Include:
Bernie Worrell – Keyboards – (Cherokee) A respected elder who has African American and Cherokee ancestry. He has played with countless musicians over the years, but most notably as the founding member of the legendary Parliament-Funkadelic. He has previously played with the Talking Heads and has released many solo records over the years.
Preston Singletary – Bass – (Tlingit) Singletary has become synonymous with the relationship between European glass blowing traditions and Northwest Native art. He is also involved with "A Little Big Band" a Native folk and soul band.
Captain Raab – Guitar – (Blackfoot) Raab has played in the band Red Earth, out of Albuquerque, which is a Native Funk rock band. 
Clarissa Rizal –Vocals – (Tlingit) Rizal is a multi media artist and Chilkat/Ravenstail weaver who performs spoken word and sings traditional Native songs.  She has been essential in providing guidance in explaining the songs from a traditional context. 
Gene Tagaban –Vocals – (Tlingit) Tagaban performs spoken word, traditional singing and storytelling, as well as playing flute. He is also an influential storyteller, trainer, speaker, mentor and performer within the community. 
Skerik – Saxophone – An avant-garde sax player who plays in notable projects including Critters Buggin, Garage a Trois and NW supergroup Mad Season.
Stanton Moore – Drums – An accomplished drummer based out of New Orleans, and has played with a wide variety of musicians. Moore is also noted as the founding member of Galactic.
Nahaan –Vocals – (Tlingit) Nahaan is a Tlingit language teacher, Náakw Dancers leader, traditional Tlingit tattoo artist, and spoken word artist contributing his original songs and words to the Khu.éex'collective.
Randall Dunn – Producer, Audio Engineer – A highly respected producer who has worked with legendary jazz musicians such as John Zorn and Eyvind Kang, as well as working with on the upcoming Thurston Moore album.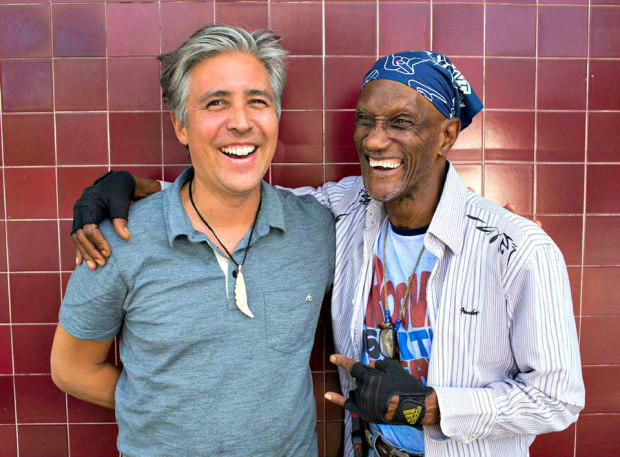 How Khu.éex' Began
Khu.éex' began with a chance meeting between Bernie Worrell and Preston Singletary through a crowd-funding program where Bernie was raising funds for a tour bus. Preston invited Bernie to perform at his birthday party, where Preston sang Bernie a traditional Native song to welcome him. Bernie sat down with his keyboards and began improvising on the melody that was still lingering in the air. He created a spontaneous, psychedelic and soulful composition right on the spot.
The next day Bernie asked Preston's band, "A Little Big Band" (a Native funk/soul band) to be the opening act for his show. After the concert Bernie shared with Preston that he had been thinking about his music, had several exciting ideas, and that they should record together. A union was formed.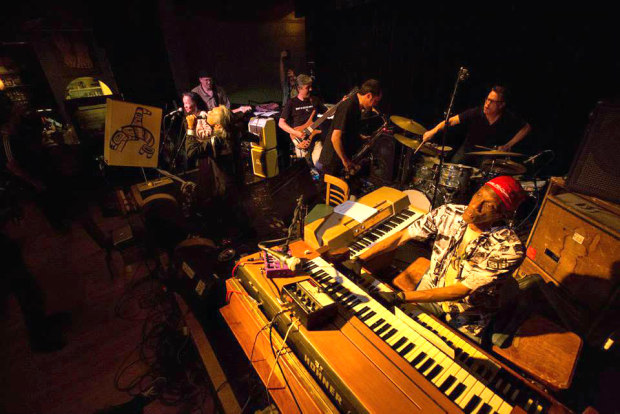 What We've Done and What We Need
Two years, three recording sessions and three performances later there are four hours of music already recorded. Khu.éex' has been working hard at Avast Studio in Seattle with the notable Randall Dunn (Engineer/Record Producer of the Cave Singers, Boris, Earth, and a founding member of Master Musicians of Bukkake) to create our unique collaborative music project.
After three inspirational recordings of basic tracks and several days of overdubbing, Khu.éex' is asking for your vital help to release our album, "The Wilderness Within",   on double vinyl.
In addition to releasing "The Wilderness Within" Khu.éex' will use funds raised for future production costs for continuing our music. We expect that once funded our album will have a turn around time of 3-5 months. 
Ways You Can Help
Any amount helps us towards our goal of raising $25,000 to release our album and for future production costs. We're offering a wide variety of unique perks to our contributors. Be part of this amazing collaborative project today by choosing your contribution level, select your Perk listed on the right side of this page. 
Unable to contribute financially? You can still help us! Share our story with your friends via Facebook, Twitter, Instagram or email a personal note to your friends about us!  Sharing our story and campaign is a very valuable gift that we appreciate.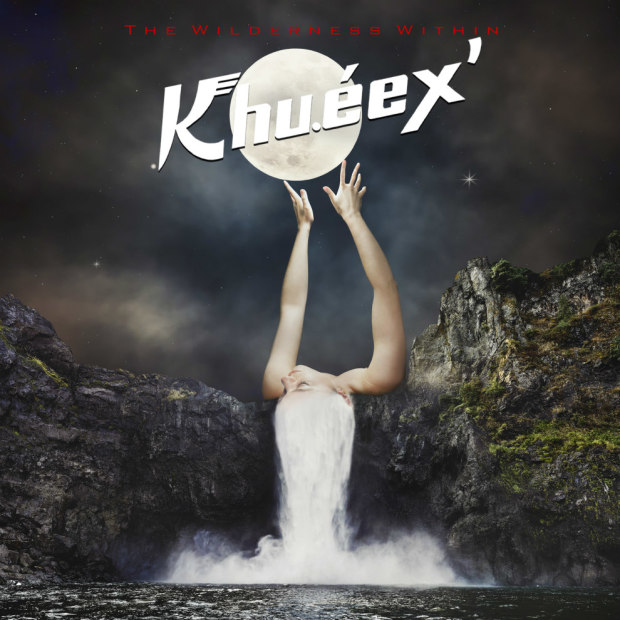 Thank You For Your Support!
Khu.éex'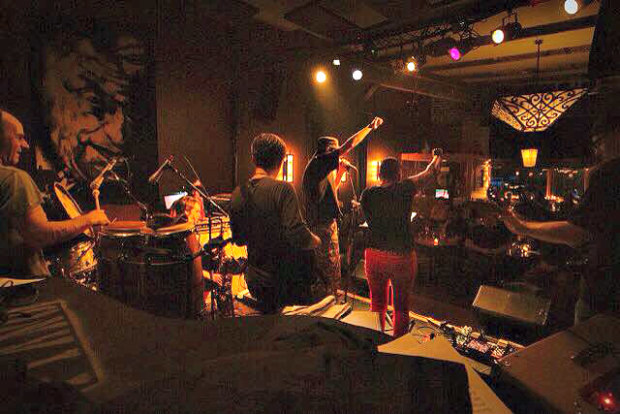 PERKS: 
$30 – $45 Level: Khu.éex' Album on Double Vinyl! Receive the debut release of "The Wilderness Within" on black double vinyl at the $30 Level or at the $45 level, receive the album on colored vinyl. Comes with a digital download of album.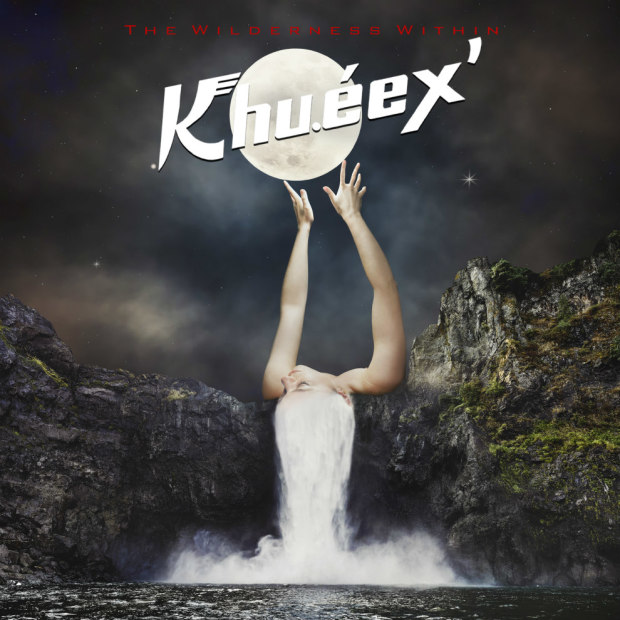 $100 Level: Unframed silkscreen on paper,  Titled "Bear Cub" (with Tlingit translation on lower margin) , by the artist Preston Singletary, from an edition of 100, 11″ x 30″. 

Photo Courtesy Stonington Gallery
$100 Level:  "An Ocean Runs Through Us" triptych by the artist Clarissa Rizal.  Signed and numbered, Limited Edition giclee print on canvas, unframed.   Approximate size 7"h x 18"w. Please expect 6-9 weeks for delivery.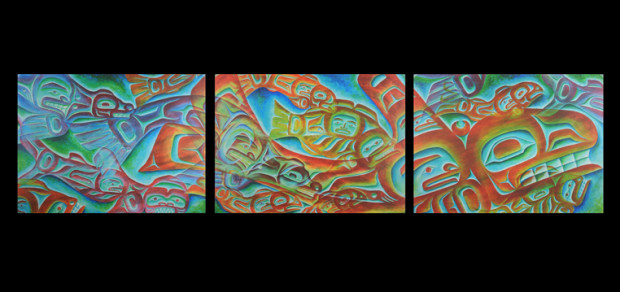 Photo courtesy of the artist. 
$300 Level: Pendleton Blanket, with the "Raven and the Box of Knowledge" Preston Singletary design, wool/cotton, 64″ x 80″.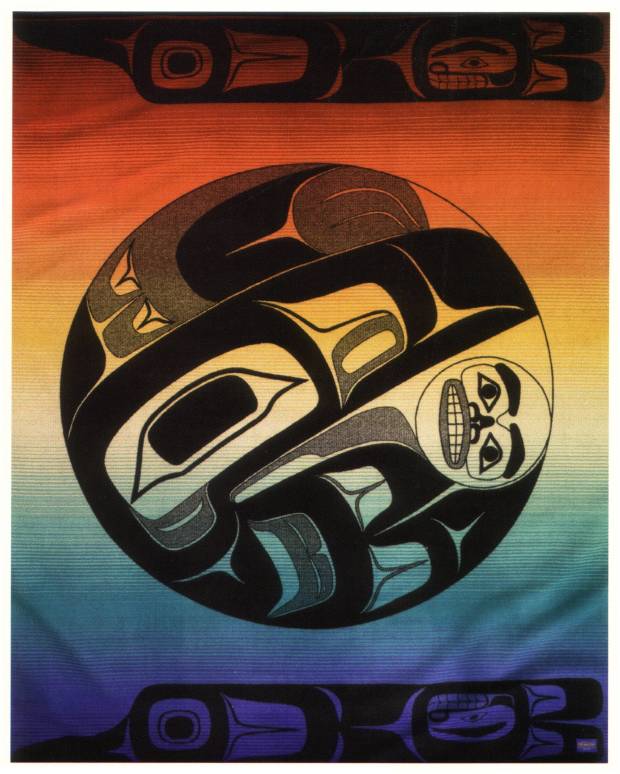 $300 Level: "Moon Mask" by the artist Preston Singletary, cast and sandcarved glass, 3" x 3" x 1", open edition.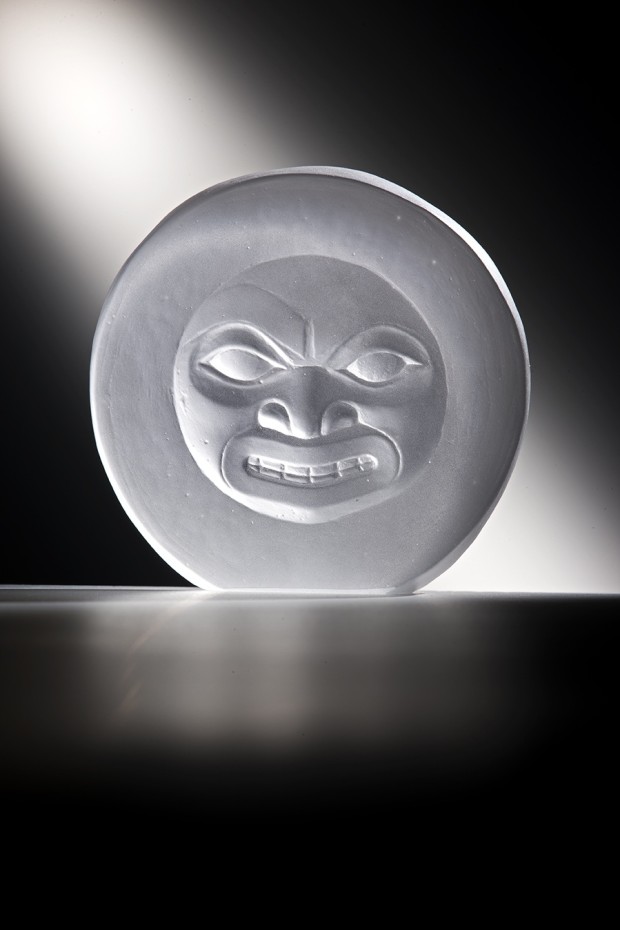 Photo: Russell Johnson
$400 Level: Receive one tattoo by local Seattle Tattoo Artist Nahaan, who specializes in "Traditional and contemporary northern style formline, basket patterns, chilkat patterns, done as commission drawings, paintings, tattoos, and prints."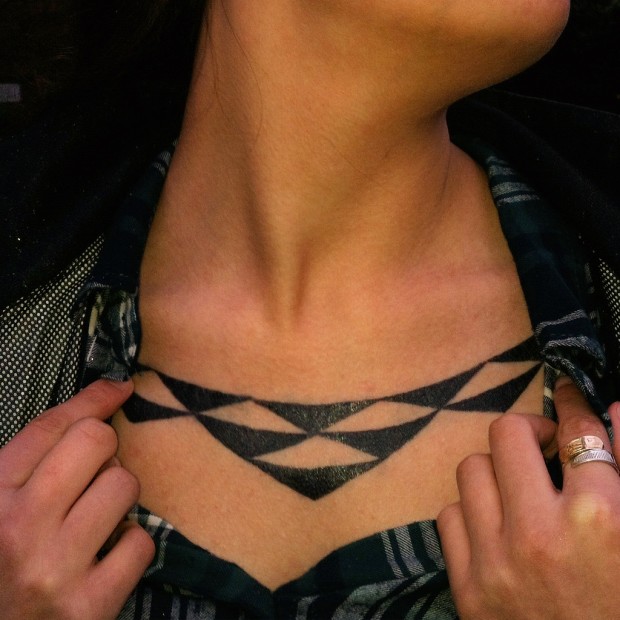 Example Tattoo by Nahaan.
$750 Level: "Spirit Face" by the artist Preston Singletary, created in cast and sandcarved glass and measuring 4.75' x 6.25" x 1". Open Edition.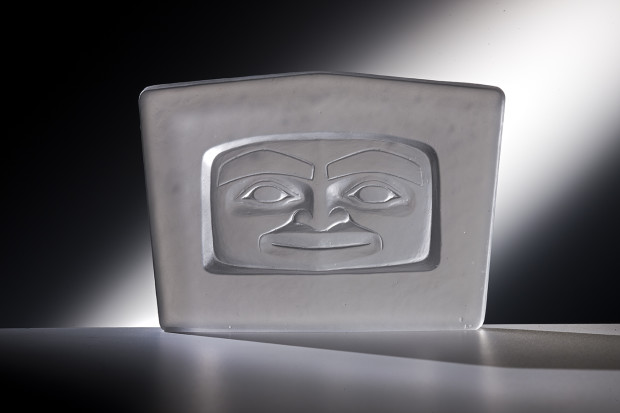 Photo: Russell Johnson
$3,000 Level: Option #1: Tlingit Berry Basket in Purple with Cedar Brown lip, by the artist Preston Singletary, 6″ H x 5″ W.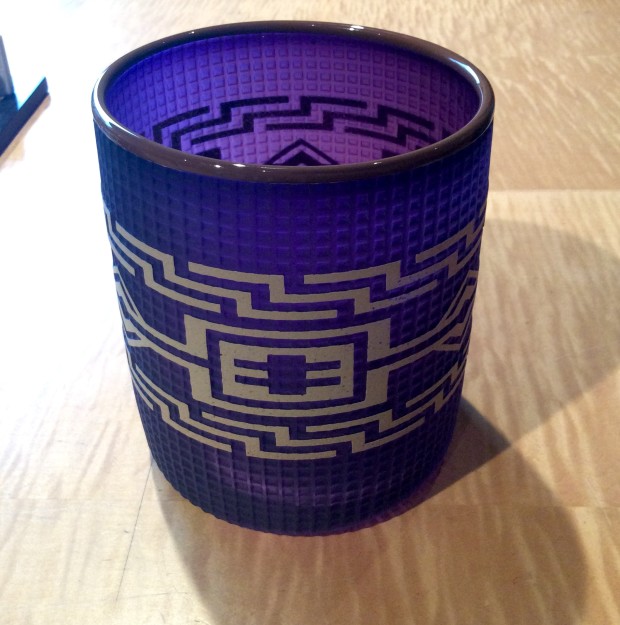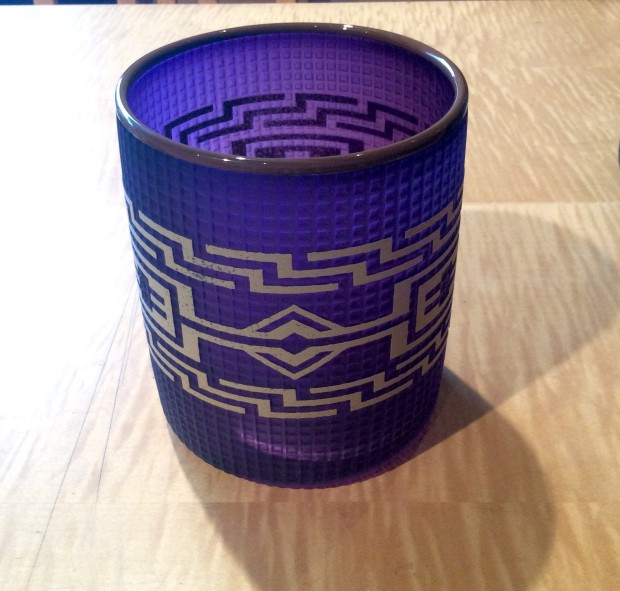 SOLD $3,000 Level: Option #2: Tlingit Berry Basket in Twilight with Navy lip, by the artist Preston Singletary, 5.25″ H x 5.75″ W.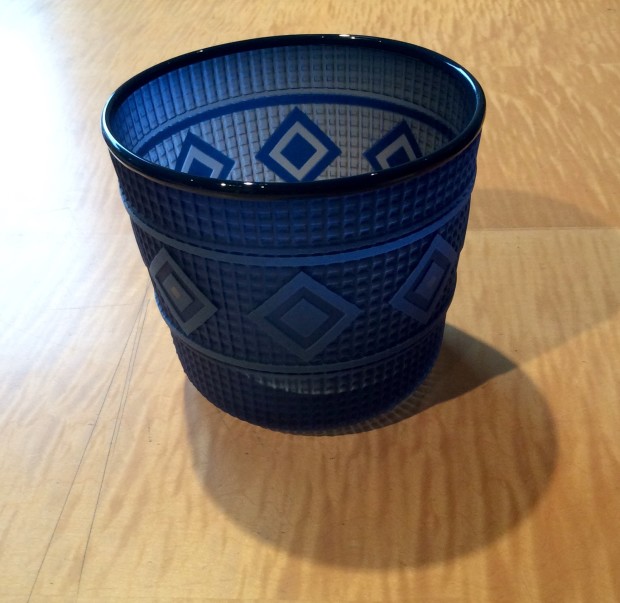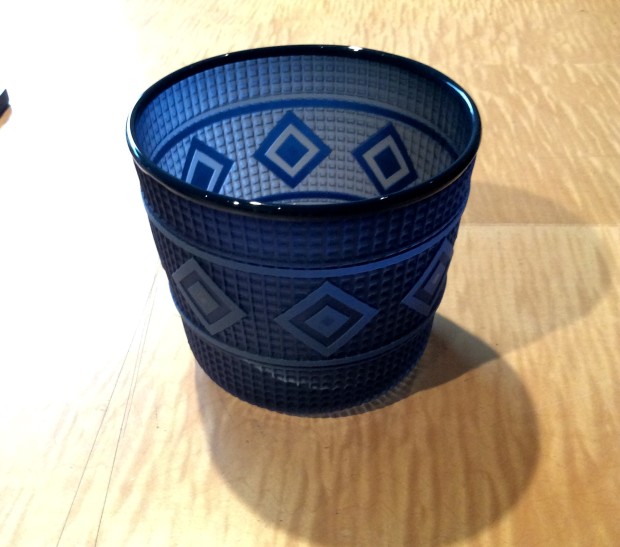 $3,000 Level: Option #3: Tlingit Berry Basket in Granite with Grey lip, by the artist Preston Singletary, 5″ H x 5″ W.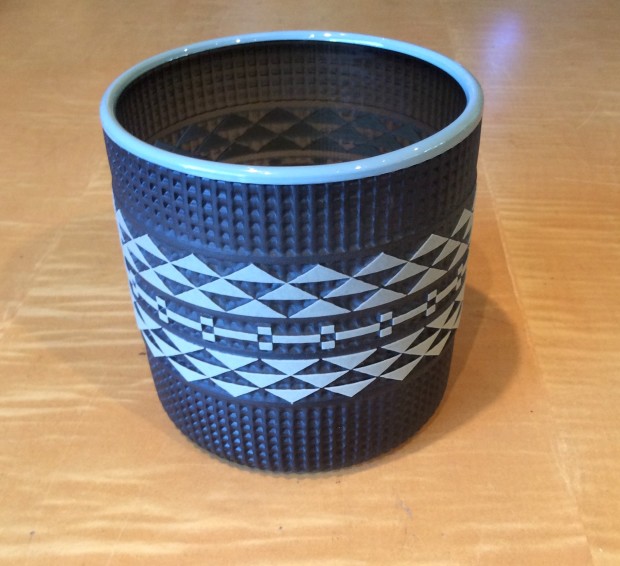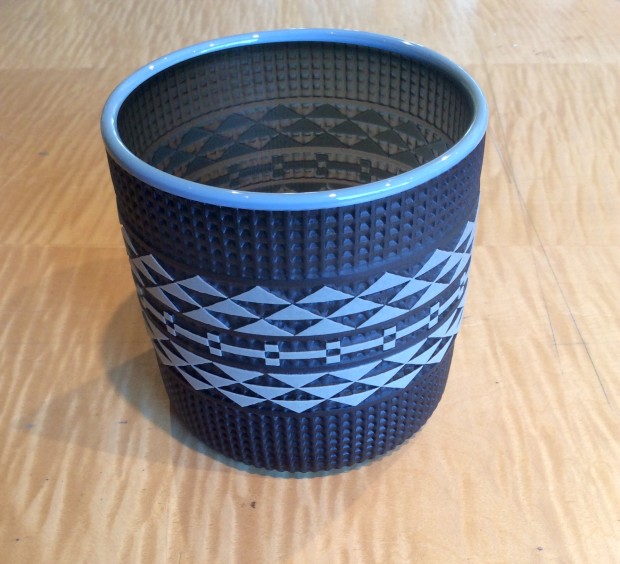 $5,000 Level: "Killer Whale Totem" created by Preston Singletary in cast glass, and measuring 18″ h x 6″ w x 6″ d, overall including base. Open Edition.