iCrowdNewswire - Feb 1, 2016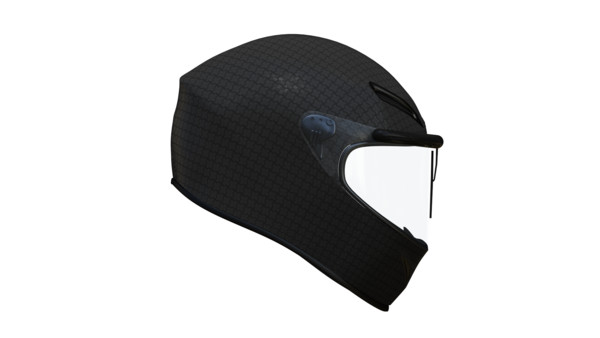 Arguable the largest single improvement in vision for motorcycle riders in the rain. We introduce Rainpal, a sleek wiper that attaches in 2 seconds and has a fail-safe detachment system therefore cannot blow off when the visor is closed.
This campaign is dedicated in the memory of Carole Aarons who put daily contributions into the development of Rainpal.
STOP PRESS – A tiny minority are worried about scratches to your visor if the visor is clean and wet Rainpal should not scratch your visor but if you are still worried Rainpal ships with Tear-Offs clear laminates (optical quality plastic sheet laminates that stick across a visor in 1 second for the central view) so everyone can relax better to see where you are going in the rain rather than worry about scratching your visor
Our main website is at www.rainpalrevolution.com
Rainpal cannot detach from the visor when the visor is closed as Rainpal has a fail-safe detachment system
Rainpal comes with a handy carrycase for easy flat onboard storage as the wiper detaches with one click ready for the rain.
Rainpal will now come with a one click jet spray for clearing your visor when riding in drizzle with a single return wipe setting for the wiper. The water jet will be offset to the left of centre so as not to detract from the rider's central vision. The water will be sprayed right away but there will be a 1 second delay for the wiper in order for the water to spread. Too easy to see in the drizzle with Rainpal and Rainpal is also extremely effective in giving you excellent clear vision on salted roads in cold conditions. Rainpal will have an internal water reservoir for water spray and a connection for a large external reservoir (sold separately)
Rainpal provides more safety than any other visor accessory, crystal clear vision in the rain and will ship globally.
Over a year ago I was caught in the rain and and my girlfriend held her hand on my visor like a cap but as soon as we moved forward her efforts had little effect. At that moment I decided in a world where safety is so prevalent it was not acceptable that so many riders had become accustomed to not being able to see clearly like in a car so I decided to do something about it – Rainpal had to tick many boxes (see key points below) and has been carefully designed and engineered over the year.
We have partnered with a fantastic engineering team in India, an awesome graphic design company in the Czech Republic and an excellent manufacturing company in China evolving a global footprint. Rainpal The Road Ahead Is Clear.
As requested we listed in a few currencies but so many of you asked for different currencies therefore please find a link to a friendly site providing guidance prices and comparable rates for your home currency, rates will vary and you should contact your bank/card issuer if needed – Estimate Your Home Currency Rate
Rainpal the electric powered, silent, vibration free, unique and sleek designed with a 4mm wiper shaft and a 2mm rubber wiper providing cleared view over 140 degrees of your visor.
With a water spray and delay wipe for drissle it's all taken care of. Rainpal's body which attaches to the visor will be approximately 1.3cms in height and 1.3cms in width producing minimal drag.
Rain will not enter inside the helmet as Rainpal's clips are only 1mm in thickness therefore will not compromise the rubber seal around the helmet's viewable rim.
You can store Rainpal flat onboard your bike as the wiper removes from the main body by pressing a tiny button at the top of the shaft then whenever it rains you can attach Rainpal in seconds – too easy
We can't stop it raining but we can produce for you the same clear vision as you have when driving a car (with the wipers on) by using Rainpal especially in slow city driving conditions like London, far clearer visors than rain repellent sprays can acheive, any where in the world where it rains which is most places where people live.
Sadly many of my friends have been hurt after accidents in the rain and I am sure many people reading this have also friends been hurt in motorcycle accidents in the rain. A friend did not see what looked like a puddle whilst it was still raining but had turned into a pothole which she said she would have seen if she had clear visiblity but she could not see as she was in a heavy downfall of winter rain. Other reasons like the car changed lane in the wet, the dog ran across the road, the dangers are endless with compromised sight. I wanted to reduce the number of accidents and deaths in rain. Rainpal produces the best visiblity in the rain.
The wearing of helmets is mandatory across all European countries and Rainpal adds to this safety measure.
Drizzle and spray from trucks will be much less of a problem now with an integrated water spray and wiper for less strained eyes which if strained too much may lead to earlier deterioration of your eyesight and often producing a headache and tiring with the additional concentration. All these are reduced with Rainpal.
In 2016 riders will have the same clear vision as in a car.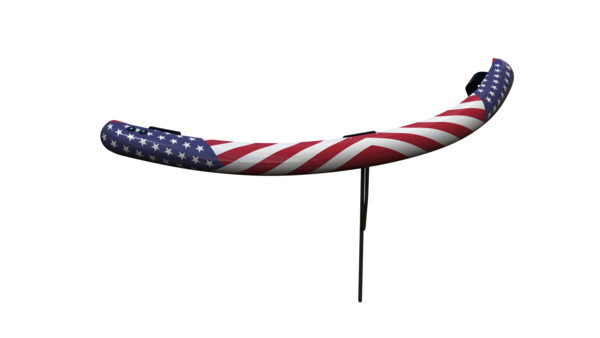 For night use an option we are thinking of adding an attractive embedded line of blue LED's along the outer front rim of Rainpal for an additional safety feature as the rider's head is higher than the other lights on motorcycles and is an attracitve look.
The wiper shaft is easily detached by a single click so the illuminated unit can be worn in dry conditions. To see the effect Click Here
If you have any quesions please email us at [email protected] – Rainpal drastically decreases the chances of accidents for riders in the rain.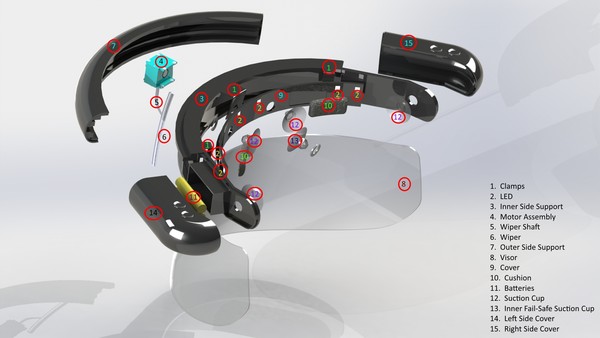 What are your current options to see clearly in the rain – none that give you continuous clear vision at all speeds including city speeds like 25kmh. Clear view is however achieved with Rainpal.
Rainpal is unique and can be stored flat as the wiper detaches with one click therefore easy to keep onboard your bike for whenever it rains. Up until Rainpal what were your options:
a) Moving your head from side to side which is dangerous as it disturbs your centre of gravity, vision and concentration on riding
b) Using a rain repellent that don't really work below 60kmh and even worse on bikes with large windscreens and/or fairings which reduce wind.
c) A wiper glove – in already dangerous conditions to take one hand off the steering to wipe your visor every 20 seconds or so only makes the situation potentially more dangerous with the diminished balance control especially if you hit a puddle, or a dog runs out etc Using Rainpal you can keep your hands on the steering where they belong
d) Your passenger placing their hands over the top of your visor providing a porch cap like brim stopping some of the rain but only about 20% improvement and even then only at low speeds. The passenger's safety is compromised as they will not be able to hold on with that hand.
You are worth more than this treat youself!
So what do we present – Rainpal – an automated wiper which fits onto most full face visors in seconds.
Rainpal lets you see as clearly in the rain, comparable vision as on a dry day for the first time ever on a motorcycle, you don't have to suffer in the rain. Don't be riding around not being able to see clearly and thinking you can.
At just 150 grams you would hardly notice Rainpal is on your visor, with virtually no drag due to the venting we designed you might be forgiven for forgetting about removing Rainpal once the rain has stopped but with Rainpal's sleek looks that's no worry.
Rainpal does not only clear rain but also greatly prevents misting/fogging of your visor by taking away the cold rain which produces the temperature difference which causes misting/fogging of your visor, once you clear the rain the misting/fogging will be greatly reduced as the temperature equalises much faster. See more details in key feature number 12 below
Also there is no need to open your visor slightly and having cold or freezing air blowing in your face making your lips blue from the cold, now your face can be warm and not dried out and potentially less aged looking from the wind. You can look younger for longer!
Since rain is usually in low-light situations rain is even more dangerous whilst riding.
Rainpal is flexible to fit a variety of visors a little like the inlet pipe on a washing machine it flexes therefore fitting most shapes of full face visors.
To keep the strength of the wiper very high Rainpal uses a 4mm titanium/aluminium wiper shaft and a curved 2mm wiper which compresses and flattens against your visor which takes care of the rain for you producing crystal clear vision and being so thin there is a minimal blind spot or distraction.
Key features of Rainpal:
1. Adjustable wiper speed
2. Delay wipe
3. One click jet water spray/wiper for clearing your visor when riding in drizzle sprays and a single return wipe. The water jet will be offset to the left of centre so not to detract from the rider's central vision. The water will be sprayed immediately the button is pressed and there will be a 1 second delay for the wiper in order for the water to spread. Rainpal will have an internal water reservoir and a connection for a larger external reservoir (sold separately)
4. Easily fits and detaches in about 2 seconds
5. The watertight seal of visor is maintained as clips are only 1mm thick and enclosed by the rubber rim of the visor aperture
6. Can be used with Pinlocks
7. Lightweight at 150g about 8% of the weight of an average helmet
8. Small size at only 1.3cms in width and height therefore negligible drag
9. Soft inner rubber cushions prevent any vibration, rattle noise
10. Air gaps between cushions so negligible drag or uplift
11. Elastic drive as opposed to metal belt for vibration, rattle, noise free use
12. Flexible similar to a washing machine water pipe enables fitment to most full face helmets
13. A massive 140 degress of cleared vision
14. Drastically reduces fogging/misting of the visor as the colder rain is wiped away. How, fogging is caused by the temperature difference and humidity on the inner surface of the visor as the rain is normally colder on the outside as it has fallen from higher cooler atmospheric levels especially compared to the warmer more humid air inside a visor which is being warmed by the wearer's breath and face both producing heat and the breath humidity. When rain sits on the outside of the visor the warm humid air inside the visor hits these colder areas under the rain drops producing condensation which forms fogging a bit like on a bus in winter as there are many people breathing and creating warmth. Rainpal removes rain quickly therefore reducing fogging.
15. Less glare from car headlights and/or street lights in the rain at night
16. No more frozen rain covering on the visor when riding in freezing mist
17. Less freezing cold air blowing in your face by lifting your visor to clear the fogging/misting
18. No more dry face and potential aging from freezing cold air
19. Extensively tested up to 160kmh in Ansys
20. Fail-safe inner suction cups as the cups cannot be pulled through when the visor is closed and also 3 suction cups provide grip for when the visor is open at up to 25kmh
21. On-board or wireless controls (subject to which model)
22. Illuminating LEDS by each clamp for easy night time fitment
23. Central LED and fluorescent coating on controls for night time use
24. 90 minutes of battery life in continous wipe and much 180 minutes with a small delay wipe. Rainpal can be charged at the office via USB for the journey home or even on-board if your bike has a USB
25. Charged by USB so flexible power sources
26. Hard carry case included for on bike storage
27. 12 months fully comprehensive warranty
Finished in four models:
Black Gloss
Pearlescent white Gloss with light reflective paint to provide you with additional safety at night, especially from a side view
US flag Gloss
UK flag Gloss
Rainpal is also on Facebook and Twitter – Happy New Year 2016
Rainpal has been Patented
Rainpal – the road ahead is clear