iCrowdNewswire - Jan 31, 2016
SmartCharge™ is the world's first LED light bulb which works even during a power outage. User can turn ON/OFF from the same wall switch.  No hardware changes or rewiring required.
Featured:  Dave Pogue, Yahoo Tech! – Seems like magic!!!
News Alert – Now we have Distribution Partners in India, Mexico, Canada, Chile, China, Argentina, Hog Kong, Germany and UK. Pre-Order here and we will ship the rewards to your loved ones in these countries. No overseas shipping charge. Just select "Overseas Freinds" Perk.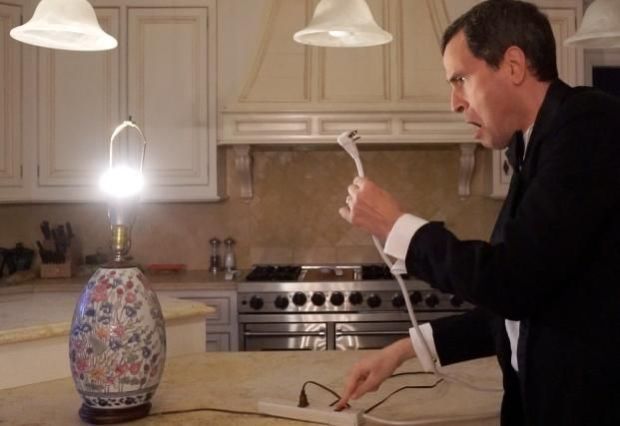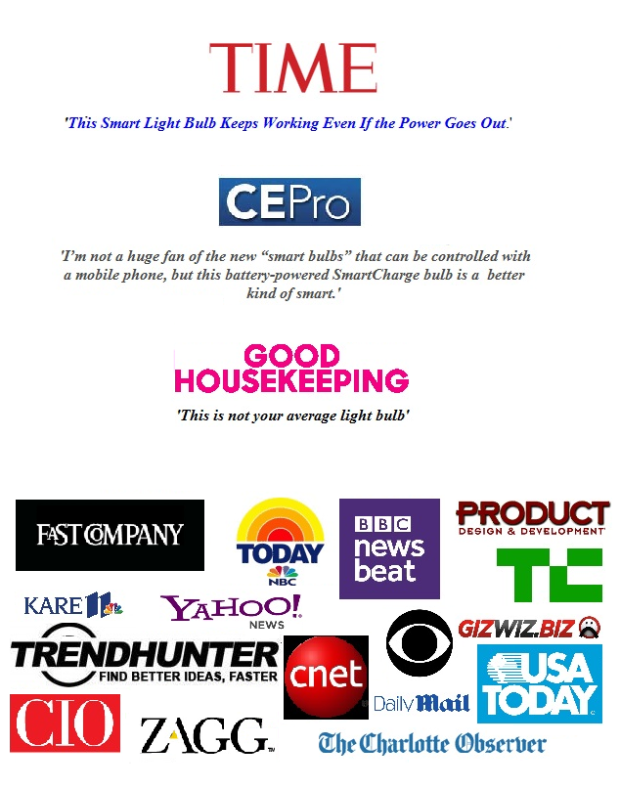 Two years ago, we introduced SmartCharge LED bulb which worked like a normal bulb during power outages. It received a tremendous support worldwide. We shipped to 32 countries and started a worldwide movement to remove darkness due to power outages and rolling blackouts. Feedback from this global trial of our first design was extremely encouraging! Most importantly, it gave us insights into product use, cost and product/market fit. Now we  launch SmartCharge 2.0. which is:
 Brighter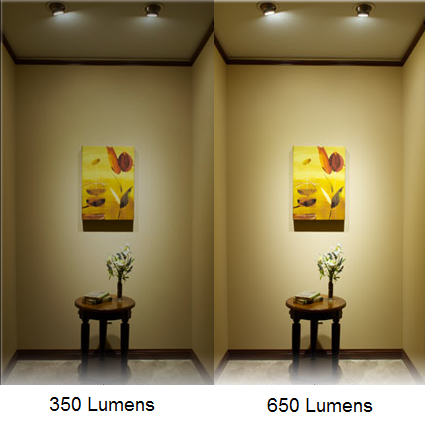 The light produced by the SmartCharge LED bulbs is increased from 350 lumen to 650 lumen. More lumen means brighter light.
Better – Enhanced Features
Control multiple bulbs with one switch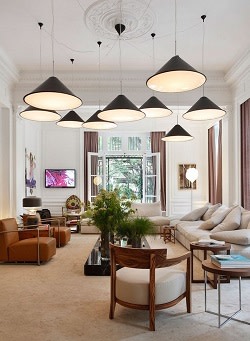 Even bulbs can be in any combination – replace only one, two… or all of the bulbs in that switch with SmartCharge bulbs.
Charge only mode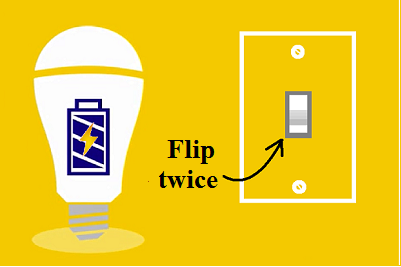 Very convenient for places where power goes out almost every night. Now you can charge it during the day time or while sleeping without turning the light on. 
Cheaper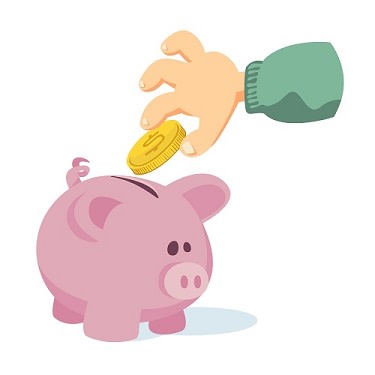 Our aim is to make SmartCharge affordable to people everywhere in the world specially in developing countries. SmartCharge 2.0 has simple design and 35% lower cost.  

Ready for mass production. Available for distribution worldwide.
All Base Types: E26/27, B22;         All Supply Voltage – 110 V – 240V

We are partnering with Distributors in different countries. We have distributors in India and Mexico.  You can pre order and support us here in US and we will ship the rewards to an address of your loved ones in India or Mexico.  Avoid overseas shipping cost.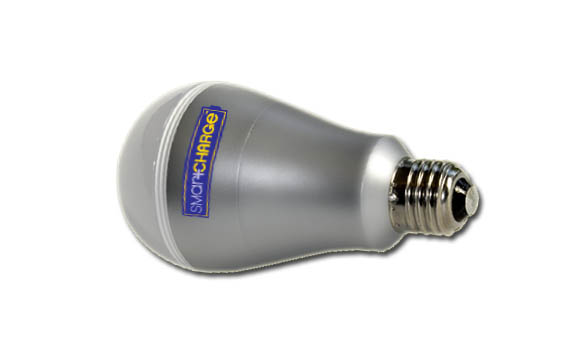 SmartCharge is the world's first ultra-energy efficient LED light bulb that works like a normal light bulb even during a power outage. It is integrated with a rechargeable lithium ion battery and patented switch sensor technology. The user can turn it ON/OFF from the same wall switch even during a power outage. SmartCharge doesn't require any hardware changes or rewiring—it fits right into standard light sockets. It works on a wide range of supply voltages, thus it is applicable to every country in the world.  Its built-in backup battery provides 4 hours of light. These 4 hours of charge can be "extended" by turning the bulb off if there's no need for light at the moment. When the power comes back, SmartCharge automatically recharges the battery.
Simply Replace Your Old Bulbs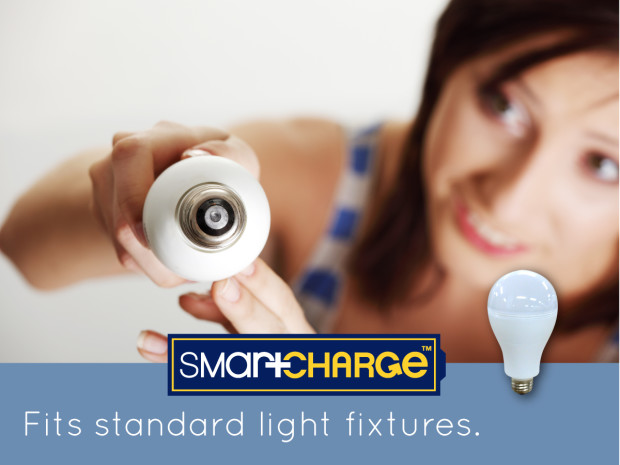 Simply replace any existing light bulb with a SmartCharge™ LED Bulb. 
There is no extra wiring, no ugly control box, no remote control or WiFi  or expensive electrical installation required.
Never notice a power outage – Like nothing happened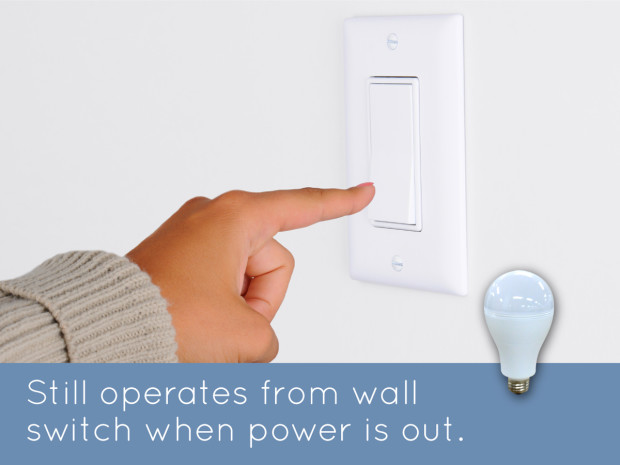 With SmartCharge™ Bulbs, you won't even notice a power outage because the SmartCharge™ Bulb will continue to provide you with light. Turn On/Off your SmartCharge™ Bulbs by using the same light switch – it's like a power outage never happened.
Endless Use – Anywhere – Everywhere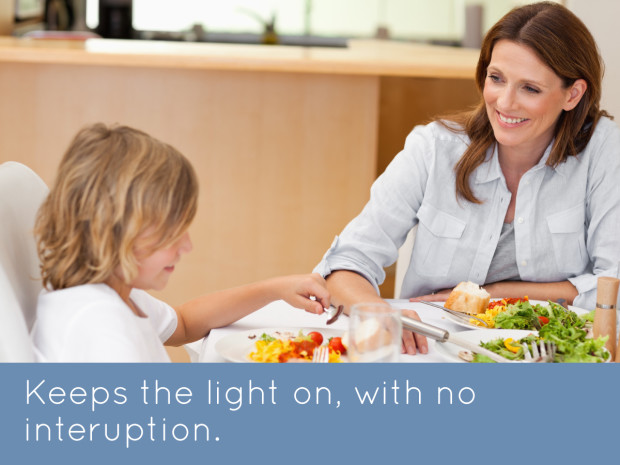 When the power goes out, the whole house goes dark except for rooms using SmartCharge™ Bulbs, which stay on, or are ready to be turned on in another room if needed.
"Peace of Mind" for Everyone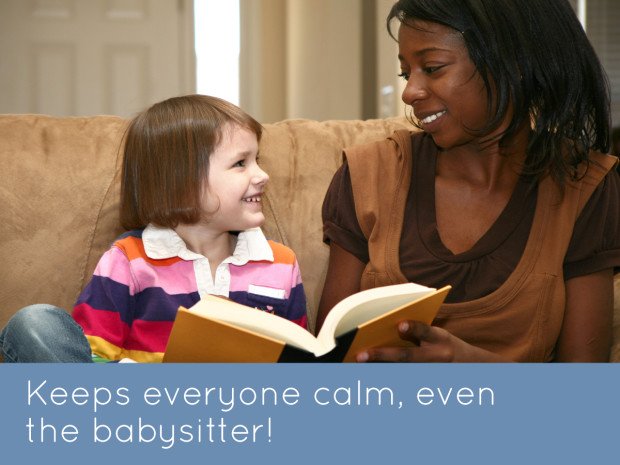 Energy Efficient – Environment Friendly – Long Lasting
The SmartCharge™ Bulb helps cut electricity usage for lighting by up to 85%, saving you money and reducing the impact on the environment.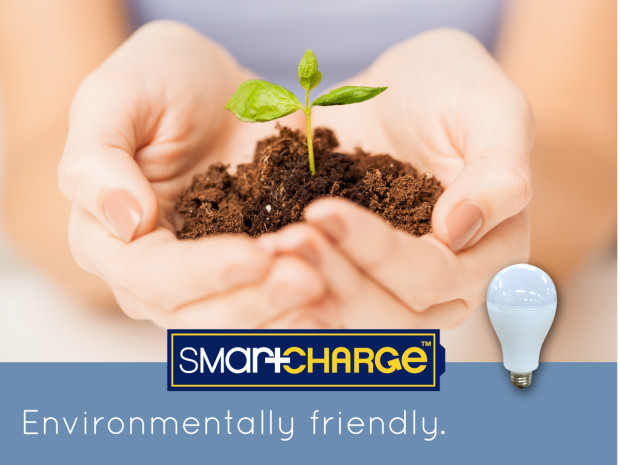 SmartCharge™ Bulbs are also long lasting, rated up to 40,000 hours or 25 years of life.
Turn ON/OFF From The Same Switch Even During Power Outage"
The heart of the SmartCharge™ LED Bulb is our patented Grid & Switch Sensor technology. It is capable of distinguishing between a loss of power due to opening of the line switch and a loss of power resulting from a grid failure when the line switch is either open or close.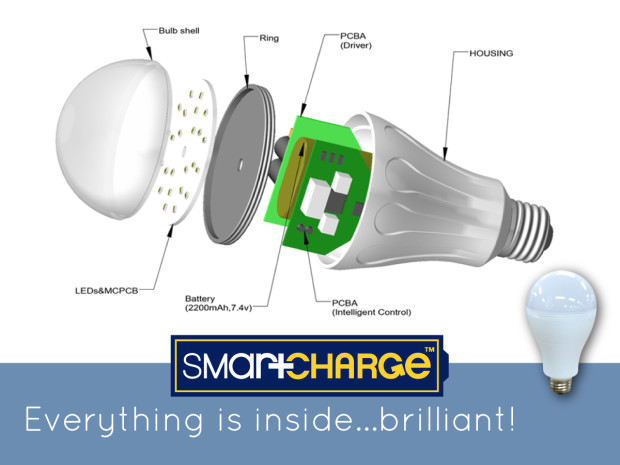 From the outside it looks like a normal LED light bulb. But we have added a battery, intelligent control technology and an inverter all inside the light bulb assembly to make it smart and efficient.
Grid & Switch Sensor technology consists of three blocks:
1. Intelligent control circuit with grid sense and switch sense
2. Battery and battery charging circuit
3. Inverter along with few other elements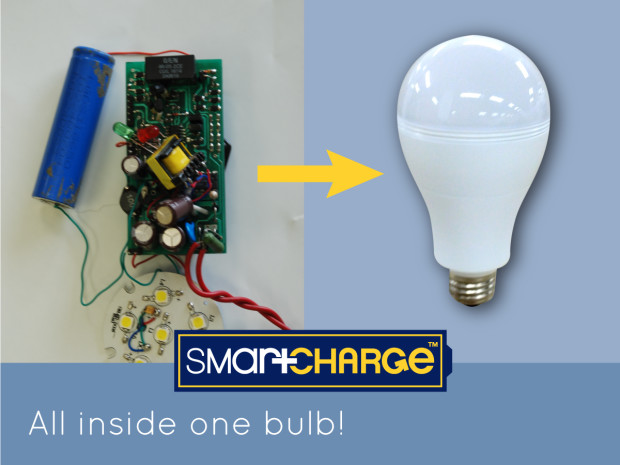 The resulting smart LED bulb is immune to grid power outages. It always knows, even during a power failure, the wall switch position and turns the bulb ON or OFF based on the switch position.
If switch was ON when power failed, then the SmartCharge™ Bulb will remain ON.
If switch was OFF, the SmartCharge™ Bulb will remain OFF.
During a power outage, the switch still has control of the light bulb.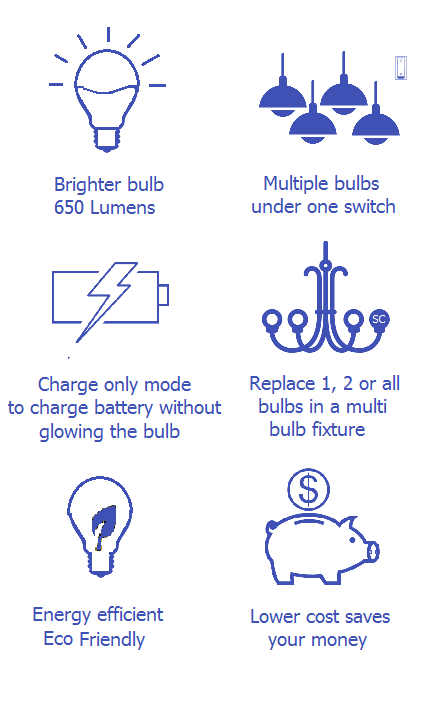 Best Of CES 2015 – NBC Today Show 
NY Future Energy Investor Pitch 2014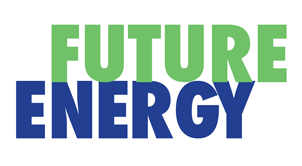 Innovation Fund of North Carolina 2015
Pat McCrory International Entrepreneur Award 2015

 Top 33 – St. Andres Prize for Environment  2016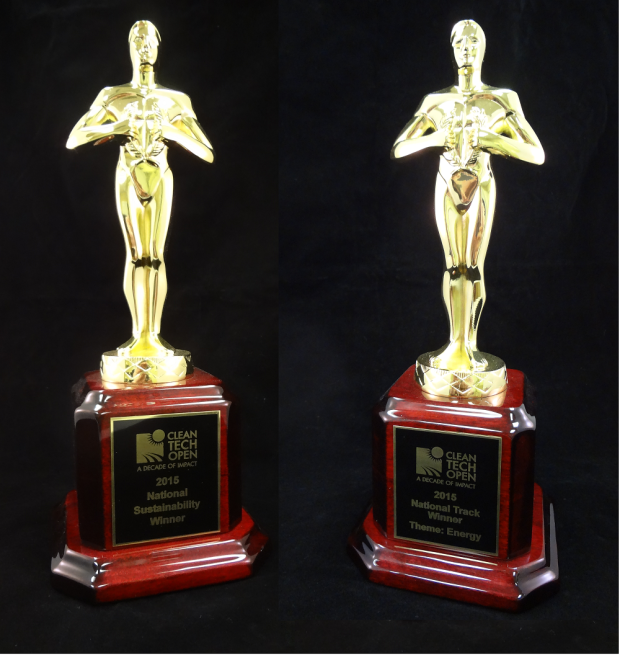 CleanTech Open Global Sustainability Award 2015
CleanTech Open National Energy Award 2015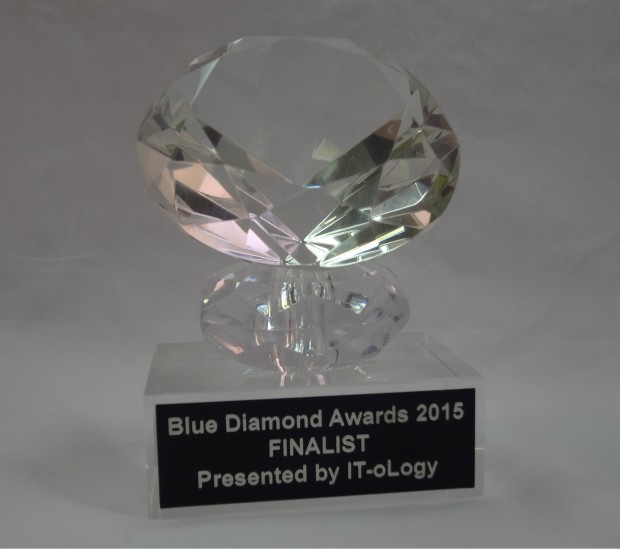 Blue Diamond Awards 2015 – Finalist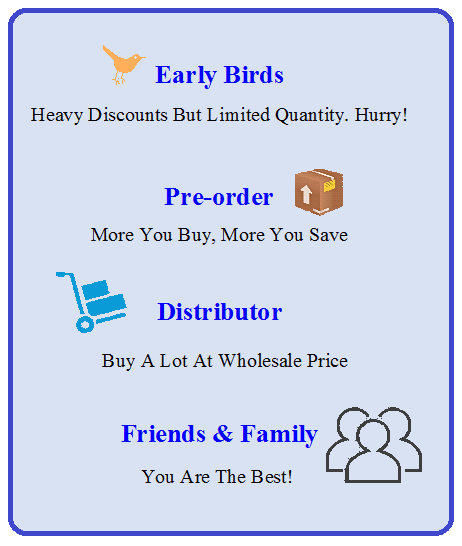 We are a small startup company with three employees at present. We're focused on developing great consumer products, which bring "Peace of mind". We were founded in 2013, and the 8W SmartCharge™ LED Bulb is our first product. We started out by designing and prototyping our concept by a reputable design company from India. Then we collaborated with a world class LED bulb manufacturer in China. They integrated our technology into a 8W LED light bulb. 
We aim to pioneer the emerging world of LED lighting with our technology providing convenience and safety.

The idea behind the campaign is to prove demand, and build products in a rapid, user-centered design cycle. By reaching out on Indiegogo, we aim to assess our demand, build a stronger relationship with our early adopters and wide range of distributors worldwide, and use feedback to make our product as amazing as possible.
The amount of human capital that can be unleashed from the 3 billion people around the world who have access to a grid, but an unreliable one, is staggering.Children can study, kerosene-related issues will not plague them, the price of this light will become increasingly affordable, and it lasts longer than any incandescent competitor. For human health, environmental sustainability, and economic/social well-being, SmartCharge is the product that can make a real impact on the planet. Indiegogo platform and you will make a diffrence.

We are production ready.  Our product is UL, CE, FCC approved. We have produced a small batch and tested extensively. Now we are ready for mass production and distribution. Indiegogo campaign funds will be used towards putting SmartCharge™ Bulbs into production. We're experienced in this field and have led the development and manufacturing of many hardware products in previous companies, including the GasWatch (Propane Tank Gauge) and iFi Smart Tag (a Bluetooth proximity sensor device) so we know what it takes to take a concept and turn it into reality. By supporting SmartCharge™ on this platform, you get in early and get a premium product ahead of everyone else.
We're asking you to help us make SmartCharge™ LED Bulb a reality.
Also, most light bulbs are based on century old technology and are not energy efficient, which impacts our environment. The SmartCharge™ Bulbs are not only energy efficient but also easy to use, long lasting and smarter- they ensure that you won't be left in the dark during a power outage.

The SmartCharge™ V2.0 LED bulb project is past the design stage and now we are looking forward to large scale production. As for ny new products, we should be aware of following risks:
Manufacturing issues and related problems
Delays in getting parts and shipment
Having launched several products successfully, we understand and are aware of the numerous risks and challenges faced by entrepreneurs.
A key challenge is quality control, as manufacturing starts we'll keep a close eye on quality both in person, and by using experienced inspectors.
Finally, we promise to keep you all in the loop every step of the way, so you know how we are making progress.