iCrowdNewswire - Nov 11, 2015
BabyHub SleepSpace – Effortless Mobile Cot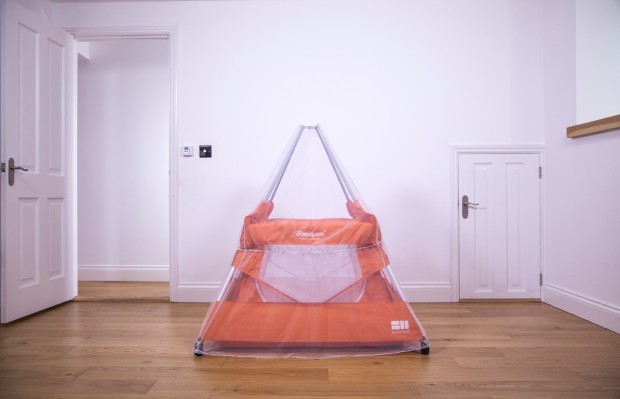 The BabyHub SleepSpace is a revolution in design. The pyramid shape is stable and secure – perfect for keeping baby safe. (One of the top poles can be retracted to create a big open corner) So easy to use, it allows for essential bonding between parent and child. A truly portable safe space, the BabyHub SleepSpace can be opened out, closed up and carried in one easy movement, all while holding the baby! This multi-use product can be used as a travel-cot, play space and even reused as a play-tepee.
It comes in four different colours:
SAFE
BabyHub SleepSpace has 4 locking mechanisms to ensure it stays open, padding to protect against knocks and fabric barriers on all 4 sides to protect against excitable toddlers/big feet!
EASY TO OPERATE 
BabyHub SleepSpace is designed for ease of use – just unlock, pull up the center base and the whole frame will fold inwards, making it easy to carry to another room or out and about. For travelling, the top telescopes down into the bottom part, allowing it to fit neatly into its bag, small enough to stow in the boot of a small car. 
CLEAN 
BabyHub SleepSpace has removable machine washable covers
SUPER-MOBILE! 
BabyHub SleepSpace is super lightweight, comes with its own travel bag, telescopes down and can be moved about one-handed
KIND 
BabyHub SleepSpace has a zipped door saving on backs!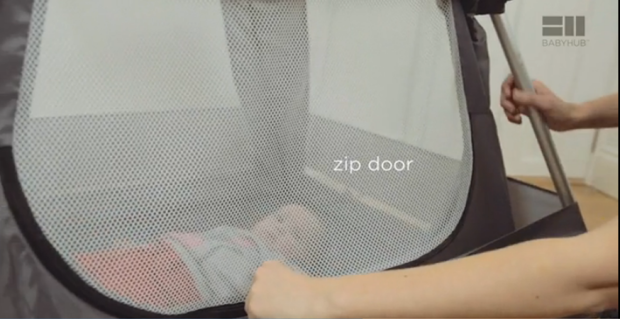 SUPER COMFORTABLE 
BabyHub SleepSpace comes with an extra padded mat! No need to go out and buy an extra mattress! The mat fits snugly into the base and is a standard size, so easily available travel-cot sheets can be used (67x96cm/26×38″). With the extra padded mat, BabyHub SleepSpace has the thickest, most comfortable base of any travel-cot!
PRACTICAL and SAFE 
BabyHub SleepSpace comes with a fitted mosquito net cover which secures around the feet and goes right down to the floor, providing complete protection and is even safe for a standing baby.
ROOMY 
BabyHub SleepSpace is shown in the photo below next to a bestselling travel cot. You can see that the inside base is wider (standard travel cot sheets fit the SleepSpace) and that one of the top poles can be telescoped down if larger access is required, creating a big open corner.
RE-USE – ENVIRONMENTALLY FRIENDLY
BabyHub SleepSpace is great for the environment because there is no need to throw it away when your baby gets too big – re-use it as a play tepee! The whole middle frame can be removed in minutes with ordinary household tools resulting in a perfect tepee structure. The tepee cover comes with a soft padded tepee mat and is available to buy as part of the "Total Package". The white quality cotton canvas cover lends itself to being coloured in! Perfect for your children to add their own designs, and can be changed again and again if you use washable fabric pens.
DISTINCTIVE DESIGN
BabyHub SleepSpace reached finalist position in the Baby Products Association Awards in 2013, in its earlier stages of development. Since then, we took on board their recommendations and now have a great product.