iCrowdNewswire - Nov 9, 2015
FOLDFLAT – Food Containers That Fold Neatly Away

Oh, finally!
For every time you've found yourself on bended knee trying to find the right lid, for every second you've spent tidying up that one impossibly messy cupboard stuffedfull of plastic food containers, and for every moment you've found yourselfcramming an empty lunch container back into your bag:  We made these for you.
We've always known that there had to be a better way. After more than 70 years of waiting, we decided to make it happen.

                                "…it's like Tupperware met Origami…"
Features & Dimensions
Our prototypes look good, have proven the concept, allowed us to shoot the video, and generated loads of excitement.  All of the product renderings you see before you play an essential part, letting us show you what the finished product will look like.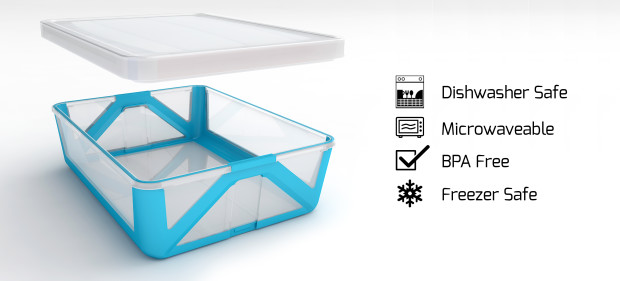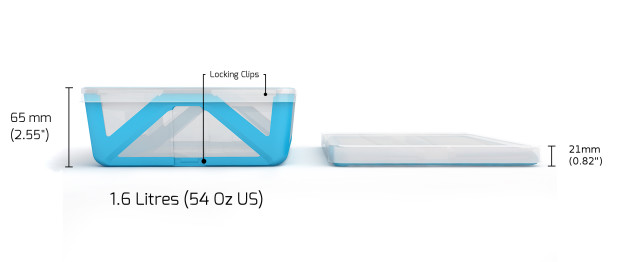 Colours
FOLDFLAT is available in two colours: Turquoise and White. Additional colours are just around the corner and will be added as stretch goals. What do you think – Pastel Pink? Racing Green? Letter Box Red?
– 'Popped-Up'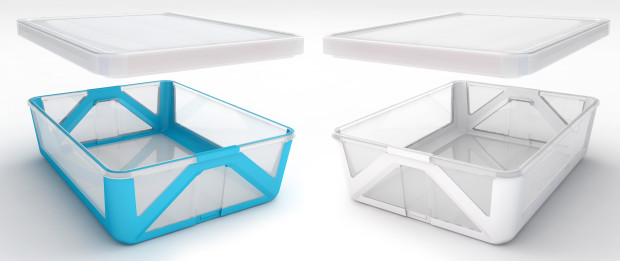 – Clipped Flat

– Clipped Flat & Stored Inside Lid

Risks & Challenges
* Bringing an innovative product to market is challenging. On paper this project is achievable by March 2016 – we have given ourselves a little extra time to account for the inevitable "unknown unknowns" that effect even the best laid plans.
* Injection moulded plastics is a highly technical field and one which we have scoured the United Kingdom to find the best possible manufacturing partners: FOLDFLAT involves combining two different types of plastic (polypropylene and TPE) to form one product in a way so unique that we have even applied for a patent.
* Keeping all manufacturing and design in the United Kingdom will mean we can maintain a much higher degree of control:
– Ease of managing the manufacturing processes, every step of the way.
– Ability to react to challenges very quickly, team on site within hours.
– Negligible cost of maintaining a presence on site, an approach that will be particularly important during testing, development and production trial stages.
– No language/cultural barrier that can sometimes foster misunderstandings.
Communication & General Management
Ben has been working on this project full time since February 2015 and will continue to do so throughout the project. The rest of the team along with its manufacturing and logistics partners will work on a more variable basis depending on the requirements of the project.
Backers will be kept up to regularly and will be held in the highest regard, as partners, throughout and beyond this Indiegogo project. We will maintain an active presence across social media and on this campaign page, answering all questions promptly.