iCrowdNewswire - Nov 2, 2015
St Peter's TYS2 Community Space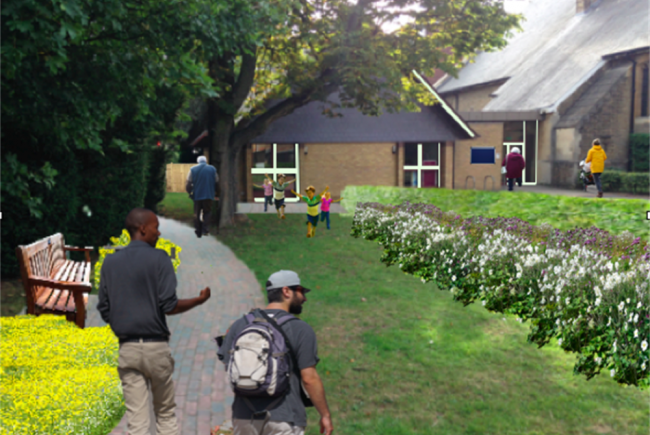 About
Located on a corner busy with school and commuter traffic and on a major pedestrian route, St Peter's grounds are tired, inaccessible to the public and prone to anti-social behaviour – meaning that local people lack an attractive and well maintained community space.
In Partnership with horticultural training charity Cultivate London, we therefore intend to landscape and open up St Peter's grounds – creating a pedestrian route away from the road and an attractive community garden for older people and the wider community. The project will:
• Improve road safety and ease pedestrian traffic – creating a safe route for children, parents and others
• Benefit older people by providing a beautiful and appropriately designed garden with seating areas – enhancing their wellbeing and health
• Develop community cohesion and skills through collaboration on an inspiring neighbourhood project
• Enhance the safety, usability and accessibility of the Church, Hall and grounds.
What we'll do:
Remove a section of hedge on Montpelier Road and build a path through the grounds to the front of the Church.
Remove concrete slabs the front of the Church, installing new paving and creating large planting beds.
Provide benches, including seating areas at the front of the Church.
Renovate the front of the Hall and improve disabled access – enhancing its use as a community resource.
Build a paved area at the front of the Hall with electricity and water supply for community events.
Install energy-efficient floodlighting to highlight the historic of the front Church.
Provide notice boards to advertise local activities on the street and outside the Hall.
Why it's a great idea:
Supporting Ealing Council's six key priorities, St Peter's Community Space will:
• Deliver a relatively low cost community asset by rehabilitating an essentially attractive space
• Improve road safety by moving pedestrians away from a busy junction
• Reduce anti-social behaviour by encouraging through flow of pedestrians
• Bring around 50 local people together to deliver and manage a community project
• Provide a space for older people, encouraging social interactions and increasing wellbeing, particularly among those experiencing isolation and depression – supporting Ealing's strategy for older people
• Provide an external venue to enable the development of a regular over-65s group – improving the wellbeing of older people over through social interaction
• Through our project partners Cultivate London, help to provide 50 young people with vocational skills and experience
• Benefit well over 10,000 users of the space p.a.
• Enhance biodiversity.
How we'll get it done:
The project will be delivered by a committee of local people, with extensive community consultation.
Plans will be developed in conjunction with the Diocese of London, our architect, and Ealing Council.
Design oversight and major build elements will be undertaken by Cultivate London.
Components such as removing hedging and planting beds will be carried out by volunteers.
On-going maintenance will take place by volunteers via regular communal sessions.
This project is a key strategic initiative of St Peter's management committee, which aims to enhance its offering for the local community – particularly to isolated older people and to young people in need of training.
However, the church lacks resources for major projects such as this, and although we intend to raise some of the funds required from our members, we would be unable to deliver the full project without significant external support.