iCrowdNewswire - Oct 25, 2015
Little Storybook – Create Stories with Buddy Zero
Our Story
Creativity is becoming more and more important these days. 
At Team Zero Studio, we focus on developing educational products, leveraging technologies, to inspire children to learn and foster their creativity. One of the areas that we focus on is storytelling. Storytelling is an important skill. Children will learn to organize their thoughts to express themselves by creating and telling a story. And children love stories.
Recently we launched Little Storybook at the Hong Kong Book Fair in July. The response was amazing.We now need your support for mass production, enhancing our system, and introduce learning buddy Zero, so that more people can enjoy creating their own stories, and let their imagination come alive.

What is Little Storybook?
Little Storybook leveraged the advantages on both the traditional and digital world to provide an innovative way for children to create and share their stories. It consists of two components: Little Storybook Pack and Little Storybook App. 
Little Storybook Pack

Little Storybook Pack allows children to create their own 3D storybook that they can carry around. The storybook and stickers are designed to be reusable and environmental friendly. The package includes:
Reusable/Erasable Storybook
Reusable 3D Stickers
Water Soluble Crayons
Little Storybook App
Little Storybook App allows children to create their digital storybook and add special effects (3D, voice, photo, etc) to their storybook, which includes the following features:
Scan and create digital storybook
Adding digital effects (3D, voice, photo, etc)
Manage storybook on digital bookshelf
Publish and share digital storybook
How It Works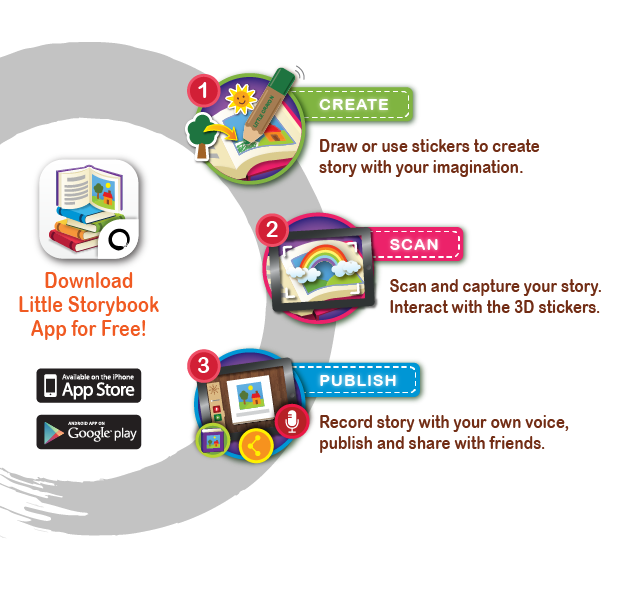 Create your colourful storybook with Little Storybook Package
Add 3D effect with Little Stickers
Scan and collect your stories with Little Storybook App
Narrate the story with your own voice
Publish the stories, and share with your friends
Enjoy and create colourful stories with your imagination
What is Zero?
As part of this campaign, we are introducing our latest product, learning buddy Zero. In this version, Zero can help you come up with ideas for your stories. You can bring up Zero from Little Storybook app. We have designed a beautiful holographic display for Zero. Zero will show you 3D images on the holographic display. The display is clear, and will work without turning off the light in the room. It can also be used for viewing other holographic videos.