iCrowdNewswire - Oct 25, 2015
Healing Nepal: Building Schools for Girls
The Story:
When two major earthquakes struck Nepal last April and May, the devastation impacted every facet of life. It severely damaged an already fragile infrastructure in one of the world's poorest countries. Now, it's time to help them rebuild.
That's where you come in. We need your help to build 4 earthquake resistant schools.  4 schools that can change the course of thousands of lives for years to come.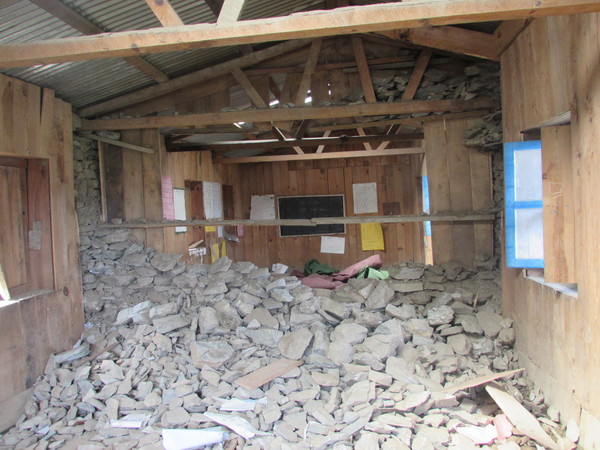 [Basa School earthquake damage]
Schools are at the heart of rural communities. Providing hope and knowledge to the youth, they provide the primary bridge to future opportunities.
Kina Social Ventures (Kina.org, non-profit organization) has been working in Nepal for the last 13 years with a core mission of "keeping girls in schools". Since the earthquake struck we have refocused our short term priorities to raising money to help re-build schools in the region we work.
Please make a donation now.
Canadian tax receipts provided.
Here's What Your Money Will Do:
Your support for this project will mean that Kina.org along with our in-country partner, The Small World (TSW), will be able to:
Construct 4 new earthquake resistant schools which will support 840+ kids annually.

Give those kids who long to continue their education, the opportunity by rebuilding their schools in four communities impacted by the earthquake – Kaku, Basa, Waku, and Taksindu.

Rebuild the heart of 4 villages with a joint population of about 12,000 people by providing them with new school buildings which will serve as both a learning facility and a community center.

Provide local Nepali's from each village with much needed employment as they contribute to the construction process.

Ensure that children receive the basic tools to create happy and productive lives.

Make dreams come true. Encourage the younger generation and in particular girls to become leaders.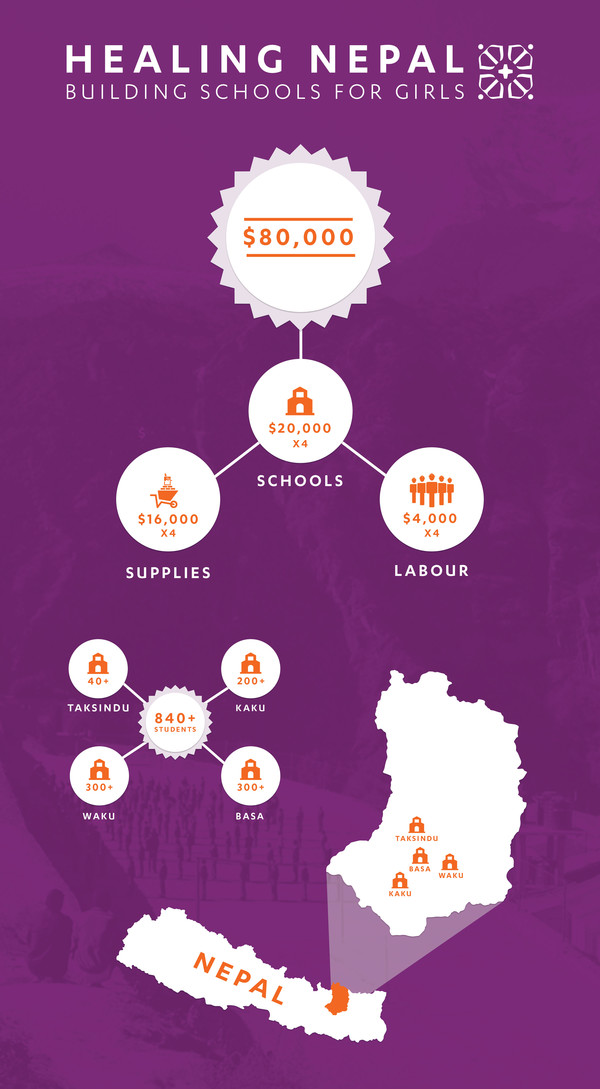 We Need Your Help Spreading the Word:
What you can do:
Social media – Reach out to your network by sharing the page. It's easy! Just scroll up and use the buttons under the video.
Sub campaigns – Create your own sub campaign to raise money under your organizations name! Raise over $12,500 through your sub campaign and you and one other will be eligible for an amazing personalized 5 day guided trek through Nepal's beautiful Solukhumbu region visiting one of the villages and its school you helped re-build. See Perks for more detail.
Events – Throw your own event to raise money for the campaign!
School Construction Details:
The new school buildings will be constructed from government approved engineered designs. They have been developed to ensure that they are safer and more earthquake resistant then was possible with previous traditional building techniques.  Each school building will be comprised of two classrooms and will be supplied with desks and blackboards.
The cost estimate to build each school building is approximately $20,000. This includes demolition of the earthquake damaged school, new foundations, structural walls, metal roof, doors, windows, etc.
The supply and delivery of the building material into these remote villages is about $16,000 and $4,000 for local community based labour to build the structure.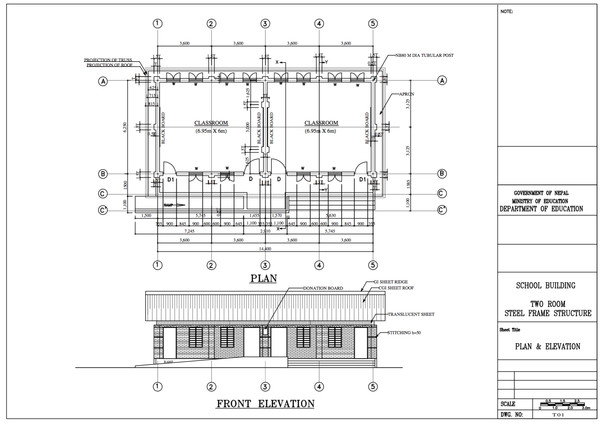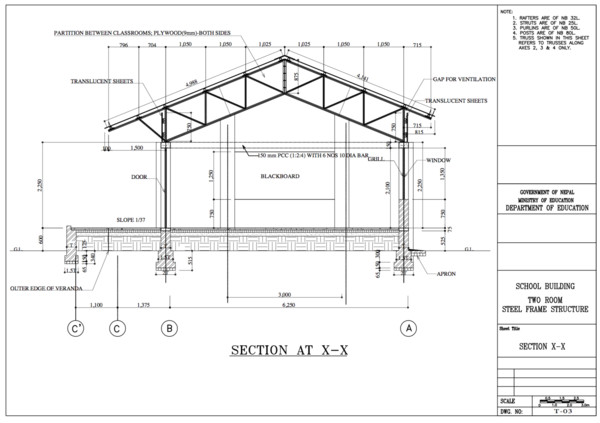 Kina Social Ventures (Kina.org):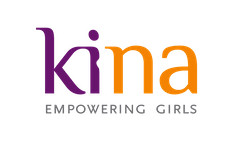 Mission: Keeping Girls In School.
Education makes a dramatic impact on girls' lives. Improved gender equality – Healthier lifestyle – Earn a higher income – Have fewer children – Provide better health care & education to their children – Lift family out of poverty – Contribute to the development of their communities – Empowering her to take control.
Kina's work focuses in Nepal – a country with tremendous cultural wealth and natural beauty but insufficient resources to provide basic education and primary health care to its citizens, particularly girls and women in rural communities. We have been providing educational support to girls in rural Nepal since 2002.   
Our initial response after the earthquake was to go to Nepal to purchase and deliver food and shelter aid to remote villages that were hardest hit. We then shifted our efforts to funding the construction of temporary learning centers with a partner organization, The Small World, before the monsoon season this summer. Our focus now is to help in the construction of permanent schools so that the girls in the region we support can get back to school as soon as possible.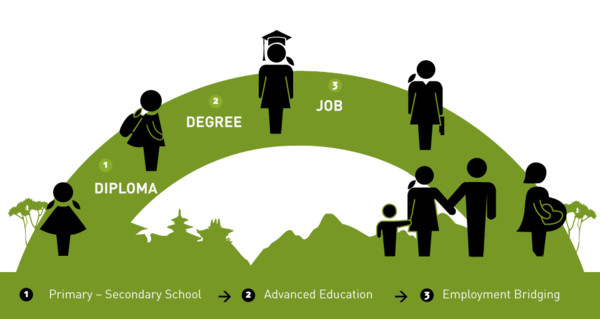 An education empowers girls to become future leaders in their communities, serving as role models and mentors to others girls – this is one of the most powerful catalysts for positive social change we have. A girl's voice tells the real story – with the impact on their families and communities being a personal journey of discovery as varied as the girls we support.
The Small World (TSW):
The Small World (thesmallworld.org) is a Nepali non-profit, which supports locally driven sustainable community development projects that bring access to Girls education, empower women and alleviate poverty through identifying real community needs, creating solutions and working together with community members and volunteers.
TSW has been a valued partner organization of Kina.org for over 6 years, and has collaborated on many education based projects.  Kina helped fund the construction of a hostel for 40 girls, allowing them to attend a 2 year college program.  TSW built/runs the facility and Kina has been providing full education scholarships for 40 girls over the past 4 years.