iCrowdNewswire - Oct 17, 2015
UTHERMIC Coldscreen Lotion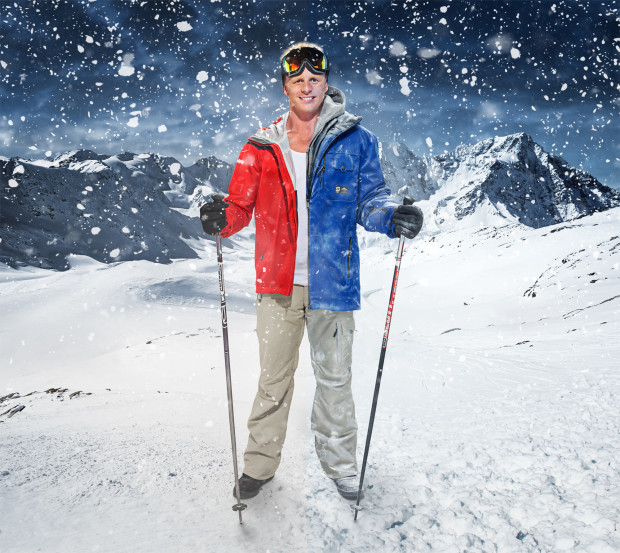 Let's face it, being cold sucks. Skiing, snowboarding, hiking, and living your daily life is hard to do when the temperature outside decide to take a plunge. Layering up is expensive, a hassle and restricting, and personal warmers can only do so much. Finally, a better solution is here.
Coldscreen keeps you warm when you're out in the cold, no matter what activity you're doing. Forget those bulky layers of extra clothing to stay warm! Coldscreen is a new way of thinking about how we all experience the cold.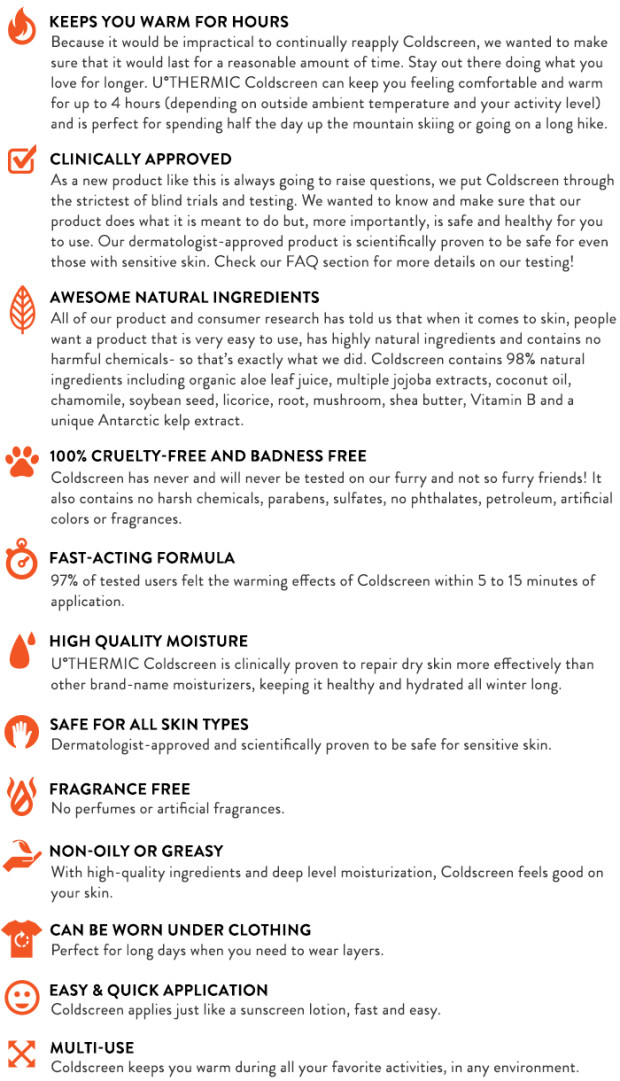 Coldscreen works with your body. It actively retains your body's natural heat while you're resting, yet keeps your temperature regulated while you're active, so you never overheat. This first-to-market product alleviates the hassle of restrictive layers of clothing, and allows you to embrace and enjoy your experiences in low-temperature settings.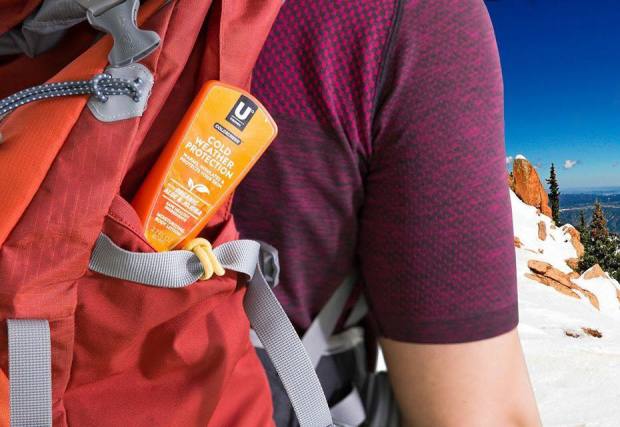 Our ultimate mission at U°THERMIC is to open people up to new choices and a different way of thinking about how you experience the cold. We want to start a revolution in cold experience for every single person who gets outside to do what they love! We should only focus on having fun and nothing else, especially not the uncomfortable and deterring feeling of being cold.

Coldscreen isn't just for those who are constantly hitting the slopes, though it is perfect for skiers and boarders; Coldscreen was designed with a variety of applications in mind. Free yourself from expensive, bulky and restrictive layers, no matter what the activity!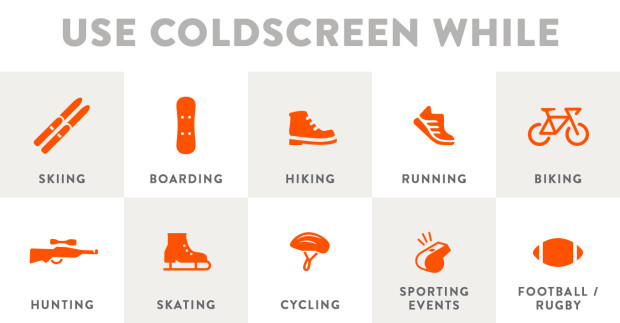 Coldscreen works with your body. It actively retains your body's natural heat while you're resting, yet keeps your temperature regulated while you're active so you never overheat.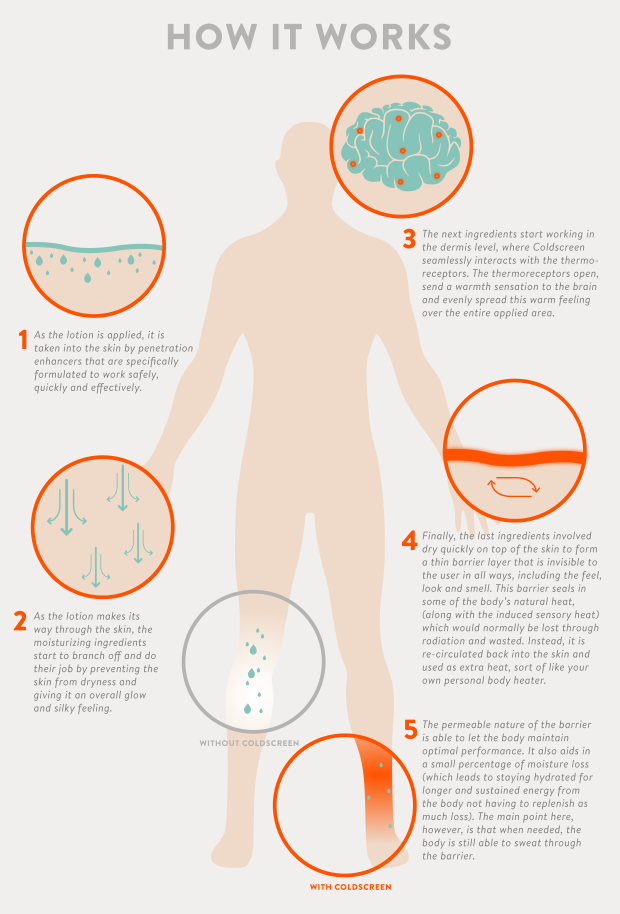 Coldscreen is specifically formulated with the dry winter air in mind, we used the most safe and healthy ingredients with the highest percentage possible coming from organic and natural sources. 98% Percent to be exact. The rest is to make sure the product stays at the highest quality possible!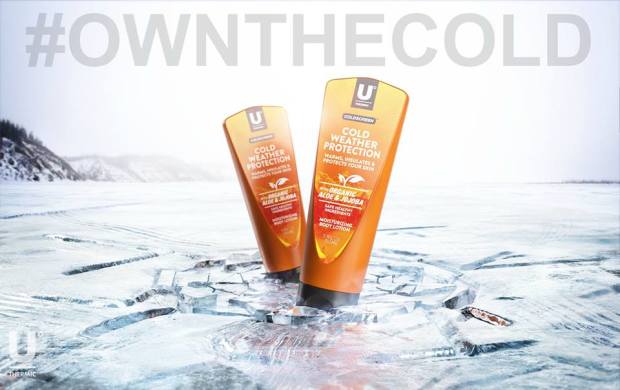 U°THERMIC was born from an everyday occurrence about just how annoying and somewhat disappointing it is to feel cold.
Here's our story…
It was 2014, Brisbane Australia and the start of winter. It was our last night together for a while, so we decided to celebrate with some close friends. The guys in our group were dressed, feeling good and were just waiting for the girls to get ready. Three hours and a missed dinner reservation later, the girls finally emerged, dressed in the most stunning (and somewhat revealing) dresses we'd ever seen. It was like a scene from a movie! YES even the hair-blowing thing happened! Our excitement kicked back in and we knew it was going to be an epic evening… Buut just as we were opening the taxi doors, one of the girls said, in a tone of utter disappointment, "There is no way on earth I'm going out in the cold dressed like this." In the blink of an eye, they had all run back inside and this time when they came out, it was obvious that their priorities had changed, the layers were on and the excitement was gone. Instantly it was as if clarity hit us right in the face. Why wasn't there a quick and easy solution to staying warm? This is what sparked the idea so we decided to combine this concept with our passion for sports and the outdoors. After extensive research, partnering with some highly experienced chemists and a huge amount of travelling to the coldest places we could get to, we discovered that U°THERMIC Coldscreen was possible. Our lives haven't been the same since, and now yours won't be either.
We love what we do here at U°THERMIC, surrounded by a positive team and amazing customers. Join the U°THERMIC revolution, and you'll see for yourself exactly what we're excited about. After all, life's too short to be cold.