iCrowdNewswire - Oct 13, 2015
TYS2 Piggeries Orchard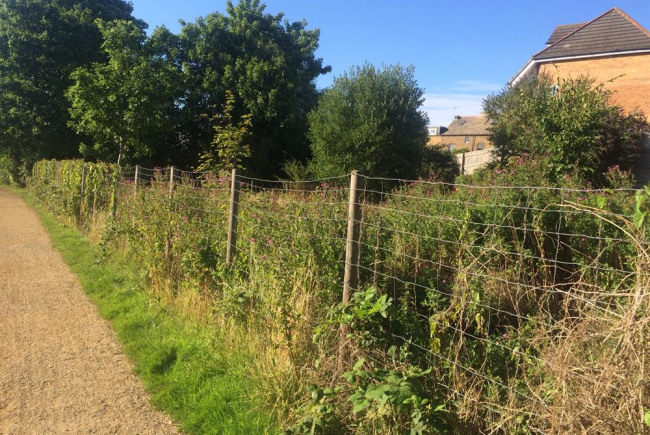 About
The site alongside the Grand Union Canal, between the Three Bridges Monument and Osterley Lock in Hanwell, is locally known as The Piggeries (also known as Humes Dock). It is approximately 1000 sq m (~10,000 sq ft) public land set aside in 2009 for nature preservation under Section 106 of the 1990 Town and Country Planning Act.
In 2015, the site remains undeveloped and is currently fenced in, unmanaged and overgrown with self-seeded trees, brambles and nettles. This neglected site is increasingly becoming an overgrown eyesore, attracting anti social behaviour and fly tipping. We will transform this space into a wildflower meadow, and a community orchard with a seasonal wetland, beds of soft fruit and wildlife habitat improvements such as log piles, hedgehog, bird and bat boxes.
Railings, two arched entrances and a hoggin path, suitable for pedestrians, wheelchair and pushchairs, will mark the site. A noticeboard will inform the public about the site and orchard activities.
What we'll do:
Clear overgrowth and improve conditions for existing Willow, Rowan and Hawthorn.
Establish a native English fruit orchard.
Establish a wildflower meadow to provide habitat for insects and reptiles.
Install hedgehog, bird and bat boxes and log piles for beetles and reptiles.
Establish an edible soft fruit hedge, kept low for a clear line of vision across the site.
Establish a hoggin path, suitable for pedestrians, pushchairs and wheelchair users.
Create organic leaf mulch, compost and wood chip for use on site.
Why it's a great idea:
The TYS2 Piggeries Orchard project will engage local residents in growing native fruit and wildlife preservation; encouraging the foraging of free fruit, promoting a sense of community and responsibility. The TYS2 Piggeries Orchard will offer opportunities for education and training from the start. It improves habitat for wildlife.
The towpath is already popular among residents, commuters, joggers, dog walkers or people simply enjoying the peace, tranquillity and nature alongside the canal. The TYS2 Piggeries Orchard connects St Margaret's Open Space and the Hanwell Meadows to the west with Elthorne Park and Waterside to the east. Opening up, clearing and managing the currently neglected, inaccessible and unsightly plot of public land will create an attractive highlight and ensure that this land, which was already set aside under Section 106 will be developed and used as originally planned.
How we'll get it done:
Work with contractors and Ealing Country Park Rangers for the heavy-duty clearing and construction.
Volunteers to clear and prepare the site for planting.
Volunteers to prune existing trees, plant new orchard and fruit hedge, establish meadow.
Volunteers to regularly prune, water and manage the plants.
Volunteers to support the ongoing clearing and weeding effort.
Volunteers to manage the site and regularly pick litter.
Arrange for annual hedge trimming meadow by contractors.
Once the TYS2 Piggeries Orchard is established, we envision
* A safe and clean public nature gem alongside the popular canal towpath,
* A wildflower meadow in a sunkissed (south-facing) location,
* Free fruit for everyone to pick and use,
* Improved habitat for wildlife including locally important species such as bees, beetles, bats, birds, slow worms, stag beetles,
* Space for a picnic, or a game, or relaxation.
The initial proposal from 2009 for Humes Dock (as the area is also known), submitted as part of the planning application for the residential development, has never been implemented. It also includes a community orchard, meadow with meandering path, log piles and other wildlife habitat improvements, very similar to this proposal.