iCrowdNewswire - Oct 9, 2015
SlimPort NANO.CONSOLE – Makes Your Phone a Smart TV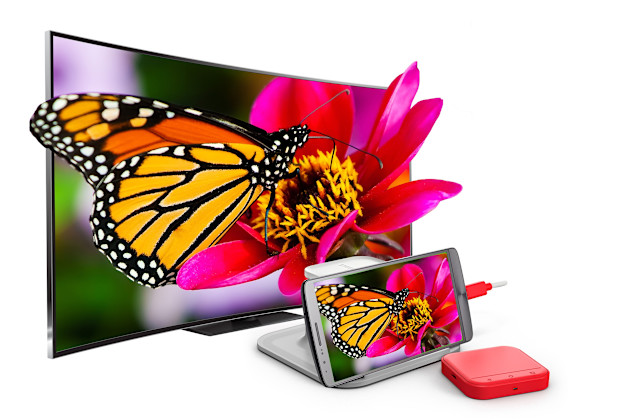 Connect your SlimPort®-enabled mobile device to any HDMI-enabled display. Click here to see if your device is compatible.
Control your smartphone remotely from anywhere in the room.
Charge your smartphone.
Share your favorite media and apps on the big screen.






The NANO∙CONSOLE has applications for everyone. Here are some examples.
Help us spread the word to your friends who should benefit from the NANO∙CONSOLE!

With your smartphone used as a powerful streaming device, and the NANO∙CONSOLE's screen mirroring capabilities, you can drop your traditional TV subscription but not forsake your television-watching habits.
Enjoy on-demand multimedia from your smartphone on the big TV screen for a blockbuster experience. The NANO∙CONSOLE's 4K Ultra HD* video-outcapabilities turn your device into a mobile all-in-one media powerhouse.
*if your smartphone supports 4K UHD resolution for video out.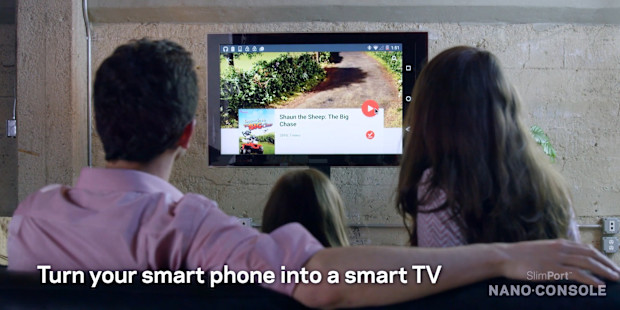 Your smartphone is capable of running games and apps equal to those on PCs and consoles.
Pair a Bluetooth game controller and transform your smartphone into a mobile gaming console. Now you can go head-to-head on the big screen with multiplayer-enabled games, the likes of which you never thought possible.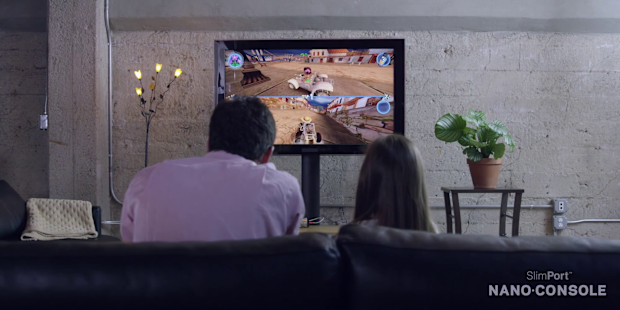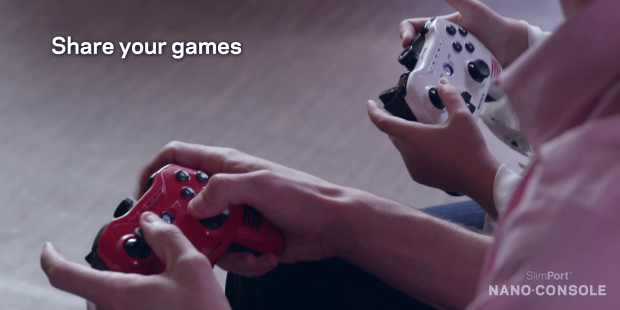 It includes a standalone BTLE Smart Mad Catz® M.O.J.O. C.T.R.L. for Android devices in black, as seen in Mad Catz® M.O.J.O.™ Micro-Console™ for Android™. The included C.T.R.L.R has the same solid build as a full-size, console gamepad for ultimate control over Android games:
LOW-LATENCY BLUETOOTH SMART – Bluetooth Smart technology enables a super-fast data-exchange rate of 7ms (compared to 100ms for conventional wireless controllers), for reduced lag and extended battery life.
INTEGRATED MEDIA CONTROLS – Control volume and playback of video and music.
MULTIPLAYER SUPPORT – Connect two or more gamepads for multiplayer games.
MOUSE MODE – In this mode, the left analog stick controls your onscreen cursor. Ideal for touchscreen interaction.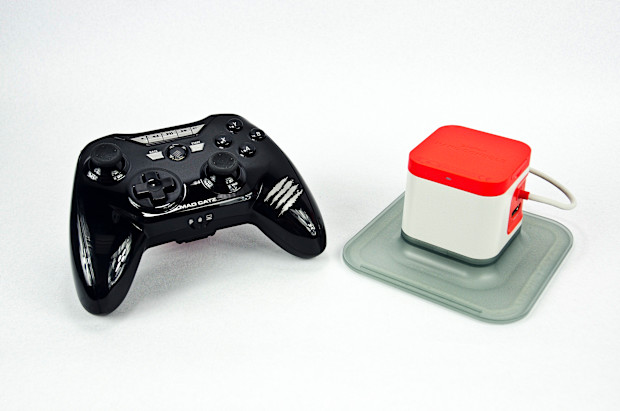 Connect the NANO∙CONSOLE to an HDMI projector and impress colleagues and clients by having instant access to your presentations on your mobile device.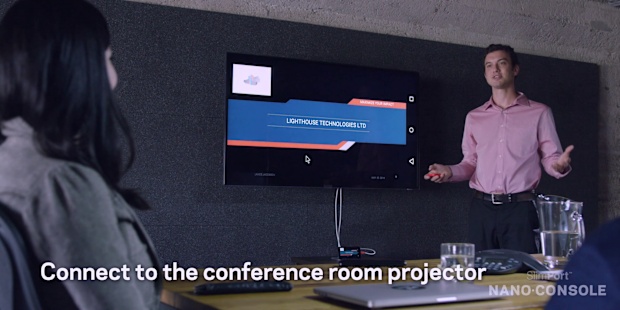 Connect a Bluetooth keyboard and mouse and turn your phone into an office that goes with you everywhere. Mobile computing has never been easier!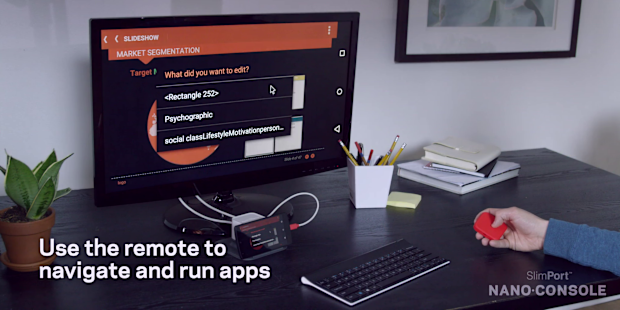 The NANO∙CONSOLE has an additional HDMI port built in so you can connect additional devices, such as a video player, without needing to swap cables.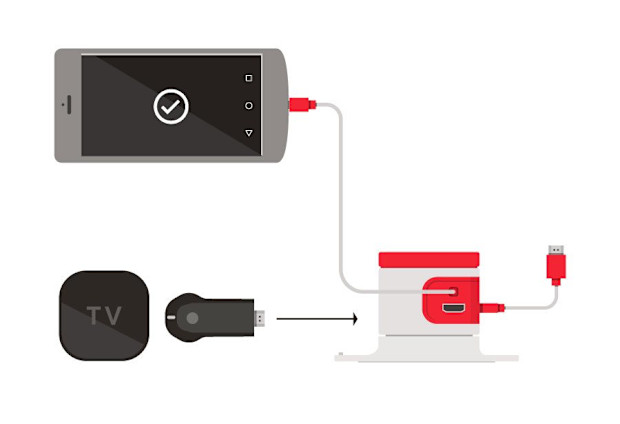 "A very smart idea that I'm flabbergasted no one has tried before. Android users often go to great lengths to cast or mirror their screen on TVs, but simply connecting it via HDMI is a better and more reliable method. The Nano-Console just makes it very easy and attractive to do so." –Tom's Guide
"This little device has a smart touch pad that can be used as a remote, with hardware Android buttons for back, home, apps and much more." – Tweaktown
Nominated for "Best Mobile Enabled Consumer Electronics Device" 2015 by theGlobal Mobile Awards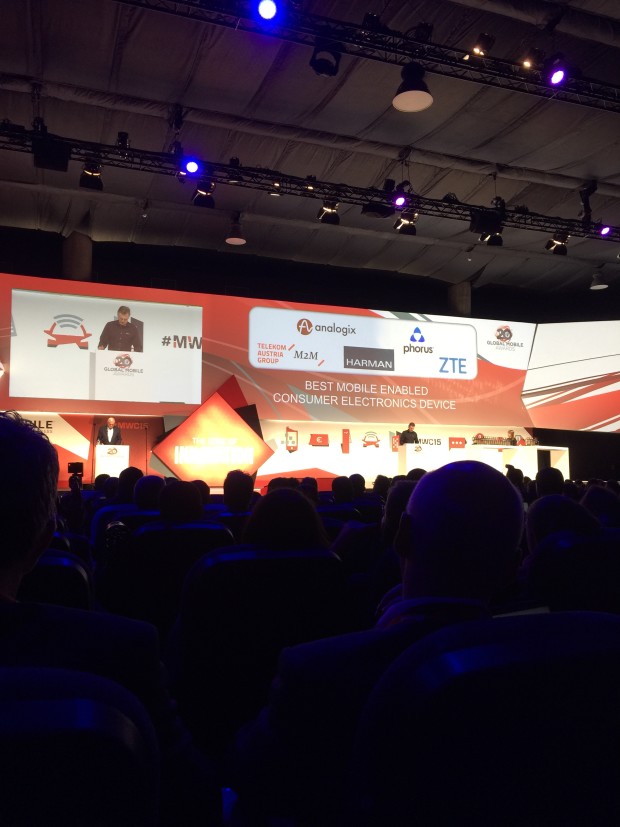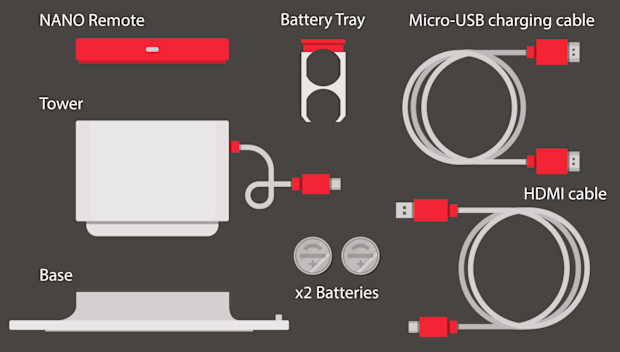 The NANO·CONSOLE provides you with everything you need to start sharing your screen right away.

The NANO∙CONSOLE is designed to make connecting your phone to the big screeneasier than ever.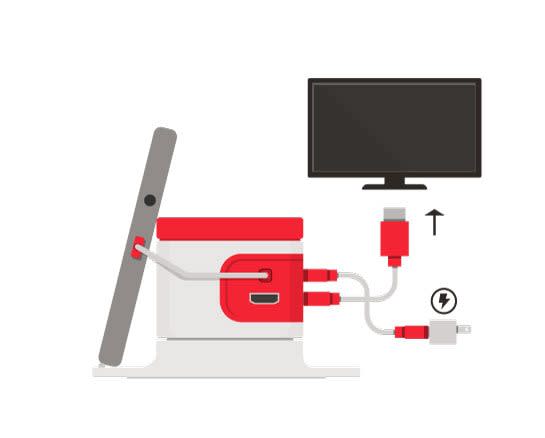 1. Plug the Micro-USB connector that is permanently attached to the NANO·CONSOLE into the Micro-USB port on your SlimPort-enabled device.
2. Connect your NANO·CONSOLE by running an HDMI cable from the AUX-OUT port on the NANO.CONSOLE to an HDMI-IN port on your big screen.
3. Set the input on your TV or monitor to the HDMI port the NANO·CONSOLE is connected to. After a few moments, the device's screen should now be visible on the TV or monitor.
4. Activate the NANO Remote, set your device to Bluetooth discoverable, and pair the two.
Voilà, you're sharing your screen. It's that easy!
For more information on setting up your NANO∙CONSOLE please go towww.nanoconsole.com