iCrowdNewswire - Oct 8, 2015
Peak Yogurt: Organic Triple Cream Yogurt
Triple Cream Yogurt
Made with 100% Organic Dairy
Peak Yogurt makes the first Triple Cream yogurts using just organic dairy and live active culture. It's the bold and delicious alternative to sugar-filled nonfat yogurts.
This campaign will fund the launch of our first product: A Greek-style yogurt with 18% milkfat.

"Peak Yogurt's Greek is the best yogurt I've ever tasted." -Sam Mogannam, Owner of Bi-Rite markets

In the Press
VOX: "I found an engineer, Evan Sims, who had quit his job for a high-fat yogurt startup…His cream-infused Greek yogurt has more than twice the calories of regular "full fat" yogurt–and I consumed a tub of it weekly"  in "I lost weight by eating lots of bacon and cream. Here's a scientific explanation for why." by Gregory Ferenstein

Cream
Milkfat from Grassfed Cows is a Superfood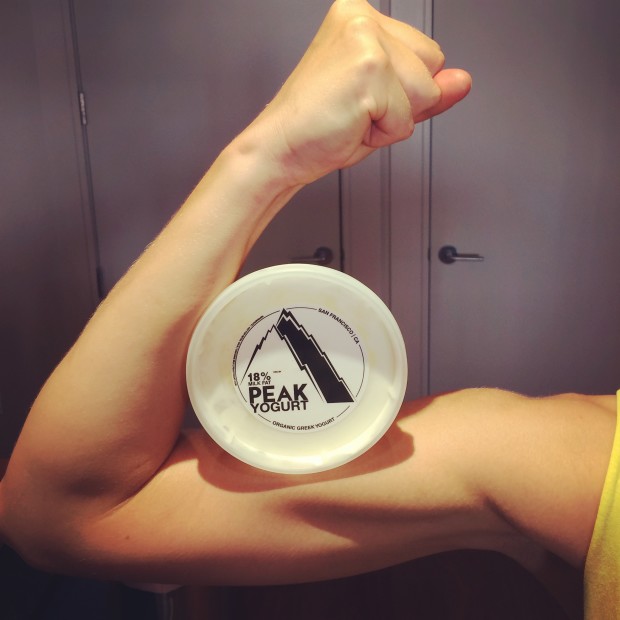 Why make Triple Cream Yogurt and eat more milkfat?
Three words: Energy, Nutrition, Deliciousness
Safe Energy
Dairy fat is clean-burning and won't spike your blood sugar, so it's a great energy source for those looking for an alternative to carb- and sugar-rich foods. It's very low in Omega-6 polyunsaturated fat, so it won't contribute to oxidative stress and inflammation in your body (unlike soy, canola, corn, and most other vegetable oils).
Amazing Nutrients
Milkfat is rich in incredibly healthful nutrients that are hard to find elsewhere. Here are our top three:
Milkfat is rich in Vitamin K2, a crucial nutrient that few have heard of and most don't get enough of. K2 prevents calcification of your arteries, supports bone and dental health, and is critical for avoiding heart disease and osteoporosis. Dairy fat is one of the few common sources of Vitamin K2–especially when the cows eat fresh green grass!
Milkfat is the single best source of butyrate, a short chain fatty acid with many health benefits, which include support of digestive health and anti-inflammatory properties. (Vegetables are healthy largely because their soluble fiber is converted to butyrate and other short-chain fatty acids by beneficial gut bacteria.)
Milk fat is an excellent source of conjugated linoleic acid (CLA), which has anti-cancer properties and may help with weight loss.
Deliciousness
Most Greek yogurts are chalky and pasty–but not ours. Because our Greek yogurt has more milkfat than others, it has a smooth and luxurious mouthfeel.
"Fat gives things flavor" –Julia Child
Help Us End the Tyranny of Sugar-Filled Junk Food Yogurts!
Most other yogurts contain 35-55% of calories as added sugar – no better than other junk foods. 
Our solution is the first proudly high-fat unsweetened yogurt.

Our Product
18% Milkfat Greek Yogurt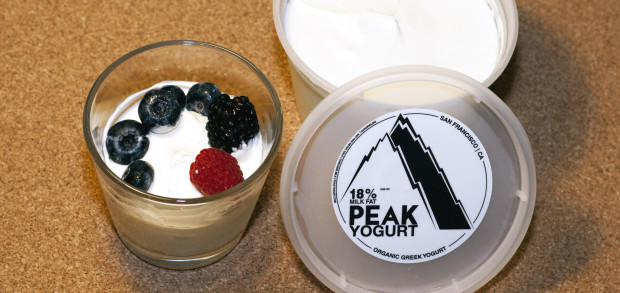 Simple, Real Yogurt
We only use organic dairy and live yogurt cultures. No thickeners, gums, preservatives, added sweeteners, or other junk.
100% Organic Dairy = Grassfed & Pastured Cows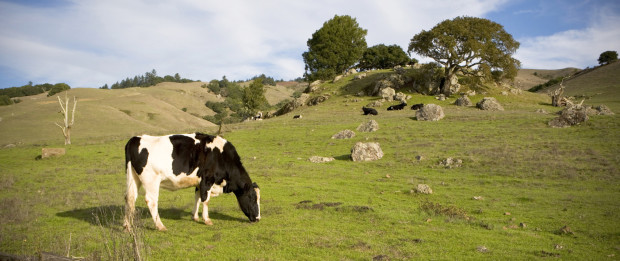 Organic dairy cows are required by law to get at least one-third of their food from grazing on pasture during the growing season. Fresh grazed grass in the cows' diet is essential for creating the rich, nutrient-dense cream we're so proud to make our yogurt with. Organic dairy also does not use GMO feed, antibiotics, or growth hormones.
Nutrition and Ingredients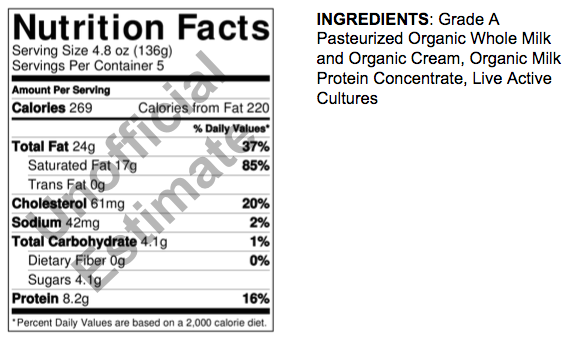 What is Milk Protein Concentrate? All Greek yogurts are concentrated by either centrifugation (a spinning bowl, basically) or filtration systems. Because we've partnered with a small creamery who doesn't have this equipment (and it's quite expensive to purchase!), we're instead using pre-concentrated milk blended with cream and whole milk to create our Triple Cream greek yogurts. Milk protein concentrate is a form of concentrated milk that is very low in lactose. One advantage of using pre-concentrated milk is that our process generates no acid whey–a byproduct which has been a major environmental challenge for other Greek yogurt makers.
Macronutrients – Fat/Protein/Carbs
Here are the approximate macros (% of total calories) for our 18% milkfat Greek yogurt: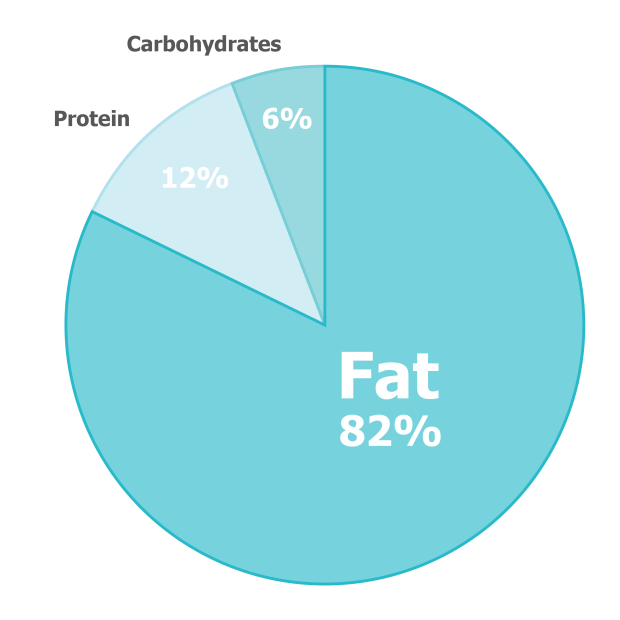 The first ketogenic yogurt: If you are following a low-carb ketogenic diet, this is the yogurt you've been waiting for!
What We Need
What the funds will support:
$5k Product development and scale-up work at The University of Madison, Wisconsin, where we test and perfect the manufacturing process on a smaller version of the actual commercial equipment.
$20k Our first two commercial batches of yogurt.
Risks & Challenges
We've worked hard to mitigate the risks and chart a path to success. Still, any project like this has some unavoidable risk. Some worth mentioning:
Our first batch of commercial yogurt may not be perfect. Yogurt production at a real commercial creamery is a bit different than handmade yogurt in a home kitchen. We'll de-risk and prep to the extent we can, but our first batch or two may not exactly match our homemade stuff. 
Yogurt batches can fail due to contamination, poor quality, or other reasons. This would increase our startup costs and could cause delays.
Supply and price of organic milk and cream could present challenges.
Working with co-manufacturers entails certain difficulties and risks.

Thank You!
First, thank you to all of our intrepid supporters and backers! We couldn't do this without you. Special thanks to our wonderful and erudite advisors, Angelique Augereau, Beth Fryksdale, Omid Ashtari, and Brian Sambor. Shout out to our awesome videographer, Arnel Cayabyab. Finally, thanks to all our friends, family, and fellow food entrepreneurs who have helped us get to this stage. We thank you all and will love you forever!