iCrowdNewswire - Oct 7, 2015
Chicago Meats LA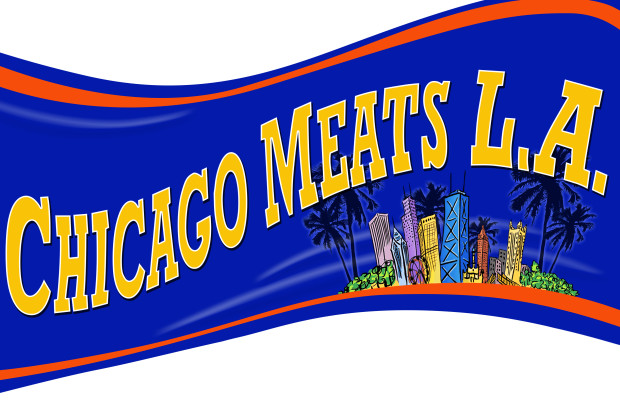 INSPIRED BY ENTHUSIASTIC COMMENTS OF FANS IN THE L.A. AREA 
WHO CRAVE CHICAGO MEATS LA
________________________

Chicago Meats LA has launched this Campaign
With the hope of bringing the "Eats" back to the L.A. streets* for
All Past, Present and Hopefully Future Fans to Enjoy!
The decision on how to best do this will depend on the amount of funds raised,*
So Please Pick out a Perk that fits your Wallet and Contribute Today…
And Ask your Friends to Do the Same!
Please Note: All Contributors will be asked to provide their Name or Business Name via email which, upon receipt and Chicago Meats LA approval, will be used for Shout Outs and/or Website listings (as applicable to each Perk).
_________________________
What's new? Years of Experience, Tons of Invaluable Knowledge, Loads of Contacts and Not Starting From Scratch as Chicago Meats LA already has GREAT FANS and FOLLOWERS!!
The Chicago Meats LA Story:

With a passion for the Great Tastes of the Windy City and Family Favorites,Chicago Meats LA was born in 2010 to bring the Wonderfulness of Authentic Italian Beef Sandwiches, Amazing Polish Sausage & Sauerkraut, Famous Chicago Dogs, Yummy Sloppy Joes, Vegan Chili and Lentil Soup and of course, the Italian Sausage & Beef Sandwich – known as the "Combo" to the people of Los Angeles!
Over the past few years, Chicago Meats LA has been available for larger private  events only.
With many fans in the LA area, Chicago Meats LA is now looking into different ways to make this Wonderfulness accessible once again to all individuals in the Los Angeles area who crave Chicago Meats LA.
* The decision of which road (no pun intended) to take and duration of availability will depend on a number of factors, including the amount of funds raised, availability of restaurant, kitchen space, and/or a food truck (along with the associated costs for each) and many more considerations.  Chicago Meats LA will  choose which course of action makes the most sense and let our supporters and the public know where/how to get Chicago Meats LA Eats!
HOW CAN CHICAGO MEATS LA REACH THE DESIRED $50,000 GOAL?
LET'S BREAK IT DOWN:
1000 "Big" Fans contributing just $50 would reach the Goal!

500 "Super" Fans contributing $100 would also do the Trick!

200  "Super-Duper" Fans contributing $250 would Make it So!
100  "Huge"  Fans contributing $500 would  be Terrific!
50 "Mega" Fans contributing $1000 would be quite Generous Indeed!
20 "Phenonemenal" Fans contributing $2500 would be Astounding!
Or a combination of any of the Perks offered that gets

Chicago Meats LA to the preferred goal will be most Appreciated!!
If Chicago Meats LA gets LESS than $50,000 in Contributions, there may STILL be some options to consider.
Remember, the decision on how to proceed will be based on the amount of contributions along with other important considerations.

And of course, if MORE money above the goal is contributed, there may be even MORE Options available on how to bring the wonderful tastes of Chicago Meats LA to Fans around Los Angeles!
NOT in the LA area & still want to Contribute? There are options for you to help share the love of Chicago food, too!
Check out the Fan, Big Fan, Super Fan, Super-Duper Fan & Mega Menu Fan Perks!
Please take a look at what some REAL folks have Tweeted/Emailed about Chicago Meats LA:
"THAT [Italian Beef Sandwich] was THEE BEST thing that I EVER Ate!!"; "I love your sandwiches and dream about them often"; "AMAZING! Haven't had one this good since I left chicago!";  "…delicious italian beef! … can't wait for a chicago dog…"; "Thank you for the taste of home @chicagomeatsla. Next time, I will ask for MORE paper, and MORE dip(ped). Can't ever get enough juice!"; "@ChicagoMeatsLA made my tummy happy with an Italian beef…"; "Had an amazing polish sausage and sauerkraut today from @ChicagoMeatsLA; "…1 of the best Italian Beef sandwiches outside of Chicago! "; "..Italian Beef (dipped). Authentic! …"; "got it hot, sweet, and totally soaked – @ChicagoMeatsLA, you really know how to satisfy"; "…need your food, we need it bad!"; "Amazing Italian Beef…"; "…the Polish is off the hook!"; "…tried the delish italian beef sandwich … find them!"; "Best polish in LA!"; "…absolutely delish!!!!!!"
Want to get you some of this DELISH? Pick out a Perk and Contribute Today! 
THANK YOU FOR YOUR GENEROSITY AND SUPPORT!!!
twitter @chicagomeatsla