iCrowdNewswire - Oct 4, 2015
Help Angel Cakes open a retail store in Oakland
We need $12,000 to transition from a shared kitchen to our very own retail store!
When I started making cupcakes in the kitchen of my shared apartment in Berkeley in 2008, I never dreamed that one day Angel Cakes might become the thriving business it is today. Now Angel Cakes makes tens of thousands of cupcakes each year, has two part-time employees, and is out-growing our shared commercial kitchen.
Currently Angel Cakes is a custom-only bakery. You have to call ahead to order your cupcakes, cakes, and cake pops. There's no walking in on a whim to buy just one or two, and if you need last minute cupcakes because you forgot somebody's birthday, well, you're just out of luck.
On the eve of our seventh anniversary, we have a unique opportunity to open an actual storefront in Oakland. Some of our friends just bought a building in Oakland and are offering us an affordable retail space. This is pretty much a one-time opportunity that might never happen again.
If all goes according to plan we will open in December 2015!
OMG – Where will the store be??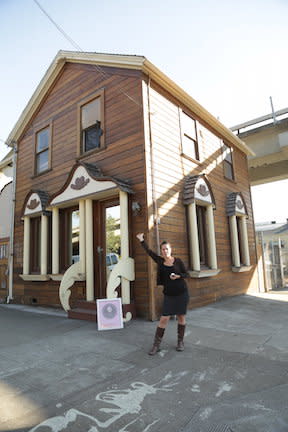 Well, to tell you the truth – we got really lucky.The building is on the corner of 5thStreet and Brush – which includes the former Gingerbread House Restaurant. Check out this video of the former restaurant or this article from 2011 for more history.
 
The Gingerbread House closed in 2007, and it's exciting to bring a food business back to a spot that has been empty for so long.  This neighborhood, between Jack London Square and West Oakland, is going through changes like many other areas of the city. Gentrification, and our role in it, has definitely been on my mind, and you can read some of my thoughts about it here.
What will you sell?
CUPCAKES!!
OK, Seriously. While you will still be able to make a custom order for your birthday, office event, or wedding, you'll ALSO be able to stop in to get a delicious treat, pick up cupcakes on the way to a party, or get a last-minute gift box.
You can see our entire menu here, though we are adding new flavors all the time. Most flavors can be made vegan or gluten free.
And starting in January, we'll be offering baking and decorating classes at the shop (and we may recruit some friends to offer classes on other dessert-y things).
How will we spend the money?
We already have LOTS of baking pans and whisks and measuring cups, but now we need to invest in the BIG things! And not only big things, but expensive things!
How much will all those big things cost?  Plus all the little things like curtains and a new business license and a different kind of insurance and all the things you need to have for an actual retail business? We're thinking $12,000. Or, you know, $12,000-ish.
This is how we'll spend the money:
Commercial bakery equipment: Two full size convection ovens, a refrigerator, a freezer, and a 20-quart mixer ($1500-2500 each for used equipment)
Work tables and a custom-built counter
A sign for the outside of the building
Cash register
Chairs or bar stools for you to eat your cupcakes on
Health department fees & permits
Who are we??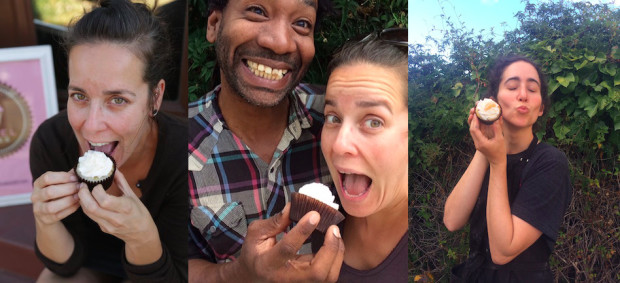 Angel Cakes is me, Jen Angel, along with bakers Maddy and Makana (that's where the "we" comes in). I am a self-taught baker and I started Angel Cakes seven years ago has a hobby. I never imagined myself starting a food business, and until I started baking my focus was social justice work. Now I use cupcakes to support myself (and others!) while I work on a variety of activist projects as a volunteer. You can learn more about me and my other work here.
Why do we need your support? And why now?
Angel Cakes has grown organically over the years, without loans, while I've worked other jobs. I want to continue on the same path – growing slowly without taking on business debt. Like most food businesses, Angel Cakes operates on a very slim margin – and that means little money for loan payments.
Like I said earlier – this is pretty much a one-time opportunity for us to move in to our own spot. I always thought that a store was out of our reach, but sometimes magic happens and the stars align and everything seems possible.
The Risks
Okay, I'll tell you what you already know: running a food business is hard work! We can't predict the future, but here's what we do know:
Customers love our cupcakes! A lot of our success is due to our awesome reviews on Yelp – we have a 5-star rating and 150 reviews! Whenever I think, "Gosh, what am I doing??" All of the positive feedback from customers over the years is what keeps me in the business.
Angel Cakes has grown consistently for the last seven years
Our rent will be very close to what we are paying now, except instead of a shared space with lots of limitations, we'll have our own store AND retail hours, AND be able to hold classes. So, almost the same rent with new and different kinds of income? Let's do it!
Thanks
Thanks to John Yates / Stealworks for designing all of the perks (and all of our materials, actually), Sarolta Cump for making our video, Marie-Josee Mont-Reynaud for the photos, and to Maddy and Makana for making cupcakes with me (even when it's really messy and kind of crazy).