iCrowdNewswire - Oct 1, 2015
Floral Soil Forever Botanical Cupcakes

Everyday we are all exposed to thousands of chemicals in common consumer products which are assumed to be safe until proven otherwise. And everyday we learn more and more about the unforeseen consequences to human health and the environment that many of these ingredients cause. After my own personal cancer scare, I became committed to inventing healthy alternatives to useful things that touch many people. There is no better example than flowers. 
FLORAL SOIL™ vs CHEMICAL FOAM

100% renewable resources                      Made from phenol formaldehye
Free of synthetic chemicals                      Derived from fossil fuels
Fossil Fuel Free                                              Not re-usable
Multiple re-use options                               Does not naturally biodegrade     
Readily biodegrades/composts              More info  (see CA Prop 65)                        organic soil nutrient      
INNOVATIVE WASTE-FREE DESIGN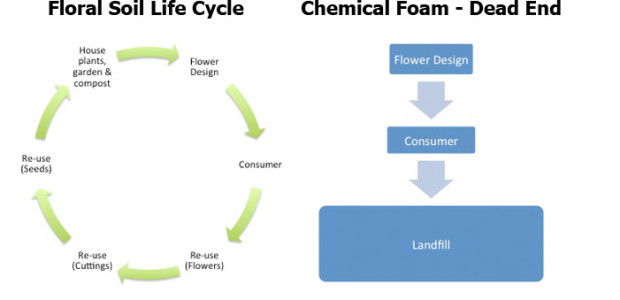 FEATURES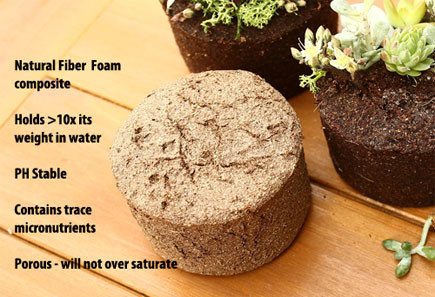 Made from sustainably sourced food grade organic materials
Naturally mimics structural and hydration features typical of chemical foams
Composition provides trace nutrients for seeds and cuttings
Foam like texture readily absorbs water without over saturation
CUT FLOWER DESIGNS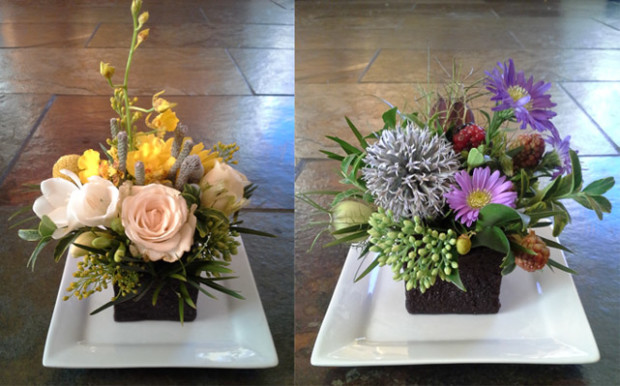 Structural support
Hydration
PLANT CUTTINGS

Soilless PH stable media
Trace micronutrients
Natural ability to accumulate and slowly release added fertilizers
SEED PROPAGATION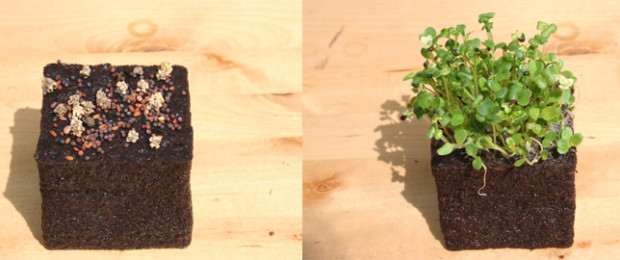 Containerless seed propagation
No messy soil spills
Lower water requirements during germination process
What We Need 
The busiest holiday season for chemical foam use is only a month away. We need your help with equipment upgrades to get to market. Our target is $25,000 but every dollar impacts our manufacturing capability.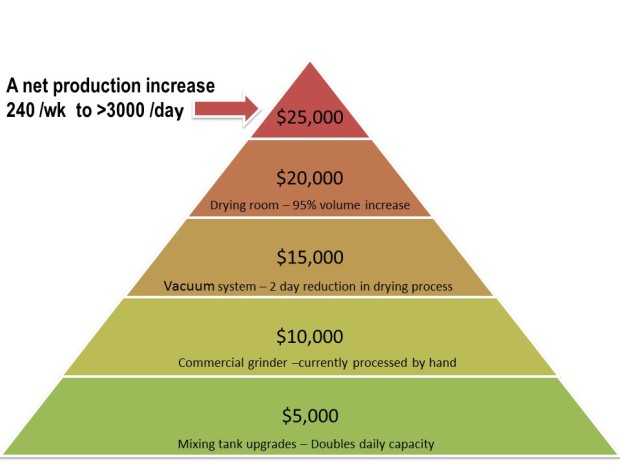 Why cupcakes? 
Cupcakes are fun! We wanted to create the ulimate
Floral Soil™
  experience and design something that reflects our efforts to produce a truly safe and sustainable alternative to traditional chemical flower foams. 
 Get creative with your own DIY designs or we will make them for you!
The Impact
Floral Soil™ is manufactured 25 minutes North of Seattle, WA. The entire process is done in-house, all our feedstock is supplied by local or Pacific Northwest small businesses. We are the only " green" flower foam alternative in the world.
With your help, we can make up to 200,000 bricks for the holiday season
Create new jobs
 200,000 fewer chemical exposures to friends, family and florists
 200,000 fewer bricks in the landfill 
Over 40,000 lbs of organic soil nutrients introduced into the soil when composted.
You directly impact our ability to scale production to meet US & Canada demand for 2016
In the Media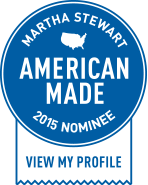 Bonny Doon Garden Company Blog
Testimonials 
"I loved my floral arrangement made with Floral Soil™. The flowers held up very well for nearly two weeks and required very little water compared to the green foam. The Floral Soil™ was re-used and we now have various forms of mint, basil, oregano and English cucumbers growing. Each plant originated in "Floral Soil™" as either a cutting or seed and was transferred to larger outdoor planters on my deck. It is a real treat to see plants growing and thriving in something that would have normally thrown away. "
– Judy S., Bellingham, WA
"I'm really impressed with Floral Soil's performance and flexibility. I had a floral arrangement made for my daughter's baby shower. After about 10 days, the old flowers were removed and others added to the same foam. The second arrangement lasted for another 10-12 days. After the two arrangements had gone, I took cuttings from my fuschia plant and inserted them into the foam. Root formation was evident about four days later and now they are starting to bloom. "
– Robin J., Everett, WA
"These Floral Soil™ cupcakes are not only artistic, quirky and creative – they are a powerful statement of what is possible when you begin with non toxic and wholly beneficial materials borrowed from nature as your start point of sustainable product manufacturing." 
– Kristen M., Seattle, WA 
" A product that can be used and reused for floral design, seed and cuttings propagation, and then eventual soil enrichment when it is "used up" would seem to be as good as it can get for real sustainability all while replacing the currently used petroleum based foams. Being in the floral industry we can't wait to start using this product. Hope to see it on the market asap. Yea Mickey Blake!"
– Eric G., Bellingham, WA
Risks & Challenges
Small scale production of Floral Soil™ has been underway for 9 months. The funding we are seeking  is to help scale our over-all production capability. These small parts will have minimal impact on our current infrastructure.
 No part of the manufacturing process is outsouced. All of our materials excluding the cupcake box are sourced locally or in the Pacific Northwest where we are located. We designed the product, process and the equipment. 
The risks are minimal and we have a team in place to begin immediate production if successfully funded.