iCrowdNewswire - Sep 30, 2015
Raymio – Sun Protection Wearable
RAYMIO IS 360° SUN SAFETY
Four reasons to support Raymio and get your own wearable UV sensor:
Protect your skin and eyes: UV radiation is a risk factor

Worry less: get to know exactly when you should use sun protection

Help protect other: share and care with friends and family through our app

Donate your exposure data to cancer research: we need more knowledge!
You probably know that ultraviolet (UV) radiation causes premature aging of your skin. But did you know that sunburns are a serious health risk? When your skin peels off after a sunburn, it's a part of your largest organ shedding off to avoid that DNA damage within it results in skin ailments like melanoma. As you accumulate exposure, risks increases – even if you don't get sunburned. You want to keep your UV levels with a healthy range. If you live an active lifestyle, monitoring this represents a serious challenge. That's why you need Raymio!
We know that getting sun safety right isn't easy. That's why we've created the world's most advanced UV wearable.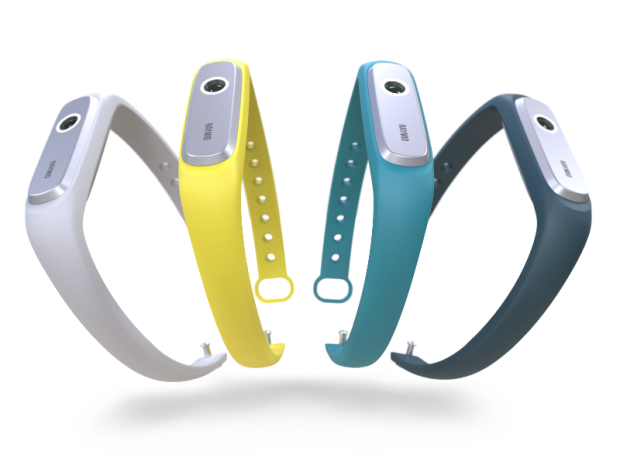 Raymio register your UV A+B exposure and offer personalized protection according to your skin type. It helps you prevent excessive exposure which can cause sunburn and other UV related discomforts by advising you when to put on sun lotion, seek shade and which types of clothes you should wear.
COFINANCED BY THE DANISH GOVERNMENT 
For every dollar you support us with, the Danish Market Development Fund gives us three!
We have to report to the fund until the final product is developed and delivered to you. This is your guarantee that we will deliver if we reach our goal!
Raymio has been thoroughly vetted: our participation in this programme requires rigorous screening of our company and product development.  
We're also supported by Innovation Fund Denmark and the Danish Foundation For Entrepreneurship.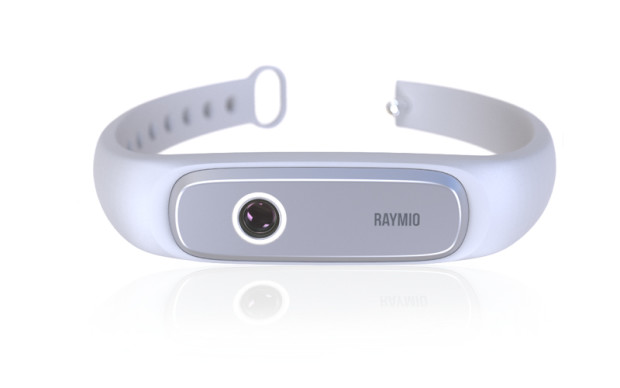 HOW IT WORKS
The Raymio App will send you a notification on days when the UV index is high and remind you to wear the device.
Raymio store data and send continuous updates about your sun exposure to the mobile app throughout the day. To ensure accuracy, the unit utilizes internal directional sensors to estimate the sensors' position in relation to the sun. We call this feature 360° Sun Safety. To create a fail-safe, we have partnered with theDanish Meteorological Institute, who provides us with UV index satellite data. Even if your Raymio sensor doesn't face the sun, it will not presume that you are not exposed to sunlight: our algorithms will compensate for temporary drops in input or a downturned position.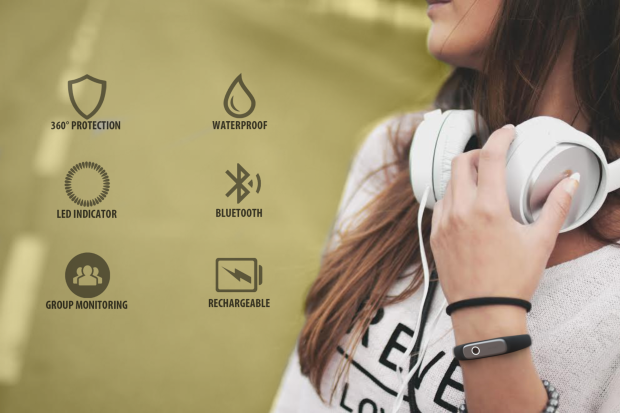 MEET OUR CTO
THE RAYMIO COLORS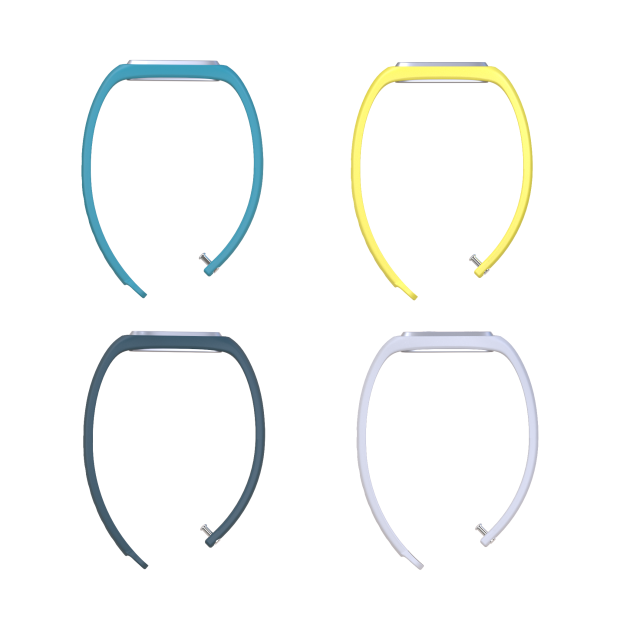 LIVING WITH RAYMIO
Do you know the feeling of sunburn? Have you spent an afternoon on the beach only to end up with skin peeling? Or did a high UV index ever catch you off-guard during travel, on your outdoor exercise routine or your daily commute? Is your skin extra UV sensitive? How about your family or friends? 
Raymio is a great tool for people who wish to take care of their skin while enjoying an active lifestyle. It is a situational awareness aid: We want to help you with actionable advice. It's also a biometrics tool where you can track your exposure history. 
Raymio provides information that help you become more familiar with your own skin and the effects the sun. The wristband keeps track of your UV exposure and keeps you updated. The app lets you keep track of groups, your friends and your family. Raymio app also contains forecasts, statistics and advice on sun safety. It includes social features, where you can connect with your friends and family in order to help each other keep healthy UV exposure levels. These features are of course optional: you only share the data you want to. 
You can also donate your anonymized data to science!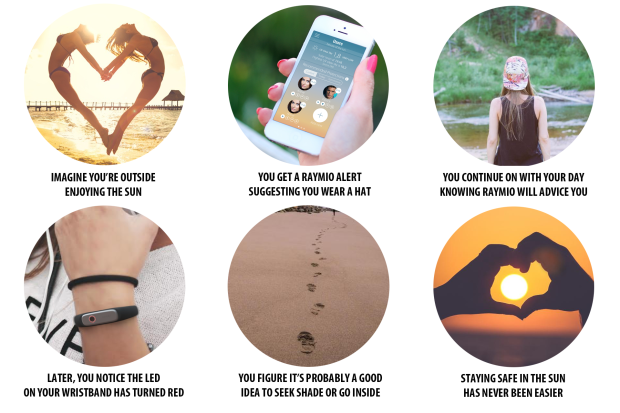 DIRECT ACTIONABLE FEEDBACK
We want to provide you with an elegant aid for everyday sun safety with minimal hassle. You don't need to check your phone to use Raymio: the wearable works autonomously and signals you with a LED when you need to take action. You can take Raymio swimming and stay informed of your exposure.
360° SUN SAFETY
By taking advantage of directional sensors within the unit, Raymio can provide a much more accurate estimate of your UV exposure level. We've developed an algorithm which enables Raymio to use UV index forecasts and measurements of your personal UV exposure throughout the day to tailor advice to you. A gyrometer and an accelerometer provides additional data points: Raymio will at any time know which way the wristband is turning in relation to the sun. This enables the unit to calculate a more realistic estimate of your UV exposure – not just how much UV exposure the sensor in the wristband has picked up. We call this feature 360° Sun Safety. 
ALL SKIN TYPES 
Raymio caters to all skin pigmentation variants. We use the Fitzpatrick Scale – the official standard numerical classification schema for human skin color – to classify your skin type and predict how it reacts to UV radiation. Learn from your past through statistics.

GROUP PROTECTION
A wristband can be used by an individual or by a group of people with different skin types. A family can use a wristband each, each keeping track of their own exposure and the exposure of family members by merely adding them as friends. The family could also add themselves as three separate users, using UV data from a single wristband. In the application main screen the family members would have separate profiles. The sensor unit can be removed from the wristband and put anywhere. This could be useful for group settings. It also allows you to change wristband.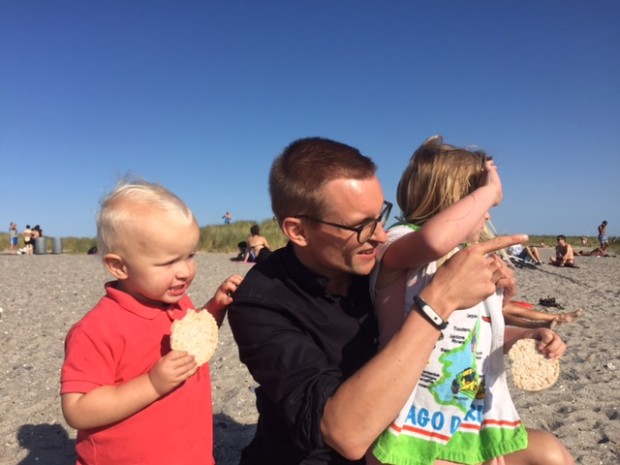 CEO Casper with his niece and nephew.
THE RAYMIO APPLICATION 
The applications is stacked with features! We strive to give you the greatest possible utility of your data.
PERSONAL ADVICE
If you spent too much time in the sun yesterday. Raymio will be aware  and make sure to tell you to take care. Or maybe your hair has started thinning? Let Raymio know, and it'll be able to inform you that you might want to put on that hat 30 minutes before you'd otherwise would. Or maybe you're out running when the sun is at its highest. Raymio will remind you to use sunscreen and adequate clothing.
TRACK YOUR BEHAVIOR
Seeing your exposure statistics can be a learning experience. Maybe you are exposed to UV radiation during the afternoon without realizing it. Or maybe you generally sit too long outside on summer days. With Raymio, you'll know and be empowered to take action accordingly. You can also compare stats with friends and family, learning from each other's experiences.
CARING FOR FAMILY AND FRIENDS
Get better at sun safety with your family and friends. Share your profile, send notifications to remind others to apply sunscreen or seek shade. Your friends can notify you too, if you wish. Helping each other is a great behavior change strategy.
GET TO KNOW MORE: THE SUN LIBRARY
Would you like to learn more about sun safety? What does 'factors' in sun lotion mean? How does UV affects toddlers and children? Or maybe you're interested in learning more about your own skin type and how it's affected by the sun. Delve into the sun library and get to know more.
BACKER'S APP: YOUR APPLICATION – YOUR NEEDS
CROWDFUNDING HARDWARE: WE ARE PREPARED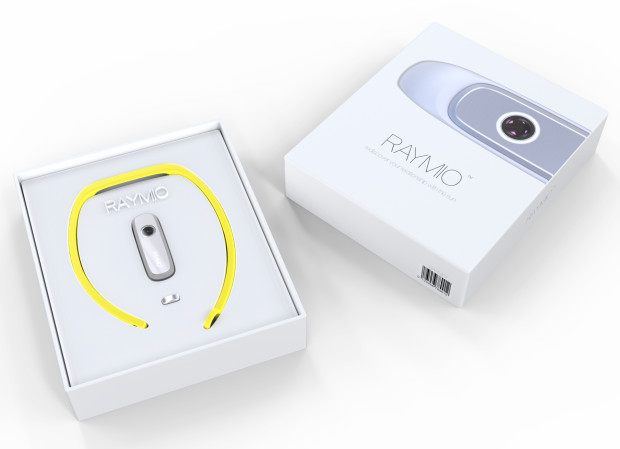 Crowdfunded hardware projects often struggle to meet delivery dates and meet problems in scalability. We know how frustrating this is for backers: that is why we have set up our entire supply chain in advance. We have +25 years production and shipping experience available in our team. So we are well prepared to handle our backers' rewards. 
SPECIFICATION DETAILS 
EVOLUTION IN DESIGN. We've been through an intensive development process since 2014!
Wristband and sensor unit measures 220mm (8.6") in length and 12.2mm (0.48") across. The width is between 3.0mm (0.12") and 9.3mm (0.37"). It weighs approximately 30g (1.05 ounces). 
The unit contains a UV sensor, an accelerometer and a gyroscope. 
 The wristband is made from thermoplastic elastomers (TPE) with adjustable length. It's non-allergic and comfortable to wear. It is waterproof down to one meter. You can take Raymio swimming! 
The rechargeable lithium-ion polymer battery takes about an hour the recharge. One charge powers 48 hours of expected normal usage.
A connector for recharging is included. 
The unit works in temperatures of -10°C to 40°C (14°F to 104°F)
Bluetooth® Smart connects unit and app wirelessly. 
The app is compatible with Android 4.3 and later versions (Bluetooth required) plus iOS 7.1 and later versions on iPhone 4S, 5, 5C, 5S, 6 and 6 Plus. 
The device will be CE labelled and have certifications for Bluetooth, EEE and IEC IP67.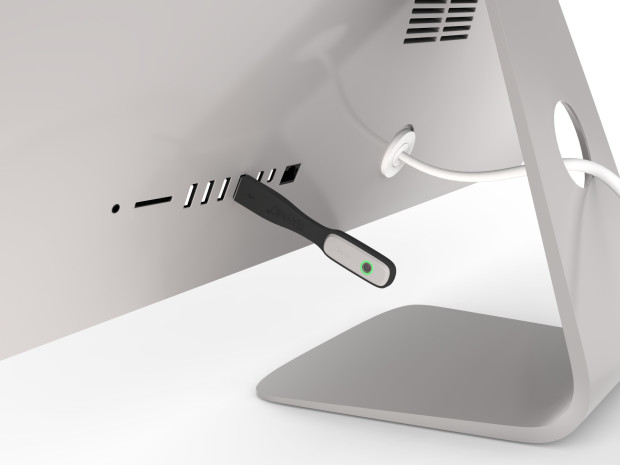 Producing a hardware product is not easy and unforeseen risks can occur. Plenty of crowdfunded electronic products have certainly gone off-track in the manufacturing phase. We're doing our best to anticipate risks. Raymio will be a sophisticated piece of technology and sometimes even the big players mess up in creating and scaling hardware products. But we have two huge advantages. 
Our technical team is led by senior professionals with more than 25 years experience in developing and manufacturing state of the art electronics. 
We have entered a manufacturing agreement prior to the Kickstarter campaign. This means that we won't be spending precious time finding a manufacturing partner after a successful crowdfunding round. Our engineers have been working with the manufacturer multiple times over the past decade and can guarantee their timeliness and production quality. 
Our match-funding agreement with The Danish Market Development Fund means that crowdfunding funds will be amended with a substantial amount. This ensures that we will not run out of funds before we have delivered rewards to our backers.
Press
Contact: hello@raymio.com
PLEASE NOTE: 
Raymio is not a medical device and should not be used to diagnose or treat any medical condition. Consult your doctor for prevention, diagnosis and treatment.