iCrowdNewswire - Sep 29, 2015
Koto – smart sensors for a healthier home

Do you feel cold right now or is the temperature just right? What about the air you breathe? Is it too dry, too humid? This is where it gets tricky. You'll know the answer once you find mold growing behind your closet. But wouldn't it be better to get these answers when you can still prevent home damage or health problems?
This is where Koto smart sensors come in. Just like food labels help you make better dinner choices, monitoring your indoor environment helps you make better choices that keep your entire family healthy. It can be something as simple as opening the window at the right time or turning on a humidifier. You just need to know when the best time is.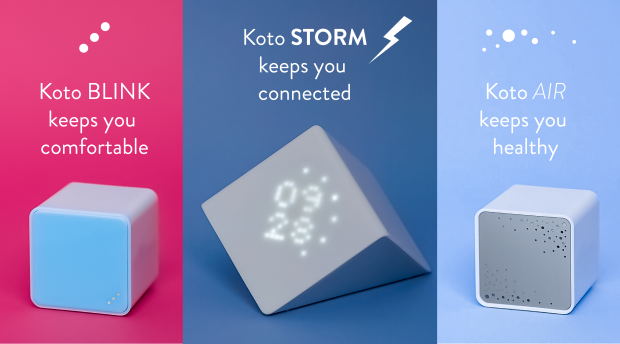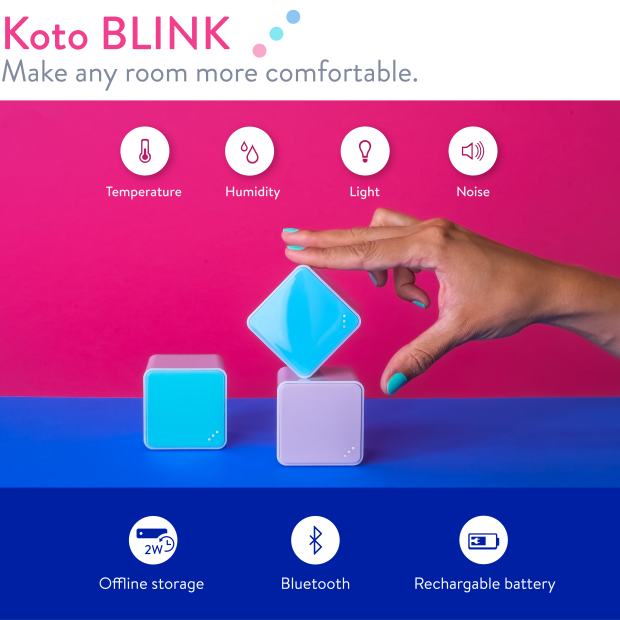 Koto Blink is always there for you to suggest the little improvements that will keep you comfortable in any room. Just a few degrees too hot or cold can disturb your sleep, and you'll feel much better when the humidity is just right. Blink knows what works best for different types or rooms and can even let you know when the room gets too dark to work or your party too noisy.
Koto Blink can save data offline for two weeks when you're not around and only needs to be recharged twice a year. This is what makes it a great choice for rental apartments, basements or vacation homes, and a great travel companion.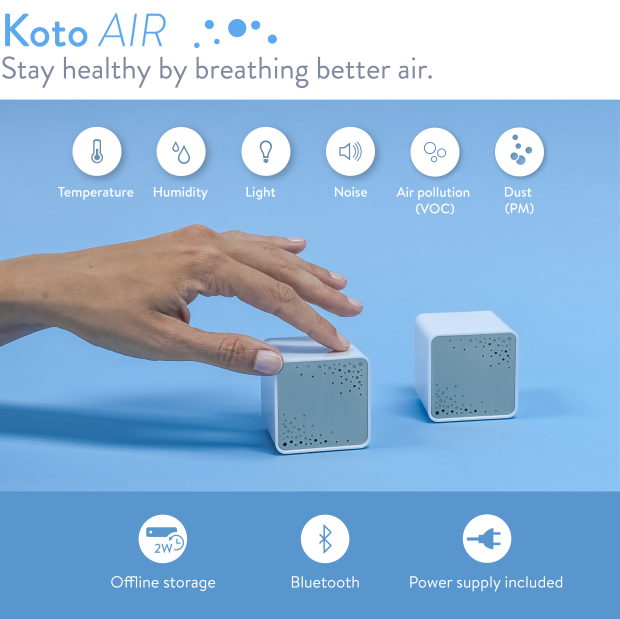 Koto Air can keep track of everything Blink does, but it can also detect when there's too much dust or harmful gases in the air, so you can reduce the number of sick days during winter. With Air's help, you can find the right balance between temperature and humidity that will keep mold, viruses and bugs away from your home. And you'll also get alerts when it's time to let some fresh air in.
Staying healthy and breathing better air is especially important for kids, the elderly and anyone with asthma, which is what makes Koto Air a great choice for all bedrooms, nurseries, family and dining rooms.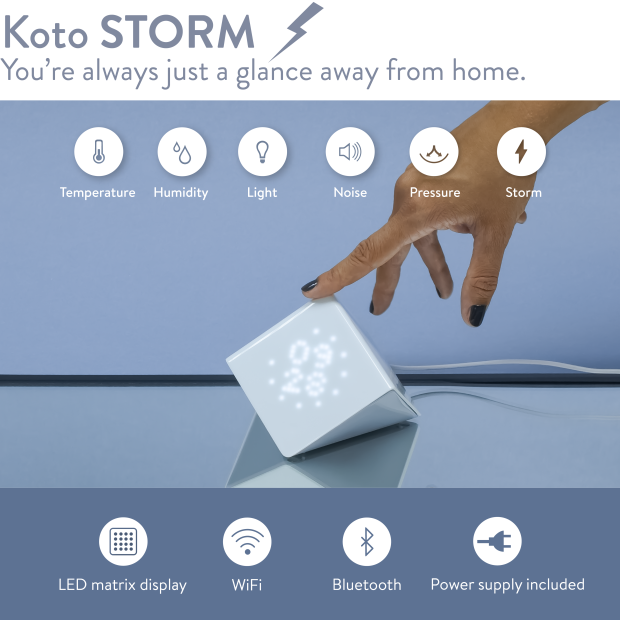 Koto Storm measures everything Blink does, but it can also display notifications and sync all measures online through WiFi. By adding Koto Storm, both Koto Blink and Koto Air can sync online in real-time even when you're not around. This allows you to check what's going on at home from work (or the other way around) and to automate your connected home. Koto Storm also detects lightning strikes and changes in barometric pressure, so it can help you stay safer during storm season.
The ability to sync all Koto sensors and display real-time alerts is what makes Koto Storm the perfect notification center for your connected living room or office.
Your support and feedback has already helped us build and ship thousands of indoor monitoring CubeSensors to over 50 countries worldwide over the past two years. Since then, the Cubes have collected over 500 million environmental readings and helped thousands of families and offices.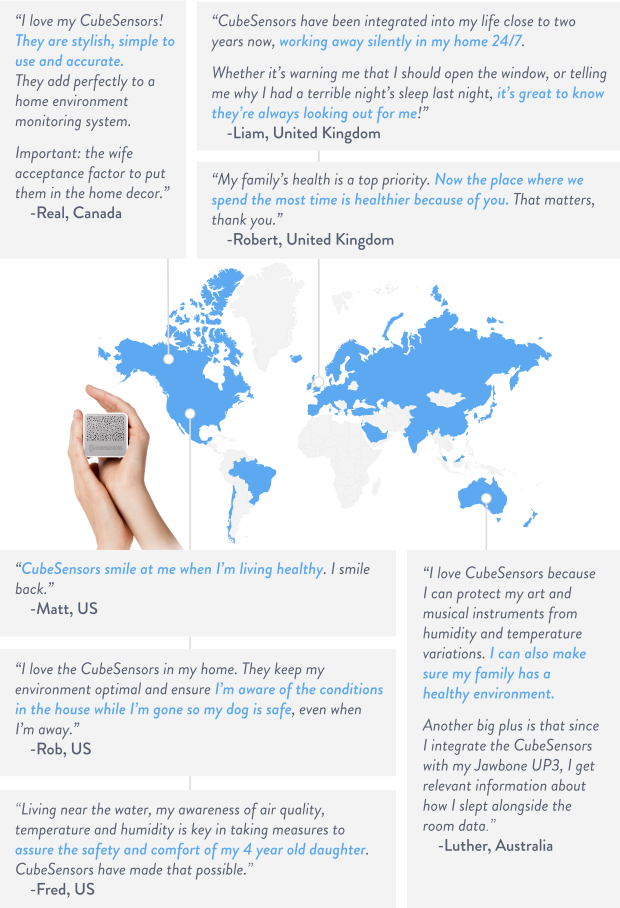 You told us what you love about your Cube and what you want to see improved. We're listening. And we're now ready to make indoor monitoring even more affordable, accessible, simpler to set up, and useful – and not always in the shape of a cube! 
This is why we're launching the next generation of smart indoor sensors under a new name. Koto is all about simplicity, great design and helping you discover meaningful patterns in your environment over time.

By placing a Koto sensor in any room where you spend a lot of time, you'll instantly see all the little improvements that can make your home comfortable and healthy. No complex electrical installations required. Just open the Koto app to discover how you can: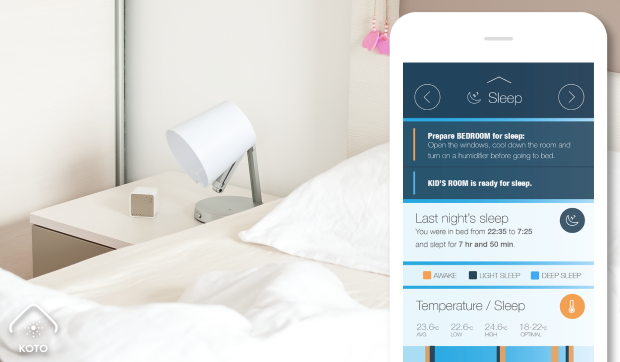 Connect your existing Fitbit or Jawbone UP sleep tracker to your bedroom Koto sensor to see what's disturbing your sleep. Find out whether a snoring partner, stale air, temperature changes, a full moon or something else is making you restless during the night.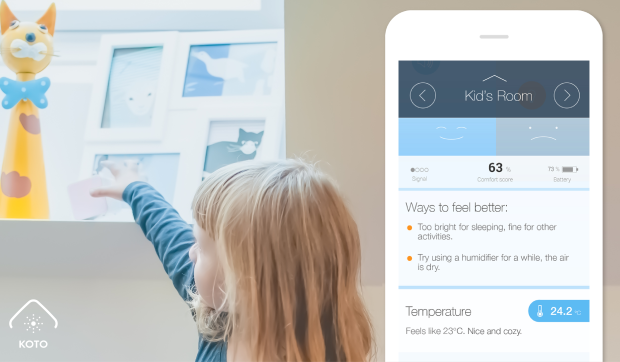 You can keep away bugs, viruses and mold by maintaining a healthy and balanced indoor environment. Monitoring your air quality with Koto Air can also help you choose better cleaning products and furniture for your home. These little everyday choices prevent long-term health problems from building up inside your home.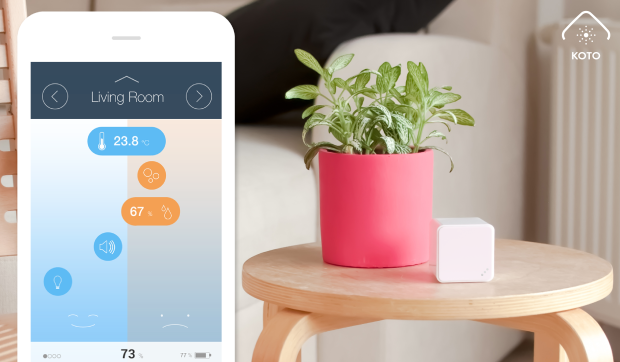 Do you suspect that your house is too dry? Do you forget to open the windows on a regular basis? Is opening the windows even necessary? Koto smart sensors provide real-time check-ups of your home's health.
If you're moving into a modern building, Koto Air helps you check if its energy efficiency comes at the cost of trapping bad air inside. And if your home has been around for some time, Koto Blink is a simple way to see whether your house has any lingering issues with humidity that might cause mold and other problems.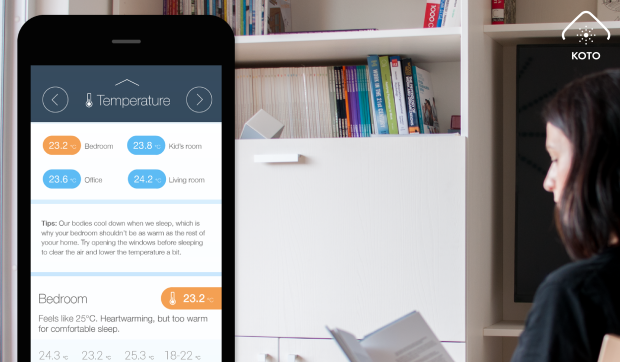 Avoid overheating your home in winter and overcooling it in summer by optimizing both temperature and humidity. With the right balance, you'll feel warmer and spend less on heating in winter, and stay cooler with less energy in summer. And all of this can happen automatically if you have a connected thermostat. You'll notice a difference when the right settings for comfort come from your favorite spot in the room, not from the wall or the other side of the house.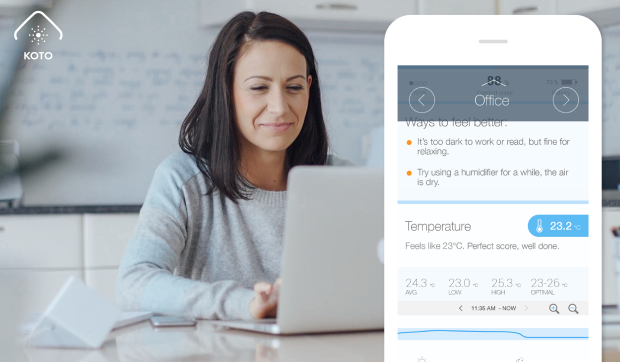 Your comfortable new chair will have to sit alone at the office if you keep getting sick. Koto sensors help you set up a healthy office environment where bugs and viruses won't spread around like crazy. You'll also know when it gets too dark to work or if the air is too dry. Little things that prevent you from giving your best at work.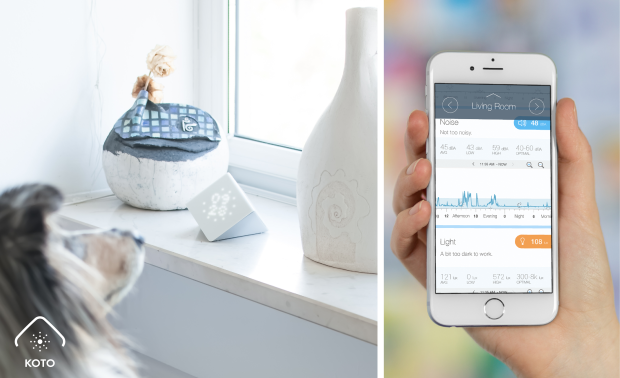 When somebody arrives home, noise levels go up, lights are turned on. There's no need to spy on your family and friends with cameras and other invasive devices. Just check the noise levels around the home to see if your dog really is as loud as your neighbors say. Or if your kids are throwing a loud party while you're at the movies. By adding Koto Storm to your Koto network, you can even check if you forgot to turn the lights off when you're away.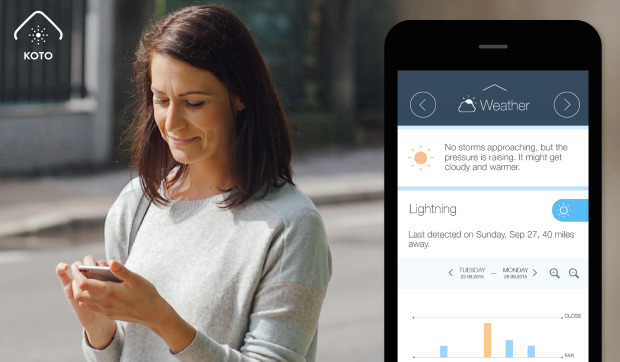 Koto Storm detects approaching storms and changes in barometric pressure. By getting real-time alerts when lighting is about to strike close to home, you can keep your home or car safe during storm season and avoid getting caught in a heavy storm on your run, hike or cycling trip.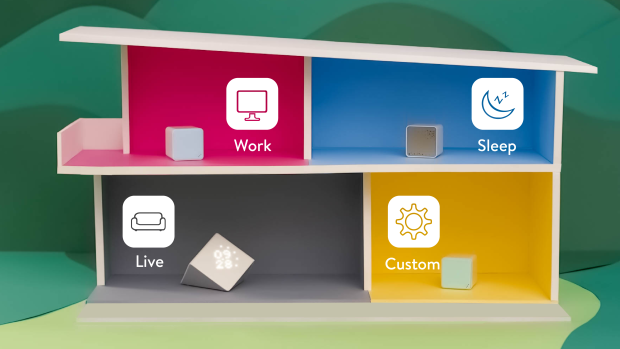 Koto smart sensors aren't just about measuring degrees and percentages (although you can get those too). Koto sensors use real-time data from your environment to give you practical advice that's tailored to each of your rooms. You can choose among presets for bedrooms, living spaces, offices, or set up your own custom ranges for special rooms that have different needs.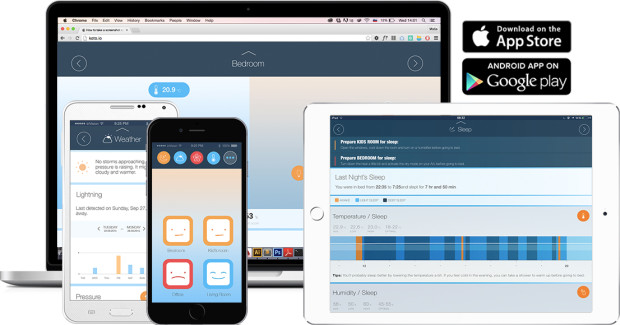 iOS and Android mobile apps sync with your Koto sensors, so you can explore real-time measurements and custom-tailored Koto advice on your smartphone. And we also have a beautiful web app that works on most Windows PC, Mac OS X or Linux web browsers.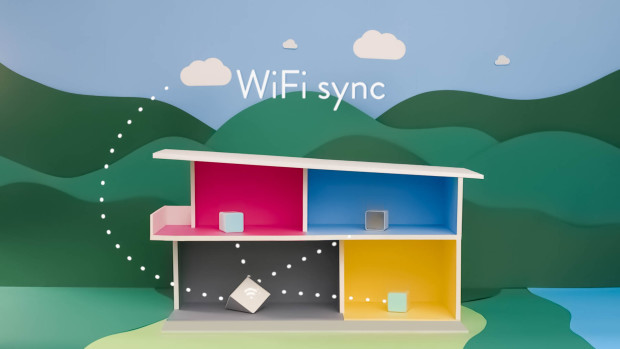 All Koto sensors sync data directly with your Bluetooth enabled smartphone when you're around. If you want to be able to access your data from anywhere in the world, you can enable WiFi sync just by adding a Koto Storm to your Koto network. No extra base station required.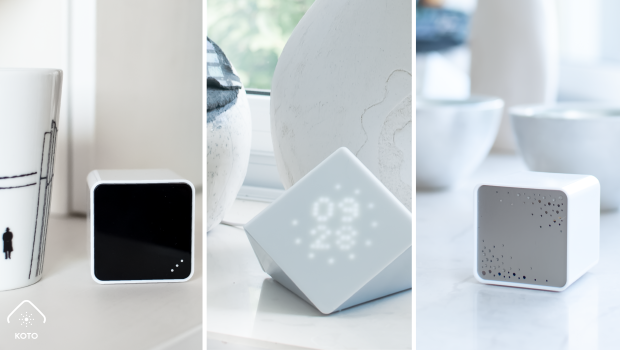 You've already invested a lot of effort in making your rooms look good. A home sensor shouldn't get in the way by taking up too much space or being too complicated to use. This is why Koto sensors are small enough to fit into the palm of your hand and easy to set up.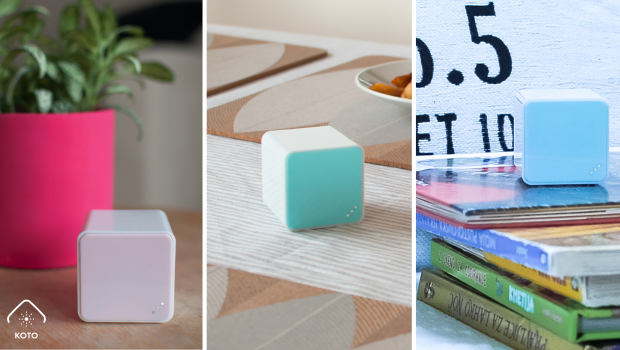 You can choose your Koto sensor in a color that fits your decor or personal style or go with a more neutral combination. Either way, monitoring your indoors has never looked as good and fun as it does with Koto smart sensors.


You can share all your Koto sensors with your family, let your friends see current room measurements or keep everything to yourself. Either way is fine. You are in control of your data and you decide how much you want to share with the people you trust. We keep your data safe on every step of the way.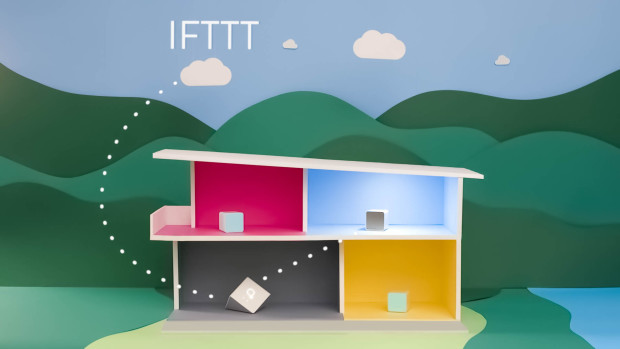 Koto smart sensors have their own IFTTT channel that allows them to send instructions to your smart thermostat, connected lights and other devices around your connected home. Now your smart home can finally act on real-time data based on measurements from the parts of your home that you use the most.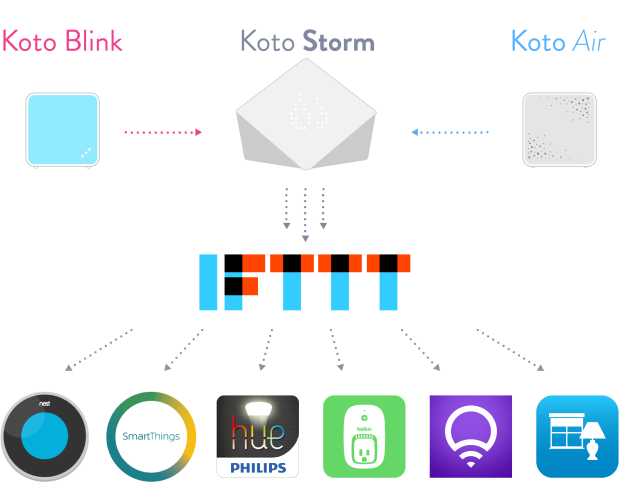 Are you a developer? We also have a web API that's easy to integrate with your own apps or home automation systems.
Want to do advanced data analysis? No problem, we also provide detailed minute-by-minute data exports for any period of time. Because this is your data and you should be able to reuse it in any way you want to.

The Koto iOS/Android app and IFTTT channel will also work with your Cubes. When you add new Koto sensors to your home, you'll have everything in the same app.
Koto Blink and Air sync with your Base just like your Cubes do (via ZigBee). Koto Blink is a great addition to the family when you need a portable sensor where there's no internet connection. Koto Air is the most similar to your Cubes, but it can also detect small particles like dust (PM) and store data offline. Koto Storm is like a base, packed with sensors, including one that detects storms. Storm connects to your WiFi, so it can be used as a stylish desk clock and notification center.

Even though we already have a successful product on the market, we need your help to bring Koto sensors into your homes faster. Your support will cover the cost of manufacturing, certification, and app development, and help us bring Koto sensors to the market sooner.
We also chose to introduce Koto through Indiegogo because we want to hear your thoughts and ideas on how we can make Koto sensors even smarter. And we know Indiegogo has the best community of passionate early-adopters.
By supporting us, you can:
be the first to welcome the stylish Koto smart sensors into your home at the best prices
discover what's going on in your indoor environment at a glance
make your home healthier for your family
use real-time measurements from relevant parts of your home to control your smart or manual HVAC devices