iCrowdNewswire - Sep 28, 2015
The Liberty Electric Trike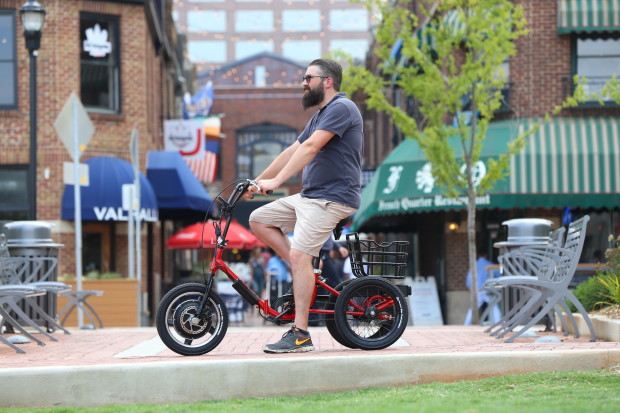 An electric adult trike with the power to change your life. 
Liberty Trike is the ultimate mobility solution empowering you to leave your car at home, get around effortlessly when needed, and be more active outdoors!
This a one-of-a-kind electric tricycle designed for everyone on the go. With an industrial frame made in the USA and patent-pending hinge allowing the trike to fold or separate, it's easy to take anywhere.


Pulls up to 300lbs up most inclines with ease.
The lithium battery pack has a range of up to 24 miles. Charges in 3 hrs.
Electric-assisted speed is 7.5MPH for safety.
Wide 16" x 2.5" provide stability and comfort.
The narrow 25" rear allows you to navigate doorways with ease.
A 360 degree turning radius allows maneuver in tight spots.
It can fold or separate with the patent pending hinge making it ultraportable.

This is one powerful electric tricycle designed to take you anywhere. The high-torque motor can haul heavy loads up steep inclines and the lithium battery pack ensures more range than most tricycle riders will need in a single day. Using the lower speed settings, and utilizing the trike for steady mobility, results in even greater range per charge.

Operating the Liberty Trike is easy. Simply press the power button to turn the electrical system on. Then choose your level of throttle-on-demand power (1-5). You can then twist the throttle and off you go. Pedaling is always encouraged but not required. As an active mobility solution the Liberty Trike gives you the option to get some physical activity when you want it. This is one of the biggest benefits of the Liberty Trike when compared to a conventional mobility scooter.
Don't forget, if you get into a tight spot, this electric trike has a speed-limited reverse function. There is a red button on the throttle. When you push it, it will stay depressed down and in this position you'll be in reverse gear. Twist the throttle and you'll go backwards; the reverse is "speed-limited", meaning in reverse the speed is much slower for safety. There is also a parking brake for easily mounting your Liberty Trike and keeping it in place and a large LCD readout with speed controls and battery indicator.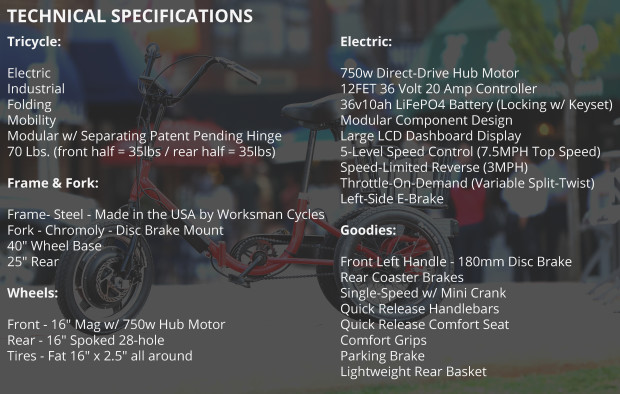 The Liberty Trike is for everyone who wants to ride more often, ride stable and ride with assistance and stability. It can be used in hundreds of scenarios to improve your lifestyle, like at the beach, in big cities, in parks, around the house and anywhere else!
Great for Getting Around Town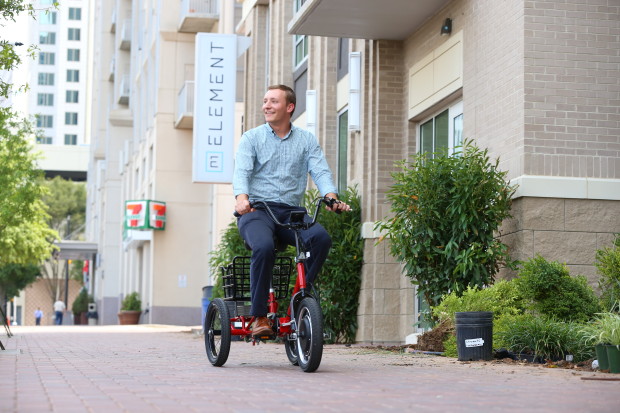 or for a Ride in the Park!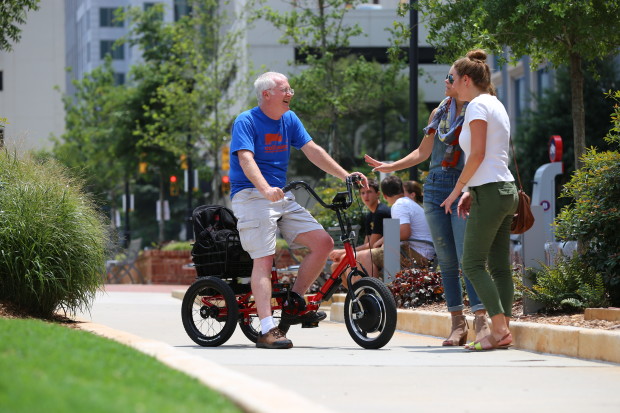 The Liberty Trike is about 95% finished and we say that because we still have some design features we will be adding to make it even better before final production starts. There are a few changes in the frame design and some minor changes to the electrical system that we know backers will appreciate. We plan on sharing those improvements with backers of the campaign as they happen.
The great thing about the Liberty Trike first run is that the frame is being made by Worksman Cycles and any changes to the frame can easily happen in a short amount of time. Also, the final painting happens close to home so getting backers the correct colors (you'll have 5 colors to choose from), will be easily managed.
The other thing to consider about production and delivery is that Electric Bike Technologies has been making systems and distributing e-bike products since 2008. This is not a direct from China to end user project. This is an experienced electric bike company in the USA taking a lot of pride in producing their first complete electric bike (in this case a trike), and then beating your expectations for delivery, service and after-sale support.

Please consider backing our campaign and improving someone else's life and your own; The Liberty Trike is the Ultimate GIFT!
Let's show the world that there are better, smarter, more active options for moving. We appreciate any and all contributions and ask everyone to help us raise awareness. Please share our project by simply telling your friends, sharing on social media and using the Indiegogo share tools.
Thank you for your continued support and for believing in us!

Electric Bike Technologies has been providing the highest level of customer service and after-sale support since the company started. Today we have expert staff in place supporting our existing conversion system customers. This same staff will be supporting Liberty Trike owners. The Liberty Trike website already has LiveChat support now. Email support is a given and our response time will surprise you. Phone support will be added once the production run is complete and trikes begin shipping to backers. Rest assured, once you have your Liberty Trike, our expert staff will be ready and eager to assist with any questions or support you may need. Replacement parts and accessories will be fully stocked if needed and can be quickly shipped from our warehouse in Pennsylvania.

Every Liberty Trike is covered under our one year all-inclusive warranty for the original owner against all manufacturing defects. After the warranty period replacement parts will be readily available at www.libertytrike.com.

Onsite Chat: Available M-F 9am – 5pm EST directly on LibertyTrike.com
Email Support: support@libertytrike.com
Phone Support: Starting March 2016.
Social Media: Contact us at any time using social media.

There are always unforeseen obstacles when bringing a new product to market; usually the longer delays come with actual production and then it would be shipping holds as the next likely cause for delays.
Regarding production delays and risks; you will notice from our timeline that production starts before the Indiegogo campaign is even finished. We know what we have to do and we've placed a limit (500 Liberty Trikes) on ourselves for about the first year to be certain we can meet the expectations we're setting. We've worked very hard for our reputation over the years for delivering on promises and we don't expect to start breaking any promises now. We need your help to get the Liberty Trike rolling now but once that process is underway we'll be using everything we have to make it happen.
We see shipping as a possible risk of course but not one with a long delay time and again, we've given ourselves enough room in the timeline to ensure they won't affect the delivery dates. The other shipping consideration/risk relates to the shipping of hazardous materials, which most e-bike batteries are. This risk has influenced our decision to limit this first run of Liberty Trikes to delivery addresses only inside the contiguous United States. Shipping hazardous outside of the US is much more complicated than receiving and shipping within the US.
We've had our fair share of experiences with shipping lithium batteries over the years and it has taught us very well what to do and what not to do. The Liberty Trike LiFePO4 battery pack is UN 38.3 Certified and will be shipped in full compliance with all associated regulations and requirements.