iCrowdNewswire - Sep 28, 2015
Karaoke Moment
Karaoke re-defined.
Go on, express yourself.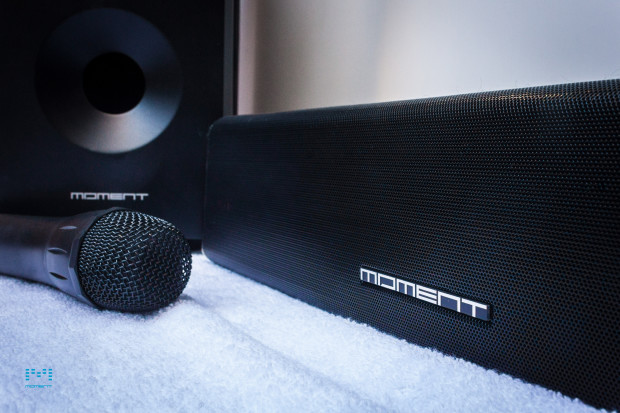 What is Moment™?
A compact sound bar that lets you enjoy unlimited karaoke using apps, enhances your home movie & gaming experience.
Elegant and compact at only 16″, Moment fits into any space.
Simple, fun, plug & play karaoke the way it's intended to be.
Compatible with any device, giving you limitless ways to use.
Wireless, auto-pairing mics & subwoofer means no cable mess.
Great for movies & gaming with DTS TruSurround™ technology.
Unlimited karaoke.

Conventional karaoke machines are always plagued by limited song availability, restricted by CDS, DVDs, or a subscription model. More often then not, even as we are willing to put up with the extra costs and hassle, songs we want frequently aren't available. Overly complex technical components, coupled with difficulty in setting up usually is enough to put us off having a karaoke system at home.
Our goal when designing Moment was straightforward: keep karaoke fun and simple, minus all the fuss and hassle.
Unlike conventional systems, Moment™ works any file, app, or online streaming site that your devices play, enabling you to let loose and sing your heart out. This means you have access to an unlimited, and always up to date karaoke song library with apps like Smule, YouTube, Spotify, Apple Music, Google Play Music, Pandora, and more.
YouTube: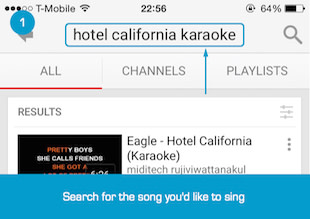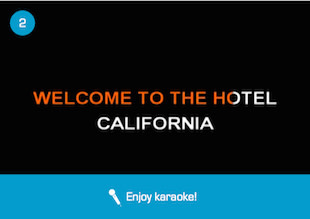 Smule: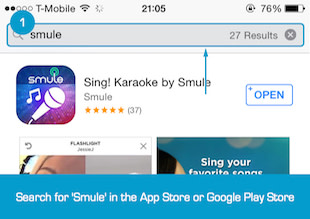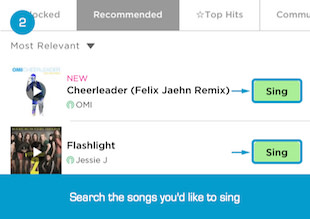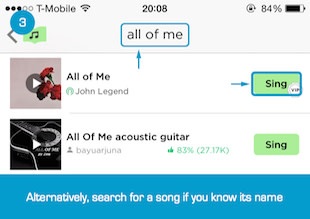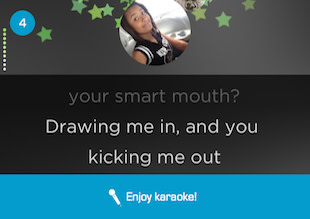 天籁K歌: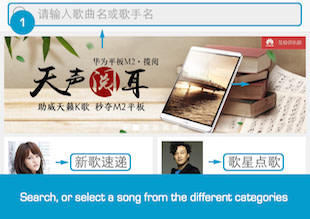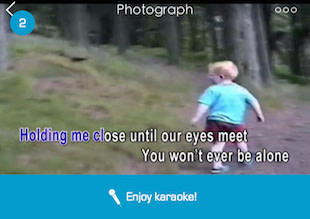 Media coverage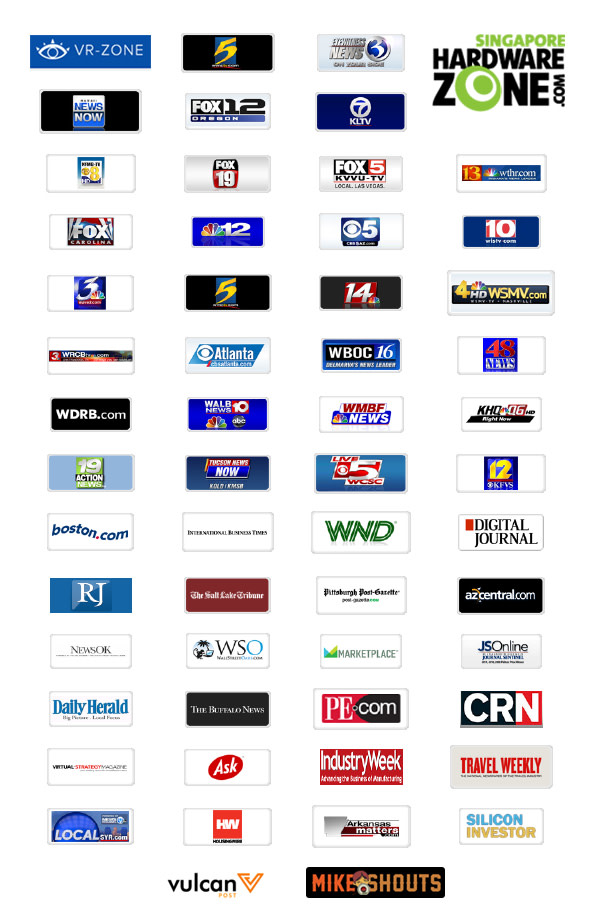 Compatible with any device.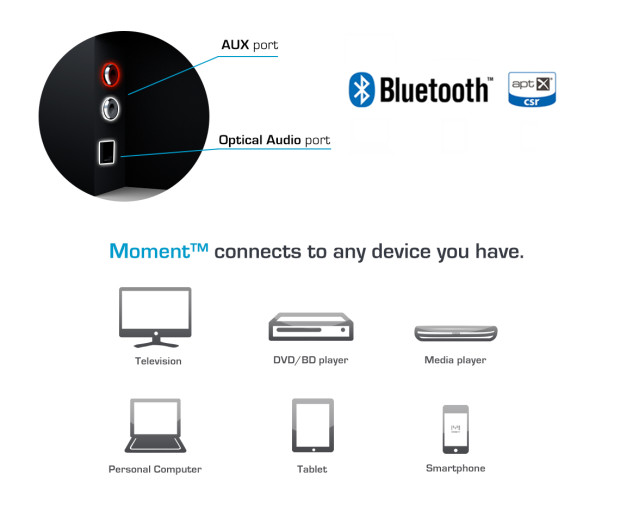 Moment™ connects to any device you have, and produces quality audio no matter the connection. The built-in AUX port as well as Optical Audio port accepts connection with your analog or digital devices. Bluetooth aptX technology provides CD-like quality audio when streaming wirelessly.
DTS TruSurround™.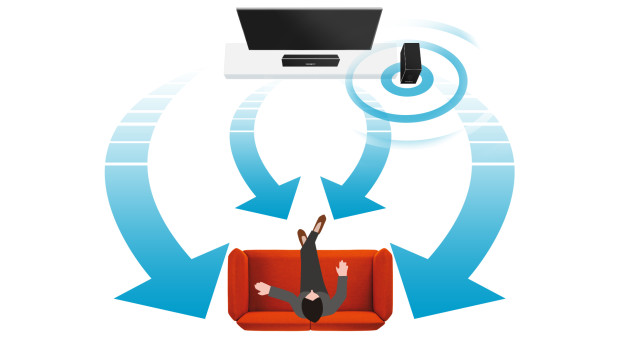 Utilising technology from DTS TruSurround™, we tuned Moment™ for peak performance, accurate extraction and placement of audio cues, resulting in a realistic and immersive virtual surround experience.
The post-processing and psychoacoustic techniques implemented for bass and dialog enhancement with DTS TruSurround™ provides a high frequency definition for maximum realism and clarity to complete the audio entertainment experience.
Moment™ + DTS TruSurround™ = Better sounding movies, tv shows, music & karaoke.
For Gamers, too.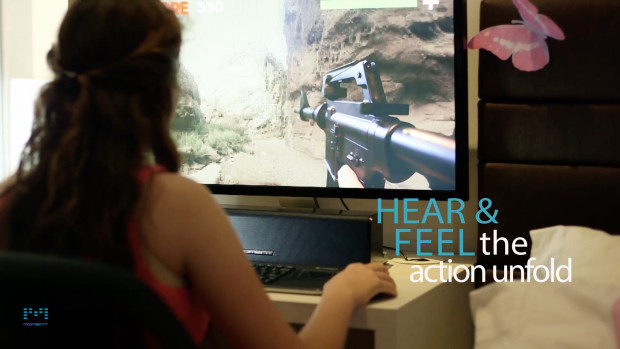 Moment is designed to fit under most desktop monitors – it is even compact enough to sit on a stool – yet provide enough oomph for sounds and effects.
Heart-pumping bass provided by Moment's wireless subwoofer and DTS TruSurround technologies enhances your gaming experience, making sure audio cues are placed more accurately – so you can not only see, but hear and feel your enemy approaching. Never lose sight of the objectives again.
No cable mess.
What do you think of when wanting to set up a sound system? Difficult, costly, messy?
Not this time. Moment™ comes with a wireless subwoofer and microphone that automatically pairs up once in range. No setup required.
Because no one likes to deal with cable mess.
EQ personalised.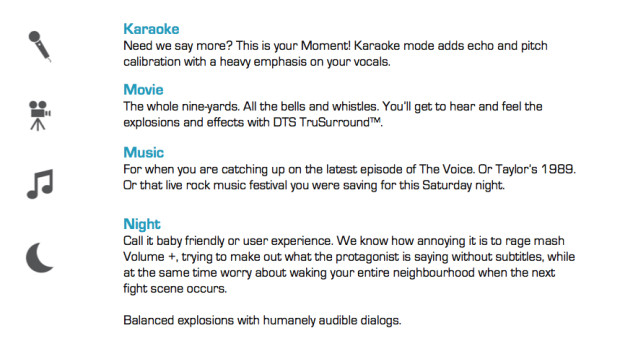 Whether you'd like to attempt those high falsetto notes, feel the explosion as the fighter jet flies by, or quietly catch up on the latest Game of Thrones episode while your baby naps.
With years of experience in the digital entertainment business, we feel like we know what is really important to our users. That is why we carefully thought out 4 preset equaliser modes which should cover most moments.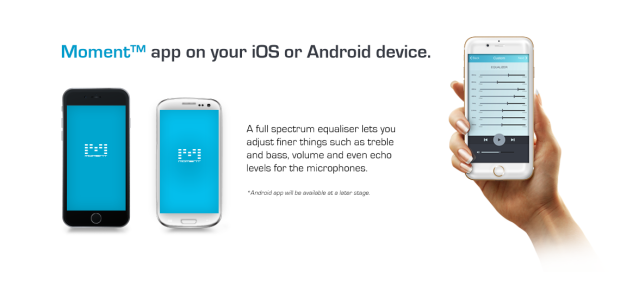 Utilising the free Moment™ app on your iOS or Android device, a full spectrum equaliser lets you adjust finer things such as treble and bass, volume and even echo levels for the microphones.
Bigger size ≠ better sound.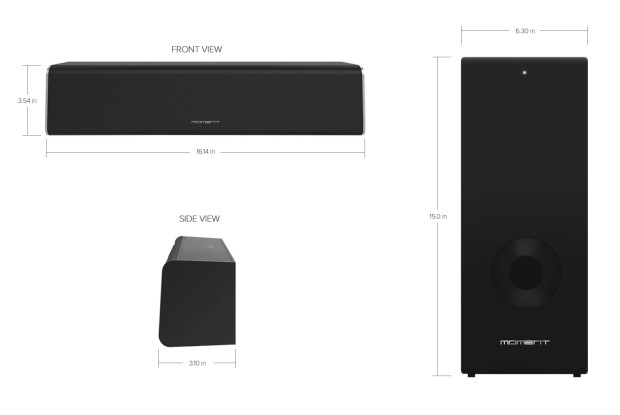 Conceptualising Moment, one of the first realisations we had was space constraints. Moment was created with modern homes in mind, packing a true karaoke experience, DTS TruSurround technology, wireless streaming, digital and analog interfaces, all into one sleek, compact design. The result is a 16-inch footprint – space we can all afford.
| Moment Sound bar |   |
| --- | --- |
| Height | 3.54 in |
| Width | 16.14 in |
| Depth | 3.10 in |
| Weight | 4.41 lbs |
| Drivers | 2 x 3.5″ mid-range |
| Tweeters | 2 x high-frequency |
| Stand-by Power | ‹ 0.5W |
| Output Power | 60W (15W x 4) |
| Ports |   |
| AUX L/R Audio | 1 |
| Optical Audio | 1 |
| Connectivity |   |
| Wireless Subwoofer | Yes |
| Wireless Microphone | Yes, up to 2 |
| Wireless Streaming | Bluetooth aptX® |
| Subwoofer |   |
| Height | 14.37 in |
| Width | 6.30 in |
| Depth | 12.60 in |
| Weight | 6.43 lbs |
| Driver | 1 x 6.5″ |
| Stand-by Power | ‹ 0.5W |
| Output Power | 60W |
| In the box |   |
| Remote Control | 1 |
| Wireless Microphone | 1 |
| AUX L/R Audio Cable> | 1 |
| AUX L/R to 3.5mm Cable | 1 |
| Optical Cable | 1 |
| Wall mount brackets | 1 |
| Wireless Subwoofer | 1 |