iCrowdNewswire - Sep 26, 2015
Theori Fine Arts Center
Theori Fine Arts Center is coming!!!
Theori Fine Arts Center is a 30,000 sq/ft, three floor creation and performance facility.  The venue will feature (1) Grande Theater, (1) Rooftop Theater, (1) Black Box Theater, (8) Dance Studios, (2) Recording Studios, (2) Music Rehearsal Rooms, (4) Video Editing Bays, (1) Photography Studio, (1) Video Production Room, (2) Conference Room, and office space for local production companies.
The concept behind TFAC is to give artists who do not have the funds, political connections, and staffing, the opportunity to workshop, market, and produce their work at a polished, professional level. Theori Stages and our sister company Reflective Music would function as mentors for new artists, looking for an outlet for their messages. We would provide the venue, experience, and (when necessary) the staffing to materialize their concepts while allowing them to EARN money from their craft as opposed to going further into debt trying to create. This will create opportunities in our neighborhoods. It will give young people a place to be, besides on the streets. Our elders will be able to share our collective history. Most importantly, we will be realizing dreams and hopefully saving lives.It will be a cultural and social boon to our community.
What We Need
Our ultimate goal is to raise $2.5 Million in two phases. The timeline for Phase 1 anticipates completion in October of 2015. Phase 2 begins with the opening of Theori Fine Arts Center and has a 3 year outlook.
Our Phase 1 Goals ($250,000) are:
$75, 000 for the down payment and build out of the venue. 
$150,000 for equipment (i.e. lights, cameras, audio equipment)
$25,000 seed funds for community outreach (After School Programs, Community Enrichment Partnerships, Mentorships)
Our Phase 2 Goals ($2,250,000):
Grand Opening and initial season of performances
Creating 50 new employment opportunities
Purchasing the venue outright 
The Impact
In 2004 I had a vision of creating a venue where young people in Chicago could take their creative inspiration and turn it into something concrete. You and I both know the value of art in shaping young people that are caring, driven, and empathetic to the plights of their fellow man. In Chicago we have so many talented people, who simply cannot afford to produce their art. Those can afford it, are forced to venture out of their own community because there simply is nowhere for them to produce. The few venues near our community either over charge or have their own personal agenda that does not include those outside of their circle. This leaves two options: deferred dreams or going to produce work meant for our community elsewhere, where they will never see it. We will change that. 
South Side entertainment companies will be able to perform, and create in their own community. Currently, if you want to produce your own work, you have to go to the North Side of Chicago. There simply aren't enough facilities on the South Side. TFAC is located in the South Loop area, a highly accessible location with close proximity to Bronzeville, the McCormick Place, and major public transportation routes. This gives them the ability to have their work seen not only by traditional downtown/north side audiences, but also tourists and the South Side audiences who cannot travel across the city for entertainment. 
Ownership of the venue means that we are able offer opportunities that other venues are either unwilling or unable to offer. Our leadership is composed of individuals who created their respective companies from the ground up. We understand what it takes to create; how hard it is to finance; and how frustrating it is to have excellent work that you cannot afford to produce. TFAC sees the opportunity in untold stories and hungry new talent. Our goal is to help cultivate the next generation of cultural leaders, and give the best chance at creating a solid financial foundation, by allowing them the opportunity to create inexpensively and professionally. 
The physical venue would function as a performance venue, training facility, networking hub, and a fine dining establishment. It will be a cultural and social boon to our community.Entertainment venues attract businesses to the local surrounding area, which employ more people, who are then able to spend more money; in effect, boosting our local economy. The location we have chosen is close enough to the downtown area to attract patrons who typically do not venture south, while still being able to cater directly to our community. It is accessible and in line with Mayor Emmanuel's vision to revitalize business on the south side. Our ownership as minorities helps to negate gentrification and protect our cultural history in the South Loop/Bronzeville area. 
Defeating Our Challenges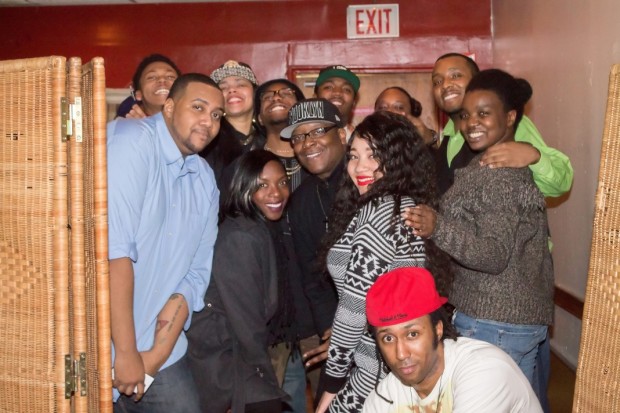 This is definitely a monumental goal. There are several challenges: Financing, Competition from other venues, Balancing artistic freedom and social empowerment with fiscal responsibility. We are laser focused on meeting these challenges head on: with careful planning, transparency in policy, and tutelage from experienced individuals to help guide us. To maintain fiscal stability we will pursue the following revenue streams:
1)  Original Programming from Theori Stages and Reflective Music
2)  Rental of our Dance, Recording, and Video Production Studios, Conference Rooms, and rehearsal spaces
3)  Rental of our Grand Theatre, Rooftop Theater, and Black Box Theatre
4)  Business Hour Dining at our onsite restaurant
5)  Arts Grants and Endowments
Our staff is composed of well educated, talented individuals with experience in their respective fields, who have the ability to mentor burgeoning artist, while still being young enough to find innovative ways to redefine what it means to create. Our support system has decades of experience in venue management, talent development, technical direction, and financial management. They will help guide us in making sure that our altruistic goals never subvert our fiscal responsibilities. We are not in this for the short term, Theori Fine Arts Center is going to be a permanent part of Chicago's cultural community. 
What's In It For You? 
Our undying gratitude of course! Not enough? Well how about…
A Theatre Named After You
A Dance or Recording Studio Named After You
Lifetime Tickets
Your Own Chair
Official TFAC Apparel
Placement On Our Supporter Wall
A Personalized 60 Second Play
We've got boatloads of rewards! Just take a look right over there!  –>
Other Ways You Can Help
There's more to support than money! We get this. You can also help by:
Reposting!
Passing the word on to a kind spirit with heavy pockets!
Donating equipment!
Putting us on your blog!
Buying tickets to a Theori Stages or Reflective Music Event!
We also like hugs. (Hey, we're artist too. Hugs are donations for the soul!)