iCrowdNewswire - Sep 24, 2015
liftUPlift.com * Shop From Women Around the World!
Help us Empower Women Worldwide!
liftUPlift.com is the FIRST online marketplace for women-owned businesses.We launched THIS September 19, and now we NEED your support! Help us complete development of liftUPlift for mobile and fill the marketplace with stores and shoppers in the next year. 
Your contribution empowers EVERY WOMAN in our alliance to grow and create a new world of opportunities for women and girls.
…
Hi! I'm Corielle, the Fearless Founder of liftUPlift. 
Last year, I met a young woman from India who changed my life. Afreen reminded me that not all women are free, and she inspired me to help as much as possible.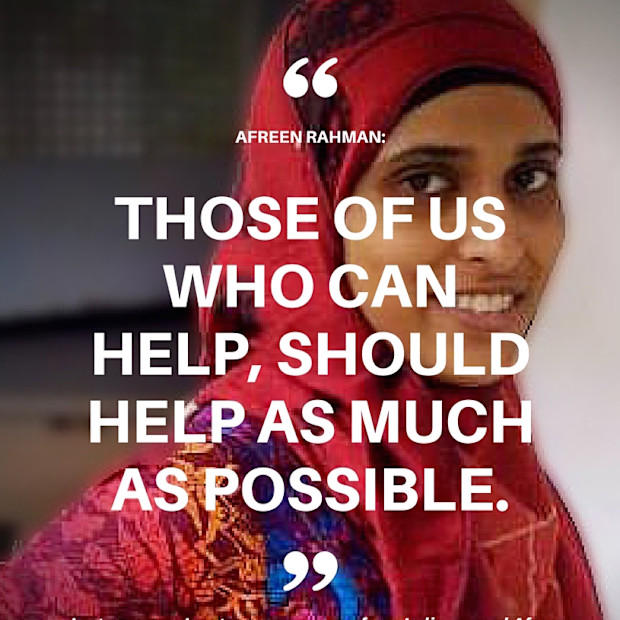 Several months after meeting Afreen, I left my full-time job to build a new technology that would change the world for women and girls. 
I brought liftUPlift to life with my full time, talent, and savings, but I could not have done it without tireless support from countless friends, family and allies all around the world. Our site designers and developers logged countless unpaid hours. Women entrepreneurs lined-up to open stores long before we launched. There are over 50 partnering businesses and organizations directly involved in our launch parties in Chicago and Boston! 
In my eyes, we already have one successful "crowdfunding" campaign under our belt. Because so many supporters pledged their time and talent to make it happen, we successfully built a multivendor e-commerce platform and an international alliance of women-owned businesses, in just one year. 
Now, all we need is numbers, and that's where this campaign comes in! Here's what we can accomplish in the next year with your backing…
All We Need is Numbers
In order to succeed and grow liftUPlift, we need numbers – millions of people shopping and thousands of women selling on liftUPlift.com. We have billions of potential allies, and we need resources to reach them. 
Let's break down our $50,000 campaign goal in more detail. We want to be transparent and specific, because we're asking for your trust and backing.
Here is our 3-part plan for the year ahead…
Part  1 – Develop liftUPlift for mobile. Over 50% of e-commerce shopping is done from mobile devices, so making liftUPlift.com accessible to shoppers on mobile will more than double potential sales for our stores. Expected design window is 1 month and development window is 3-4 months. Our team is working very hard to mobilize in time for holiday shopping this December!
Developer fees, $10,500 (fixed rate for project)

Designer fees, $5,000 (fixed rate for project)
Part 2 – Improve site performance. No customer wants to wait for a page to load, no matter how compelling the brand or product. Speed is critical for conversions, so we will increase exposure and sales on liftUPlift by upgrading our server and streamlining our site backend. 
$1,800, dedicated private server with BlueHost 
$12,500, developer fees (5 developer hours per week for 12 months)
Part 3 – Grow our Alliance. In order to connect and support women entrepreners, we need space to work and funds for travel and recruitment. In order to bring shoppers to their stores on liftUPlift, we need to advertise and create captivating marketing materials.
$8,650, Work and meeting space, plus transportation, at The Shift, Chicago's only women-owned coworking space, 
$7,000, Digital marketing and advertising spend on Google Adwords and Facebook ads, to draw an estimated 75,000 targetted shoppers to liftUPlift.com over 12 months.
$5,000, Approximate bottom-line cost for our Fearless Founder to make one international trip lasting 16 days, with store recruitment visits to India, Nepal and Ghana. This is a very important step in expanding the reach of liftUPlift into countries where women need allies the most.
Make A Global Impact
In June 2014, I met a young woman from India who changed my life. Afreen reminded me that not all women are free and inspired me to help as much as possible. liftUPlift gives women a platform to empower themselves and use purchasing power to fund a female renaissance. 
Help us build a global alliance of women entrepreneurs who will work together to uplift women worldwide.
liftUPlift is a platform for mutual empowerment and collective action. 
By contributing to our campaign, you are directly impacting change in the world. Those of us who have freedom, do not always realize how privileged and powerful we truly are in this world. Not everyone is free. Little girls are being married off before experiencing the innocence of childhood. Women are being sold into sex trafficking. Violence against women is an everyday occurrence. 
If we can grow a powerful, global alliance of women entrepreneurs, we can break down cultural barriers and empower all women to gain freedom. Your contribution will help grow the alliance and build the marketplace. With a strong foundation, we can help fund women overseas to start businesses and build stores on liftUPlift.com. 
Store owners are not only making products, but acting as role models. liftUPlift.com is a non-toxic environment where all girls and women are encouraged to strive for optimal performance. All users and store owners can connect with one another, send messages, and follow one another for updates. No matter who you are, you are part of the community when you create a level up account and shop from the women on site.
Challenges & Opportunities
We know you value transparency, so we aim to be open and stand out by providing insight into the obstacles we will face on the way to achieving our goal.
There is no global directory of women-owned businesses, which means we rely on referrals and web searches to recruit new stores. Everyone knows at least one woman entrepreneur or maker, though, so pointing us to women-owned businesses in your community is a great way to help support us!
We are still formulating the best process for vetting women-owned businesses. Our temporary solution is to make liftUPlift stores invitation only, so we can selectively recruit founding stores that align with our mission and values. 
Improve back-end infrastructure of our site to streamline performance and protect user data and security.
Our Alliance will quickly outgrow our technology without upgrades to our server and continued development of platform. That's why funding for this campaign is so crucial. 
Over 50% of e-commerce shopping happens from mobile devices. Our technology is incomplete until it is accessible to mobile shoppers.
Women face cultural barriers to entrepreneurship and business ownership in many parts of the world. Even in the US, less than 3% of startups that receive venture capital have a female founder/CEO. Our technology is built to overcoming this challenge, by creating a direct channel between women entrepreneurs and consumers.  
Other Ways You Can Help
If you cannot contribute, you can still help! We request all of your support to promote the campaign on all of your social media platforms on a regular basis. It's very important to create as much awareness as possible for the campaign as it will benefit us all. Use your power to directly empower liftUPlift to have an impact in the world.
Share the link to our campaign, tag your friends, and encourage them to share the post with their networks. Get people talking about and shopping from liftUPlift.com. 
Like liftUPlift on Facebook, and invite your friends to like liftUPlift. Simply go to the liftUPlift page and below the profile picture on the left, there is an "invite your friends" button.
Use Indiegogo share tools! This platform makes it fast and easy for you to get the word out about what we are doing. Talk about liftUPlift. We know we can only liftUPlift, together. 
And that's all there is to it.