iCrowdNewswire - Sep 21, 2015
Help Flying-foxes at Shoalhaven Bat Clinic
About Shoalhaven Bat Clinic
A purpose-built facility for both Australian Megabats and Microbats located in the Shoalhaven, New South Wales, Australia which is operated by volunteers.
Our aim is to rescue and rehabilitate these amazing animals, provide training to carers and educate members of the public. All our carers are vaccinated and specially trained in rescue and rehabilitation.
The facility has a purposely built bat clinic which houses a kitchen and coolroom and can accommodate up to several hundred bats. We have a 60′ flight aviary and 3 hospital aviaries. These aviaries also have heating. The Clinic has an off site release cage in the local vicinity.The Shoalhaven Bat Clinic operates under Wildlife Rescue South Coast's license, issued by NPWS.
As a result of unseasonably high temperatures in November 2014, many thousands of Black Flying-foxes perished from heat stress in northern NSW and over 200 babies were orphaned. The call went out to carers across the state to provide human foster Mums and Dads for these precious babies. Thankfully many specially trained and vaccinated carers responded and took these orphans into care. These carers faced a couple of months of dedicated effort with many feeds per day (much like a human baby) until the baby flying fox has been weaned and can be transferred into a creche facility. Our clinic provides a unique flying fox creche facility which is always very busy at this time of year with orphaned Grey-headed Flying-foxes. We also took in 40 of the Casino orphans.
Creche is the time when our babies are reunited with others of their species, and learn to behave like flying-foxes, eat lots of fruit, get lots of practice at flying and are allowed to grow and thrive until they are strong and independent enough to be able to be released into an appropriate colony.
We need your help
Our aviaries need to have the suitable netting replaced as well as having a suitable thick vinyl floor covering laid over the concrete floor to act as a cushion.
Baby season is fast approaching and that means that the colony will be returning in or around October. In the unfortunate event of yet another heat stress event, our facility may need to house many hundreds of rescued flying-foxes.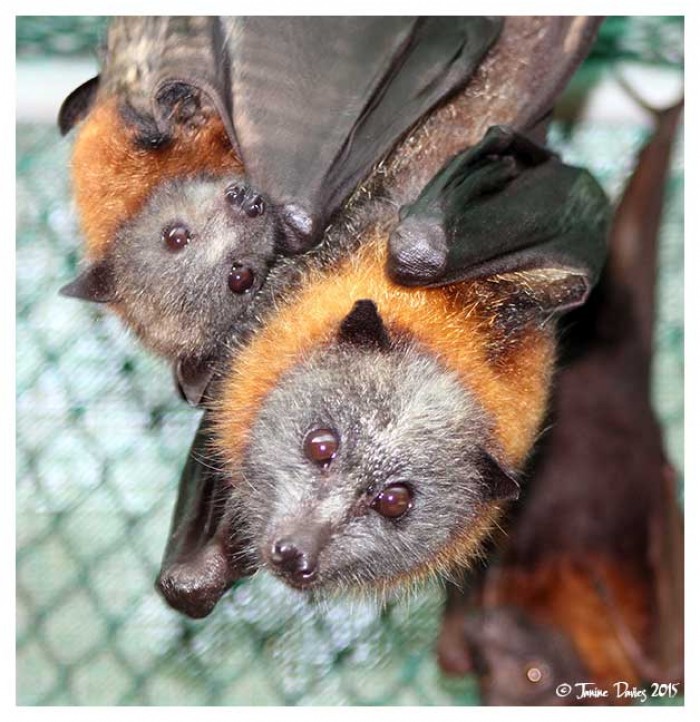 We hate to ask, but if you could donate the equivalent of the cost of a cup of coffee we and the flying-fox will be forever grateful.