iCrowdNewswire - Sep 21, 2015
Chameleon Electric Bicycle with Smart Solar Case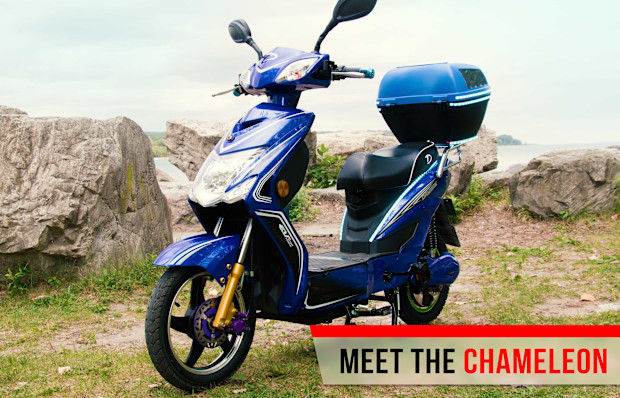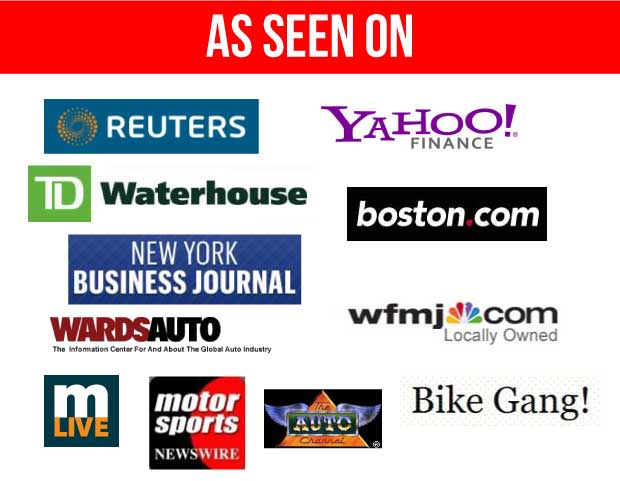 The Chameleon scooter by Daymak is the SMARTEST, safest electric bicycle that is adaptable to everyone's unique needs. 
Ebikes can be ridden on the roads without insurance or a license if they feature a 500W motor (in some states 750W) and they have pedals. Most ebikes and scooters that fit into this category are either too weak, have very few features, or are extremely expensive.
That's what makes Chameleon the best ebike on the market. We've succeeded in building a fully loaded scooter with great features at an affordable price, all while reducing CO2 emissions!
After over 13 years of selling ebikes we've come up with features that will satisfy everyone's safety, speed, range, torque, and customization needs.
We achieved these goals through:
+Bluetooth controller 
+84V battery pack 
+Smart Solar  case with integrated +RGB LED lights
Let's look at these features in detail.
It is possible for the Chameleon to reach speeds of  60km/h  (37 mph.) It is the responsibility of the rider to set the speed  based on local laws.
BLUETOOTH CONTROLLER
The Daymak Drive Bluetooth controller with My Ebike App: Our software can run on iPHONE or Android OS. Let's face – it we're not all the same. We ride in different places, and everyone is not the same weight. Our controller lets the user define what they need to accommodate variations in height, weight, and road incline. The rider can adjust torque (for climbing steep inclines), speed, and select eco mode (for longer range). Riders can also  lock the motor (for anti-theft control),  and we are working on a few more functions that we are now finalizing during this campaign.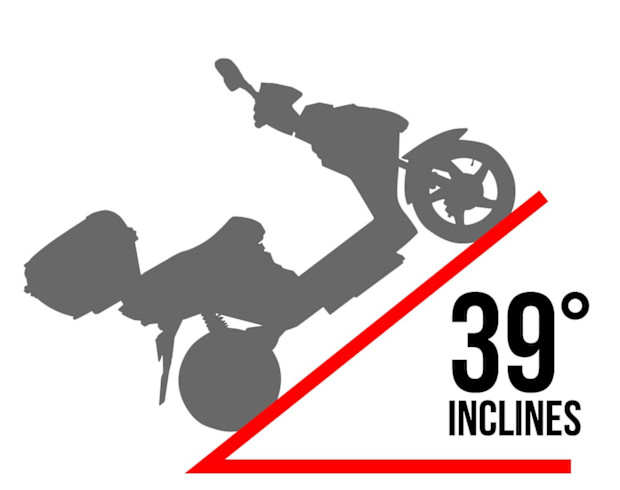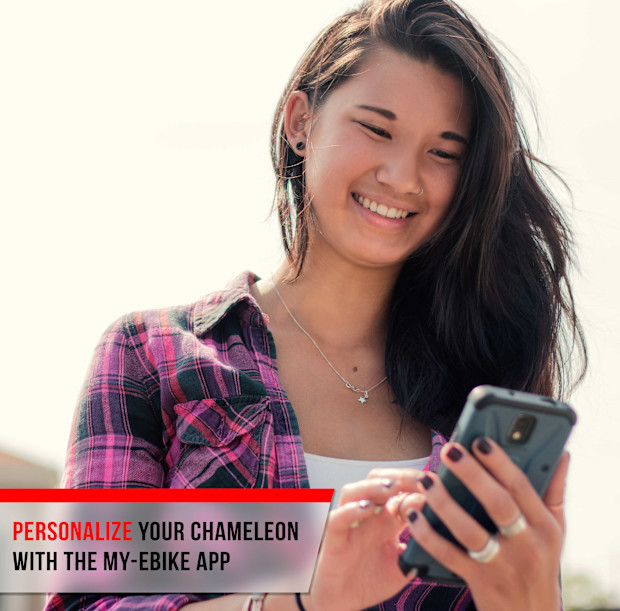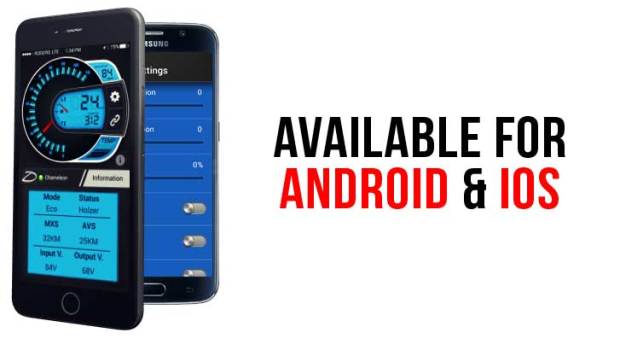 84V BATTERY PACK
The average battery pack for an electric bicycle is 48V. Some have 60V, and a few have 72V. But we've put in an 84V battery pack. Why? To give you the possibility to increase torque and speed when necessary, and to give you longer range when the controller is set to ECO mode.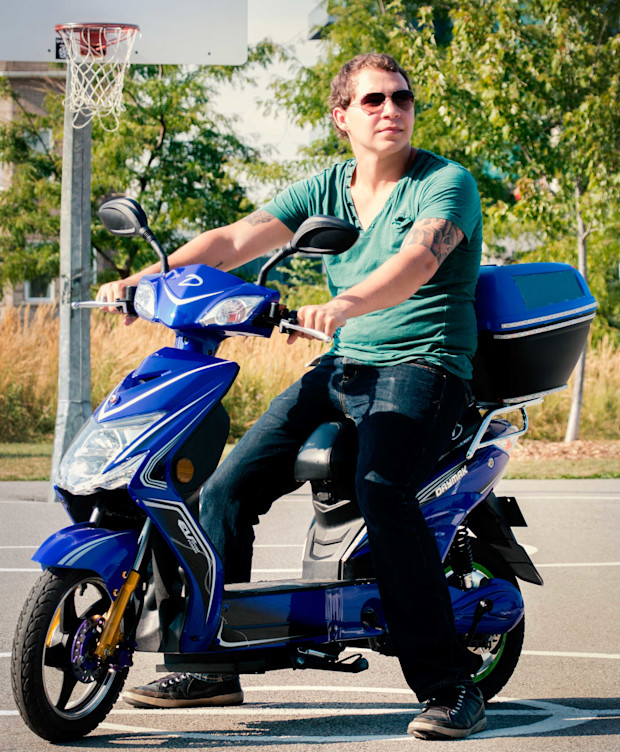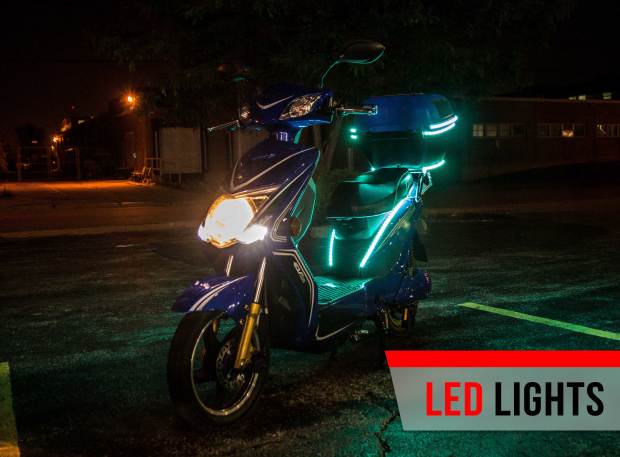 RGB LED LIGHTS
The additional RGB LED light strips running from the case down the side can be modified by remote to any color the rider chooses. This creates a much more visible ebike from any angle. The enhanced visibility gives additional safety and adds unique style to the Chameleon.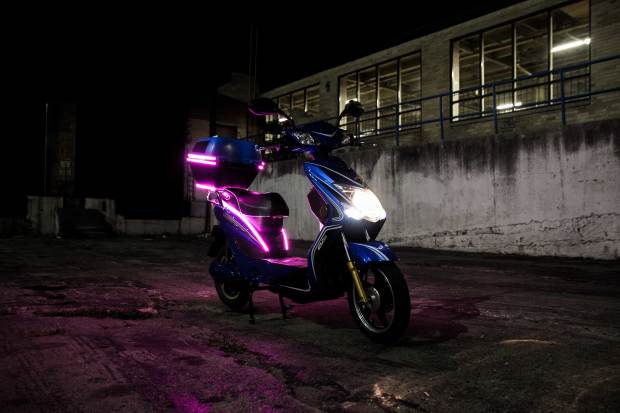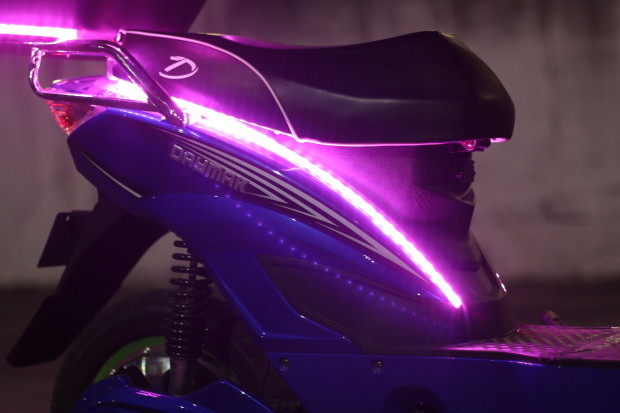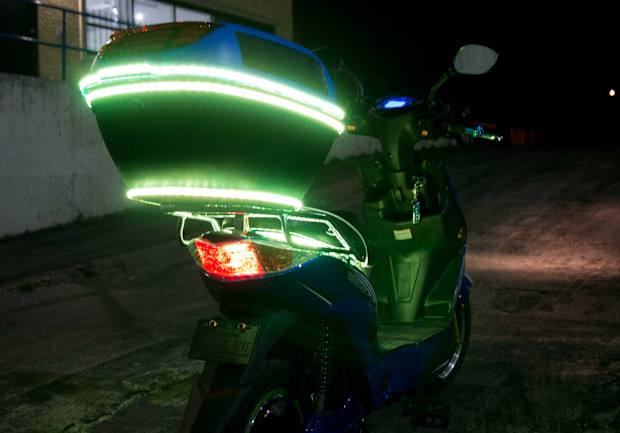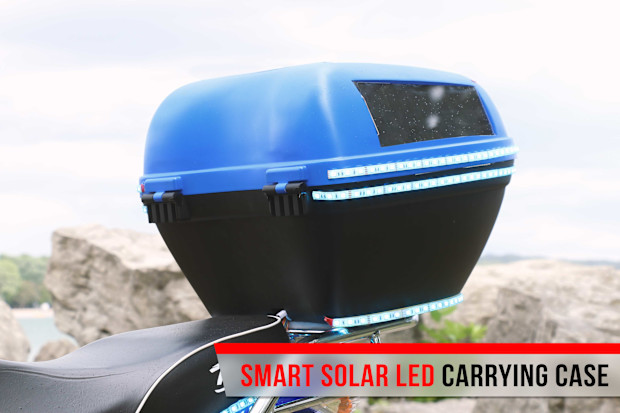 SMART SOLAR CASE WITH INTEGRATED RGD LED LIGHTS
The Daymak Solar Case features 3 integrated solar panels that continuously trickle charge the battery. Trickle charging the battery extends the range of the bike by 6-9 km per day. Trickle charging also negates the possibility of a dead battery, which is the number one failure in ebikes, and the most expensive part to replace. The solar case also provides storage space for groceries, books, your lunch or whatever you desire. The case is also an added safety feature: The LED lights are integrated with the brake lights and signal lights, providing a clearer picture for the drivers behind you. (One of our stretch goals is to add sensors for the brake lights to turn on automatically when the ebike slows down, and turn on the lights automatically when it gets darker.)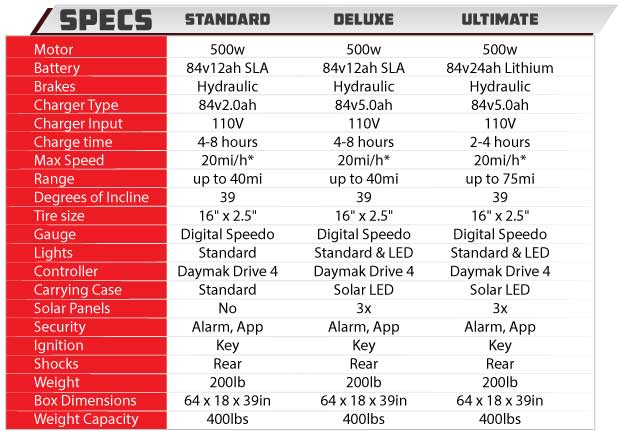 The Chameleon is loaded with features including front and dual hydraulic disc brakes, front and rear lights, signals, key ignition, alarm system, digital speedometer, odometer, double kick stand, charger, foot rest board, front and rear shocks, and upgraded grips!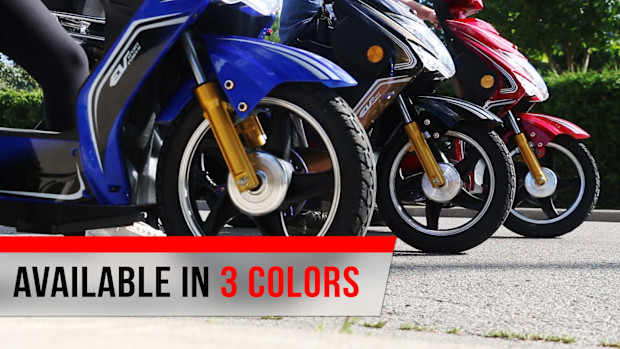 Each Chameleon is going be assembled in North America. All individual components including batteries, chargers, controllers and motor will be tested in detail. After completing each assembly, the ebike will be ridden to make sure it's perfect. We want to create the best scooter possible with the highest quality.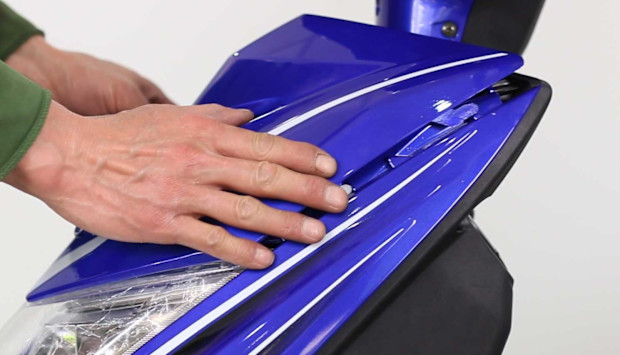 Refer as many friends as you can and when their contributions total the amounts shown below, you'll be rewarded!  With enough referrals you can even earn a FREE Wave Electric Bike! It's easy. Just spread the link and earn points!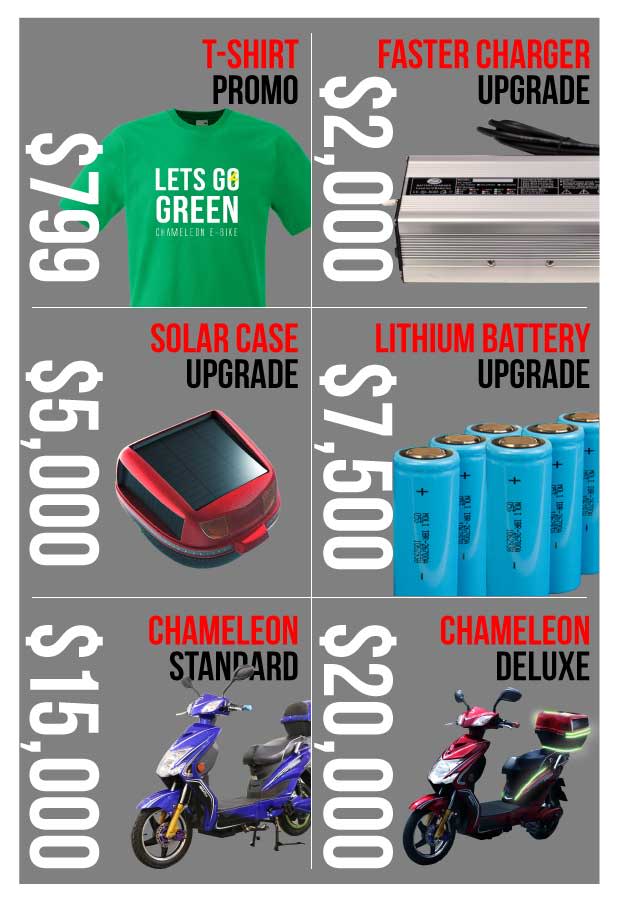 How Does it Work?
1. Log into your Indiegogo account or click here to signup for an Indiegogo account if you have not yet already created an account. 
2. Navigate to the Chameleon campaign page and click the "link" icon 
on the left side of the campaign. Paste this link into an email to send to all your friends. Or click the Facebook, Twitter, or Google Plus icons to share your unique link on your social media accounts. 
3. View your total referral contribution amount by logging into your profile in the upper right and then click "Referrals".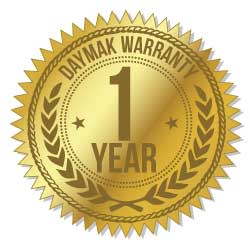 Each Chameleon will be build and tested in North America before shipping to meet the best quality possible. The Chameleon Ebike come with 1 year parts warranty on the motor and frame. 6 months on every other component. Everything is covered except regular wear and tear on tires and brakes an fairing scratches. All parts are available from our website and most bicycle parts are available at specialized bike shops.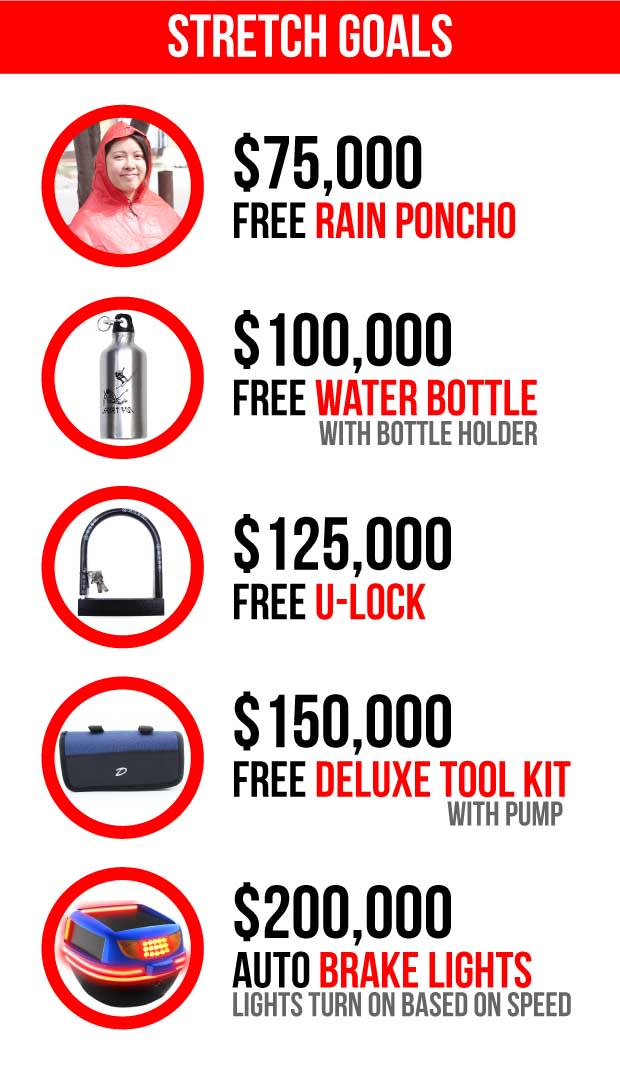 With your support, the Daymak Chameleon will become the best ebike ever. When this ebike is completed, it will retail for $2000+. For supporting us in our early efforts we are offering this ebike at a nominal price, just above cost. Each Chameleon will be built in North America and will be tested rigoursly before being shipped. You will not be disappointed! This scooter is the best I have ridden, and one of the greenest ebikes on the market, all  at an incridble price.  
Thank you in advance for supporting us.
Let's go Green!
Funding
Your support will be used to:
Complete the software development of the application
Complete the molds for the Solar LED CASE
Add additional software features to the app
Improve every detail possible
Each Ebike on the road reduces CO2
On average, a car produces about 170g CO2 per kilometer. If your car travels 2000 kilometers per month, it produces about 340 kilograms CO2 –or 4080 KG of dioxide! The average ebike if you factor the cost of electricity coming from non clean sources would equal at most  3.4 g CO2 per kilometer.  90% of ebike riders do approximately 10 km / day. If the Chameleon is charged only using the solar power of the case (approx. 9 km/day). The Chameleon consumption would be 0 grams per km! Regardless if you plug in or not the Chameleon is one of the cleanest ebikes in the market. Every time you ride it instead of public transportation or a car you are doing good for the environment !!You are doing your part!  GO GREEN!
Risks & Challenges
Successful Indiegogo campaigns sometimes have encountered problems when taking their prototype products into production. This includes finding reliable suppliers and meeting quality control standards necessary for engineering products for mass-production. Daymak has several years of experience in dealing with parts suppliers worldwide.  The Chameleon is going to be built in North America. All  suppliers have been inspected by Daymak and we've done our due diligence to ensure that the suppliers can build to Daymak's specifications. Our plans are in place, and a successfully funded project will provide the resources needed to complete and deliver the best Chameleon possible to you.
Other Ways You Can Help
We think we made this ebike extremely affordable. Still expensive? Help us spread the word through Indiegogo and you can earn a free ebike with the referral program. All you have to do is spread the word! Let's go Green!