iCrowdNewswire - Sep 9, 2015
You Pick Pub – Indy – cool concept bar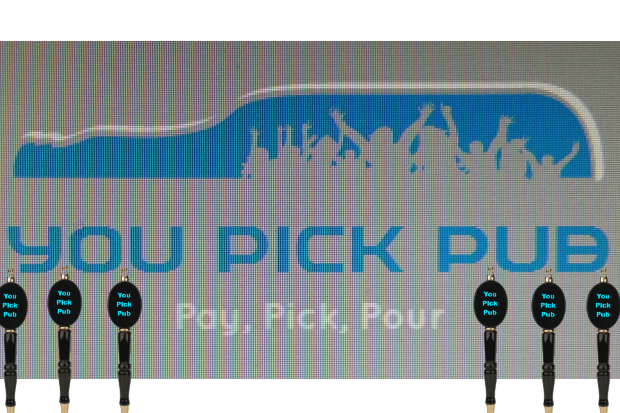 Support the new concept – You Pick Pub
I've been looking to diversify my business interests by opening a bar, and I think I've come up with the perfect idea.  I already have the 3 way liquor license for Marion County in Indiana secured, and have a location available which is convenient to Indianapolis's west side, Avon, and Brownsburg areas.  You Pick Pub is a tie in with the concept, as well as the common problem of "Where do you want to go…?"  I don't know, You Pick!".   
Looking to fund the build out of this awesome idea.  I've spoken with many local pub crawlers who enjoy their beer, and a few friends of mine already in the industry, and every one of them has said they love this idea.  (While I'm not currently in the bar/service industry, I have 5 years restaurant experience and worked for 4 years as the entertainment in various bars around Central Indiana, and have several people currently in the bar/pub industry helping me out.)
I've heard of places like this… but never in the Midwest and certainly not in Indiana.  
You walk into You Pick Pub, and prepay an amount to your server which is loaded onto an RFID card.
You proceed to the "Wall of Beer", offering 15 to 20 changing draft options. 
Tap your RFID Card on the reader, and pour your perfect beer.
Since the system charges by the ounce, you can try a little of each, or get a full glass of your favorite!
The system limits each Beer Connoisseur for safety, just see your server to get a reset 
We can also put various wines on tap for those who don't care for beer!
We would also be offering a full bar, with specialty drinks and some unique shots.  The food menu would initially consist of custom made pizza, various BBQ options, and "build your own nachos".  The food menu is designed to grow and change over time as customers give us input.
We are working on a video to post for the campaign, so that's coming soon.
What We Need & What You Get
Build out of the "Beer Wall" is expected to cost nearly $25,000 USD.  We are seeking $30,000 USD minimum to help cover any unexpected expenses.  I will be putting my own time and money into the build as well to complete the rest of the bar.  I'm simply looking for support in order to do the "Beer Wall" which was not part of my initial business plan, but is way too awesome an idea not to try for.  Should we exceed the expected goal, it will only make this place that much more awesome.
$30,000 USD in funding requested for Beer Wall Build
Donor's who donates $100 or more will receive a specially designed "You Pick Pub" Supporter T-Shirt, and a credit good towards your first visit.  
Anyone donating $1000 or more will receive a "You Pick Pub" Founder polo shirt, a credit good towards your first visit, and will be immortalized on a permanent plaque prominently placed in You Pick Pub above the Beer Wall for all to see!
Anyone donating $2500 or more will have a tap on the beer wall named for them, as well as receive the Polo Shirt and a credit good on their first visit.
If we do not reach our goal, All funds will still go toward the intended purpose, I will simply have to seek the remaining funds elsewhere.
The Impact
Donating to this campaign will allow me to open up a fun place for people to gather friends together and enjoy each others company.
This project will bring value to the local community.
I've been an entrepreneur for over 10 years and have seen success in my other buisnesses, and with the large amount of research I've put into this, I am very confident in it's potential.
For questions or concerns I'll be happy to communicate with you directly.
Risks & Challenges
Overall risk is minimal, as I'm essentially taking an existing bar, moving it to a better location down the street, and revamping it with the new concept.  
Estimated 60 to 90 day total build out including custom building and install of equipment.
Most of the details are already sorted and planned, and any other challenges that come up will be addressed quickly and efficiently.
Other Ways You Can Help
We understand if you cannot contribute financially.  Here are a few other ways you can help!
Get involved, spread the message, let others know about this fundraising campaign.
If you have any special skills that you feel might help us to complete the project quicker or more efficiently, or if you have any other input please feel free to contact me.
Thank you very much for your time and your consideration in donating to this campaign.  We're looking forward to watching you make your first perfect pour.