iCrowdNewswire - Sep 9, 2015
Omnipole – A GoPro and Smartphone Extension Pole
WHAT IS OMNIPOLE AND WHY WE DESIGN IT
There are several unique pole-mounted GoPro accessories on the market today, but none quite like this. Admittedly they serve their purposes fairly well, but if you want the versatility and features of Omnipole, you may spend $300 or more to buy several items needed to get the same results. This is why we designed Omnipole, the most versatile pole-mount system to hit the market for GoPro cameras. This single item meets all the needs for today's GoPro Photographers and Videographers. We put tremendous effort into every detail of Omnipole, and selected top-notch materials for exceptional toughness and durability. Omnipole is designed to be used as both an extension pole for sports and other activities, as well a tripod for steady shots. With optional accessories, you can mount two cameras on one Omnipole to record first person POV footage and selfie simultaneously. You can also mount your smartphone on it as the GoPro live preview window, GoPro remote and even an action camera! With Omnipole, the possibilities are endless.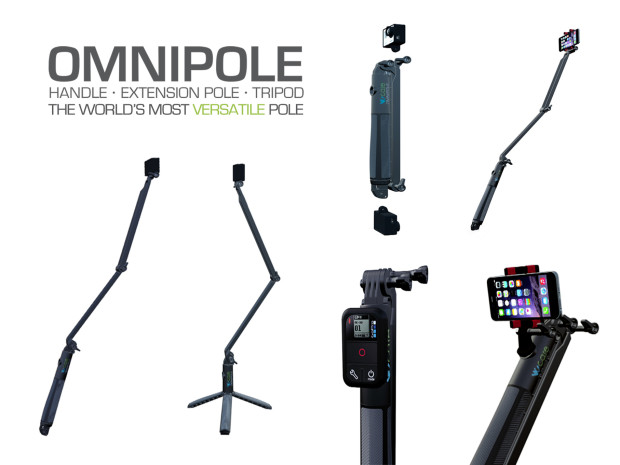 TOUGH, DURABLE AND RELIABLE
Omnipole is made of top-notch industrial material that will survive extreme conditions (-40°C to 100°C) and weather. We have done countless tests on the durability of the materials we chose to guarantee that it is tough enough for the desert, the snow, or the ocean. We put tremendous effort into every detail of Omnipole: High torque screw, mechanical locking teeth gear in every joint for steady recording and safety lock to protect your hand in the case of loosen screw.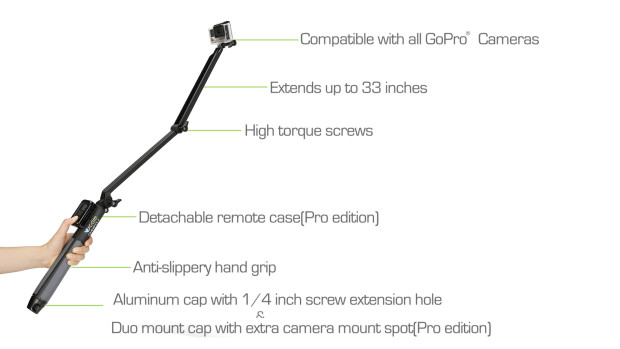 FULLY ADJUSTABLE AND EASY SWITCH BETWEEN EXTENSION POLE AND TRIPOD
Omnipole consists of one handle and two foldable extension arms. It is flexible, can be customized and adjusted according to your needs: Handle only/Handle+1 Arm/Handle+2 Arms. Omnipole provides possibilities for all types of activities. As an extension pole, it can be assembled to lengths ranging 12 to 33 inches. Omnipole can be conveniently transformed into a sturdy tripod with different height profiles for steady shots or time-lapse video.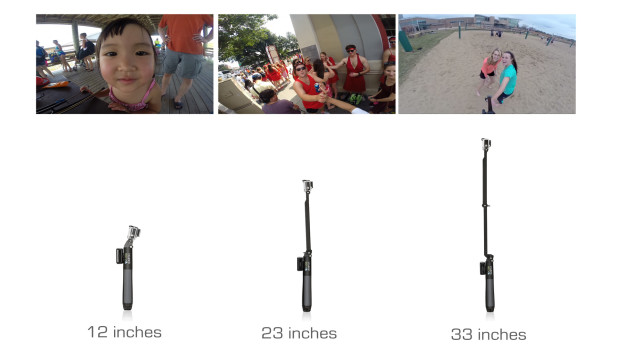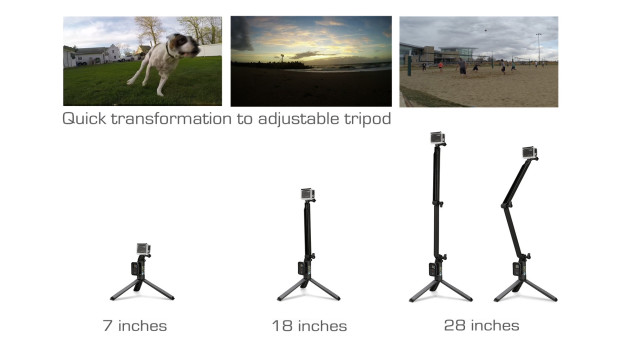 DETACHABLE GOPRO REMOTE CASE AND SMARTPHONE ADAPTOR SYSTEM
With optional accessories available in Pro Edition and Smartphone Edition, the possibilities of Omnipole go even further. The detachable case for GoPro Smart Remote allows you to quickly access your GoPro remote. The smartphone mount and adapter allow you to: 1. mount your smartphone as a GoPro preview window/remote as well as using the GoPro App. 2. mount your smartphone to the top spot and use it as an action sport/selfie camera.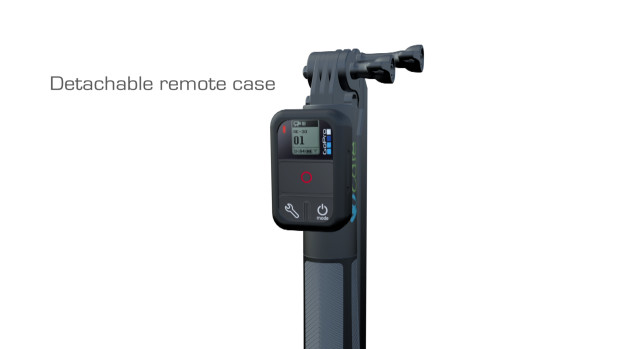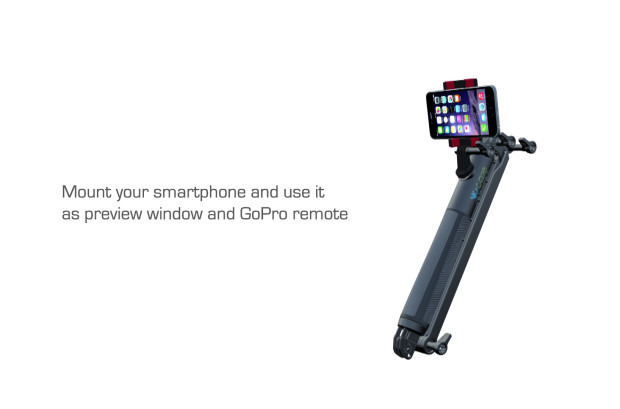 DUAL MOUNT CAP- MOUNT TWO CAMERAS ON ONE POLE AND CAPTURE POV FOOTAGE AND SELFIE SIMULTANEOUSLY
In the Pro Edition and Smartphone Edition, the Duo Mount Cap provides an additional mounting spot for a second camera. With Duo Mount Cap, you can easily record first person view POV footage and selfie simultaneously.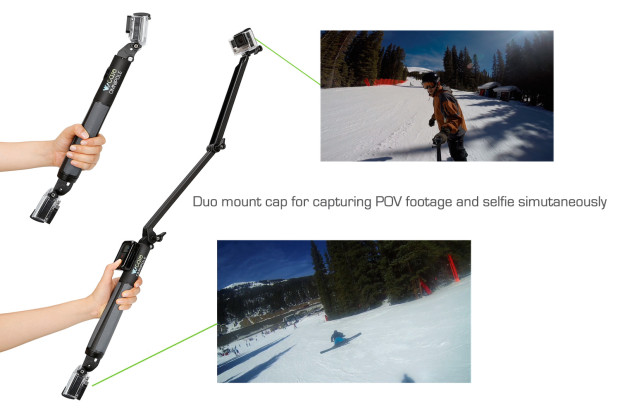 ITEMS INCLUDED IN DIFFERENT EDITION 
There are three different editions of Omnipole provided: 
Standard Edition: Omnipole/3x screw set/Wrist strap/Carabiner 
Pro Edition: Omnipole/3x screw set/Wrist strap/Carabiner/Remote Case/Duo Mount Cap 
Smartphone Pro Edition: Omnipole/3x screw set/Wrist strap/Carabiner/Remote Case/Duo Mount Cap/Smartphone mount and adapter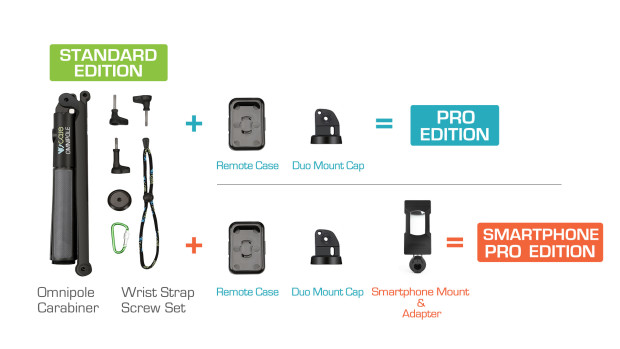 WHY CHOOSE OMNIPOLE?
We are confident to say Omnipole the most professional pole mount system on the market. It is always easier said than done, but WE DID IT!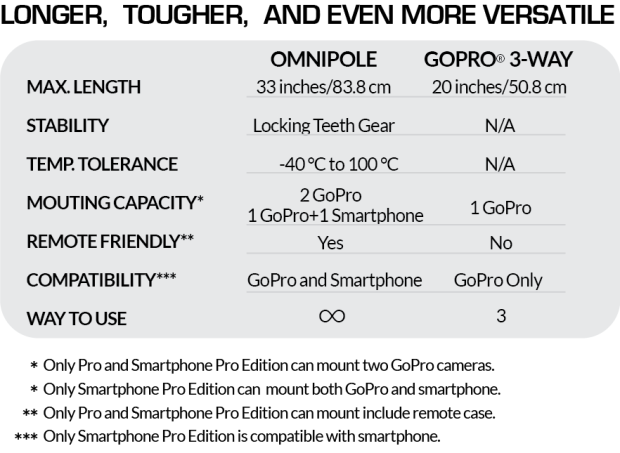 INTRODUCING THE BEST OMNIPOLE COMPANION ACCESSORY: ARMOR FRAME (NOT INCLUDED IN ANY OMNIPOLE EDITION)
The Armor Frame for GoPro® HERO4 and HERO3+ cameras. Made with top-notch industrial material, Armor Frame is the toughest frame ever made yet slim and light weight with a sleek design. Complete lens protection (lens cap included). Shock reduction. Easy access to all the ports and buttons. The lens ring is compatible with most 37mm lens adapter for advanced recording with UV filter, polarized filter, natural density filter, etc. Armor frame is the ultimate GoPro accessory with perfect balance of protection and portability.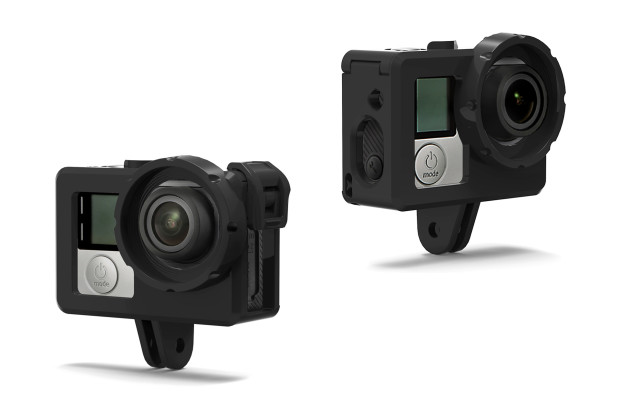 All of our Indiegogo backers and supporters on Facebook, Instagram and Youtube will be automatically eligible for the enrollment of our mega giveaway events in the following months and you could win an Omnipole and so many more!!!! Every weekday we will give away one Omnipole and two Armor Frames after the campaign finishes. Winners will be announced every other week on facebook page and contacted by us. For more detail, find us and follow us on Facebook, Instagram and Youtube!!
RISK AND CHALLENGES
We have been working on this project now for a total of 8 months. Many design changes, several prototypes, and countless hours of testing have been completed to reach our finished product. We have overcome a variety of challenges to date, but those obstacles only made for a superior item. Development of this new product was a large undertaking financially, and took our design and engineering teams to a whole new level. Now, we are ready to make this a reality and we need your help to do so. With your support and your order, we'll get manufacturing underway and will bring this incredibly versatile multi-use GoPro product to the market.
ABOUT US
WoCase is a US brand dedicated to making the highest quality accessories for GoPro Cameras and FitBit Fitness Trackers. The company, founded in 2013, began its venture with a sleek wrist mount allowing hands free filming with your GoPro. Next we moved to dive filter sets and a floating handle. These two products created a huge buzz around the quality of our products, and helped WoCase develop and become one of the leading GoPro accessories brands today. WoCase has a diversified team of innovative founders, an experienced engineering group, talented industrial designers and a young energetic following. We are now focused on making high-end accessories that will provide even more possibilities to the constantly growing GoPro Community. These products will bring photography and videography to a whole new level for its users.
We would like to thank you all for your support and look forward to growing with you in the future.