iCrowdNewswire - Sep 9, 2015
Keep Kids In School – STOP SB277
Help Us STOP the new law SB277 and keep our kids in school!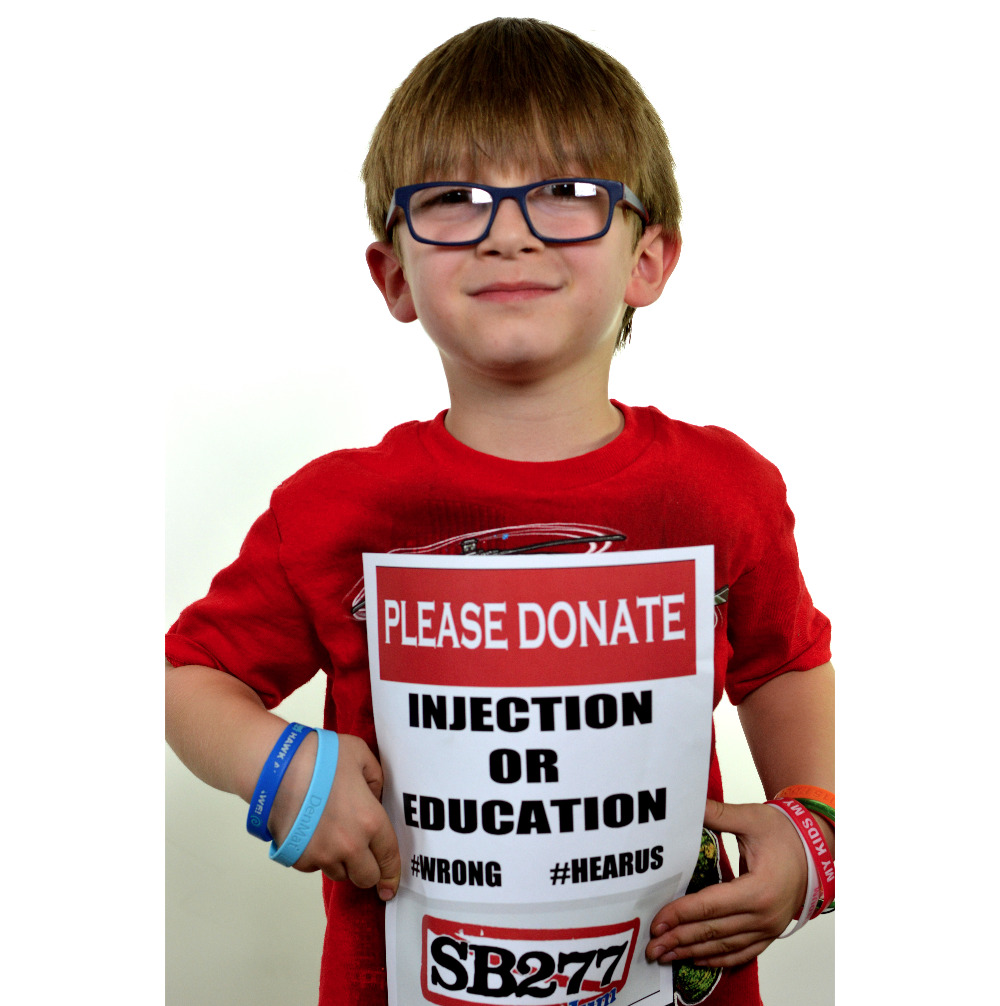 We need your donation to hire paid petitioners, to help the moms and dads in California, who have been hitting the streets for two months gathering signatures for the SB277 Referendum.
This is a grass-roots effort to protect our kids' Constitutional right to a public or private education.  And our babies' rights to daycare and preschool.
Help us put SB277 on the ballot to give CA citizens a voice and a choice.
SB277 is a new law that just passed two months ago that mandates vaccines for children to go to public and private schools as well as in daycare and charter schools.  If our kids are missing just one booster, they will be kicked out of school.
Join the SPONSOR A COLLECTOR CAMPAIGN!!  
I'm former CA State Assemblyman Tim Donnelly, the proponent of the SB 277 Referendum. (OFFICIAL SITE)
Californians are currently working to qualify the SB 277 Referendum for the November 2016 ballot.  The Committee for SB 277 Referendum (FPPC ID# 1379559) is raising money to launch paid petition-gatherers to overturn SB 277–California's "forced-vaccination" law.
By forcing parents to give their child every single vaccine & booster mandated by SB 277 in order to attend public, private, charter school and even daycare and pre-school.  This law is an assault on parent's rights and personal freedom. SB 277 strips away the religious and personal belief exemption that until now existed for California families.
Volunteeers have been on the ground from the inception of the Referendum and have had great succes in collecting signatures and building a strong network of allies.  We're in the homestretch now and need to back up our volunteers with paid signature collectors. 
As California goes, so goes the Nation…people across the country have asked to help.  We can accept donations from anywhere in the U.S., so please share far and wide.
Your donation will help to overturn SB 277 and STOP government mandates.  By successfully qualifying the SB 277 Referendum, we will ALL send a resounding message that WE THE PEOPLE will not give up our freedoms without a fight. 
Together, we can do this.   If personal freedom and medical choice areimportant to you, please help us to meet our goal!  
Our ultimate goal is $750,000 to obtain the balance of the required signatures. We need $100,000 upfront to kick off this portion of the campaign.  We are working to bring in large donations, but the power is in the hands of the people to demonstrate our commitment to making this happen. Every $2.50 donated gets us another signature closer to our goal of 450K signatures.
Every dollar donated will go to the Committee for SB 277 Referendum (FPPC ID# 1379559) and will be used to hire a professional petition company.
Help us make history by putting the question of "forced vaccinations" on the ballot for the people to decide. 
We have just under 30 days to do this, so please act now!
California is ground zero.  And it's everyone's battle to fight! 
Contribute and SHARE to preserve your rights!