iCrowdNewswire - Sep 4, 2015
The Wheelster – A Steering Wheel For Your Bicycle
Introduction And Background
My name is Jay Dougherty and I'm from Redondo Beach, California. I don't have a fancy engineering degree from college, I m an entrepreneur and inventor with a background in machining .  'Built not bought' is one of my favorite sayings.  A few years ago I discovered my passion and maybe my calling, bicycles, in particular beach cruisers, riding and customizing them. I try to make my bikes different from everyone else's and with the product I m going to introduce to you,  mission accomplished. The feeling I get when someone approaches me and says, "that's a nice bike" or " I've never seen that before" and they ask to take pictures is priceless, (until now)! Soon you can experience this feeling too, it's real.
A Brief History
Now this isn't a new concept, the steering wheel bike made its first appearance in the 1960s and faded out by the 1970s. But good news, as a new generation of bike enthusiasts emerges unaware of the strange and cool innovations of the past so too emerges the rebirth of the steering wheel bike, I call THE WHEELSTER.
The Wheelster, What Is It……
Finally something other than handlebars to steer your bike with. Very simply, The Wheelster is a cool and fun steering component that allows a steering wheel to be mounted to a bicycle eliminating the need for those boring old handlebars. It's safe and easy to use, it also gives your bike a unique look and allows for more maneuverability when riding in tight situations. A real car steering wheel gets mounted securely to the Wheelster stem disk which is then inserted into the bike fork steering tube. Currently The Wheelster is designed to work on single speed, coaster brake bike with threaded forks. (No hand brakes and or gear shifters, but I am already working on design concept to accommodate them).
THE WHEELSTER IS NOT RECOMMENDED FOR OFF ROAD USAGE! It's meant for cruising so you can look cool and be seen.
 The most common sizes of  handlebar stems measure 21.1mm, 22.2mm and 25.4mm in diameter. If you are not sure what size you need look at your old stem quill towards the bottom and the size should be stamped on there.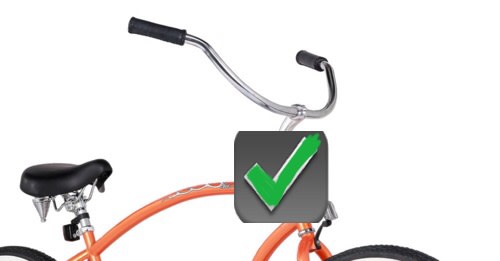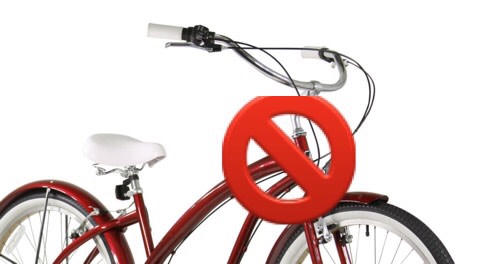 I'm working on a version for hand brakes and gear shifters.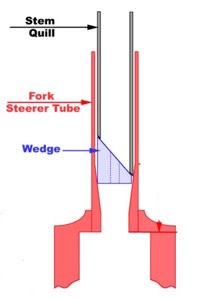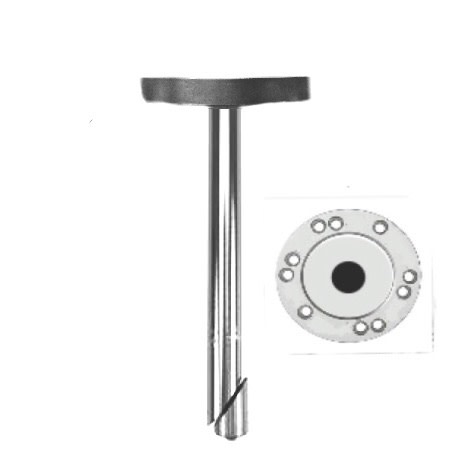 Specifications…..
Made from high grade steel and welded for added strength
Approximately 9 in. In length without steering wheel attached, 11 in. with
Steering wheel measures 14 in. In diameter with a 2 in. depth
Weighs about 5 lbs. total
Available in the 3 most common sizes of stem/quills to fit different types of bicycles 21.1mm 22.2mm and 25.4mm.
Security screws provided for theft prevention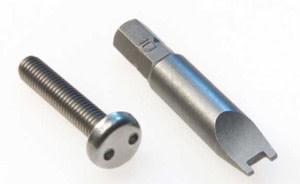 ▫️▫️Proudly Made in the U.S.A.
▫️▫️ Patent Pending Design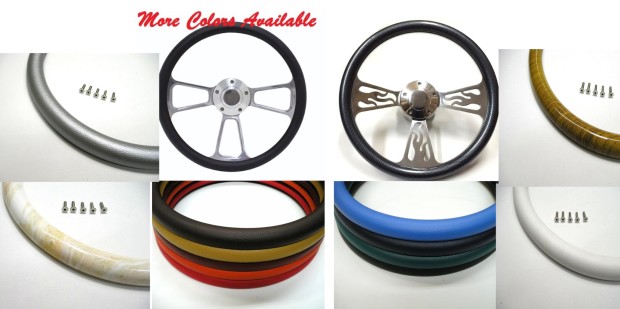 Available in these materials and colors:
Vinyl; black matte, glossy black, sky blue, navy blue, teal, brown, tan, burgundy, orange, red, cream, ivory glossy, silver glossy, white.
Marble plastic, wood grain plastic, real wood pine unstained 
What Your Contribution Means….
Your contribution means that I can confidently manufacture and bring to market a SAFE, reliable and fun enhancement to the bicycling experience. With enough funds raised I plan to purchase machines that will allow me to manufacture the parts needed for The Wheelster myself, which will keep costs way down, making it more affordable for everyone. I also plan on getting CPSC and CE certified. It also means that I get my chance to live the American Dream, striking out on my own and working for myself doing something I love while making others happy.
Risks And Challenges….. Without risk there is no reward.
The risks and challenges I face are pretty significant, I basically quit my  job to pursue this endeavor full time and I am all in. Another challenge I face is mainly due to the fact that I am a one man operation. Although I am actively interviewing potential partners who share my passion and dedication to ensuring this campaign and eventual product launch will be successful. I know this product has value based upon the positive feedback I receive every time people see one of my Wheelster bikes, not to mention that this product ISN'T being offered anywhere else.