iCrowdNewswire - Sep 3, 2015
WEMOVO
Until 2012, a controversial act from the 1930s caused the German coach travel market to be highly regulated. New long-distance coach lines received a license only if they were able to prove that their service would improve public transportation.
In 2013, the German coach travel market was finally liberalized. As a result, it is now possible that new long-distance coach lines are created anywhere in Germany and that these lines compete with one another and with railroad companies.
Immediately after liberalization, the then nonexistent long-distance coach market was suddenly booming. Between 2012 and 2013, the number of German coach travelers increased from 3.0 million to as many as 8.2 million, which corresponds to a 180 % increase. According to press release by fernbusse.de, this number increased even further to almost 20 million coach travelers in 2014.
Because of this increase in travelers and growing demand for long-distance coach connections, the European coach travel market is undergoing dramatic change and is on the verge of a technological revolution.
WEMOVO is positioning itself within this new market and is connecting travel agencies (i.e., travel brokers) with coach operators throughout Europe through its own ticket booking software. Thus far, we have connected more than 140 coach operators to our software solution, so our sales partners (stationary travel agencies and digital booking platforms) may already offer over 200,000 travel connections within Europe. In this way, WEMOVO has already generated first revenues.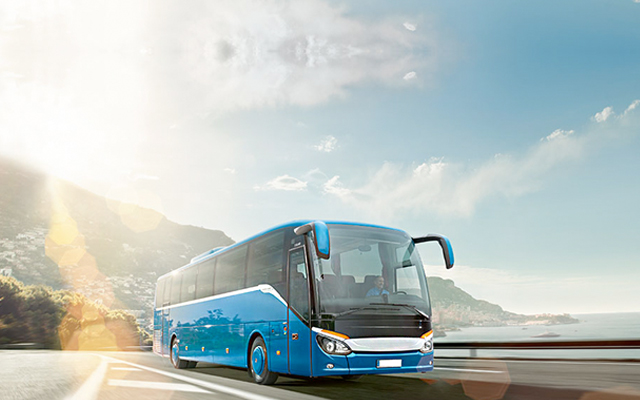 A ticket booking system for coach travel, our business model rests on two pillars: revenue from our IT solution for coach operators and revenue from our distribution solution for travel agents.
a) IT Solution for Coach Operators
We are offering coach operators our IT solution as a two-year contract. In doing so, we generate revenue through a connection fee (set-up fee), an annual service fee, and a commission on every ticket sold (in the case of the GOLD and PLATINUM packages).
We have calculated revenues from our four different packages (BRONZE, SILVER, GOLD, and PLATINUM) based on the figures below. We provide coach operators with our BRONZE package for test purposes (for one month), and we use this package for coach operators that have minimum technological requirements, yet use our technology to digitize their own inventory data, which WEMOVO then makes available to travel brokers.
| | | | |
| --- | --- | --- | --- |
| Package | One-Time Set-Up Fee | Annual Service Fee | Transaction Fee (per Booking) |
| BRONZE | none | none | 0 % |
| SILVER | 4,000 | 2,500 | 0 % |
| GOLD | 8,000 | 4,000 | 3 – 5 % |
| PLATINUM | 12,000 | 6,000 | 3 – 5 % |
(All prices in euros)
Through the transaction fee, WEMOVO will profit from every ticket sold. WEMOVO will receive this transaction fee for setting up an online booking website for customers of the GOLD & PLATINUM packages. Coach operators that have not had their own website before receive their own, standardized online ticket store based on their individual brand identity from WEMOVO.
b) Distribution Solution for Travel Brokers
We offer our distribution solution to travel brokers. Our solution provides these travel agents with both free access to important data of all connected coach operators (e.g., seats available, ticket prices, and travel itineraries) and a way of making ticket bookings through the software that will immediately be forwarded and displayed to the respective coach operator (i.e., inventory). WEMOVO receives a commission on every ticket sold, that is, a certain percentage of the price.
Above all, our products benefit our customers, that is, coach operators and travel brokers.
a) IT Solution for Coach Operators
We sell coach operators our IT solution. Through this solution, coach operators may reach more customers than before, thus increasing their revenues significantly.
Coach operators may choose between four different packages (Bronze, Silver, Gold, and Platinum). In the above table, we have listed only our fee-based packages. We have developed the structure of our four packages based on many discussions with customers and interviews. Consequently, at WEMOVO, we have created an ideal service that suits the needs of all coach operators throughout Europe.
As many as three major coach operators, including Swiss market leader EUROLINES Switzerland, have already booked our GOLD package. EUROLINES Switzerland is so convinced of our product that it has signed a 5-year contract instead of a 2-year contract with us. Thanks to this customer, WEMOVO has gained considerable experience concerning technological integration, which we are now using to improve processes for existing and future customers.
EUROLINES Switzerland (Example):
We convinced EUROLINES Switzerland to switch from its previous solution, which had been supplied by a competitor, to the WEMOVO IT solution. EUROLINES Switzerland decided to book our GOLD package.
The company now has the advantage of increased transparency due to cross-platform administration and separate management of travel brokers. Moreover, EUROLINES Switzerland is using WEMOVO as a distribution partner. Thus, the company has increased its reach once again, which in turn leads to higher revenue potential. In fact, the distribution solution and optimized sales activities alone have helped EUROLINES Switzerland increase its revenue from digital sales by approximately 15-20 %.Through the provision of and continuous improvement in terms of usability and features of our web shop tool (which is part of the GOLD and PLATINUM packages), each individual coach operator benefits from our experience gained managing all of our customers, which leads to constant optimization.
b) Distribution Solution for Travel Brokers
We sell travel brokers our distribution solution. Thanks to WEMOVO, travel brokers may offer a much larger product range, which leads to higher ticket sales.
WEMOVO provides travel brokers with access to all coach operators so that these travel brokers may offer their customers more options and a multitude of connected coach operators. Centralized management of coach operators reduces costs and has the advantage that connections with several systems, employee training, and acquisition and infrastructure management are no longer necessary.
Automatic information management benefits coach operators and travel brokers that are part of WEMOVO alike. The workload caused by external management and invoicing is reduced, which results in cost and time savings.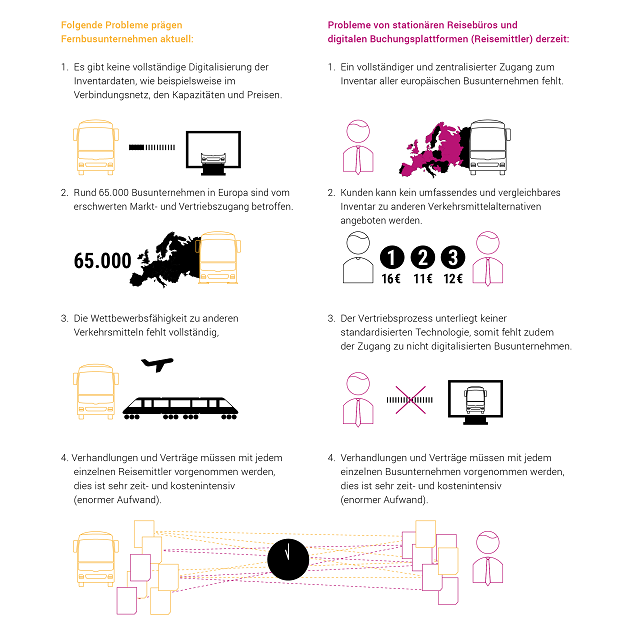 Unlike other systems available on the market, we rely on our own comprehensive IT solution. This solution is based on the numerous needs of coach operators and suits these needs (depending on the package chosen).
Our IT product is unique within the coach industry, which has led to both a very competitive price of our SaaS solution and to process-oriented and customer-oriented performance. Our customers clearly receive an added value if they use the distribution solution. This solution provides coach operators with access to numerous digital and stationary sales partners, so the WEMOVO approach is changing the coach travel industry dramatically.
We use a network of currently more than 200,000 connections to keep expanding our sales activities and to offer a future-oriented product that both combines innovative technology and customer-focused solutions and has a unique selling proposition suitable for strong competition.
We have put much emphasis on easy and self-explanatory usage of our cloud-based IT and have ensured intuitive handling and a neat structure. At WEMOVO, customers get an SaaS solution that need not be installed or maintained and does not carry the risk of a downtime of the company's own server (because it is cloud-based).
Roughly 140 connected coach operators are already using our distribution solution. This inventory is sold by the connected digital travel brokers, for instance by leading German bus search engines Busliniensuche.de, CheckMyBus.de, and Idealo. Within the next weeks, we will add roughly 3,000 stationary travel brokers to the digital brokers.
EUROLINES Switzerland is just one of the customers who have chosen our IT product. There are other customers who have also signed a 5-year contract for the Gold package and are convinced of our service's advantages. These customers include Barileva Turist and Mimoza, which are generating revenues in the single-digit million range primarily through cross-border coach transportation in the Balkans and Western Europe.
We acquire new customers and business partners primarily through our well-established network. In the future, we will acquire additional customers through our own sales force.