iCrowdNewswire - Aug 25, 2015
Mixing Art and Science
Who Am I?
Hi Everyone, my Jason Lord and I work in the film & TV industry out here in Los Angeles as a lighting professional. This year I'm stepping into the world of producing an independent documentary with my first project called SOFIA: Mixing Art and Science.
What's this about?
Earlier this year my sister Stacy Lord was selected to participate in the 2015 NASA SOFIA mission as an Airborn Astronomy Ambassador which is part of an education outreach program to bring astronomy science to schools throughout the country.  SOFIA stands forStratospheric Observatory For Infrared Astronomy and is housed aboard a converted 747 aircraft carrying a 2.5 meter diameter telescope that is dedicated to astronomical research at altitudes of 45,000 feet. This gets the infrared instruments up high enough above enough atmospheric distortion in order to survey the earth and sky in the infared spectrum.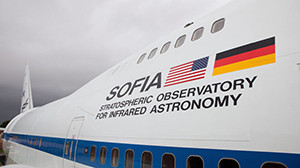 Who is Stacy?
Stacy is a visual arts teacher at Worcester East Middle School in Massachusetts and works with kids that are from lower income areas of the city. Over the years she has received awards and recognition for her work with the community, creating summer art programs and also creating one of largest art fairs in Massachusetts (Start On The Street) which attracts around 20,000 people to the streets of Worcester each fall.
Why are you doing this?
First reason: She's my sister!  What better way to honor the work she does, right? I also get to apply my skills to document the whole experience.
What's your plan?
My plan is to shadow Stacy on her misson flights and create a 30 minute educational video that tells the story of how a creative arts teacher stepped into the world of astronomy science for the first time and will now bring that back to the classroom and implement that into a visual arts curriculum for young students.
When?
NASA accepted my proposal to film Stacy during the SOFIA flights which happen at the end of August 2015.  She will be flying along with other education ambassadors from around country to meet, observe and learn from many different science teams who will be conducting their research during (2) separate night flights over the northern American continent. These teams travel in from around the world and have to go through a rigorous application process to have time allotted on the SOFIA aircraft for their research projects.
Money…
Taking on a documentary project like this incurs a lot of costs. I have buy some equipment like harddrives, a field mic along with all the incidentals that go along with any video project.
As it stands right now I'm looking at $5000 to bring the project to editing with a finish date of April 2016. That's not a lot of time to do a project like this but I think I can get a 30 minute cut finished by then.
So I hope you can contribute to my project and you'll be paying it forward to the students at the Worcester East Middle School.
Thanks for supporting my project!
– Jason Lord