iCrowdNewswire - Aug 24, 2015
Phononic CPU Cooler for High Performance Computing
At Phononic, we're revolutionizing cooling and heating using solid-state technology that removes the constraints of compressors, fans, and water based systems to provide transformative innovation that changes the way we deliver thermal management forever. 
Our latest thermal innovation unleashes the computing market by introducing a microprocessor (CPU) cooler that delivers:
Integrated solid-state cooling technology—Actively lowers CPU temperature
Liquid cooling performance without water—Because water and electricity don't mix 
Variable Assist Cooling—Keeps CPU temperature cool during extreme processor loads  
Exceptional cooling performance in a small form factor—Fits inside mini-ITX box without compromising cooling performance
Whisper quiet fan mode—Smart CPU temperature management with reduced fan speed.
The Phononic HEX 1.0: A Silent Refrigerator for Your CPU.
Are you pushing your CPU to the limit? Do you know what it is like to smell smoke while trying to grab more GHz out of your processor? Have you ever tried to cram a water cooler radiator into your box only to discover you ran out of wire ties and the back cover won't fit? Judging from the gaming "rage quit" videos we've all seen on YouTube, you're not alone. Finding a scalable way to cool your processor has been frustrating…until now. At Phononic, we don't like mediocre or big clunky CPU coolers either. So we set out to fix it in a way nobody has done before. We turned to solid-state technology, the same approach that revolutionized microprocessors, solar, and LED lighting industries.
So what the heck does that mean? Simply put, we started over and leveraged Phononic's SilverCoreTM technology: high performance solid-state cooling devices, heat sinks, and electronics. We didn't stop there. 
We wanted a smart cooling system that is electrically efficient and delivers performance only when needed. So we ran some numbers, created sophisticated models, ordered lunch, and challenged our engineers to solve the problem. The answer is Variable Assist Cooling (VAC); a mini control board that automatically responds to the thermal demands of your CPU, cooling the processor, and adjusting the fan based on your performance needs. Thermal muscle when you need it, quiet performance when you don't.
How Does Variable Assist Cooling Work?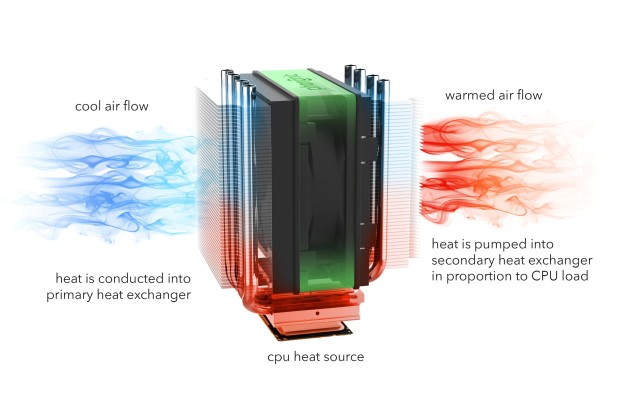 With Variable Assist Cooling (VAC), users can maximize thermal performance and minimize the power and noise associated with ever-changing CPU loads. The proprietary heat sink design moves heat through one of two dissipation paths – one acting as a highly efficient fan heat sink and the second utilizing a Phononic SilverCoreTM heat pump, when combined, greatly reducing CPU temperatures.  
As the processor load increases and the temperature starts to rise, the Phononic HEX 1.0 VAC control system activates the built-in cooling element to respond with a proportionate level of heat pumping, resulting in a lower CPU temperature. When the load on the CPU decreases, the heat pump will turn off and the CPU cooler will continue to perform as a high performance fan heat sink.
How Big is Your Box?
As microprocessors evolve, their feature sizes have shrunk allowing CPU manufacturers to pack more transistors into their devices which increases clock speeds and overall device performance (ever hear of Moore's Law?). More transistors and faster clock speeds also mean the processors runs hotter. 
To remove heat from faster processors, manufacturers add larger heat sinks and high speed fans just to keep the CPUs from overheating resulting in larger computer cases. With larger cases, there was room for manufacturers to add more secondary fans to ensure that your CPU heatsink/fan combo was getting enough air to do its job.  
In today's sleek technology world, no one wants a big noisy box. So what is a user supposed to do to enjoy gaming in the living room or stream videos when the game is over? The answer is simple: The Phononic HEX 1.0 gives you the performance you need without the bulk or noise of a much larger and louder CPU cooler. That's right. Our CPU cooler will work in EATX towers and will also fit in Mini-ITX boxes as well.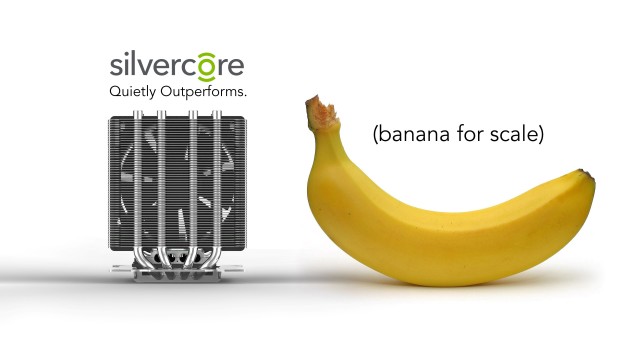 Hydrate Yourself, Not Your Computer.
Water and electricity should never mix. Period. Protect your equipment and yourself, and eliminate water from your investment. While you're at it, remove the risk of you—or someone else—losing a finger by eliminating external facing fans. Our cooler chills using a Phononic solid-state heat pump (water-free) which comes with an integrated 80mm fan with fully enclosed blades. Safety first, right? Not to mention that ear plugs won't be needed—this puppy is quiet. 
Become an early adopter!
Get in on the latest cooling technology in high performance computing before it hits the retail market. We're offering early-adopter rates through our perks as well as a unique opportunity to join our development team as a beta tester. Beta testers will have access to a private forum where you can provide feedback and "geek out" with our team. As a beta tester, you may even win a trip to Phononic's HQ to take part in the launch of the final product.
Let's Talk Tech.
Model:  HEX 1.0
Type: Fan Heatsink with Phononic SilverCoreTM Solid-State Heat Pump; Integrated 80mm Fan with enclosed blades
Cooler Specifications:
Fits Intel LGA2011/LGA1366/LGA1156/LGA1155/LGA1150
Dimensions & Weight: 4.3″ x 3.5″ x 3.5″ (H x W x D)
Weight = 650 grams
Material:  RoHS compliant
Removable Fan
Fan Compatibility: 80x80x25mm
Fan Specifications:
Dimension: 80x80x25mm
Connector:  4-PIN PWM
Bearing Type: Two Ball Bearings
Voltage Rating/Power: 12VDC/5.76W Maximum power
RPM: 4500RPM Maximum
Air Flow: 67.02 CFM Maximum
Noise Level: 48.6 dB-A
Max Static Pressure: 9.955 mm H2O
MTTF: 70,000 hours
Electronic Control Specifications:
Mounting: PCIe slot with included bracket (no PCIe electrical connection)
Motherboard Connections: CPU fan (either 3-wire or 4-wire fan connections are supported)
Power Connections: Standard 4-pin IDE power cable
Required voltages: (from 4-pin IDE connection) = 5, 12VDC
Dimensions: 100mm x 38.1mm (excluding mounting bracket)
Features:
Three colored LED status indicators provide visual display of the electronic controls
Fan speed can be optimized by the user by varying a knob on the control board
Easy installation without moving the motherboard. Fits within the 4 mounting screws of the Intel LGA2011/115x socket
Cooling Performance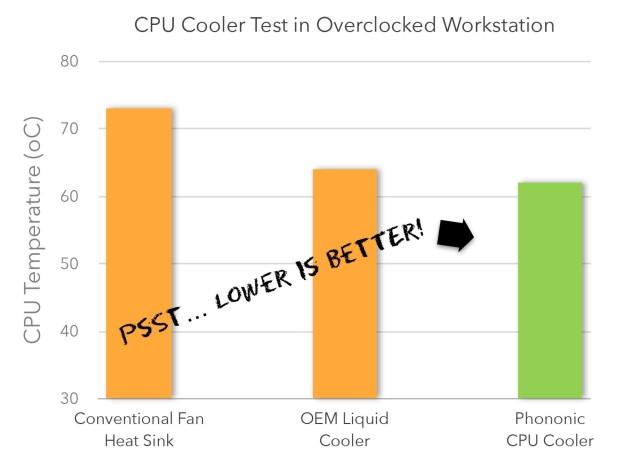 Who is Phononic?
Phononic is revolutionizing cooling and heating with solid state thermal management solutions. Headquartered in the heart of North Carolina's Research Triangle Park, Phononic provides solid state semiconductor technology that can be applied to everything from refrigeration to fiber optics, removing the barriers of traditional approaches and ushering in a new era of cooling and heating. The result is a solution to this age-old challenge that is distributed, convenient, sustainable and connected. For more information visit www.phononic.com or follow us on Twitter @PhononicRTP.