iCrowdNewswire - Aug 21, 2015
The Renegade Broom
"A unique and useful product like this one only comes around every twenty years!" – Martin Herman, Australia
Hi, my name is Tom Gray, founder of The Handy Camel.
My team and I bring to market beautifully designed products that provide outstanding user experiences to make your life easier. Now, we bring you the Renegade Broom, with arched bristle technology.
This is the first time a broom has been launched on Indiegogo. This broom is sweeping the nation.
The Fritze Story 
The Fritze Outdoor Broom has been a top selling product in Germany for years. We've teamed up with the Fritze Company to bring it as the Renegade Broom to the United States,
In the 1960's Heinz Fritze, an engineer, wanted to clean his fine black suit for an important event.He used an ordinary brush for cleaning, but was not happy with the result; he realized that the bristles just slid over the surface of the suit. He knew the bristles needed to have a curve so the ends would touch the surface vertically, maintaining contact at all times. 
In the Fritze company, now existing in 3rd generation, everything revolves around their secret curved bristle technology. It started with the clothing brush in 1962 and eventually developed into the outdoor broom.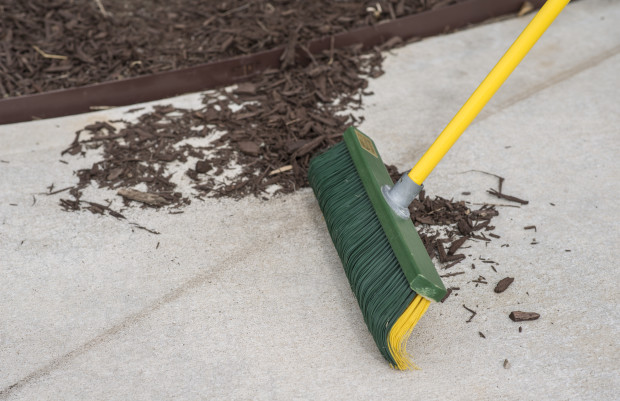 The Problem With Traditional Brooms 
Just like the original clothing brush Heinz Fritze used, traditional brooms slide over the surface, leaving behind dirt and debris as the bristles float and bounce over the top of uneven surfaces. So, the Renegade Broom was developed using the same technology. 
Renegade Broom – Quality of Construction 
The Renegade Broom is produced in Germany. During the production process every broom is inspected several times by different workers. Some production stages are hand made – for others, advanced machinery is necessary to build the Renegade Broom in great quality using the finest parts and components. 
It's still a company secret as to how they bend the bristles.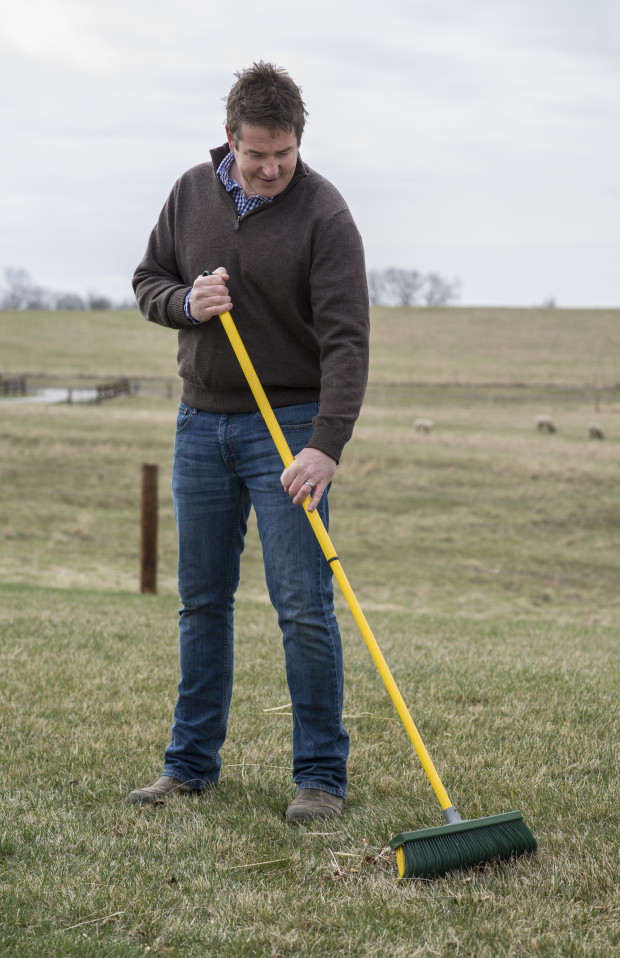 The Perfect Broom
The Renegade Broom is a revolutionary way to sweep! With one Swipe of the Renegade Broom, you get a superior clean in half the time of a traditional broom.
The Renegade Broom is a curved pull broom. Like a rake, you pull dirt and debris toward you rather than pushing it away. By pulling the arched bristles toward you, you get more surface contact, picking up dirt and debris that a traditional broom leaves behind, making it great for uneven surfaces like brick, stone and wood… 
The Renegade Broom makes cleaning any surface incredibly easy, and it is guaranteed to replace any broom you are using now.
Under normal use, the Renegade Broom won't flatted, fray or bend like a traditional broom, making it long lasting and durable. As you sweep, the bristles flex and penetrate into the surface to remove dirt, dust, and debris effortlessly. 
It's extremely durable, yet lightweight and easy to handle. The adjustable, telescoping handle, allows you to adjust the height to fit you.
Where to Use the Renegade Broom
For the home, farm, yards, and construction sites. 
Picks up dirt and debris that a traditional broom leaves behind on any surface. 
Makes short work of snow, wet leaves, wet grass, dirt, pine needles, mulch and even drywall dust on patios and decks. 
Excellent in hard to reach areas like corners and under desks and workbenches.
You can even use it to rake your lawn.
If you've ever tried to sweep out a trailer or back of a truck, you know how difficult this can be with uneven surfaces, nooks, and crannies.
With the Renegade Broom, you can easily and quickly sweep the back of trucks and trailers, removing significantly more dirt and debris than possible with a traditional broom.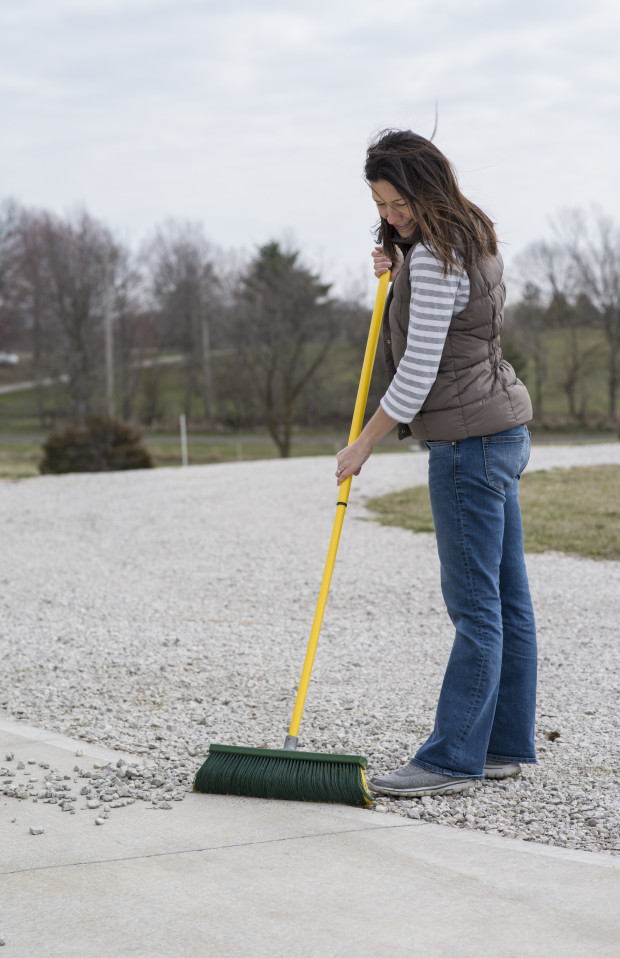 Press
Check out who's already excited about the Renegade Broom: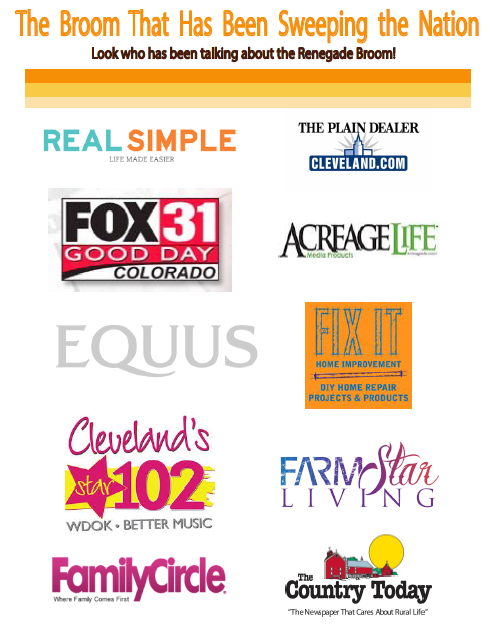 Testimonials: 
"Already put it to use – amazing!" – Erwin Quinn, Kansas City, Missouri
"Five years ago I bought the Renegade Broom in a German hardware store, and took it home show my family. They laughed at me buying a "bent" broom, they are all now converted users of the Renegade Broom.  The Renegade Broom conforms to any surface and gets behind the dirt, where any other broom pushes dirt down.  Without any effort, the Renegade Broom sweeps wet or dry leaves, pine needles, and even pebbled surfaces.  A unique and useful product like this only comes around every twenty years!" – Martin Herman, Australia
Perks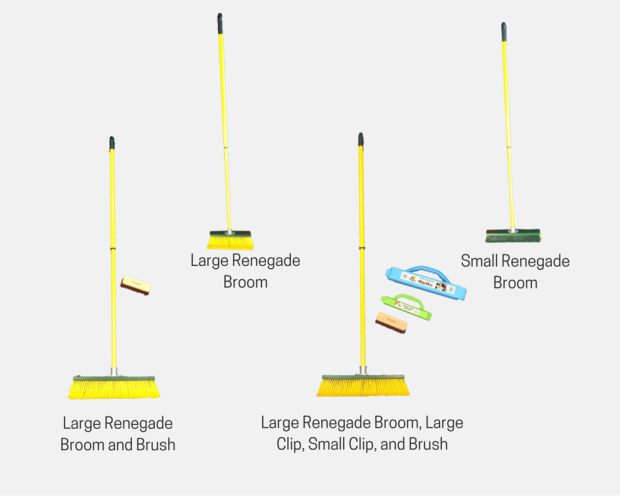 Take Advantage of Our Launch Specials
We are on Indiegogo to make sure that this is a product that you want to see in the United States. 
We are offering the Renegade Broom, which retails for $40 to $50 in other countries for only $19. This is a limited time opportunity to buy the Renegade Broom at this price before we roll it out to the market. You will never see this price again, so get yours while you can! 
Help us bring this product to the United States and join the broom revolution that's sweeping the nation.
About The Handy Camel
The Handy Camel brings to market beautifully designed products that provide outstanding user experiences to make your life easier.  For more products like the Renegade Broom, visit http://thehandycamel.com.
This campaign is brought to you by EweInvent, a Handy Camel company.  For more information, visit http://eweinvent.com.