iCrowdNewswire - Aug 21, 2015
GO CUBES – Chewable Coffee
The Future of Coffee
If you're here, it's probably because you love coffee – and so do we! Join our campaign to help make the next innovation in coffee a reality.
GO CUBES are gummy coffee bites with delicious flavor, enhanced performance, and unprecedented convenience on the go.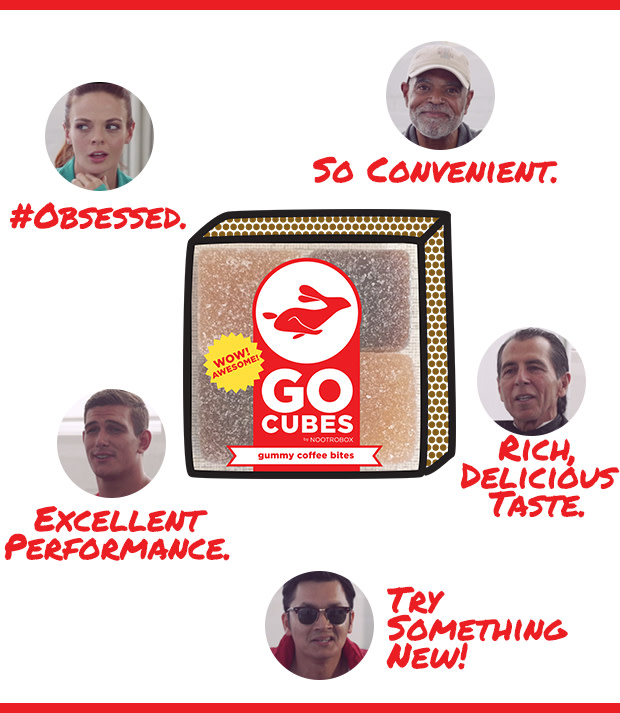 Yummy taste. GO CUBES are made with real cold-brew coffee, and they pack a serious amount of coffee into every bite (2 cubes = 1 cup of coffee). 

Convenient. Super easy to grab on the go, no mess, and cheaper than a cup of Starbucks!

Made for performance. GO CUBES are made specifically for cognitive performance, by the same people who brought you SPRINT.
GO CUBES are a new spin on a classic favorite – help us make it a reality!

Our Mission
With our background as founders of Nootrobox, we think all day about ways of helping people improve their mental performance & stay sharp all day. Before Nootrobox, coffee had always been our default pick-me-up in the past, as it is for many people. Our goal with GO CUBES is to combine what people love about coffee with what people love about Nootrobox and make a cognitive-enhancing product that's delicious, shareable, convenient, and affordable.

We are raising $20,000 to bring GO CUBES to life. We are working with amazing partners to help formulate, produce, package, and ship GO CUBES to you, and each of those partners have minimum order sizes. By getting to $20,000, we're able to get the wheels turning and make GO CUBES a reality.
We want to spread the word about a product we think is awesome, and stand behind 100%. Contribute today and you'll be among the first in the universe to try GO CUBES gummy coffee bites. We've put together a set of perks for all price points, whether you're just curious or want to be a distributor. If you aren't in a position to contribute today, then help us out by sharing the post with a friend who loves coffee. And we'll be doing giveaways on Instagram (@nootrobox) so check us out over there!
GO CUBES: Taste
GO CUBES are made with real cold-brew coffee and come in 3 delicious flavors: Pure Drip, Mocha, and Latte. (Note that each package of GO CUBES contains a random assortment of all 3.)
We are working directly with one of the largest and most reputable confectionary factories in the USA to produce GO CUBES. We've been through over 20 rounds of testing to pinpoint the exact right taste and mouthfeel profile, and have landed on something that has unanimous approval from the team.
GO CUBES: Convenience
With GO CUBES, you can bring coffee with you wherever you go, easier than ever before. 
Whether you're an astronaut in outer-space, a parent on the way to pick up the kids, or you need a quick boost on your way to class, nothing beats the no-spills convenience of GO CUBES. 
Each GO CUBE contains half of a cup of coffee, so you don't need to pack very many with you. Even with all that convenience, we've managed to keep costs low – for instance, the Becky Package contains the equivalent of 40 cups of coffee for just $50. That works out to $1.25 per cup – way less than Starbucks!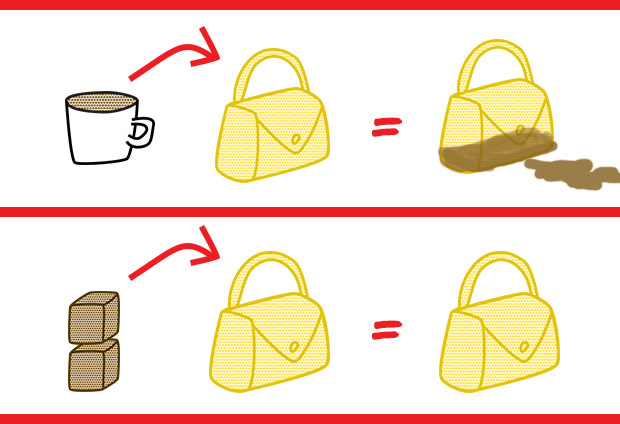 GO CUBES: Performance
GO CUBES are crafted for performance.
GO CUBES is a project by our company, Nootrobox. We named our company Nootrobox after the term "nootropics," which are ingredients known to safely improve cognitive performance on exams, stressful days, and other mentally demanding tasks. The ingredients are based on thorough scientific research, and we've made a name for being "Silicon Valley's favorite brain-enhancers" and for having stellar reviews from top publications. We have thousands of subscribers to our current products and have shipped hundreds of thousands of servings across the world, but we aren't stopping there! 
GO CUBES isn't just caffeine. We've crammed in a full nootropic stack in each GO CUBE. B complex (accelerates metabolism), L-Theanine (an amino acid found in green tea), and other compounds that stack well with caffeine round out a highly performant nootropic in each yummy bite.
For the numbers-minded folks out there, each GO CUBE is 35 calories and contains the following amount of active ingredients. A typical serving size is 2.
Caffeine 50 mg **
Vitamin B-3 (Niacinamide) 25 mg 125%
Vitamin B-6 (Pyridoxine Hydrochloride) 10 mg 500% 
Vitamin B-12 (Methylcobalamin) 30 mcg 500%
Folic Acid (Folic Acid) 500 mcg 125% 
Theanine (L-Theanine) 100mg **
Glucuronolactone (Glucuronolactone) 125 mg **
Inositol (Inositol) 125 mg **
GO CUBES is a delicious way of bringing the legendary Nootrobox performance to coffee lovers everywhere.

Testimonials
GO CUBES have that delicious caffè taste that would make Gustavo's gramma get up and dance. Unfortunately, Gustavo is a professional actor (who's actually a ton of fun to hang out with in real life, but that's a story for another time.). We do, however, have dozens of testimonials from our early testers. Here are a few —