iCrowdNewswire - Aug 17, 2015
Adaptive Symbiotic Technologies
Summary
Adaptive Symbiotic Technologies (AST) is an agricultural biotechnology company addressing one of the greatest limitations to global agriculture: drought, temperature stress and salty soils. In order to combat these "abiotic stressors", the company has developed a line of biological seed treatments for farmers to increase crop yields and allow crops to survive these stresses. 
Over the last 20 years, our team of scientists has discovered that certain types of symbiotic fungi, known as endophytes, are capable of conferring several benefits to plants including tolerance to drought, temperature stress and salty soils. With this knowledge, we developed a series of microbial seed and plant treatments that confer these stress tolerances to crop plants. AST has seen yield increases as high as 85% under severe drought conditions and up to 15% under low stress conditions. This technology does not rely on genetic modification or synthetic chemicals, and can be applied as an organic biological solution to mother nature's challenges.
BioEnsure® is designed to reduce the impact of environmental stresses while also improving the primary elements of plant growth, including seed germination and seedling and plant biomass development, thereby substantially increasing crop yields. BioEnsure produces crop yields at a minimum 200% ROI to farmers and can enable farmers to grow plants in historically impossible climates.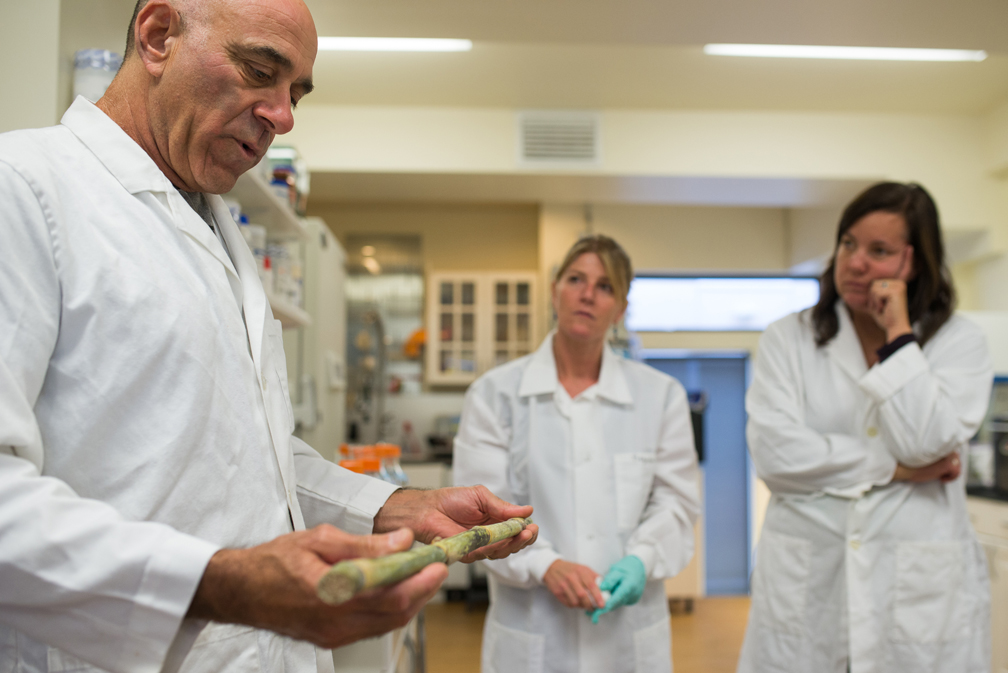 Talking sugarcane with CEO Rusty Rodriguez, PhD.
Highlights
Biological and liquid seed treatment for drought, temperature and salt stressors
Four years of field trials (3,000+ plots) showing yield increases of up to 85% in stressed growing conditions and up to 15% in low stress conditions
Corn and rice formulations ready for sale in 2015 growing season; wheat and soybean in pipeline
Global seed treatment market $3.6 billion in 2013 and reaching  $6 billion by 2020 (AgriThority)

Biologicals are the fastest growing segment of the seed treatment market, growing at a rate of up to 15% annually (AgriThority)

Pricing structured for farmer ROI of 200% in lowest bound scenario (3% yield increase)
Experienced management team with 2 PhDs and 40+ years combined experience with plant-fungal symbiosis and business development and management
Scalable business model that fits into existing seed supply chain
Big name collaborators: Monsanto, DuPont, Bayer, INCOTEC, Lords Seed, Reforest, Krishidan Seed, Kenya Biologics
Scientific community and Press: Scientific American, Washington Post, Nature, Fast Company, Wired, SeedStock, BioScience, NPR
Product / Service
AST has developed the product line BioEnsure®, a seed coating technology using fungal endophytes that initiate a symbiotic association with crop plants. The symbiotic relationship results in dramatic increases in stress tolerance, allowing farmers to significantly increase crop yields for both GMO and non-GMO crops. BioEnsure increases yields during both high stress and low stress growing seasons.  
BioEnsure®is applied as a seed treatment. The U.S. agriculture industry is moving in the direction of treating all seeds.  According to Bayer CropScience, more than 90% of all corn seeds are being coated with chemicals today. BioEnsure is designed to work within the existing industry equipment and is applied as a liquid formulation at the same time other chemical treatments are applied. 

The Problem
Agriculture productivity is being impacted by abiotic (drought, temperature, salinity) stressors which are being exacerbated by climate change. In 2012, for example, abiotic stress was responsible for $17B in crop loss in the U.S. alone. And just last year, California suffered $1.5B in crop loss due to abiotic stress.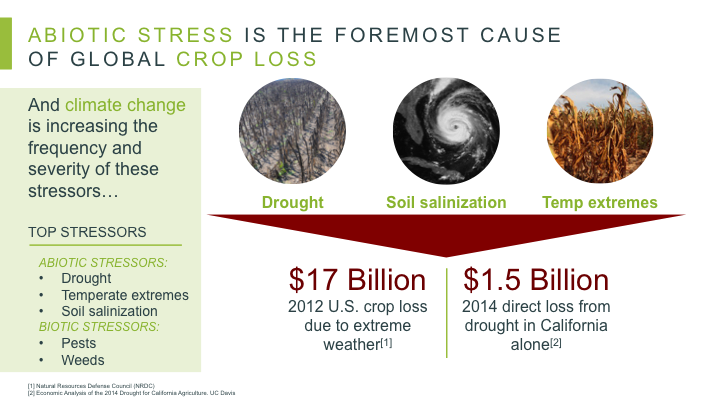 Technological efforts to develop stress-tolerant crops have included genetic modification, mutational selection and breeding traits from wild plants, all of which have had low levels of success. Billions of dollars have been spent on these efforts. In addition, the slow and tedious nature of developing these technologies is not meeting the global need to respond to existing climate challenges, and is unlikely to do so in the reasonably near future.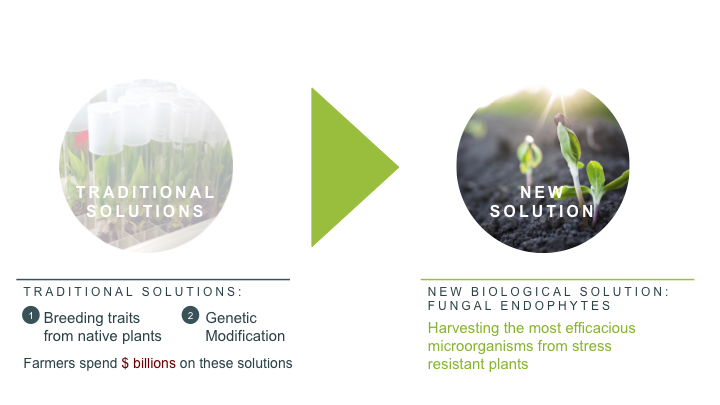 The Solution
BioEnsure® is comprised of microorganisms known as fungal endophytes that form symbiotic associations with plants. The fungal endophytes grow inside the host plant body and uses several mechanisms to symbiotically enhance physical properties like improved root growth and functional capabilities, like nutrient and water use efficiency. AST has developed different fungal strains to generate crop-specific BioEnsure products that confer the following benefits to crop plants:
Abiotic stress tolerance – drought, salinity, cold and hot temperatures, low NPK (nitrogen, phosphorus and potassium) nutrient levels 
Decrease irrigation needs – plants use up to 50% less water – and decrease fertilizer usage
Early vigor increase – enhanced growth response & seedling development 
Increase overall plant health, plant biomass and overall yield (the bottom line in agriculture) 
Increase in overall soil health
AST has a strong BioEnsure® product pipeline. Many of the product lines are listed as organic by the Organic Materials Review Institute (OMRI).
Business Model
AST has a scalable business model with key advantages in production and distribution.
The company has developed scalable solid-phase fermentation systems that can meet demand equal to 100% market penetration of corn, soy, rice and cotton in the US.
The seed distribution market is well established with both multi-national companies and local distributors. The key element of the AST go-to-market strategy is to plug into the existing infrastructure and create value for all stakeholders throughout the value chain.  The approach is to focus on selling BioEnsure® as a brand name to local and regional seed dealers and distributors while simultaneously developing private label products for the large multi-national companies.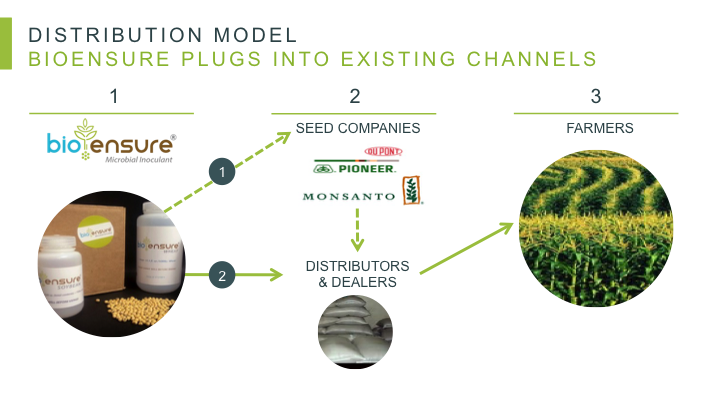 AST is a member of the Independent Professional Seed Association (IPSA) and is currently collaborating with many independent seed companies to field test BioEnsure® products. AST also has a working relationship with many multi-national seed distributors such as: DuPont, Syngenta, Bayer, Incotec and Monsanto. In 2015, AST is field testing with DuPont, Monsanto and Bayer in multiple sites and geographical locations. Big Ag seed companies such as Pioneer and Monsanto each have their own specific coating trade secret chemistry, so we have to develop BioEnsure® products optimized for their chemistries. We look to give each firm individual labels of their own optimized BioEnsure strains to become ubiquitous in this industry. The standard sales cycle length is anticipated to be 2-4 years with each of these organizations.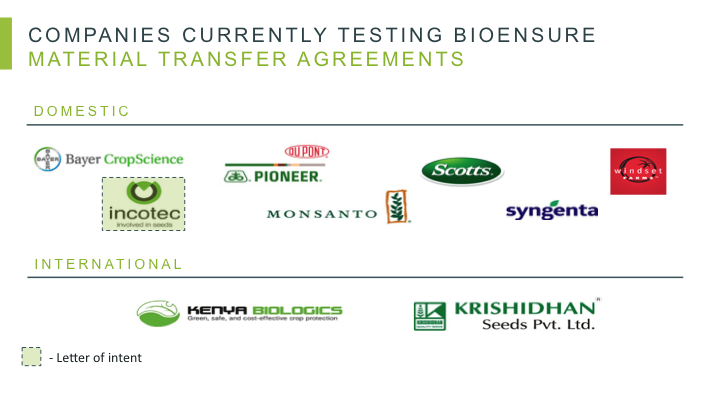 AST has created a retail pricing structure so farmers will receive a minimum ROI of 200%.