iCrowdNewswire - Aug 15, 2015
Skybeam – Mount The Internet On Your Wall
What is Skybeam™?
Skybeam™ is the most effective way for businesses to persistently display web content on big screen TV's. Built for businesses to unlock the potential of their cloud data, once you setup your Skybeam™ Receiver you will never have to think about managing your data viewing experience again.

The Skybeam™ Receiver plugs directly into the back of your HDTV or Monitor via HDMI and using your wired or wireless network, instantly displays any webpage you point it to. It really is that simple.
What Can I Display with Skybeam™?
Skybeam™ can display anything you can show in a web browser, here are a few examples of what you can use Skybeam™ to permanently display: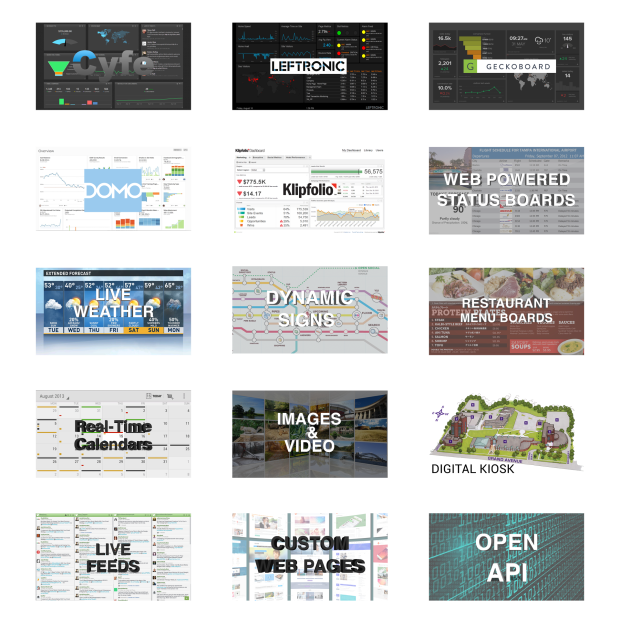 Business Intelligence Dashboards:
Cyfe
DOMO
Geckoboard
Klipfolio
Leftronic
And More!
Multimedia Installations:
Photo Slideshows
Digital Artwork
Looping Video
Custom HTML5/CSS3/Javascript
Informational Displays & Kiosks:
Real-Time Calendars & Schedules (Web Powered)
Live News Feeds
Alerts & Notifications
Status Boards
Social Media Dashbaords
Restaurant Menu Boards & Retail Signage:
Static Images
Custom Webpages 
Combine Static & Live Content!
Digital Marketing & Signage:
Image Slideshows
Custom Webpages
Live and/or Static Content
Looping HD Videos
Direct Integration with your web marketing platforms
Why Skybeam™
We built Skybeam™ because we were frustrated with constantly managing other temporary solutions for getting web content on TV's. Consumer streaming devices like Chromecast or Apple TV are not designed to continuously display a single source, they get knocked off-line or go idle when the smartphone or computer leaves the office. Using a dedicated PC requires constant maintenance and carries with it hundreds to thousands of dollars in hidden maintenance and management costs annually.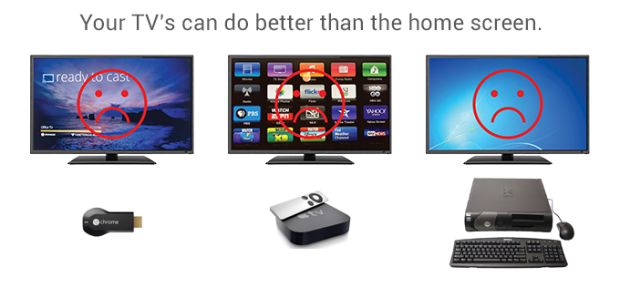 Skybeam™ breaks this mold by providing a truly turn-key, zero maintenance solution. Set it up once and our technology will disappear into the background allowing your web content to take center stage. The Skybeam™ Receiver functions like an appliance, just add power and the internet and your content will be consistently available. It is the first always-on, always-ready internet appliance designed to display web content 24/7.
Hardware 
The Skybeam™ Receiver is a custom solution built on top of the incredibly capable Intel Compute Stick platform. This bespoke solution is capable of displaying anything the web can throw at it, from HTML5 and CSS3 to intensive Javascript visualizations and HD Video. All of your content will be displayed flawlessly on the big screen.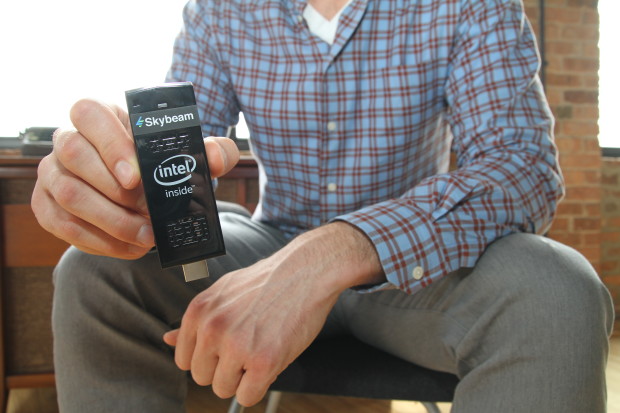 Web Service
The Skybeam™ web service is the glue that connects your web content with your Skybeam™ Receiver. It is a self-service web portal that allows you to configure all of your Permanent Screens™ from a single location. It is as simple as registering your device and copy/pasting the URL you want to display. As we grow we will continue to add features to the Skybeam™service, options like content schedules and real-time monitoring will be rolling out in Q4 of this year.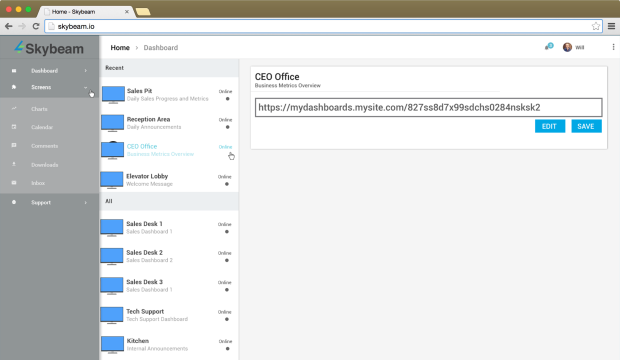 API and Developer Community 
We haven't stopped there, we are working on a public API that will allow 3rd party developers to directly connect your services with your screens through the Skybeam™ web service. The Skybeam™ platform is enabling an entirely new way for businesses to interact with their cloud data. By permanently displaying your cloud services on dedicated screens your data is no longer lost in a browser tab or buried in your inbox. The Permanent Screen™ view will enable developers to give new meaning to the service they provide to their customers.
Skybeam™ News
Skybeam™ was recently selected by and competed in the Techweek Chicago Launch competition. The product was received with excitement by the startup community and big business alike. Judges graded us highly on our product fit and competitive edge, going to show that every savvy business needs a Skybeam™ receiver.
Risks and challenges:
Our team has been involved in businesses providing B2B hardware products for the last 10 years, managing the full product cycle from product development to manufacturing and fulfillment. We have considerable experience working with contract manufacturers in the US and abroad to deliver products that meet and exceed customer expectation. That being said, there is always uncertainty when it comes to manufacturing and electronics, component availability, pricing and yield are always concerns. Fortunately we are working with industry veterans who have provided products reliably for years. We will do everything in our power to deliver on the goals of this Indiegogo campaign. There is always the chance that we may have to make component substitutions, but we will never sacrifice performance or user experience. We will keep all of our backers updated throughout the process and they will be the first to be informed of any challenges that may arise. You supported us and we will support you. Thank you for supporting Skybeam!!
Trademark Disclaimers:
Intel and the Intel logo are trademarks of Intel Corporation in the U.S. and/or other countries. All product and company names are trademarks™ or registered® trademarks of their respective holders. Use of them does not imply any affiliation with or endorsement by them.
Skybeam™ and Permanent Screen™  are registered trademark of Skybeam LLC.