iCrowdNewswire - Aug 12, 2015
Patagonia Sustentable 2.0
Presentation
My name is Dardo Kuzmuk, I am a school teacher in Junin de los Andes, Neuquen, Patagonia Argentina. My hobby is designing wooden structures such as furniture and windows, gazebos and houses. I want to present my latest project, which combines the care and preservation of the environment, with every families' dream to own a home.
Diagnosis of the housing situation in the northern Patagonia
There are many families in the province of Neuquén, who do not own their home.  Some families own land but do not have the financial resources to build a house.
Other families try to finance the construction of their homes through bank mortgages with very high interest rates. However, many people do not qualify for funding and are forced to rent at a high price.

Junin de los Andes by D. Kuzmuk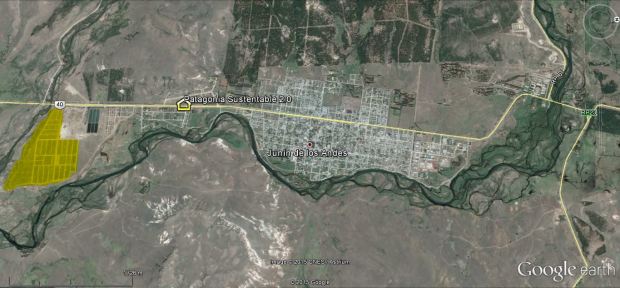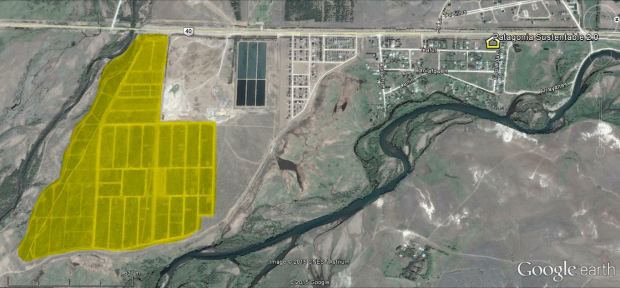 Location of the prototype build. (Yellow) 1250 potential lands to build this house.
Objective of the project
The ultimate aim of this project is to improve the housing situation in Neuquén and generate more genuine employment for the local people. To prove the concepts of the project I will need to raise funds and build a prototype of the house. Upon completion of the prototype, I will showcase the features to the public and demonstrate the viability of eco-friendly and budget-conscious housing concepts.
Rationale
This small sustainable house is built largely with local materials with a low cost of construction and maintenance. As an added benefit due to the materials used for construction, the environmental impact is reduced and jobs are created for the local people.
The Brundtland Report of 1987, published by the United Nations World Commission on Environment and Development, defines sustainable development as the needs of the present human generation without compromising the ability of future generations to meet their own needs. This project is developed with those considerations in mind as the foundational framework.
The house developed in this project is considered ecologically  friendly because it immediately reduces environmental impact. It is self-sufficient by the use of alternative energy such as solar and wind power, and is built with raw materials from renewable sources, such as wood harvested using reforestation practices. The design of the roof, Norman style, enables efficient distribution of hot air during winter and provides good ventilation during summer.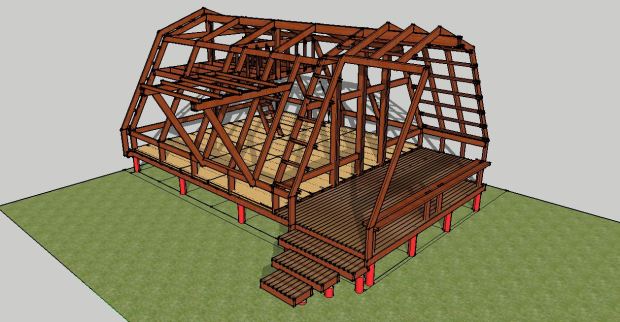 Characteristics
At just 388 square feet, this compact structure includes a living and dining area, one bedroom, a bathroom, and a kitchen.
It is heated with a small electric or gas stove, with a large living area on the deck gallery.
Furnished with a table, chairs and a sofa bed in the living room, this house-style chalet offers a practical and economical alpine appearance that is very attractive with a low maintenance cost.
This house is built on piles of recycled resin filled with concrete to protect it from excess moisture. The roof structure is clad with trapezoidal sheet metal and walls are clad with concrete slabs that simulate siding wood. The interior walls and ceiling are constructed with plasterboard
The bedroom for is a 75 square feet loft above the living room.
The front features large windows providing lovely views over the country side, and door that leads to a big deck for outdoor enjoyment.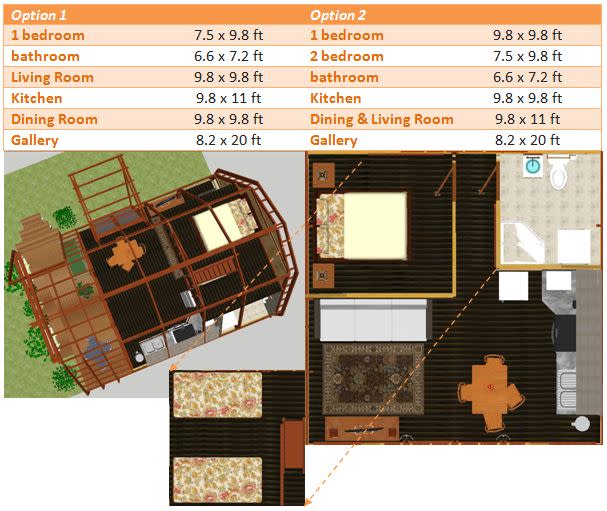 Technical Specifications
I present each stage of the construction of the house.
Roof structure : wood trusses and rafters 2×5 inches, base of  wooden mezzanine with 2×5"
Foundation piles of recycled resin 6" in diameter, filled with concrete. Anchored to 20" deep.
Base floor: structure of 2×3 inches in a frame of 2×6"
Columns and slabs: wood braces 2×5", beams 3×8"
Pergola or gallery: with wooden braces 2×5"
Overhangs front and back: tongue and groove wood 1/2×4"
Profiles wooden slats of 2 x 3 inches.
Flats: Inside OSB (Oriented strand board) of 5/8" thick. Exterior eucalyptus wood deck 1×4"
Walls: half-sill outer wooden 2×2" Interior half-timbered 2×3"
Insulated roof: OSB (Oriented strand board) 3/8" thick waterproof insulation.
Roof covering: roofwith trapezoidal sheet metal
Insulation of walls: OSB (Oriented strand board) 3/8" thick waterproof insulation.
Exterior wall claddings: concrete slabs thet simulate siding wood 8" wide x 1/4" thick.
Coating interior walls and ceiling with plasterboard 3/8" thick.
Stairs: wooden staircase 2×5", external staircase with wooden deck.
Wooden windows and doors. Entrance door 32×80". Bathroom entrance door plate 28×80"
Interior floor coating: eucalyptus wood tongued 1×5"
Plating bath and kitchen: Ceramic 12×12"
Glass windows and access door. Thermo tempered glass panels.
Electrical installation: Standard double circuit, cables, keys and sockets. Board with thermal circuit breaker and key. Javelin and grounding.
Hydraulics: Pipe for cold and hot water in bathroom and kitchen panel with box shower. Rain and mixer output key. Bilayer standard pipe material. Water tank 500 liters, with boost pump 1/8 HP. Gas water heater 14 liters with automatic ignition (to strengthen on cloudy days the hot water outlet of the solar water heater)
Gas pipe epoxy steel for panel in kitchen and living room. Heating, cooking and heating gas with shutoff valves. Gas heater 5000 kcal balanced shot.
Plumbing: pipes sewer with PVC (polyvinyl carbonate) with safety standard inspection. Cabin Corner shower cubicle with mixer round 32×32". Ceramic toilet tank. Ceramic sink and double sink kitchen faucet.
Paint: Interior satin latex paint. Exterior wood with waterproofing paint. Exterior eaves with satinwood paint protector. Protective coating for deck and plasticizer for interior wooden floor.
Labor: 8 hours per day. 2 to 3 workers for 3 to 4 months.
Costs of materials and build: USD 28,000.00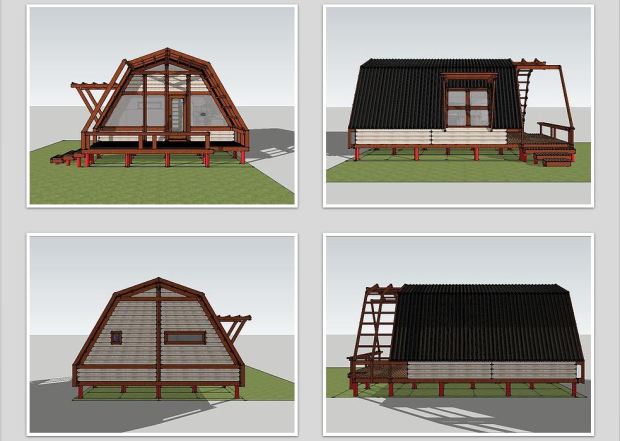 Conclusions
This house is self-sufficient, environmentally friendly and sustainable. This promotes awareness for environmental care. It can be built in a short time and supports alternative modifications according to the preference and needs of its inhabitants. It combines elegance, space utilization and comfort while providing basic services for a family of up to four members.  The only maintenance required is annual painting and the cost is comparable to that of a new car
ther Ways You Can Help
Support comes in many forms, including share the project with people who you think would be interested in this mission, as architects, conservationists, activists of ecology and sustainability, and anyone looking to build their own house economically.
Remember to use the tools share IndieGoGo, really they work!
Tell all your friends (and even people you do not like)

Remember that taking care of the present is protecting the future.
Special acknowledgment to:
Laura Raineri and Reagen Gibson, for their contributions.