iCrowdNewswire - Aug 12, 2015
Nicotrax – Quit Smoking Your Way
Introducing Nicotrax: The smart cigarette case and software solution that helps you quit smoking based on your unique habits. 
We have created our technology to help as many smokers as possible. In the process of development we have received extensive support from both the research and general community. Take a look for yourself! 
Testimonials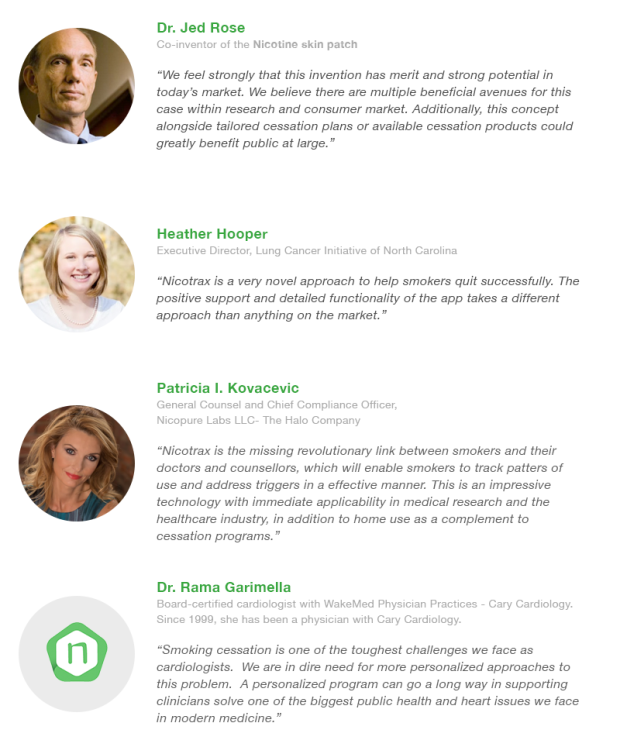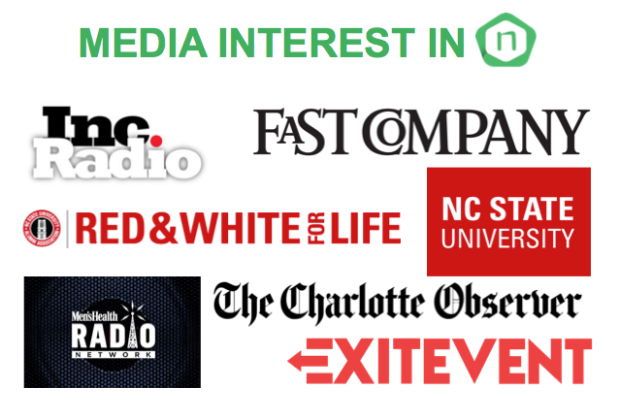 Our Story
Old habits are hard to break – and few habits are as hard to break as smoking cigarettes. Nicotrax technology helps smokers understand what triggers their cigarette cravings, and uses that information to help them stop smoking for good. 
The famous philosopher Erasmus once said, "A nail is driven out by another nail; habit is overcome by habit." 
By using the Nicotrax device and software, users can track information related to their smoking habits. This information gives users a concrete understanding of factors that influence their smoking behavior, allowing them to work to actively replace smoking with healthier habits. Our device captures the following data points to help smokers track their habits and customize an effective plan for quitting:
How does it work?
Nicotrax is the first system to fully integrate strategies to address all three areas of addiction: mental, physical, and social. At the most basic level, the system tracks smoking habits with a smart cigarette case, compiles this data within the mobile application, and provides continual multi-faceted support to empower users.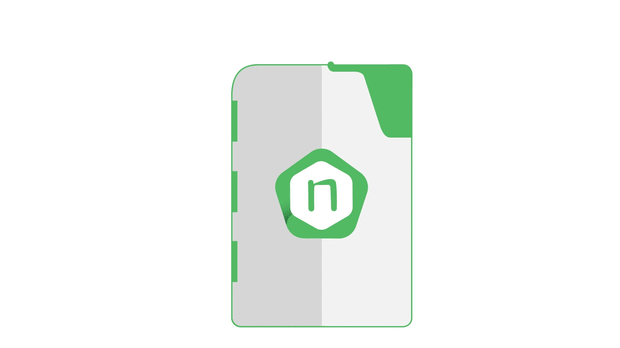 So, how can this data be used? 
Our goal is to provide as many features as possible to help users quit smoking. As every smoker has different habits and motivations to quit, our technology embraces these differences and fosters customization. Each smoker can utilize any or all of the features to drive their quitting journey. These features are included below:
Counselor Support: Quitting smoking is difficult – you shouldn't have to do it alone. Nicotrax allows users to access unique tips from doctors and/or clinicians who specialize in smoking cessation. These doctors/clinicians can monitor smokers' progress, and push specific content as necessary.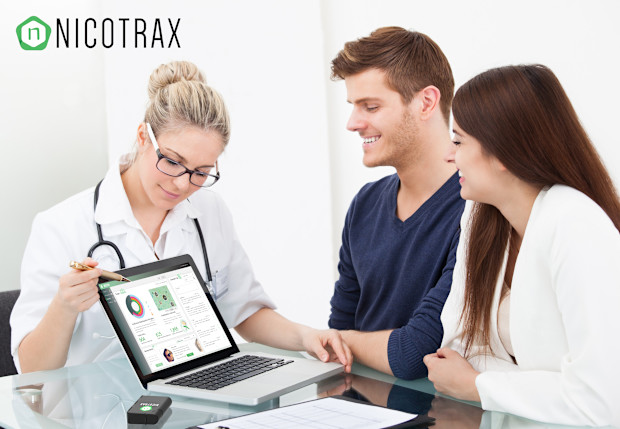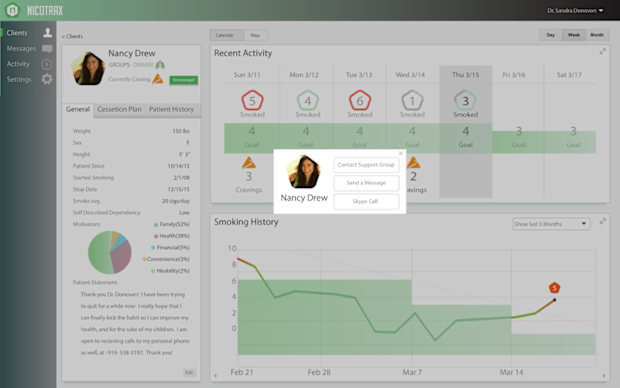 Motivation and Distraction Content: When a user is tempted to smoke, the Nicotrax system can send motivational encouragement or a photo of a loved one that will help keep them focused. This distraction content could also include an article, video, game, or achievement for the user to view/accomplish; this function further allows the Nicotrax system to help users replace smoking with more positive habits. 
Nicotine Supplement: It is difficult to overcome the physical manifestations of nicotine addiction. Through our software we can suggest a Nicotine replacement product (patch, gum, lozenge, or e-cig) when a user is most tempted to smoke. The Nicotine can help the smoker overcome the chemical symptoms of quitting as they work to modify their habits.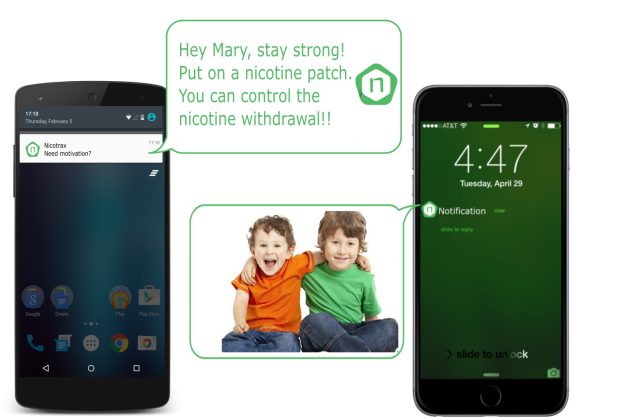 Community Support: Again, quitting smoking is difficult, and you shouldn't have to go at it alone. Community support is critical within the quitting process. The Nicotrax system aims to build a community that is living a healthier, cigarette-free life by connecting smokers and promoting the sharing of information, resources, and social support.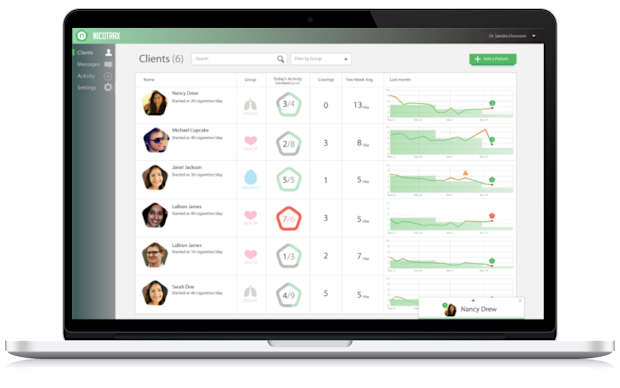 The Nicotrax team's primary goal is to be a positive solution that provides unwavering support. We know that conquering addiction is tough; but by changing the way we look at cigarette addiction, and working together to conquer it, we can provide users with personalized and effective means of quitting. 

Hardware Technology 
To create a solution that makes quitting as simple as possible, Nicotrax provides a smart cigarette case that automatically records cigarette consumption. This technology allows the creation of personalized quitting plans without requiring users to manually indicate when they are smoking a cigarette. It is possible to manually record cigarettes smoked within the application, but the smart cigarette case allows this process to be seamless and automatic.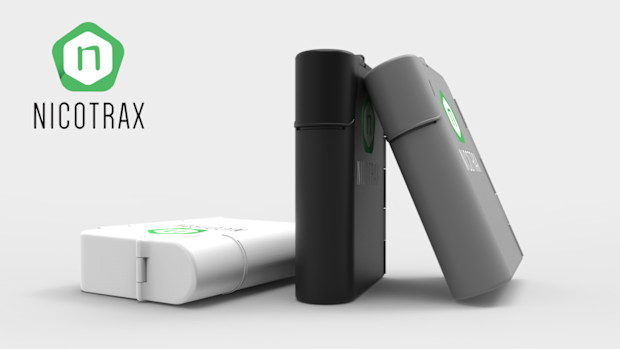 The Impact
Governments spends billions of dollars on the smoking cessation industry. We all know smoking is bad for us; for many smokers, not only is their addiction extremely difficult to overcome, but the myriad of cessation products and methods are equally overwhelming.

Smokers often say, "Don't tell me why to quit; tell me how." There are more than 1.1 billion active smokers in the world. Unfortunately, fewer than 7% of those who attempt to quit will achieve long-term abstinence using any available product or method.  
"The tobacco epidemic is one of the biggest public health threats the world has ever faced, killing nearly six million people a year." -WHO 
Wearable electronics are expanding rapidly, and health monitoring devices like Fitbit, Nike Fuel Band, and the Apple Watch are proving to be huge successes in the consumer marketplace. We believe this trend marks a revolution in healthcare, and provides a compelling platform for our product. Unfortunately, the smoking cessation industry has been slow to adapt new technology to obtain better results.  Most smoking cessation research centers still use conventional pen and paper to track smoker's habits. 
Risks & Challenges
In short, some.
With a December 2015 delivery date there are risks of delays in manufacturing, customs and duty tariffs, shipping holdups, etc.  Despite all of this, we have surrounded ourselves with experienced advisors who have given us the best insight into running a campaign and shipping our product. We have  already made multiple manufacturing partnerships overseas and developed a plan for release and shipment of our perks. Unforeseen things do sometimes occur, but we want to make sure we give you the best quality product. We are working very hard to prevent any delays and are prepared to ship for the smokers to have Nicotrax in their hands in time for their 2016 New Year's resolution!
Other Ways You Can Help (Referrals/Sharing on Social Media)
Funding this campaign is not the only way you can help us! We strongly  believe in social and community support. After all, that is the core of what we are doing. Please share this campaign with your family and friends and on social media. We want to reach as many smokers as possible and work together to create a positive solution to end cigarette addiction. Together we can live healthier lives and build a stronger community.